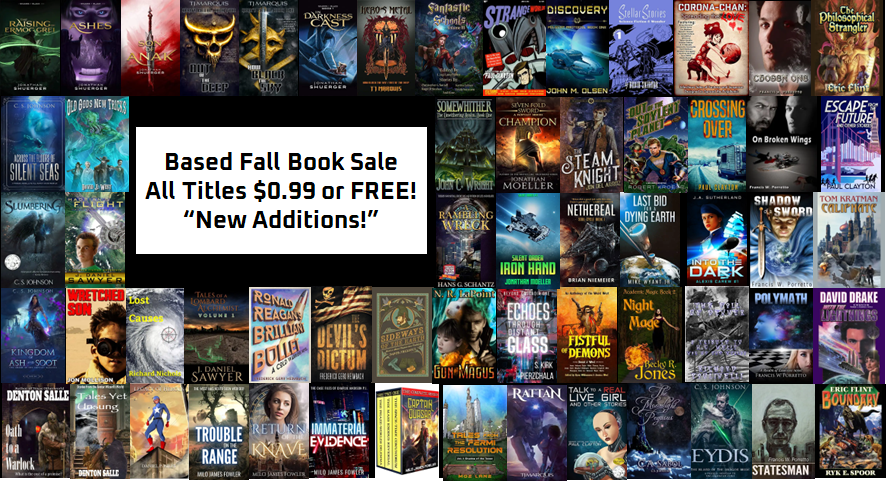 These titles have not appeared in recent sales: a great place to start looking for some fresh reads. Offerings include titles from Michael Gallagher, John C. Wright, Brian Niemeier, Hans G. Schantz, Richard Nichols, Mike Wyant, Jr., Jon del Arroz, John M. Olsen, C.S. Johnson, C.A. Sabol, Robert Kroese, Becky Jones, J.A. Sutherland, David J. West, Ryan Williamson, Paul Clayton, S. Kirk Pierzchala, T.J. Marquis, Moe Lane, Milo James Fowler, Richard Paolinelli, Daniel P. Riley, Denton Salle, Jonathan Moeller, David Drake, David Skinner, N.R. LaPoint, Jon Mollison, J. Daniel Sawyer, Frederick Gero Heimbach, Tom Kratman, L. Jagi Lamplighter, Eric Flint, Ryk E. Spoor, Jonathan Shuerger, and Francis W. Porretto.
And every title is either free or $0.99. Note: prices are set by the authors, so please confirm before you buy.
---
Niko Landry needs to infiltrate the Censorate to find a weakness before it launches its next assault.
The Censor bans maps of hyperspace, forcing freighters to find their way by word of mouth.
He and his crew will pretend to be ordinary traders while finding out all the secrets they can.
Any mistake could leave them broke . . .
…or executed.
Karl K. Gallagher is a systems engineer, currently performing data analysis for a major aerospace company.
In the past he calculated trajectories for a commercial launch rocket start-up, operated satellites as a US Air Force officer, and selected orbits for government and commercial satellites.
Karl lives in Saginaw, TX with his family.
---
Father James Keenan and Father Akono Nwosu are men of faith in a world with its back to God.
A world where an umoored humanity stumbles along searching for meaning.
Here, every tarot parlor in the Psychic District offers an easy answer, the forces of Hell itself roam the streets and interparish gang tensions constantly threaten to boil over.
The only ones keeping a lid on it all are the warrior-priests who wield the Rite of Exorcism as a weapon in a spiritual war that rages all around us.
Negotiating peace between the local gangs, running the soup kitchen and finishing the parish bulletins were difficult enough.
Now kids are disappearing off the streets, churches are being vandalized with an ominous symbol, and everyone has a feeling that strange woman in the Black Hollow Projects is behind it all, but are too afraid to say anything.
Fearing for the safety of their flock, Keenan and Nwosu must now race to discover the fate of the kids, knowing that all of this happening right around a once-in-a-lifetime feast day devoted to an ancient life-hating demon can't be a coincidence.
---
Ilya, as he has secretly dreamed, is called upon to save the mad scientist's beautiful daughter.
With his squirrel gun, his grandfather's sword, and his father's crucifix, Ilya races to save the girl, and, incidentally, the world.
So it is, Ilya Muromets is a big, ugly, motherless boy who does not look like anyone else in his Oregon town.
His father is often absent on mysterious Church missionary work that involves silver bullets, sacred lances, and black helicopters.
One night, Professor Dreadful sends a warning to Ilya that his Many Worlds theory correct, but that his experiments have opened a door that should have remained closed, and his beautiful daughter, Penny, is in trouble.
The 2016 Dragon Award-winner for Best Science Fiction Novel, Somewhither is the first part of A Tale of the Unwithering Realm, a new science-fantasy series from science-fiction master John C. Wright.
It is an adventure, it is a romance, and it is a coming-of-age story of a young man who is not a man, in a world that is only one among many.
It is a tale of a greater and darker evil with longer reach than anything he could imagine, of pain beyond measure, and of the faith required to surmount all three.
It is a story of inexorable destiny written in the stars and the stubborn courage that is required to defy it.
Get it now!
---
Stuck inside? Quarantine got you feeling down… or even worse, BORED?

Corona-Chan: Spreading the Love is here to rescue you from the existential horror of indoor life, by offering you a glimpse into other worlds of wonder, whimsy, and warped humor.

Tales of high adventure, escapist fantasies, and thrilling stories of suspense await within, from some of the keenest and most rebellious minds in pulp fiction, with a foreword by the infamous Daddy Warpig.
With 200,000 words of exciting fiction, most never before published, including four books, Corona-Chan is serious about spreading the love!
Read it today!
The complete catalog of collected chronicles:
"Quarantine" by artist Jesse White
Anacyclosis by Brian Niemeier
"A Song of I.C.E. and Fire" by Jon Del Arroz
In the Forest of Wast by Alexander Hellene
"Exiled in the Desert" by John Daker
"Iron and Steel" by KP Kalvaitis
"Someone is Aiming for You" by JD Cowan
Immortal Thunder by Matt Wellman
"Bringing down the Mountain" by Nathan Dabney
"At the Feet of Neptune's Queen" by Abraham Strongjohn
"Going Native" and "Warrior Soul" by Manfred Weichsel
The Battle of the Turasa Nebula by Yakov Merkin
"An Eye for Eligos" by Alexandru Constantin
Adventure Constant (full-length novel) by Jon Mollison
"Star Support" by Val Hull
"The Age of Petty States" by Rawle Nyanzi and
The Crown of Sight by David V. Stewart
---
He was drawing closer…The flow of Teth had carried him to myriad worlds left diminished by his presence. Now his search had compelled him to take ship with scofflaws. And he was drawing closer.

The Sublime Brotherhood of Steersmen holds the Middle Stratum in its iron grip. Jaren Peregrine, last of the Gen, raids across fringe space with Nakvin—her captain's best pilot and only friend, apprentice steersman Deim, and mercenary Teg Cross.

Hunted by the ruthless Master Malachi, Jaren and his crew join a conspiracy to break the Guild's monopoly with an experimental ship. But when its maiden voyage goes awry, the Exodus flies farther off course than its crew could have imagined.
Brian Niemeier is a best selling science fiction author and a John W. Campbell Award for Best New Writer finalist. His second book, Souldancer, won the first ever Dragon Award for Best Horror Novel. He chose to pursue a writing career despite formal training in history and theology. His journey toward publication began at the behest of his long-suffering gaming group, who tactfully pointed out that he seemed to enjoy telling stories more than planning and adjudicating games.
---
There's no partial credit on a question of life and death!
Off to Georgia Tech for the education he'll need to defeat the guardians of the hidden truth, Peter discovers the battle for the future is being fought right on campus. Now he has to infiltrate a conspiracy, find new allies, and thwart a takeover of the school. Peter's most challenging final exam has only one question:
Can a Rambling Wreck stop the Cabal?
And a failing grade will be his last.
Conservative Libertarian Fiction Alliance 2018 Book of the Year Finalist!
"It's sort of like what might happen if one of Heinlein's juvenile heroes (say Kip from Have Spacesuit Will Travel) was thrust into the modern era and was forced to use SJWs Always Lie as his freshman orientation guide while battling the Black Hats."-Orion's Cold Fire
"This is really such an original series of books that it's hard to describe it properly. Like Da Vinci Code meets Harry Potter meets Cryptonomicon by way of Michael Crichton. The author really knows his science and tech AND can spin a fantastic tale." -Bookhorde
"Great follow on to the Hidden Truth. The author weaves science and reality into a really enjoyable novel. Worth your time." -D. L. Olson
"The adventure shifts from small town Tennessee to the campus of Georgia Tech. Our young detectives move on to college as they take advantage of an SJW scholarship to further infiltrate the enemy. The book is an interesting mix of detailed science and vacuous social justice nonsense." -Dave Carver
"Captivating, complex and utterly gripping. I highly recommend this book for all readers of hard science fiction. This book incorporates the real world and fiction so well I have to remind myself that it's fiction."- Lisa Phillips
"A vast conspiracy to control history in an alternate timeline very similar to the 'reality' we all know and love is uncovered in the suppression of obscure discoveries in the physics of electromagnetics in the past. Written by a Ph.D. in theoretical physics and an antenna expert in the vein of the classical libertarianism of Robert Heinlein, this volume two of the "Hidden Truth" series is great fun for fans of alternate reality SciFi stories." -MX_Cat
"Very tightly plotted with well-defined characters. A self-contained story which leaves you wanting more." -md
"Great fun and a good read. Hans joins the short list of physicists who can write enjoyable fiction. Go Jackets!" -Jim Stratigos
"This series is a bit of Golden Age science fiction which somehow dropped into the early 21st century. It is a story of mystery, adventure, heroes, and villains, with interesting ideas and technical details which are plausible. The characters are interesting and grow as they are tested and learn from their experiences. And the story is related with a light touch, with plenty of smiles and laughs at the expense of those who richly deserve mockery and scorn. This book is superbly done and a worthy sequel to the first." -John Walker
Book #1: The Hidden Truth is also on sale for $0.99.
---
IF YOU LIKE JAMES BOND, JASON BOURNE OR JACK BAUER, THEN YOU"RE GOING TO LOVE JOHN BUCHAN!
John Buchan is a relic from a bygone age, a man constantly at odds with the modern world; a man who finds sanctuary in the only role that brings him peace of mind – as an assassin for a top-secret British government agency called the Mill. Specializing in what they call 'ungentlemanly warfare', its operatives are instructed to kill their targets wherever they find them, irrespective of boundaries, laws, jurisdictions or circumstances. Day-to-day, Buchan lives a simple, anonymous life in the Belgian countryside, restlessly roaming the battlefields of the Western Front in an attempt to kill time. All the while he waits patiently for the message that will signal the start of his next mission. It's a message that will arrive, the way it always does, hidden within the solutions of the Daily Telegraph's cryptic crossword puzzle. And when it does arrive, it's like he's been reborn, because in Buchan's world being on a mission is the only time when things really make sense; the only time he feels truly alive. He barely remembers the time before he was recruited by the Mill.
His name wasn't John Buchan then. In those days he was known as Charlie Hook, a happy-go-lucky, rugby-playing, ex-Rhodesian Light Infantry trooper turned Gurkha officer with an eye for the girls. But Charlie Hook is long dead, and so too are his memories of the events that led to him becoming a professional killing machine. Buchan is getting older now. Retirement beckons, but the man he calls Control has one last mission for him. It involves a ruthless army of some of the world's worst terrorists, an equally ruthless drug lord, an enormous hurricane and seemingly unsurmountable odds. But it also offers Buchan a last, desperate chance to take revenge on those that took his young life – and love – away from him all those years ago, and he plans to go out with a bang.
Set against a backdrop of unprecedented worldwide socio-political upheaval, Lost Causes is an old-style thriller that moves from the modern-day Ypres Salient and London to the badlands of Northern Ireland and the exotic but deadly jungles of southern Mexico. Mixing the kind of plot found in an Ian Fleming novel with the unashamed masculinity of an Alistair Maclean or Wilbur Smith hero and the tough, muscular prose of Mickey Spillane, Lost Causes is a startlingly intelligent and original work that interweaves dramatic action, sudden violence, stunning plot twists and subtle humour to entertain and inform in equal measure. It will especially appeal to anyone bored by the stale unambitious writing, and inane, politically-correct sensitivities of so many modern novels; as well as anyone looking to understand the sinister and dangerous forces that have plagued our lives for decades and which now threaten to destroy our civilization altogether.
Richard Nichols studied philosophy and psychology at Edinburgh University. He was a businessman for several years before turning his hand to writing. He enjoys watching rugby and visiting battlefields. He hates crossword puzzles.
---
It's 2076, and the Earth is trying to kill us. Seasons mean little as deadly storms occur daily, killing tens of thousands. Famine and drought plague entire continents, leaving most hopeless and lost.
Yet, some nations still exist, and they've bet the future of humanity on developing faster than light travel and fleeing to New Eden, a garden world a hundred light years away. In pursuit of this, the Ladder, a space elevator, has been constructed and an Artificial Intelligence—an AI—controls the bodies of volunteers as they perform mundane tasks, all for a chance at a home on New Eden.
Sarah Martinez is one such woman. She wants nothing more than to be on the first ship to the stars. And she'll do anything to get there, even sacrifice her identity and safety under the control of the AI.
But when a chance encounter exposes a conspiracy that threatens the future of humanity, Sarah must decide whether saving herself is worth abandoning everyone and everything she cares about.
The ships are boarding for New Eden, but whether the planet will be humanity's hope or its worst nightmare is based solely on her.
---
Courage, Danger, Valor…

…all await in Steampunk's special forces.

The Knights of the Crystal Spire are Rislandia's most elite fighters. Trained from a young age, they alone can face the deadliest enemies of their kingdom and beyond.

James Gentry joins the Knights' ranks, starting as an apprentice on his journey from a simple farmer's life to the way of the warrior. He must face spies and traitors, soldiers and assassins, and doing so under the watchful eye of a beautiful princess.

Does he have what it takes?

Fans of strong men relying on the camaraderie of a band of brothers will love The Steam Knight. Read today!
---
For Steam And Country – A Steampunk Fantasy (The Adventures of Baron Von Monocle Book 1) by Jon del Arroz is also on sale, on the Fan Favorites page.
---
Jericho Jackson looks forward to finishing one last job: a high-risk, high-pay mining gig on a tiny moon in a distant star system. A string of disasters throws the operation into life-threatening chaos as his team is cut off from outside contact. Even with their specialized training, if the power dies, his crew dies.

Shanna Percival, his teammate and one-time girlfriend, keeps their equipment in top shape, but her tendency to stick her nose where it doesn't belong turns up a mysterious cache of data that shouldn't exist.

Knowledge is power. Her discovery could be the ultimate key to overcoming the growing danger, but time is running out…
John M. Olsen edits and writes speculative fiction across multiple genres and he loves stories about ordinary people stepping up to do extraordinary things. He hopes to entertain and inspire others with his award-winning stories as he passes his passion on to the next generation of avid readers.
---
Everyone Lies.
PRAGUE, 1870.
For the last ten years, nineteen-year-old Eleanora Svobodová has worked as a servant in her stepmother's household. Along with her older brother, she dreams of the day they will be free to live life on their own terms.
But everything changes when their estranged grandmother comes to Prague on behalf of Queen Victoria. Throughout Bohemia, a string of murders and secret whispers hint at a larger coup. As the leader of the Order of the Crystal Daggers, an ancient order of spies and soldiers that protect kingdoms and their rulers, Lady Penelope is determined to discover the perpetrators. Now, Eleanora must make the choice between a life of intrigue and saving the lives of others.
Can Eleanora find a way do the right thing and still find freedom?
FROM THE BOOK:
"I want to be free." The words came rushing out of me before I could think through their implications and consequences.
"There are two things you need to know about yourself if you want to be free—what you stand for, and what you stand against." Lady Penelope held up her hands, brandishing a pair of daggers that had been hidden in her skirts. "This world lives enslaved to its destruction, and so long as you are living, as long as you are fighting, you will be free."
I gazed at the daggers, transfixed. Each blade was clothed in a leather scabbard, but the silver and obsidian of the daggers' hilts winked at me, as though it was calling for me.

FROM THE AUTHOR:
With a fun blend of historical fiction, true love, castle intrigue, and family dysfunction, The Order of the Crystal Daggers is my latest adventure series!
WHAT REVIEWERS ARE SAYING:
5 STARS! ~ Reader's Favorite
This story was fantastic! Definitely one of my favorite reads of this year! ~ Laura A. Grace, Unicorn Quester Book Review
---
The clouds in front of him began to shade over, their airy inscriptions spelling out a message of welcome—or maybe a warning—as the promise of land became clear.

Eydis.

As an accomplished Viking warrior, Sterlig Kyvansson always found a way to get what he wanted—until he wanted Arja Freydottir. After Sterlig is denied the right to marry Arja, he is determined to do anything in his power to claim her as his own—even if it means slaying the dragon that guards the cursed island of Eydis.

With his brother's sword at his side and Arja's hand on the line, Sterlig sets out for Eydis with his friends. When they arrive, they quickly find that the rumors of Eydis are all true, including the irresistible beauty of the Princess of Eydis, Brynja the Bride. With her blessing, Sterlig heads out into battle with the dragon.
But near that battle's end, Sterlig discovers the terrifying secret behind Eydis' power. Is it already too late, or can his discovery still make a difference?
With danger, friendship, and a surprising twist, Eydis: The Island of the Dragon Bride is a Viking fantasy adventure from award-winning, genre-hopping author C. S. Johnson.
---
Do mermaids believe in humans?
While working on a deep-sea diving assignment at the University of California, oceanography student Jay Bishop is dragged into a volcanic tube towards the earth's core and certain death.

But much to his surprise, Jay not only survives the fall, he finds himself taken prisoner by a community of mermaids and kept alive as a science experiment. Confused and disoriented, Jay's only hope to escape back to the surface is found in Paga, an elder of the community who believes Jay's unexpected arrival marks the fulfillment of a terrifying prophecy.

With the community rising against them, Jay and Paga face dangerous choices — and their consequences — if Jay is ever to see home again. Will Jay make it back to the world on the surface? And even if he does, how can his life be the same ever again?
FROM THE BOOK:
"Are the others boring you to death, that you're listening so intently to my remarks, darling?" Jay asked, teasing even though he welcomed her churlish chatter.
"People confuse boredom for stability, and stability for sanity," she muttered.
Jay laughed. "Well, I'm sure some people would never assume we had a solid grip on sanity before we decided to become oceanographers. With several metric tons of water pressure surrounding us at these depths, I'm sure someone would be quick to question our mental facilities and their working order."
"True enough, brother mine." Noelani paused, and Jay knew she was likely rolling her pretty eyes. "And yours especially, since your sanity was barely there to begin with."
FROM THE AUTHOR:
Enjoy this short story adventure tale set before Till Human Voices Wake Us, a science fantasy novel with an unlikable protagonist, sadistic mermaids, and the trip of a lifetime.
WHAT REVIEWERS ARE SAYING:
"Very exciting prequel!! Lots of mystery and suspense. Can't wait to read the next one!" ~ Dee Bookworm Book Reviews
"This is a very entertaining read, very action filled opening followed by a philosophical middle, with a thrill ride of an ending." ~ Author C. O. Bonham
---
Sapphira is a desert world with little plant life, where the people live in the shadows of gray sunlight, sickened by the Dark Plague.
To cure the people, the Guardian of Dreams sends the Spirit of Truth to bring the light back into his darkened world.
In the form of Pegasus, he enters the world through the pure, innocent dreams of Selene, the reluctant princess and heir-apparent to the throne.
Now, with her brother Dorian as king, another rebellion is stirring.
All eyes are turning to Selene to bring peace through an arranged marriage.
However, Selene only has eyes for her true love—her protector, Etoileon.
As the rebellion unleashes its fury upon the kingdom of Sapphira and the supernatural forces collide, Selene is caught in the middle of all conflicts—the battle for her world, the battle for her love, and the battle for her very soul.
---
A prequel to the book NYT bestselling author Hugh Howey called "One of my favorite space romps of all time!"
"I laughed out loud (like, guffawing) on multiple occasions while reading this book." – Brian G.
This and Starship Grifters is an excellent entry point into the insane adventures of the galaxy's greatest wheeler-dealer. Not to be missed! – Robert D.
"Utterly hilarious." – Bernie V.
Interstellar con man Rex Nihilo has a price tag on his head.
Railroaded into smuggling a shipment of contraband to a planet short on food, Rex finds himself on the run from an insidious corporation named Ubiqorp, which reaps obscene profits by keeping the planet dependent on shipments of synthetic rations. When Rex and his long-suffering robot companion Sasha are sentenced to work as slave labor on a massive Ubiqorp plantation, they learn the terrible secret behind the corporation's products. Well, maybe not so much terrible as mildly unnerving.
To escape, Rex and Sasha team up with a mis-programmed combat drone and an intelligent mutant plant to lead a rebellion against their merciless corporate overlords.
Out of the Soylent Planet is a novel-length prequel to Starship Grifters, the book NYT bestselling author Hugh Howey called "one of my favorite space romps of all time." You can start your adventures in the Rex Nihilo universe here or with Starship Grifters; you'll be equally confused either way.
This edition of Out of the Soylent Planet also contains the story The Chicolini Incident, because Robert Kroese loves you and wants you to be happy. Pick up your copy today!
---
True Grit meets Cthulhu, it ain't gonna be pretty…

Deputy Marshal Porter Rockwell can't be harmed by a bullet or a blade. As long as he never cuts his hair, Rockwell is free to right wrongs and chase criminals without worrying about the mortal consequences. But in the Old West, there are far worse things waiting to kill you than just Indians and outlaws; the Old gods and hungry ghosts, skin-walkers and horrors undreamed of…

Old Gods New Tricks is a collection of weird western stories in the vein of classic pulp fiction and Louis L'Amour yarns. If you like frontier justice, larger-than-life characters, and witty humor, then you will LOVE the next installment of the Cowboys & Cthulhu series.

Buy Old Gods New Tricks to slap leather in a weird western adventure today!
David J. West writes dark fantasy and weird westerns because the voices in his head won't quiet until someone else can hear them.
He is a great fan of sword & sorcery, ghosts and lost ruins, so of course he lives in Utah with his wife and children.
---
Six-Guns and Strange Shooters
Headlined by veteran storyteller David J. West, A Fistful of Demons assembles over twenty of the freshest voices in the Weird West genre into one massive anthology of short fiction that will take you on a wild ride unlike anything you've experienced before.
Weird West, Western Horror, Fantasy Western—call it what you will—the stories in A Fistful of Demons deftly weave together a complex and thrilling blend of North American mythology, magic, alternate histories of American icons, steampunk, and more—all framed in the action-rich setting of the Old West. Famous novels, comics, and games in the genre include Joe R. Lansdale's epic Deadman's Crossing, the classic RPG Deadlands, John Albano & Tony DeZuniga's award-winning Jonah Hex comic book series, Stephen King's opus The Dark Tower, and R.S. Belcher's bestseller The Six-Gun Tarot.
A Fistful of Demons packs over 600 pages of Weird West stories inspired by the novel The Widow's Son between two covers. No denying it, partner, this tome is fair bursting at the seams.
Stories in the anthology include:

It Couldn't Happen Here by David J. West
Porter Rockwell remembers a time years ago when his foster son and a friend were worried over undead near their home along the Utah lake—it turned out to be just a resting place for Indian dead until they could be buried—but years later when there really are undead troubling the area, Porter is forced to face a situation he never thought would be on his own doorstep.
The Spear of Destiny by Ryan Williamson
Magdalena, a young Mayan woman belonging to an order of demon-hunting priests, nuns, and monks is sent by the Vatican on a quest to recover the lost Spear of Destiny—the very lance that pierced the side of Christ. In her quest she travels to America and is joined by an old friend, the fabled lawman Zarahemla Two Crows. To recover the spear, they must battle cultists, unholy beasts, and conqueror a forgotten monastery possessed by an unimaginable evil.
A Reunion on Bloody Island by J. E. Tabor
Orphaned when she was just a girl, Penny grew up among the Lakota who took her in as their own. But when the ravenous dead poured into the Great Plains to drive the foreign settlers from the land, she was forced to flee, whether her people accepted her or not. Separated from the newly wed husband who promised to bring her back home, Penny is confined to a U.S. refugee camp miles from the militarized border on the Mississippi River. With the help of a mysterious stranger serving an unsavory patron, Penny makes a deal to get across and back to her husband and the rest of her family. What Penny doesn't realize is that the deal she made just might be with the devil.
Call Me Rex by Jim Carran
Young Jedediah Burroughs is the lone survivor of a brutal attack on his isolated fort. Seeking revenge and redemption, he partners with a mysterious sword-wielding stranger called Rex to track down the source of the invasion and save whoever he can. But Jed is no warrior and Rex won't always be by his side.
The Devouring Eye by Bradley R. Mitzelfelt
July 13th, 1868. Evil has come to the blossoming city of Minneapolis in the form of an ancient demon. A lone demon hunter, the last descendant of the famed Halez Family, Jacob Halez, is on the hunt and has followed the demon known as Ketev Meriri across the world to the city on the edge of the doomed west. Now, he seeks to confront it and end its reign of terror among the Jewish people, but his efforts may be doomed from the start! One man against a host of demons. Can he succeed, or will he, too, be devoured by the Eye?
And over a dozen more…

KEEP THE GOOD BOOK CLOSE AND YOUR SIX-GUN CLOSER.
---
REVIEW by Donna Gielow McFarland for Readers' Favorite. Crossing Over by Paul Clayton tells the story of an American family trying to survive the beginnings of the second civil war. Set some time in the not-too-distant future, the existence of two simultaneous presidents has split the country along ideological lines. The protests are becoming violent, sections of the country have formed their own militias, along with the militias of the two warring parties. In the midst of shortages of food and other necessities, gangs and thugs are terrorizing formerly safe neighborhoods. Realizing that it is no longer safe to remain in their home, Mike McNerney decides to pack the camper and flee to Canada with his wife, Marie, and disabled teenage daughter, Elly. Unfortunately, everyone else has the same idea.Once I started reading, I could not put down this well-written and compelling short novel. Clayton's premise is chillingly realistic. The book does not focus on the politics, but instead focuses on regular Americans who not long before led totally normal lives, and who are quickly turned into refugees as they try to escape the crime and violence taking over the country. The scene at the Canadian border was highly believable, as was the deterioration of Mike and Marie's relationship as it crumbled under the stress of their ordeal. Complicating matters is the need to protect their beautiful daughter Elly, who is naïve enough to wander off with any stranger. Crossing Over should stand as a warning to anyone inclined to think that violence is the answer to political disagreement, as it paints a picture of how America could slide into chaos far too easily. There is some mature subject matter and language. Recommended for readers who are brave enough to read it.
---
In the future, the love of a young man's life is dying. He would do almost anything to keep her alive…except that! In Dog Man, it turns out that Oscar the tomcat was just misunderstood — with deadly consequences… A love sick young man attempts to tap the power of an ancient religion to secure the affections of a girl on their class trip to Christland… The dead come briefly back to life every year when the astral dimensions align in Day, or Two, of The Dead. A cynical young 'player', adrift in the modern, amoral age meets God on a mountain top and his life is changed forever — but not in the way he'd ever imagined. Traditional sci-fi/fantasy and satire from the author of Carl Melcher Goes to Vietnam. Clayton channels the spirits of Huxley, Orwell and Philip K. Dick in these and ten other intelligent, provocative and highly entertaining stories. WHAT THE CRITICS ARE SAYING "Thank you for writing this. This is the sort of book I was hoping would begin to spring from the Indie world. No way would NYC Corporate Publishing ever allow something with this world view through." "… I expected Strange Worlds to be about dystopias, supernatural monsters, zombies, and futuristic technologies, but now after reading this collection, I realize that the stories are about us." "Clayton leads the modern reader through dark and dangerous territory, but the gems they will find there are worth the risk. Very few Indies would have had the courage to put their names to something like this." "… while you are being taken away to a place and time which is… strange and… disturbing… the humanity of (most of) his characters will make you feel right at home; of course, you'll want to leave a light on."
---
What if you had access to a time machine and could go back to visit a deceased love… one more time. Would you?

In 1962, Bobby Newman's Grandpa, a basement inventor, loses his wife to cancer, then begins to lose his mind to grief. While tuning up his not-yet-perfected time machine for one last visit with his wife, he ends up going the wrong way… into the dystopian future of 2025. Inexplicably, he sends the machine back.

Fourteen-year-old Bobby uses it to lead Mom and Dad on a mission to find Grandpa and bring him back.

But Grandpa has other ideas…


This volume brings together five of Paul Clayton's most ambitious stories to date, stories that juxtapose a familiar America of the very recent past with ominous new versions of the country now coming into focus.

Clayton's concern is with ordinary people—their innate wisdom and persistent foolishness, their capacity to do good or harm, and their resiliency—with what happens when time travelers from the 1960s arrive in a city dominated by criminal gangs and corrupt politicians, or when a woman opts for a new procedure to avoid losing her cancer-ridden husband, or when a soldier in Vietnam is granted a once-in-a-lifetime opportunity to give his elevator speech, or when a man, illegally alive, attempts to stay that way…

Clayton shows how people make choices that, collectively, point civilization in new directions, be it toward forcible reclamation of vast tracts of land as primeval wilderness or elimination of those deemed to be nonproductive 'useless eaters.'

This is a first-rate collection of stories by a serious writer.—Stephen Gallup, author of What About the Boy?
---
2021 !WINNER! in Science Fiction — Los Angeles Book Festival! Readers' Favorite 5 Star review: Talk to a Real, Live Girl And Other Stories by Paul Clayton is a short collection of light sci-fi tales. The flagship story is Talk to a Real, Live Girl. Disillusioned with the extreme societal and political changes on Earth and a ruined relationship, Alex leaves home to work at a mine on Kratos, a distant planet. Kratos also offers some free time diversions, one being particularly appealing to men far from home; robot females who are perfect and always willing. Alex has no real interest in them, despite his loneliness. Then, one day he meets Traci, a "real, live" girl. Do Alex and Traci have any real hope of a future together? In the next story, The Lawn, Bob Hanlon struggles mightily to come to terms with his forced retirement and the strange presence that seems to have taken up residence in his overgrown yard. In the third story, Happy Acres, a couple finds their new life on Mars less perfect than what they had been promised. Finally, the first two chapters of a novel-in-progress about the fabled Lost Colony of Roanoke complete this collection of stories. In Talk to a Real, Live Girl And Other Stories by Paul Clayton, readers find entertaining stories that almost read like episodes of beloved classic sci-fi TV series. The main story, a poignant tale of loss, new possibilities, and adventure, makes some subtle, near humorous observations about contemporary American society and what the future could hold. The other two stories, while lighter fare and shorter, are no less interesting. These stories are a quick, enjoyable read, and Paul Clayton has a talent for immersing readers almost immediately in their narrative, including the bonus chapters at the end. Any message the author is trying to convey does not get in the way of the basic flow of the stories, which is a desirable feature. He also draws attention to other stories he has written, and readers will find themselves willing to invest time in reading these. Alex has fled a broken marriage and a society on Earth grown hostile toward men. Landing on the mining planet, Kratos, known to its male work force as "Boyz Wurld," he hopes to lose himself in hard work, drinking, and the illusion of female companionship provided by robots. Will that be enough? In time, Alex finds himself longing to Talk to a Real, Live Girl. Predictably, there aren't many on Kratos. Then he finds Traci, as well as the dream of a new beginning back on Earth—a normal life—if only the forces controlling Kratos will permit it.A genuine love story, Talk to a Real, Live Girl explores consequences of a #MeToo movement run amok, and of adaptations brave individuals may be forced to make.
---
When cyber security defender Owen Dylan MacIntyre is forced from behind his computer screen to investigate a potential terror threat to the Pacific Northwest, he crosses paths with the unpredictable and tragic Tomás Chen-Diaz and his brother, the enigmatic Francisco.
A wealthy global plutocrat, Francisco is also a brilliant amateur biotech scientist who has many powerful associates and a few dark family secrets—-secrets he's ready to kill to keep hidden.
Rapidly drawn into Chen-Diaz' web of international conspiracies, MacIntyre finds his skills tested to the limit as he's trapped in a world where science and technology invade the most sacred realms of the human heart and soul…a world where he'll confront some uncomfortable truths about himself…
...if he survives.
Book One of the Beyond Cascadia series, Echoes Through Distant Glass deftly weaves timeless themes of humanity and a range of relevant geo-political and bioethics issues into a memorable cyberpunk techno thriller drama. The vivid prose, haunting imagery and unforgettable characters will linger with the reader long after the thought-provoking and emotional conclusion.
---
Rattan
by T.J. Marquis
Rattan was born to build.

She's even bolted together her own custom robot. There's nothing she'd rather spend her days on… But she's happy to to report to academy for her nation's military draft of all second-born children. After all, isn't a model citizen eager to serve her elites?

She dives into the harsh tutelage of Master Koscha, willing to give her all to comrades and country. But when her best friend is murdered, Rattan is set on a path that she may not return from.

Rattan is a science fantasy survival story for teens and up, with a melancholy vibe but no shortage of heart.

Originally published on Kindle Vella.
---
Set in the same world as FROZEN DREAMS, this sprawling anthology stretches over 900 years of future post-apocalyptic fantasy history!
There are ten stories, including several never before published.
And, for fans of FROZEN DREAMS, there's a new novelette starring Tom Vargas.
Moe Lane is a stay-at-home father and unrepentant geek who is interested in fantasy, science fiction, and roleplaying games. He's had a variety of jobs over the years, from retail worker to political New Media blogger/digital activist; but now he writes books, short stories, and gaming supplements. He finds it all very, very restful. TINSEL RAIN is his latest novel.
---
Get the Captain Quasar Boxset, featuring all three hilarious books in this romp through space and time. Perfect for fans of Galaxy Quest, Guardians of the Galaxy, and Hitchhiker's Guide to the Galaxy.

Captain Quasar is out of time.

Pursued by vengeful Goobalob toll collectors, savage Arachnoid bounty hunters, and formidable Amazonians, Captain Bartholomew Quasar must do whatever he can to keep the crew of the Effervescent Magnitude out of harm's way.

All in a day's work—except time is not on his side.

Torn from the present to relive his past, he vows to keep mistakes from occurring the second time around. But is he doomed to repeat history? Or can he erase his regrets? Villains will be vanquished.

Lives will be lost. Bonds will be betrayed. Heroes will be heroic. Join the crew of the Effervescent Magnitude in this special edition omnibus for a side-splitting time-travel space adventure the likes of which you've never seen!

Books Included in the Set:
Book 1: The Space-Time Conundrum
Book 2: The Mass-Exodus Reversal
Book 3: The Phaze-Worlds Dilemma
---
A detective with a price on his head. An invisible criminal with nothing to lose.

The vault door never opened. The bank went into lockdown in less than a minute. Yet the security footage was unmistakable: a hundred silver bars had vanished into thin air.

To avoid the fury of a local mob boss, private investigator Charlie Madison has been hiding out in Little Tokyo. But when an old friend lures Madison back into the city to hunt down an invisible criminal–if he can–federal agents swoop onto the scene and take matters into their own hands. They offer Madison a deal he can't refuse if he agrees to work with them. As Japanese freedom fighters and refurbished killing machines threaten to take the world to the brink of nuclear holocaust, the United World government needs all the help it can get.

Embroiled in an unimaginable mystery, one private eye must rely on his wits to solve a case where the evidence is immaterial, and the odds are stacked high against him at every turn.

Novella – Crime Noir / Science Fiction
Sequel to Girl of Great Price
Precursor to Yakuza Territory, Chimera Effect, and The Gifted Ones
---
A teenage girl in medieval times must keep her father from killing the only boy she's ever loved. In the process, she must also save her village from an evil sorcerer and his mutant henchmen. It's just another day in the life of this indomitable farmer's daughter.

Short Story – Humor, Fantasy
Speculative Fictioneer / Author of Captain Quasar, Spirits of the Earth, BackTracker, Charlie Madison P.I., The Interdimensionals, Those Who Wait, Westward Tally Ho, Coyote Cal, Vic Boyo, Dahlia & Brawnstone, Mercer the Soul Smuggler, Roadkill Joe, and a whole lot more. www.milojamesfowler.com
---
Everybody starts out somewhere.

For Coyote Cal and Big Yap, famous heroes of the Weird West, it was Trouble on the Range: 30 episodes of action-packed mayhem written by a 15-year-old kid with way too much imagination (and free time), filled with enough plot twists to make your head spin.
Speculative Fictioneer / Author of Captain Quasar, Spirits of the Earth, BackTracker, Charlie Madison P.I., The Interdimensionals, Those Who Wait, Westward Tally Ho, Coyote Cal, Vic Boyo, Dahlia & Brawnstone, Mercer the Soul Smuggler, Roadkill Joe, and a whole lot more. www.milojamesfowler.com
---
The Fall of Denver takes place simultaneously with the events unfolding in England during Wells', War of the Worlds. Doubtless, even as England was being invaded, so were all the other countries around the globe.

In this story we will find out how the invasion of the United States plays out in general, and how it affects the men, and their families, stationed at a U.S. Army Fort near Denver, Colorado.

For Major Daniel Wayne, an arrow in his knee has ended his career in the U.S. Army. Shortly after he arrives at Fort Logan outside of Denver, Colorado to hand in his retirement papers, word is received of an extra-worldly invasion of England. Before he and the Fort's commander can begin to process this information, the first Martian cylinder lands to the east of Denver.

Wayne is entrusted with the safety of the civilians at the Fort and in the surrounding area, taking them to the safety of the nearby Front Range even as the battle to defend Denver rages behind them. Wayne must keep the trust of his fellow officers to keep their familes safe, and confronts the ghosts of his own past, even as he longs to join the battle.
---
Ten years after the death of Paragon: The World's Greatest Superhero, heroism has withered in the city.
A hidden threat keeps superhumans in hiding until a teenage boy dons the red, white, and blue of Paragon once more and sets off a chain reaction that exposes the truth behind the hero's death and what preys on new superhumans in the shadows.
Join Dasani Watson as he brings hope back to the city. Meet James, afraid of his own dark power, and Amy, a girl with devastating powers who wants to fit in somewhere. Together, they'll battle villains new and old and take on this Legacy of Heroes.
---
Return to the world of the Avatar Wizard with this collection of short stories. See how Jeremy's mother first met Arianna, how Arianna convinces Master Anthony to marry her, and other tales not revealed in the main story of Jeremy's path to mastery of the Volkh arts.

Come along as Jeremy rides with the Weather bringer's Hunt, climb with Harald as he seeks the forge of the Sun, and read how Helena's mischief almost catches up with her. See the changes that come to the Keep as Arianna has her kits and both of Anthony's sisters are courted. Go home with Danil as he and Harald venture south to the rich wheatlands to repair the great canal. Visit low dives as Jeremy and Gerasim steal a bard.

In addition, a glossary of people, places, and words has been added at readers' requests. Please note a few of these stories were published in anthologies in shortened form. This is the 'canonical' version.
---
The galaxy is at war, but wars are won and lost in the shadows.
To the galaxy at large, Jack March is a privateer of the interstellar Kingdom of Calaskar and a former Iron Hand commando of the malevolent Final Consciousness. In truth, he is an alpha operative of the Silent Order, the most efficient and feared intelligence organization in human space. When there is a crisis, Jack March is the man to call.
But there are many forces that wish to enslave or destroy humanity.
And when a mission leads March to a lawless asteroid space station, he might be the only one left to stop those forces…
---
Ridmark Arban is the Shield Knight, the defender of the realm of Andomhaim.
The realm is at peace after a long and terrible war, but dark powers threaten other lands.
And when a mad elven wizard comes to the High King's court, Ridmark finds himself fighting not only for his own life, but for the lives of his family.
For the quest of the Seven Swords has begun…
---
A Friendship Forged in Hell!
Daniel Leary is a lieutenant in the Republic of Cinnabar Navy with no money and no prospects since he quarreled with his ruthless, politically powerful father.
Adele Mundy is a scholar with no money and no prospects since her family was massacred for conspiring against the Government of Cinnabar.
Kostroma is a wealthy planet which depends on diplomacy to stay independent in a galaxy whose two great powers, Cinnabar and the Alliance, battle for supremacy.
In a few hours, diplomacy is going to fail Kostroma. Daniel, Adele, and the scratch crew they gather aren't much to stand in the way of a powerful invasion fleet, but just possibly they're enough.
Men and women who hold courage cheap and honor more dear than life itself face impossible odds in a novel of color, intrigue and slashing action. From the corridors of a treason-ridden palace through the perils of unknown seas and hellish jungles to a final blazlng climax in space, the heroes never bow and the action never flags.
They have nothing on their side but each other—and heaven help whatever tries to stand in their way!
At the publisher's request, this title is sold without DRM (Digital Rights Management).
---
Pugnacious Footefake — bachelor, volunteer fireman, and seller of shoes — is beset by the unearthly and the magical.
One night the moon falls into his yard. Then he meets a frenetic mousefox while taking the census. Two children try to sell him a cup of gravity. An event with a fax machine prompts him to arrange a marriage. He finds himself on a snowy world, with a Princess trapped in ice. He receives an unusual package that keeps changing its mind. A roach starts a conversation with him.
And on a summer evening in a forested park, he is kidnapped by a pitiable nymph, who wants to grant him three wishes.
---
Eight stories of rockets and robots, monsters and Martians, fistfights and beauties, wonders and awe…
A young man's blind date is kidnapped by Martians and he is drawn into her secrets.
A brotherhood outside of time seeks to mend a Solar System devastated by lunatic machines.
Men from a Plutonian research base confront metaphysical weirdness on Charon.
Two runaway sisters resolve to rescue the implanted helper-sentience of a deceased warrior. And more!
---
Low on luck, but not ammo
The last thing Kenneth Jericho needed was
a gunfight and car chase with human traffickers.
What started as a bad morning only got worse.
A flash of light sends Ken to a strange world
filled with magic, hideous monsters, beautiful women,
and seemingly unlimited ammo.
With pistol in hand,
Ken is thrown into a race against time
to stop a local ganglord's reign of terror.
But is the thug the brains behind the violence,
or is someone – or something – else
pulling his strings?
---
THE HUM OF RUBBER TIRES ON HOT AND DANGEROUS ROADS
THE WHITE DOTTED LINE BETWEEN LIFE AND DEATH
A YOUNG BOY'S FIGHT TO CHART A ROUTE TO MANHOOD
Take a ride through a different sort of apocalypse.
A world on the verge of forging a better tomorrow, or repeating all the same old mistakes.
And the fate of the world to come rests on the shoulders of a young boy as uncertain of his future as the world in which he fights to survive.
---
High in the desert, between the mountains out west, up where the ground throbs from the nuclear test detonations, the casinos still glitter, drawing people from the far reaches of the world.
They come here to try their luck, to take a chance, to have the adventures they wouldn't write home about.
In this other-world, the desert offers one last hope for the penniless, the luckless, the loveless, and the hopeless.
A pawnshop dealing in wonders, where everything is for sale: a chance to get off the street, a few extra days with a dying lover, an afternoon in the sun, a home to call your own, the perfect wedding, or the chance to become a master magician, or a giraffe for your Sunday morning.
But beware of the Master, and price he demands.
In the tradition of The Twilight Zone and The Illustrated Man, master storyteller J. Daniel Sawyer guides through phantasms of hilarity, perversity, horror, and heartbreak in the darkest corners of the human soul.
---
Hadrian Jin.
Skyguard.
Refugee.
Twelve times a day, this sixteen-year-old proprietor of Luna City's best orn-suit shop fits his wings and jumps out into the open air to soar with the grace of an eagle. For forty dollars an hour, he can teach any groundhog how to fly bird-fashion in the moon's low gravity.
But when the tramp of military boots on the road to his home forces him to flee, he finds himself adrift between planets, on the run from government agents, without hope of home.
Out of his depth and thrust into danger for which he's ill-prepared, Hadrian must learn the true reason for his exile, and finally spread his own wings…
…before war comes crashing down around him.
---
Peng planned to continue to serve the Master in the stables. After all, magicians lived forever. Qian thought that she would care for her niece and marry who the Master said to. Neither of them expected the Imperial Censor to come
Yaros wasn't happy with the plan of impersonating the Censor and his retinue. All to keep an oath given to a warlock. How much blood would be shed for a traitor?
When magics and weapons clash, nothing goes as planned. And more than two lives are changed
A fantasy novella set in a China where Rus Vikings changed history.
---
In a topsy-turvy United States founded by pirates, the personal assassin to the chief justice receives a terrifying order: round up and kill all men who look like himself.
Why does the chief justice want these men dead?
What threat could they possibly pose?
And can the assassin save them—or will he become the final victim?
Spooky, sly and satirical, The Devil's Dictum recasts J. Edgar Hoover as a Satanic high priest, Calvin Coolidge as a private eye, and Richard Nixon as the pilot of a giant armored robot.
Readers hungering for original and mind-blowing alternate history need look no further.
---
It's Ronald Reagan in a jet pack! The author of The Devil's Dictum returns with another novel that shreds the history books.
The setting is the Cold War and Ronald Reagan has a shiny new toy to play with: a rocket powered suit. He'll need it to battle the terrifying monstrosity Leonid Brezhnev is building on a secret base in Siberia.
Standing with Reagan are Margaret Thatcher and Billy Graham, each wielding super powers. (If Thatcher in an eye patch won't turn you on, nothing will.)
Reagan insists on piloting the rocket himself—but the hardware is experimental and just might kill him.
Threats are everywhere: a treacherous Congressman, a wide-eyed nun from the Tudor era, an enigmatic boy genius called R2, talking heads on Mount Rushmore, punks in back alleys and missiles in the skies.
All while signs of a literal Armageddon unfold before Reagan's steely eyes.
---
Caliphate
by Tom Kratman *FREE*
"Slavery is a part of Islam . . . Slavery is part of jihad, and jihad will remain as long there is Islam." —Sheikh Saleh Al-Fawzan, author of the religious textbook At-Tawhid ("Monotheism") and senior Saudi cleric.
Demography is destiny. In the 22nd century European deathbed demographics have turned the continent over to the more fertile Moslems. Atheism in Europe has been exterminated. Homosexuals are hanged, stoned or crucified. Such Christians as remain are relegated to dhimmitude, a form of second class citizenship. They are denied arms, denied civil rights, denied a voice, and specially taxed via the Koranic yizya. Their sons are taken as conscripted soldiers while their daughters are subject to the depredations of the continent's new masters.
In that world, Petra, a German girl sold into prostitution as a slave at the age of nine to pay her family's yizya, dreams of escape. Unlike most girls of the day, Petra can read. And in her only real possession, her grandmother's diary, a diary detailing the fall of European civilization, Petra has learned of a magic place across the sea: America.
But it will take more than magic to free Petra and Europe from their bonds; it will take guns, superior technology, and a reborn spirit of freedom.
At the publisher's request, this title is sold without DRM (DRM Rights Management).
---
A BRAND NEW installment in the Fantastic Schools series…
---
Have you ever wanted to go to magic school? To cast spells and brew potions and fly on broomsticks and – perhaps – battle threats both common and supernatural? Come with us into worlds of magic, where students become magicians and teachers do everything in their power to ensure the kids survive long enough to graduate. Welcome to … Fantastic Schools.
Follow the daughter of a witch who wants to learn white—not black—magic, a trio of students sent on a mysterious task, a kidnapped student trying to escape, a troll who wants to study among the humans, and a magic-less boy with a chance to learn magic, if he survives his first month at a magical university.
Follow us into worlds different, magical …
… And very human.
Includes stories by:
Christopher Nuttall
Roger D. Strahan
Denton Salle
Karina Fabian
Frank B. Luke
George Phillies
Aaron Van Treeck
Becky R. Jones
Jay Barnson
Emily Sorensen
Peter Rhodan
Rhys Hughs
J.F. Posthumus
Barb Caffey
---
A narcissistic teenager who doesn't believe in destiny.
A city under supernatural attack.
An adventure that unfortunately changes everything.
Sixteen-year-old Hamilton Dinger leads a charmed life. He's got the grades for the top of the class, the abilities of a star athlete and Tetris player, and the charisma to get away with anything. Everything seems to be going along perfectly, including his plans to ask out Gwen Kessler, as he enters into tenth grade at Apollo Central High School.
Everything, that is, until a meteor crashes into the city, releasing the Seven Deadly Sinisters and their leader, Orpheus, from their celestial prison, and awakening Hamilton's longtime dormant supernatural abilities. Suddenly Hamilton finds himself reluctantly allied with his self-declared mentor, Elysian, a changeling dragon, and Starry Knight, a beautiful but dangerous warrior, as they seek to protect the souls of Apollo City from the Sinisters and their evil intentions.
Can Hamilton give up his self-proclaimed entitlement to happiness in order to follow the call of a duty he doesn't want? More importantly, will he willingly sacrifice all he has to find out the truth?

FROM THE BOOK:
At the time, I didn't really believe that anything outside my control would change my life. Or at least, not in a significant, substantial way. My life was all about myself, and I figured I had complete control over that. Anything that happened outside of my control was more or less because I let it happen, and didn't feel like stopping it.
It's funny how one disaster of epic proportion can really make you change your mind.
FROM THE AUTHOR:
Welcome to the epic world of The Starlight Chronicles, a young adult fantasy series about a team of fallen Stars with supernatural powers. Follow them through this alternatively snarky and sweet series as they become their city's resident superheroes, with all the fun and frustration of dragons and swords and homework! Look for Book 2, Calling, as the battle between good and evil continues on!
Perfect for young teenagers or disaffected college students, or adults who enjoy some wry humor with their reading!
WHAT REVIEWERS ARE SAYING:
If you like Narnia, superhero adventures, or coming-of-age tales, definitely give this book a try. ~ Chandler Brett, author of Wolf Code
5 STARS! ~ Reader's Favorite
… Hamilton's inner progress toward heroism feels touchingly genuine, and there are plenty of good comic moments to keep the story moving … Percy Jackson fans will eagerly await the next volume in the series … A fast-paced, effective teen-paranormal outing. ~ Kirkus Reviews
---
How Black the Sky
A young spellsword looking to prove his mettle stumbles on news of imminent doom. Falling in with legendary warriors from the Overland, Pierce heralds the coming attack from the hollow earth below.

His new friends are Gorgonbane. Once mercenaries, now heroes, they are the only thing standing between Overland and the horrid Monstrosities of the Underlord. His lust for power has reached its peak, but the coming invasion may not be exactly what it seems…

Pierce – a brash young man with rare blessings of strength and really bad news.
Axebourne – the fatherly berserker with infectious laughter.
Scythia – calm and motherly, her Circlet of Knowing reveals secrets.
Agrathor – a mighty spearman with an electric personality and a terrible skin condition.
Ess – Second only to the First Great Master of Convergent Reality Theory. Mysterious and alluring.The Hero's Metal universe:
The world of Chasmgard is a place with endless secrets and a strange cosmology. A deep red sun crawls across a canvas of black, and nobody remembers why. Landlocked by a depthless Chasm, Overland and the Underlands have always vied for power and land. In How Black the Sky, we join a band of legendary warriors who may just be at the end of an age.
---
Pierce and the heroes of Gorgonbane defeated the subterranean conqueror Kash one year ago. Since then, monster infestations have increased a hundredfold. It's good for business, but bad for the citizens of the reluctantly joined nations.

When a strange new entity crashes a dangerous extermination mission, everything falls into chaos.

Revelations about the world and whispers of a new form of magic litter the path from doom to an unexpected beacon of hope.

What is the Underlord Kash's prophesied threat? Can Gorgonbane save the continent from destruction? And who will Pierce have a crush on next?

Find out in Out of the Deep – Hero's Metal, book two.
---
Young Pierce the spellsword and legendary mercenary band Gorgonbane come together to fight rising threats from deep within their hollow earth!

Devastating weapons and magic, over the top action, true heroes, and an earth-shaking heavy metal vibe. Great for fans of Conan, Masters of the Universe, and readers who just want a fun story.

Praise from Periapsis Press:
"How Black the Sky is an enjoyable adventure full of hardcore action, valiant warriors, and thought-provoking themes. A great start to the Hero's Metal series!"

Praise from author NR LaPoint:
"A fun fantasy romp in a strange universe."

This 'demibus' volume collects books one and two of Hero's Metal –
How Black the Sky
Out of the Deep

It will be available for sale until the release of Hero's Metal book III, Fear the Four Towers. Get your copy while you can!
---
PHILOSOPHY: THE HANDS ON APPROACH
Mighty Greyboar, the world's greatest professional strangler, is dissatisfied with his lot in life. The work is steady and the pay is good, but what, he wonders, is the point of it all
But when he learns that there is a Supreme Philosophy of Life*, Greyboar the Strangler is Born Again! Still, just how can a professional man in good standing pay the bills with all this philosophical exploration getting in the way
That's what his hard-headed agent and manager Ignace wants to know! And Ignace's skepticism turns quickly into outright horror when Greyboar's philosophical preoccupation leads to one disaster after another . . .
—simple choke jobs turn into ethical quandaries . . .
—a bizarre artist and a deadly arms-master turn up to complicate their life . . .
—as if their new girlfriends haven't complicated it enough!
Before you know it, Greyboar the strangler and his disgruntled manager find themselves embroiled with an abbess at odds with her deity, heretics on the run, dwarves needing to be rescued, and then—worst of all!
Greyboar's long-estranged sister Gwendolyn, political activist and revolutionary, comes back to town asking Greyboar's help in an insane mission to the underworld. It's purely a noble cause, one which no self-respecting assassin would touch for a moment. But in the pursuit of Enlightenment, anything can happen. . . .
*What You want the details Hint: Entropy. For more on the secret, buy this book!
At the publisher's request, this title is sold without DRM (DRM Rights Management).
---
Paradigms Shift, Worlds Collide!
A daring and resourceful paleontologist uncovers something at the infamous K-T boundary marking the end of dinosaurs in the fossil record – something big, dangerous, and absolutely, categorically impossible. It's a find that will catapult her to the Martian moon Phobos, then down to the crater-pocked desert of the Red Planet itself. For this mild-mannered fossil hunter may just have become Earth's first practicing xenobiologist!
A new hard SF thriller from best-selling alternate history master Eric Flint and ace game designer Ryk E. Spoor.
At the publisher's request, this title is sold without DRM (DRM Rights Management).
---
When Hell's legions invade his homeland, a desperate warrior turns to the only mentor he can find – a bitter champion of the Everlasting Dark.
Gideon Halcyon wants nothing more than to save his people from the forces of Hell. Demons and cultists run roughshod over his home, slaughtering and sacrificing to a trifecta of fallen angels on the cusp of destroying the kingdoms of Man. Hope seems infantile in the face of extinction itself…
…until Gideon meets Ashkelon.
Coming from the Void beyond the world, Ashkelon alone survives the world he left in ruins. Cynical and ruthless, the dark sorcerer seethes with millennia of hatred, and his cursed sword Acherlith shrieks with the last screams of a thousand failed heroes.
Ashkelon makes Gideon an offer – to train him to be a hero of the Light beyond the failures sealed within his blade, a peerless warrior exceeding even the exacting standards of the Everlasting Dark. Reluctantly, Gideon accepts, and is thrust into a world of infinite cruelty under Ashkelon's black fist where the slightest misstep will see him dead at the sorcerer's hand.
As Hell consumes the hopes of Man, a hero is forged in Darkness.
---
Undeath has come to the Osseum Valley.
A mysterious plague has stricken the people of the valley, and a necromancer named Ezekiel has claimed responsibility, promising that once the pox has slain them all, he will raise their bodies in death in sacrifice to the dark god Sheol.
Only one man can try stop the disease: a doctor and veteran of the Samothracian wars, Ermog Grei. But science and medicine can only do so much against a disease of sorcerous origin, and Ermog is forced to turn to older sources for the knowledge he needs to save his family.
As the sickness worsens and the numbers of the dead rise, Ermog Grei must discover the true fount of power to save them all, and fulfill the prophecy that foretells his ascension…
Read the origin of the Bonescribe, the necromancer of Shades of Black II: Deathscream!
---
In a forgotten corner of Avalon lies the Onyx Desert. Rising from the wasteland of black sands are the tombs, ancient pyramids reared by those now-forgotten Lords of the Everlasting Dark.
Drawn by tales of fabulous wealth, a party of treasure hunters braves the Onyxian Sands for fortune and fame.
But one by one, they fall to treachery or darkness, and they realize there is something more to Aj-Ardur than a tomb to be plundered.
Now, as death strikes from the shadows, they must uncover a secret from beyond the stars and survive the terrible occupant of the prison of Aj-Ardur…
---
In the scorched wastes of the Hellscape, Anak, Slaughterlord of the Tor Kayn clan of titans, watches as his son is born, and names him… Ursus.
The young giant learns to survive the ruthless teaching of his clan, battle the minotaurs of the ruined plains and calm the savagery within to earn his place as a Tor Kayn.
On the killing fields of Bel Farak, treachery strikes from jealous slaves of Mammon, and Ursus must claim his destiny as the son of Anak or be lost to the forgetful sands.
Son of Anak is a brutal introduction to one of Shades of Black's most terrifying villains, the Slaughterlord Ursus.
---
From his earliest days, Louis Redmond proves to be a prodigy: brilliant, powerful, and great-souled, a trailblazer of the spirit and a natural leader of men. Armies would follow him into the mouth of Hell. Yet tragedy dogs his steps, depriving him of family and friends. Hammerblow follows hammerblow, giving him little time to recover.
But Louis is watched over by one who knows all the ways of Man: Malcolm Loughlin, immortal grandmaster of all things martial, who's trained the world's great warriors for two millennia. His wisdom, enough to elevate Louis to the throne of the world, is available to Louis, for a price…
A price even a Titan would shudder to meet.
---
Christine has no memory of her past.
She's been made a sexual slave by the Butchers, a gang of vicious bikers.
After ten years' agony, she's freed herself by committing murder and earning a faceful of hideous scars.
But Tiny, the Butcher king, is obsessed with her.
Her sole chance of escaping him lies in trusting a mysterious young man she's just met.
She takes a chance, the biggest of her life, on her serendipitous rescuer, and he proves more than equal to the task. But Louis Redmond has a few secrets of his own…and they prove to be just as important to Christine's future as his intrusion into the horror show her life has been…
---
Christine D'Alessandro has been away from Onteora County for three years when the death of Helen Davenport draws her back. She is swiftly, albeit unwillingly, enmeshed in a war between two private security companies: Integral Security, owned and operated by Kevin Conway, and Lawrence Security Patrols, owned and operated by Ernest Lawrence, brother to Onteora Chief of Police Raymond Lawrence.
Shortly thereafter, Stephen Sumner, the lieutenant governor of New York, decides to campaign for the presidency of the United States on the Constitutional Party ticket. He approaches Conway about security, and acquires Christine's services for the duration of his campaign. It proves a fortunate choice: powerful forces are determined to prevent the charismatic and principled Sumner from getting his message to the American people.
Sumner proves to be exactly what the nation, crushed by debt, taxes, and near-totalitarian government, has been looking for. That doesn't endear him to the powers that be or their supporters. One such supporter, political strategist Adam Zlugy, currently in service to President Walter Coleman, sees an opportunity for himself that his affiliation with Coleman cannot equal.
Malcolm Loughlin, Christine's old mentor, becomes alert to the multifarious threats to Sumner and Christine. They prove to be of a nature that reaches beyond mere politics…indeed, all the way to the forces that governed the creation of the world.
---
Even in his high school years, it was clear to all who knew him that Todd Iverson is special. There are no sciences, no technologies, and no arts he cannot master. There is no field of human endeavor he will leave untouched. He has the power to transform human civilization utterly, and he means to do so.
Todd does have a few little problems. For one, his mother crippled him emotionally by artificially orphaning him, abandoning him to become a nun just after his father's death. For another, he can't abide the idea that anyone might be better than he is—at anything. For a third, he might just be a sociopath: the most dangerous sociopath ever to be born among men.
The powers of darkness are aware of him, and they don't plan to let him work unmolested.
But Todd will not go his way unmentored or unprotected. The most powerful creatures on Earth have resolved to complete his upbringing and bring his strength to fullness:
Malcolm Loughlin.
Christine D'Alessandro.
And Louis Redmond.
Todd will find love and deliberately forsake it.
He will know the most terrible kinds and occasions of loss.
He will enter the world of business, first as an employee, later as an entrepreneur.
And his powers will reach their zenith just as a most improbable figure takes the White House.
For Todd Evelyn Iverson has his eyes on the skies. He has resolved that Man shall leave his species' womb at long last. As Stephen Graham Sumner and the Constitutional movement rise to prominence, he is preparing to set his foot upon the first rung of a ladder to the stars. It's a ladder he is uniquely qualified to design and build.
Polymath chronicles the bursting of an Onteora County giant from his chrysalis to spread his wings over the world. It's the fourth novel of the Realm of Essences series, and begins the story of an American Renaissance.
---
Stephen Graham Sumner is a lawyer from Onteora County, New York and a descendant of the late William Graham Sumner, one of America's forgotten great thinkers. We meet Sumner in his mid-thirties: he's capable and passionate about justice, but his life ambitions are unformed. He becomes general counsel to Onteora Aviation, a defense-industry corporation, and meets those who will mold his ambitions, with particular emphasis on a single figure: Louis Redmond.
In consequence of his reluctant agreement to become the running-mate of the incumbent governor of New York, Sumner develops a vast distaste for what American politics and government have become. Surprised and made optimistic by his unexpected popularity, not merely in New York but throughout the Northeast, he campaigns for and wins the presidency on the Constitutional Party ticket: the first candidate to rise to the White House from a third party since Abraham Lincoln.
Sumner's presidency is not a tranquil one. Foreign military adventures, provoked by Islamic terrorism, lead to horrifying consequences. These, plus his domestic efforts to return American government to its Constitutional origins and his support for maverick inventor and space enthusiast Todd Iverson's orbital habitat project, cause the rise of an implacable enemy: Ian McIlvaine, U.S. Senator from California. By dint of brilliant though darkly-motivated tactics, McIlvaine succeeds Sumner in the Oval Office, and contrives a downfall for Sumner that no previous president has had to face.
---
A day in the life of Cyrus, who works on a plantation.
The day begins with an accident, and then goes downhill from there after a run-in with a pit-viper and a long day of hard labor. Then he remembers how he got himself and everybody he loved into this mess, and how things used to be…
Does it seem like things are crazy right now? Read Cyrus's backstory for clues.
This is your guide to adapting to the rest of the 21st century.