Celebrate Thanksgiving Weekend by topping off your library. Select from over eighty titles each priced at $0.99, including more than a dozen that are absolutely free.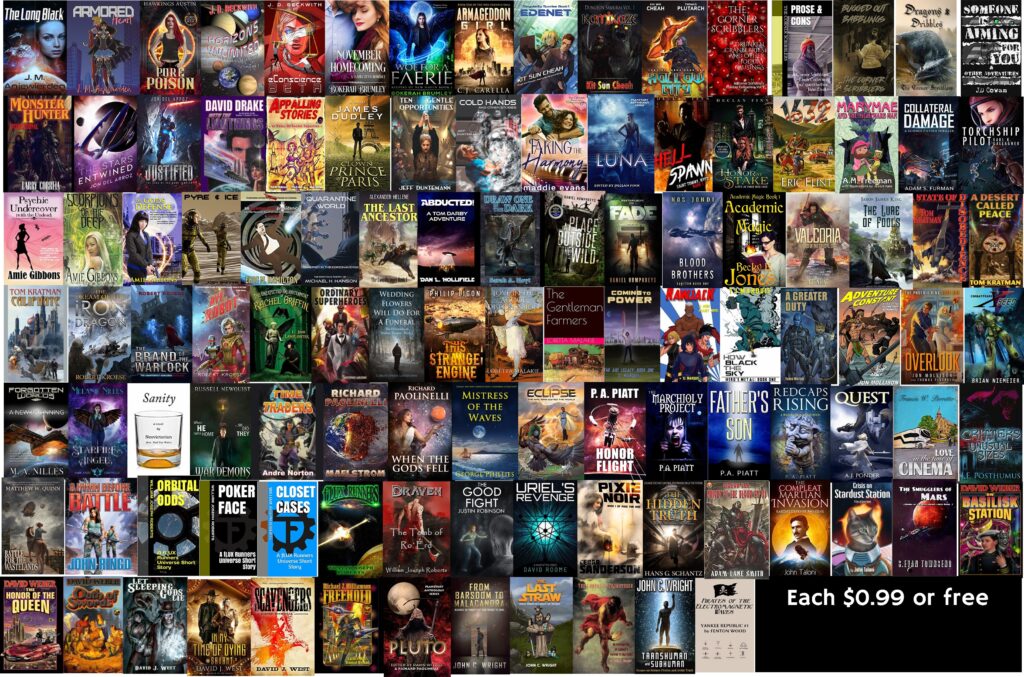 The selection includes top science fiction, fantasy, and adventure authors like C.J. Carella, Larry Correia, Jon del Arroz, David Drake, Eric Flint, Declan Finn, Amie Gibbons, Sarah Hoyt, Daniel Humphreys, Tom Kratman, Robert Kroese, Phillip Ligon, Jon Mollison, Andre Norton, Richard Paolinelli, John Ringo, Cedar Sanderson, Adam Lane Smith, David Weber, David J. West, Michael Z. Williamson, John C. Wright, and a wide range of other established and emerging talent.
Note that pricing is set by the authors or their publishers, so please confirm before you buy. Also some of the offerings are short stories instead of novels – check before you buy.
MORE! Newly Posted Books:
Rebirths: A Tale of Azuran by Frank B. Luke
Enraged at the Almighty after losing everything, Derke turns to black magic in hopes of restoring his old life. But the evil one demands a terrible price. Derke, once blessed, stands at the edge of a cliff, ready to lose himself to darkness.
---
Panda Dreams and Other Hallucinations: A Collection of Short Stories by Denton Salle
Do pandas dream? And if so, what do they dream of? That question is asked in this anthology of stories by the award-winning author of Daemonic Mechanical Artifacts and Deep School Tuition. Enter the weird and wonderful worlds of Denton Salle, where a Slavic myth asks for help, an Austin PI is asked to recover a demon-possessed blade, and a Countess recruits help in a Steampunk French Empire.
Ranging from sweet romance to steampunk adventures to urban fantasy, with characters running from heroes to whores to ghouls, Salle's stories range across genre and from North Texas to South France. Included in this collection are several never-published works, as well as two non-fiction pieces.
Come in and see where too long in quarantine, with too much bourbon, and an overactive imagination can take you.
---
Texas Otherworld (Hall of Heroes Book 2) by Denton Salle
Texas is a big and sometimes strange place. Often stranger than you guess when the monsters and myths of Eastern Europe have somehow ended up here. All of them, from frisky water spirits to things that eat your soul.
Happily there is a deal. Sort of. An old one that goes back to Tsar Boris-Michael and Prince Yaroslav the Wise. And along with the deal, a group of people stuck with enforcing it. It's not even a job 'cause most of the time they don't get paid.
Twelve tales from the Hall of Heroes, who have the obligation to keep the Compacr and help people to deal with problems. Problems like the water king stealing your girlfriend, a draugr kidnapping a sheriff's deputy, or a Christmas legend gone bad. And those are the easy days.
Newly Posted Books:
Fantastic Schools Volume 2 edited by Jagi Lamplighter
Have you ever wanted to go to magic school? To cast spells and brew potions and fly on broomsticks and—perhaps—battle threats both common and supernatural? Come with us into worlds of magic, where students become magicians and teachers do everything in their power to ensure the kids survive long enough to graduate. Welcome to … Fantastic Schools.
Follow a mundane teacher striding into a world of magic, a spy on a mission, a guided tour of a magical school, a school dance for monsters, a dangerous reunion … and many more.
Follow us into worlds different, magical …
… And very human.
Stories by:
J.F. Posthumus
Christine Amsden
James Pyles
Becky R. Jones,
Morgon Newquist
Tom Anderson
Lauser
James Odell
Misha Burnett
Audrey Andrews
Christopher G. Nuttall
Paul A. Piatt,
L. Jagi Lamplighter
David Breitenbeck
---
Pure Poison (Purity Wellman Book 1) by Hawkings Austin [$0.99 direct from Silver Empire]
Purity isn't going to give up and die again.
She died the first time in 1958, and the devil stole her soul on her front doorstep. After more than fifty years in Purgatory, she returns from the underworld. Her brother, who saved her from the devil and handed her to Hades, is supposed to be there to meet her.
But he isn't. Purity has to find her way in a new, overwhelming world she doesn't understand. But there is still evil, supernatural evil, in the world, and that she understands all too well.
The devil's work is never finished and the family business is never done.
Hawkings Austin begins his new urban fantasy series with an original and intriguing first tale. Purity Wellman is a fish-out-of-water, but not because of the magic in her life. That she understands. It's the real world that's the problem. Buffy the Vampire Slayer meets Sookie Stackhouse in Purity Wellman, who is trying to find her place in a creepy Appalachian American Gods universe.
Can Purity discover what happened to her brother, and deal with Knoxville's vampire problem? Or will she end up back in the underworld for good? Read Pure Poison today and find out!
---
Woe for a Faerie: A Clean Paranormal Angel Romance (Keepers of New Haven Book 1) by Bokerah Brumley
Vengeance always has consequences.
Woe will do anything for those she loves…including violate the angelic code that binds her.
Her beautiful wings incinerated, Woe is cast out of the sky and down to the streets of New Haven City. She can no longer fly. The claustrophobic agony of being mortal leaves her helpless.
After her fall, the mysterious Fae prince Arún saves her from an attacker, then abandons her at the church where she once served as a messenger. Left in the care of the brooding balance keeper Jason, Woe must learn to be human. And learn to live without her wings.
Jason comes face-to-face with his humanity as his androgynous angelic messenger is dropped on his doorstep as a gorgeous mortal woman. His desire for Woe threatens his vow to keep New Haven safe. Can he convince her to join him and his Keepers, or will he lose Woe by pushing her too hard?
Despite swearing off love and prophecy entirely, Arún finds himself drawn to Woe. The more he saves her, the more he falls in love with her. Will Arún give in to his destiny or deny his growing feelings for Woe?
Woe must make a choice. She must choose who she will become, and which love will heal her. The reserved and down-to-earth Jason, or the wild, fairy tale devotion of Arún?
Will Woe become a queen? Or a guardian for New Haven innocents?
Bokerah Brumley sweeps onto the Paranormal Romance scene on angel's wings with this fast-paced fantastical story about vengeance, redemption, and love. Readers will love her imaginative world and the clean, sweet romance of Woe for a Faerie.
Who will Woe choose? Read Woe for a Faerie today to find out!
---
Singularity Sunrise 1: Edenet: A Cyberpunk Espionage Thriller by Kit Sun Cheah
The Singularity is Coming!
The 22nd century brings an era of technological wonders—and horrors. Cybernetics and genetic engineering. Mass surveillance and social credit. Full body cyborgs and nanoscale engineering. And the pinnacle of human achievement: machine intelligence.
Edenet is the next generation of the Internet. Designed by Anatol Corporation, it will bring the power of a supercomputer to the fingertips of every user, anywhere in the world. At the heart of Edenet lies a cutting-edge artificial intelligence that regulates all traffic on the network.
And one of its lead scientists has disappeared.
Fearing the worst, Anatol hires psychic contractor James Morgan to track her down. Accompanying him is Eligia Ogrod, the mysterious assistant to Anatol's CEO. Their investigation takes them through the militarized streets of Warsaw, a corporate fortress in Shenzhen, and the human hives of Hong Kong.
Morgan is no stranger to intrigue. Yet the deeper he digs, the more questions emerge. Who is Eligia Ogrod? What does Anatol want?
And what is the truth behind Edenet?
---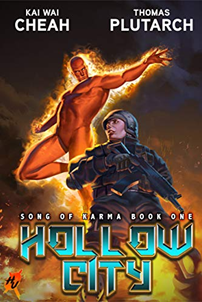 Hollow City: A Superhero Vigilante Thriller (Heroes Unleashed: Song of Karma Book 1) by Kai Wai Cheah & Thomas Plutarch
Six kills in six years.
Super powered cop Adam Song has dedicated his life to the law. In the military and the police force, Adam ruthlessly protects the innocent.
But this time he's killed the wrong bad guy. Now the local drug lord's son is dead, and the boss is out for Adam's blood. Even his secret identity won't keep him safe. The police department hangs him out to dry, his years of exemplary service forgotten. Adam must take justice into his own hands to keep his family safe.
Because Adam is a Song. And Songs take care of their own. No matter the cost.
When does justice become murder? And just how far will he go to protect his clan?
Dragon and Hugo Award nominated author Kai Wai Cheah steps onto the superhero scene with his debut Heroes Unleashed novel. His characteristic fast-paced action and attention to detail brings Adam Song and the Chinatown of Hollow City vividly to life.
What makes a straight-laced hero cop go rogue? Buy the book or read it in Kindle Unlimited today to find out!
---
Grey Cat Blues by J.D. Cowan
Siege on the Shadow Planet!
Ex-punk Two Tone is left for dead and his friend is taken. His assailants: men of mud from some place darker than Hell!
The inscrutable Sarpedon has slithered from the depths to rule a planet that has long abandoned hope for a better tomorrow. With no one to stop his spree of violence, it is only a matter of time before Two Tone's world is overrun.
Old friends and a mysterious beauty gather by his side, but are they enough? Is it too late for this dying world? If all cats are grey in the dark, will anyone see the panther stalking its prey? Two Tone will find the answers the best way he knows how—through his fists!
Grey Cat Blues tells the tale of a distant planet at humanity's end. In this place, a man must choose between love and hate. And where his choice leads him might not be where he expects . . .
---
Justified (The Saga of the Nano Templar Book 1) by Jon del Arroz
To save a world…
…he must rely on God.
After years of fighting for justice with his deadly nanotech, Templar Drin abandons his post, crash landing on a desert world controlled by a tyrannical alien empire. Its inhabitants are forced into slavery, broken where a once-proud race cultivated its lands.
For the first time in Drin's life, he has no backup, no support, none of his brothers.
He stands alone against evil.
Drin must face overwhelming odds to liberate millions of slaves from their captors and bring faith to a downtrodden world. But in his way stands the most dangerous weapon in the galaxy.
Can Drin use his Templar training to survive?
Fans of Star Wars and Warhammer 40K will love Justified, the new military science fiction epic from #1 Bestselling author, Jon Del Arroz. Read today!
---
Honor at Stake
by Declan Finn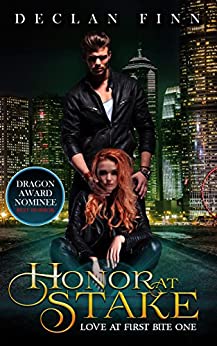 One is a heartless, bloodthirsty killer. The other is a vampire.
A 2016 Dragon Award Finalist
Amanda Colt spends her days alone. She prefers solitude to other people, rarely finding anyone to catch her interest. Books and fencing fill her time.
Until she meets Marco. He doesn't fit in, just like her. In fact, he seems to be a man out of time. With medieval manners, a gang that fears him, and a mind like a computer, Amanda has never met anyone like him. But for all his magnetic appeal, she can tell he's hiding something from her.
But Amanda has a secret too. And as she and Marco grow closer, it plunges them into New York's supernatural underworld. Marco brings mayhem and romance to Amanda's serene world, and she finds herself falling for him, faults and all.
Bodies are turning up all over New York. Only Amanda and Marco can stem the flow of corpses, and more and more vampires are rising every night.
Can Amanda and Marco save New York?
Or even scarier, admit their growing feelings for one another?
Fans of Declan Finn will find all his typical explosions, action and Catholic world-building wrapped in a New York Vampire giftbag. Both Urban Fantasy and Paranormal Romance readers will love his foray into the bloody, holy water filled world of the undead.
Join Amanda and Marco as they fight legions of newly born Vampires in Brooklyn. Read Honor At Stake today!
---
Hell Spawn by Declan Finn
The #1 Amazon Bestseller from three time Dragon Award nominee Declan Finn!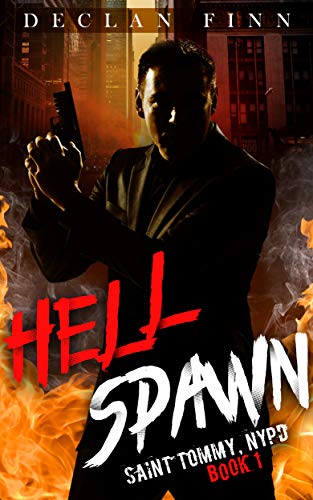 My name is Officer Thomas Nolan, and I am a saint.
Tommy Nolan lives a quiet life. He walks his beat – showing mercy to the desperate. Locking away the dangerous. Going to church, sharing dinner with his wife and son. Everyone likes Tommy, even the men he puts behind bars.
Then one day a demon shows up and he can smell it. Tommy can smell evil – real evil. Now he's New York City's only hope against a horrifying serial killer that preys on the young and defenseless.
But smell alone isn't enough to get a warrant. Can Tommy track down the killer and prove his guilt?
Dragon Award Nominated Author Declan Finn returns with his typical action-packed, Catholic influenced style, in this groundbreaking horror series about an honest, religious man given the powers of a saint to fight demons in the Big Apple.
How do you do forensics on a killer possessed by a demon?
Can Tommy catch the killer before he becomes a martyr? Or will the demon bring darkness beyond imagination to the whole of New York? Read Hell Spawn today and find out!
---
The Last Ancestor: The Swordbringer Book 1
by Alexander Hellene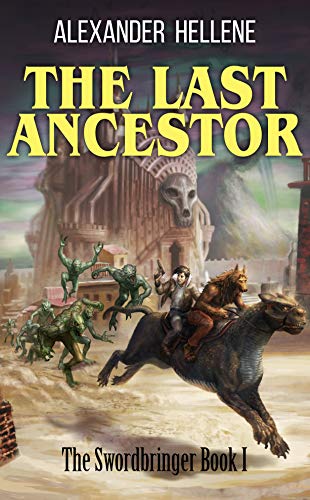 They killed his father, oppress his people, and threaten them with extinction . . . and one of them is his best friend.
The Growlers rule their corner of the planet Yxakh with an iron fist, intent on driving the human refugees from their land. They almost did eight years ago, killing Garrett's father in the process. Only their guns, and lots of them, keep the Growlers at bay. Now a young man, Garrett burns for revenge, but finds it hard to reconcile this hatred given that his best friend is a Growler youth named Ghryxa.
Desperate to cleanse his land of the invaders, the Growlers' High Lord dispatches his trusted heir on a mission to acquire the humans' superior weaponry. The Earthlings barely won the last war . . . but this time the High Lord will leave nothing up to chance.
Garrett and Ghryxa run headlong into the High Lord's conspiracy and find themselves the only thing standing between their two peoples and all-out war. Now Garrett must participate in an ancient rite with the fate of humanity on his shoulders. It's a chance to be a hero like his father . . . but only if he makes it out of the Growlers' forbidden city alive.
---
Fade by Daniel Humphreys
Harry Dresden's sorcery goes on a Supernatural-style road trip. Cool car sold separately.
Paxton Locke is the son of a Witch.
Family drama is bad enough without adding human sacrifice to the mix. Ten years ago, his mother killed his father in a grisly ritual that Paxton interrupted. Now he criss-crosses the countryside in his RV working as a paranormal investigator while Mother languishes in jail. She'll never forgive him for interfering…or for stealing her spellbook.
It started as a normal job for Paxton. At least as normal as speaking to ghosts ever was. But then the terrified shade of a murdered boy warns him of a dangerous, newly-freed entity, and suddenly he has to talk to Mother again to save the day.
In a battle for his very soul, will he be able to endure – or simply fade away?
Dragon Award nominee Daniel Humphreys' urban fantasy debut brings all the best elements of Supernatural and the Dresden Files, written with his typical engaging style and evocative prose. Avid fans of the genre will be satisfied with the sarcasm, quips, and pop culture jokes found in Fade. Not to mention the spells, action and family drama.
---
Blood Brothers (Sanctum Book 1) by Nos Jondi
Blood and Flesh Required.
Rising Star Captain Janet Ruvuma doesn't know failure.
Except in capturing Mavurama, the leader of a group of rogue, genetically engineered ex-marines. Every time she springs the trap, he slips through her fingers. Five years of pursuit and still he eludes her. The Emperor is out of patience. Ruvuma has to catch him, dead or alive, or she will taste defeat for the first time.
Mavurama desires only peace and quiet. The Emperor made him and his men what they are. He fought for the Emperor. He won the war for the Emperor. Now he wants to retire. But the Empire won't allow it, and Mavurama will do whatever it takes to claim his peace. Even escape beyond the edge of the known galaxy.
Ruvuma and Mavurama play a cat and mouse game that stretches across the universe. But Mavurama can't hide forever. He needs blood, and lots of it, to take with him on his trip into the unknown. Ruvuma can't let him go. She'll bring the fury of the empire to bear on him and his soldiers before she lets him disappear.
African Author Nos Jondi bursts onto the speculative fiction scene with his tale of mythic creatures in space, full of colorful characters and wild distant worlds that occupy the furthest reaches of space.
Will Ruvuma conquer her greatest enemy? Or will Mavurama manage to take the suicidal leap into the Dead Space of the universe first? Read BLOOD BROTHERS today to find out!
---
Wedding Flowers Will Do For a Funeral
by Christopher Lansdown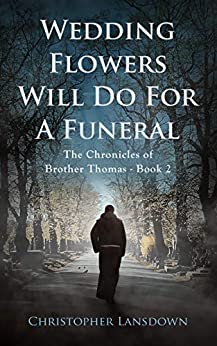 Mr. Monteblanc never saw the harpoon coming.
A scavenger hunt at the rehearsal dinner of a high-flying fashion magazine couple ends in murder when someone slaughters the Father of the Bride with a harpoon gun, of all things.
The top suspect for the crime is the victims youngest daughter, a cloistered nun. Brother Thomas and his protege Brother Francis arrive to investigate at the request of the Bishop to clear her name. But as soon as they arrive, it becomes clear that nothing is clear. The nun may not be a suspect at all, and so the reason for their summons might not be as it appears.
With more than one mystery to worry about, the Brothers must retrace the steps of all the suspects to puzzle out the over-the-top murder that no one appears to benefit from. And figure out why they're even a part of the investigation in the first place.
The improbable ministry of the private investigator Friars returns in the second Brother Thomas mystery novel. The methodical analysis of Brother Thomas, the philosophical discussions, and apologetics from the first book all return in this engrossing sequel.
Can Brother Thomas prove the nun's innocence? And figure out why someone would murder Mr. Monteblanc in such a brutal and unusual way on the eve of his daughter's wedding? Read Wedding Flowers Will Do For A Funeral today and help Brother Thomas solve the mystery!
---
This Strange Engine by Philip Ligon
From Dragon Award nominated author Philip Ligon!
Thief…addict…wife killer?
Once a fine, upstanding member of society, Alexander Asherton has reached the low point of his life. Once he had prospects. A place in society. Once he had a beautiful wife. But that was before Aimee left him, before the explosion…and before magic. His promising future with the Church of England went up in flames with the explosion that wrecked his body.
Now he works for the cruel and mysterious Misters, who keep him awash in the magic he needs to feed his addiction. The magic he needs to live. His only comfort is that he doesn't do wet work.
He's only a thief, not a murderer.
When they demand he assassinate his ex-wife and steal a dark magical item from the powerful and twisted Duke Schaever, he doesn't have a choice. The Misters hold the key to his life…and to his death. But all he's got left is that he isn't a murderer.
Who is Ash really? A priest or a killer? An addict, or a hero?
And what is the strange and deadly merging of science and magic that serves the Duke?
Philip Ligon's debut steampunk fantasy twists and turns through a dystopian, alternate Victorian England. Full of magic, elves, dragons, and betrayal, this book will satisfy the most avid fans of dark fantasy and twisted steam-powered machines.
Is Ash truly lost to addiction and darkness, or if he can become something more? Find out by reading This Strange Engine today.
---
Overlook: A Superhero Spy Adventure Novel (Heroes Unleashed: The Phoenix Ring Book 1) by Jon Mollison and Thomas Plutarch
Nothing is more dangerous than an invisible man.
Joe's spent his life being forgotten. Not even the IRS comes for his back taxes. He's a ghost, a perfectly average, perfectly forgettable man. It suits his purposes, though it's a lonely existence. He can live as he wants, plying his almost-invisibility for freelance jobs.
Then a pretty blonde finds him when no one else can, asking for his help solving a murder. He almost says no, despite his instincts to help a damsel in distress. But how did she find him? And who is she?
He takes the job to find out. But he bites off more than he can chew as he realizes a brutal secretive organization called The Phoenix Ring is behind the murder, and somehow they can predict his every move.
A new Heroes Unleashed series begins with Jon Mollison's Overlook, a fast-paced, action-packed superhero spy novel that will keep readers guessing until the end.
Can Joe defeat the shadowy Phoenix Ring? Or will his powers fail him when he needs them the most? Read Overlook today and find out!
---
War Demons: A Catholic Action Horror Novel (Sword of the Archangel: The Prodigal Son Book 1) by Russell Newquist
When he came home, so did they…
Driven by vengeance, Michael Alexander enlisted in the Army the day after 9/11. Five years later, disillusioned and broken by the horrors he witnessed in Afghanistan, Michael returns home to Georgia seeking to begin a new life. But he didn't come alone. Something evil followed him, and it's leaving a path of destruction in its wake.
The police are powerless. The Army has written Michael off. Left to face down a malevolent creature first encountered in the mountains of Afghanistan, he'll rely on his training, a homeless prophet, and estranged family members from a love lost…
But none of them expected the dragon.
Jim Butcher's Harry Dresden collides with Larry Correia's Monster Hunter International in this supernatural thriller that goes straight to Hell!
---
Quest (The Sylvalla Chronicles Book 1) *FREE!
A.J. Ponder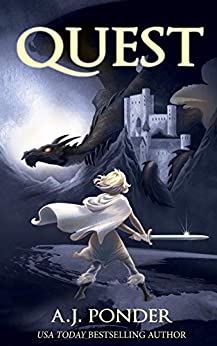 Heroes, monsters, chases, escapes…
Sylvalla escapes Avondale castle and the life of a princess, in search of the adventure she's always wanted.
Once found, adventure bites back.
Fortunately, she's not alone. Unfortunately, her new-found companions are less than heroic. Jonathan, would rather make money than learn wizardry. Dirk, would rather live a long and happy life than confront danger. And at 150, old Capro would rather stop gallivanting, and harangue unsuspecting wizardry students about his glory days over a nice cup of tea.
Quest has everything—heroes, monsters, chases, escapes and a complete lack of true love.
Shortlisted for the Sir Julius Vogel Youth Novel 2019, Quest has everything, heroes, monsters, chases, escapes and a complete lack of true love. A quirky and original celebration of fantasy for everyone who loves fantasy adventure – buy your copy today!
---
fLUX Runners *FREE!
by William Joseph Roberts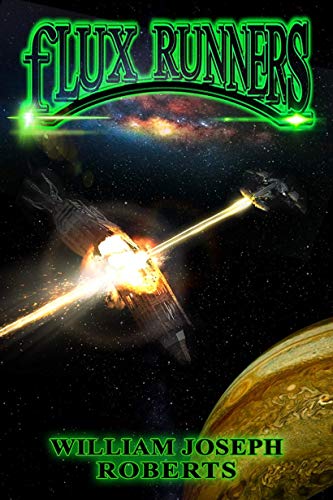 What if tomorrow, you tasted freedom for the first time, but that freedom came with a cost… After a government-sanctioned privateering mission goes sideways, the crew of the Betty finds themselves fighting for their lives, light-years from home. Prepare yourself for an adventure with a lovable crew of degenerates and misfits as they dive into the dark unknown….
"William J. Roberts sent me a draft of fLUX Runners and I didn't turn many pages before realizing "Damn, this is fun!"
Taylor Anderson — Author of Destroyermen
"Buckle up for one hell of a ride."
Christopher Woods — Author of Soulguard, Legend, and This Fallen World.
"William J. Roberts has crafted one of the best stories I have read in years. Part comedy, part adventure, part drama—with all the best elements of each mixed together into a book I did NOT want to put down. When I turned the final page, I had one thing to say: I WANT MORE!"
Dan L. Hollifield — Senior Editor & Publisher: Aphelion Webzine
The Hidden Truth
by Hans G. Schantz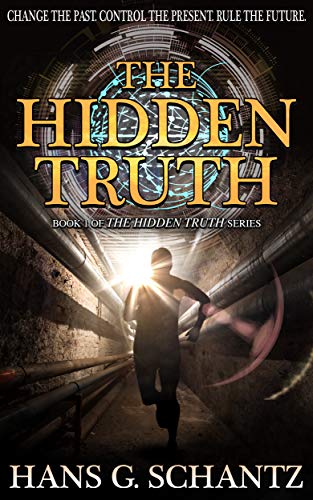 Change the past. Control the present.
Rule the future.
They'll do anything to hide the truth.
When high school student Peter Burdell uncovers a subtle clue in a dusty book buried deep in a forgotten Appalachian library, he realizes someone altered history. Who's been lying, and why?
His discovery lands Peter in the cross hairs of the deadly Cabal whose Deep State agents changed the past to control the present, so they can rule the future. Aided by family and friends, Peter races against the odds to expose the conspiracy and uncover the answer to the most important question of his life:
What is The Hidden Truth?
Book Review: The Hidden Truth by John Walker
Hans G. Schantz' THE HIDDEN TRUTH is most highly recommended.
It is a gem of a book, a rare find, combining a charming coming of age story, diamond-hard science fiction speculation, a conspiracy thriller, a touch of trenchant political commentary, and, uniquely, a challenge written into a science fiction book of the reigning scientific orthodoxy of the day….
This trilogy works on several levels. In style, theme, in social commentary, in genre, in plot-weaving and world-building, the craftsmanship is top-notch.
Stylistically, it is written in the same journalistic prose as a Heinlein juvenile, but, frankly, is better. Not only are some of Heinlein's more dubious moral lessons absent, the work attempts something more ambitious: introducing a real theory of physics in the midst of a fictional adventure yarn.
Thematically, it is a bracing and inspiring coming-of-age story telling young readers and reminding older readers what it means to be a man, a man of integrity, in a world where no one is there to dig you out of a mess.
It works as social commentary. As in a Heinlein juvenile, there are memorable quips and trenchant observations about political realities peppered throughout the dialog, which have as much application in our world as theirs.
Review by John C. Wright
---
Previously Posted Books:
---
The Long Black (The Black Chronicles Book 1) by J.M. Anjewierden
Morgan always assumed that if she could survive growing up in the mines of Planet Hillman – feared for its brutal conditions and gravity twice that of Earth – she could survive anything.
That was before she became a starship mechanic. Now she has to contend with hostile bosses, faulty equipment, and even taking care of her friend's little girl. Once pirates show up, it's a wonder she can get any work done at all.
---
Armored Heart by J.M. Anjewierden
May returned home from the Second Augment War having left parts of herself behind, emotionally and literally. An inventor at heart, she built herself cybernetic legs to regain her mobility, and then a suit of powered armor to regain a purpose in her life as the superhero Escuda.
But can she balance being a superhero with a love life?
The country's most celebrated superhero, Steel Patriot, has moved to her town. Sure, Escuda will be able to work with him easily enough, but can May get his attention, while also dealing with a new breed of supervillain on the rise?
---
Pure Poison (Purity Wellman Book 1) by Hawkings Austin
[$0.99 at Silver Empire!]
Purity isn't going to give up and die again.
She died the first time in 1958, and the devil stole her soul on her front doorstep. After more than fifty years in Purgatory, she returns from the underworld. Her brother, who saved her from the devil and handed her to Hades, is supposed to be there to meet her.
But he isn't. Purity has to find her way in a new, overwhelming world she doesn't understand. But there is still evil, supernatural evil, in the world, and that she understands all too well.
The devil's work is never finished and the family business is never done.
Hawkings Austin begins his new urban fantasy series with an original and intriguing first tale. Purity Wellman is a fish-out-of-water, but not because of the magic in her life. That she understands. It's the real world that's the problem. Buffy the Vampire Slayer meets Sookie Stackhouse in Purity Wellman, who is trying to find her place in a creepy Appalachian American Gods universe.
Can Purity discover what happened to her brother, and deal with Knoxville's vampire problem? Or will she end up back in the underworld for good? Read Pure Poison today and find out!
---
Horizons Unlimited: Volume 1: A Space Adventure Anthology
by J.D. Beckwith
HORIZONS UNLIMITED
Matter conversion technology—Matt-Con—has broadened the scope of mankind's existence. It has opened up the real possibility of viable colonies on other planets in our solar system, and even space itself. Anywhere matter can be captured or energy from the sun can be felt, the possibility of expanding human habitation exists.
In this volume:
Quicksilver
The space station Chariot of Helios—on its way to Mercury to become a power collection station for Earth's growing need for energy to power matt-con tech—encounters a strange anomaly that threatens ship and crew.
Escaping Aurora
The sudden destruction of mankind's first atmospheric terraforming platform leaves three unlucky exonauts struggling to survive in the skies of Venus aboard a cobbled-together airship. Meanwhile, the commander of the space station above battles obstacles that might keep her from rescuing her stranded husband and crew in time.
---
eConscience Beta
by J.D. Beckwith
Peacekeeper Incorporated's breakthrough nanotechnology could bring repeat offense crime to an end, freeing society from the need for criminal incarcerations. But first, they have to finish testing it. With funding on the line, and time to prove out the project getting short, the lead scientist must find a way speed things up. That's unfortunate for his guinea pig, and anyone who would stand in his way.
Can the goal of ending most crime justify committing one… even a few?
And what happens when you conflate altruism with egotism?
Find out in eConscience Beta, where two lab techs and an uncouth petty criminal must outwit a brilliant but sociopathic scientist who'll stop at nothing to establish his legacy as the man who ended crime.
---
November Homecoming: A Yearly, Texas Romance
by Bokerah Brumley
When Rebecca returns to Yearly and hires a local contractor, sight unseen, she doesn't expect to come face to face with the ex she left behind…
Rebecca Martin, a high-powered executive chef, doesn't want her widowed mom to lose their family home, and she thinks she's found the perfect way through.
Open a restaurant in her home town.
That way, Rebecca will achieve her lifelong dream of running a restaurant and her mom will have an income. It's the perfect scheme. Two birds, one stone, and the best laid plan. Then she meets the contractor… her now-successful ex.
Johnny Cash Williams is the local do-it-all man. He hangs drywall and nails down roofing shingles while sporting a bushy beard and a million-dollar grin. Cash knows how to rewire a house, but he doesn't know how to handle the sparks when his old flame returns to Yearly.
The town's not big enough for the two of them. Yet, for the sake of both their families, the duo must learn to make things work.
November Homecoming has a touch of laughter, a few tears, and a lot of heart in a small-town, second-chance romance.
---
Armageddon Girl (New Olympus Saga Book 1) by C.J. Carella
"Superheroes with style and wit."
– S.M. Stirling, best-selling author of the Change Series.
(WARNING: Contains violence, adult content and strong language.)
A world of larger-than-life heroes and villains with all too human failings. An action-packed tale, combining thrills with humor and more than a few pop culture references and nods to geek culture. This is the first tome of the New Olympus Saga.
College student Christine Dark wasn't happy. Her social life sucked, she spent too much of her time playing computer games or reading sci-fi novels (and the occasional paranormal romance) and she felt like she was missing out on everything.
Fate had something special in store for her, though.
Without warning, an unknown force drags Christine out of her world and takes her to a whole new universe, an alternate Earth where superhuman beings have existed since the end of World War One, a world filled with strange and dangerous characters.
Christine soon learns she too is more than human, and that her choices may save her new home… or bring about its destruction.
REVISED EDITION: The original novel has been updated and revised, with some typo corrections and edition changes.
---
Dungeon Samurai Volume 1: Kamikaze (An Anti-LitRPG Dungeon Crawl) by Kit Sun Cheah
Yamada Yuuki is an ordinary college student with an extraordinary hobby: the classical martial art of Kukishin-ryu. Until one fateful day when a demon rips through the fabric of space-time, abducts everyone in his dojo, and transports them to another world.
To return home, Yamada and his friends must join forces with other displaced humans to conquer the dungeon that runs through the heart of the world. Standing in their way are endless hordes of bloodthirsty monsters and countless traps. Armed only with steel, faith and guts, they must battle their way through the winding catacombs to confront the demon waiting at the bottom floor.
Yamada was once a student. Now he must become a samurai.
---
Drunken Cranberries and other Holiday Musings: A Corner Scribblers Holiday Collection: Vol 1
The Corner Scribblers is a small writer's support group in the Chattanooga area comprised of writers, authors, and storytellers from a wide range of skills and backgrounds. We come together once a month to discuss our current projects, recent accomplishments and to share what we have each learned about the craft. Within this cover, you will find a collection of holiday-themed flash fiction stories and poetry, displaying a small sample of those combined skills. Includes works by: Isaac Craft, S.L. Starr, Michael Gants, J. D. Beckwith, Reggi Broach, Kit Roberts, and Karin Harris, with a "fLUX Runners" series short by William Joseph Roberts and a "This fallen world" series short by Christopher Woods.
---
Prose & Cons: A Corner Scribblers Flash Collection w/ guest author, John Drake (2020 Quarterly Book 1)
This is a collection of flash fiction stories and experiences revolving around the conventions that we all know and love. If you have ever attended a convention, especially a fandom convention, then you know that anything is possible.
---
Bugged out Babblings: A Corner Scribblers Flash Collection w/ guest author, Daniel Humphreys (2020 Quarterly Book 2)
A quirky collection of flash fiction based in Post Apocalyptic fiction with forward by Daniel Humphreys. From the Pollenocalypse to Zombies, you're sure to feel right at home with the end of the world.
---
Dragons & Dribbles : A Corner Scribblers Flash Collection w/ guest author, Rob Howell
Barbarians, Dragons, Mermaids, and Wizards abound in this ecletic collection of fantasy from Chattanooga's own, The Corner Scribbler's.
Forward and "An Oath's Other Edge" a Shijuren universe short story by guest author, Rob Howell.
---
Monster Hunter International (Monster Hunters International Book 1)
by Larry Correia *FREE*
Welcome to Monster Hunter International.
Five days after Owen Zastava Pitt pushed his insufferable boss out of a fourteenth story window, he woke up in the hospital with a scarred face, an unbelievable memory, and a job offer.
It turns out that monsters are real. All the things from myth, legend, and B-movies are out there, waiting in the shadows. Officially secret, some of them are evil, and some are just hungry. On the other side are the people who kill monsters for a living. Monster Hunter International is the premier eradication company in the business. And now Owen is their newest recruit.
It's actually a pretty sweet gig, except for one little problem. An ancient entity known as the Cursed One has returned to settle a centuries old vendetta. Should the Cursed One succeed, it means the end of the world, and MHI is the only thing standing in his way. With the clock ticking towards Armageddon, Owen finds himself trapped between legions of undead minions, belligerent federal agents, a cryptic ghost who has taken up residence inside his head, and the cursed family of the woman he loves.
Business is good…
---
Planetary Anthology: Mars, edited by Lucca Dejardins
Mars. The Red Planet. Bringer of war, the God of war itself. The planet that gave birth to the modern era of science fiction when H.G. Wells gazed upon the red light in the night sky and envisioned an army gathering upon its plains to invade our world.
These are the stories of Mars. Stories of adventure, conflict and war.
---
The Stars Entwined
by Jon Del Arroz
Earth needs a spy… is he prepared?
Lieutenant Sean Barrows is thrust into a plot of sabotage and destruction brought on by the mysterious Aryshan Empire.
His assignment: to infiltrate an enemy warship to bring his superiors information on their destructive capabilities and battle plans.
But the Ayrshans share telepathic bonds which make them paranoid of outsiders, and try as he may to win the heart of a beautiful Aryshan commander, he can only get so close.
To make matters worse, Earth stands on the brink of destruction as the Aryshans develop a new, invisible weapon.
Fans of The Old Man's War by John Scalzi and The Ember War by Richard Fox will love this epic space opera. Read today!
---
With the Lightnings (Lt. Leary Book 1)
by David Drake *FREE*
A Friendship Forged in Hell!
Daniel Leary is a lieutenant in the Republic of Cinnabar Navy with no money and no prospects since he quarreled with his ruthless, politically powerful father.
Adele Mundy is a scholar with no money and no prospects since her family was massacred for conspiring against the Government of Cinnabar.
Kostroma is a wealthy planet which depends on diplomacy to stay independent in a galaxy whose two great powers, Cinnabar and the Alliance, battle for supremacy.
In a few hours, diplomacy is going to fail Kostroma. Daniel, Adele, and the scratch crew they gather aren't much to stand in the way of a powerful invasion fleet, but just possibly they're enough.
Men and women who hold courage cheap and honor more dear than life itself face impossible odds in a novel of color, intrigue and slashing action. From the corridors of a treason-ridden palace through the perils of unknown seas and hellish jungles to a final blazlng climax in space, the heroes never bow and the action never flags.
They have nothing on their side but each other—and heaven help whatever tries to stand in their way!
---
Appalling Stories: 13 Tales of Social Injustice by David Dubrow, Ray Zacek, Paul Hair
With political correctness gobbling up the culture like a fat kid on his sister's quinceañera cake, where do you go for quality, old-school entertainment?
Appalling Stories focuses on themes and characters you're just not supposed to read about anymore, using social issues as the setting, not the plot. Inside, you'll read about a disturbing erotic resort that caters to an exclusive clientele, a violent Antifa group biting off much more than they can chew, a serial killer with a furious inch, and a lot more.
The authors find message fiction as tedious as you do, and traditional publishing seems intent on shoving favored narratives down readers' throats. This anthology pushes back against PC moralizing, bringing you story above all else. Are you going to let Social Justice Warriors dictate what you can and can't read?
Consider this your trigger warning.
Featuring an exclusive foreword by R.M. Huffman, author of Leviathan and Fallen, books 1 and 2 of The Antediluvian Legacy.
---
The Clown Prince of Paris by James Dudley
Paris, 1954. A city rebuilding from war reclaims its former grandeur, but dangers lurk in the shadows as battle lines are drawn for a new type of conflict.
Up-and-coming comedian Tommy Malloy is preparing for the biggest break of his career; a series of headline shows in one of Paris's hottest clubs. With its seamless mix of slapstick, social commentary, and impeccable comic timing, his unique act is sure to be the biggest thing to hit France since the Blitzkrieg (too soon?)
But when a mysterious audience member asks Tommy for an unusual favor, he is unwittingly pulled into a series of shocking events that leaves him trapped in a deadly web of international espionage. Pursued by the KGB's deadliest assassins with only his wits to protect him, Tommy must run for his life, improvise new identities, and put together the pieces of a sinister plot that threatens to shatter a precarious peace.
A continent stands on the brink of World War III, and a B-list celebrity from Philadelphia is the only one who can stop it.
---
Ten Gentle Opportunities by Jeff Duntemann
Caught cheating a powerful magician out of ten nuggets of pure uncommitted magic in a rigged card game, Bartholomew Stypek needs a place to hide. As a spellbender he is a partial magician, who can read and change magic spells, but absent a stash of magical force, cannot cast his own. With his anarchic familiar spirit Pickles and the ill-won magical Opportunities, Stypek leaps blindly across universes…and lands in the break room of a small ad agency in upstate New York.
Because New York State doesn't support spirits, Pickles manifests as the nearest local equivalent: AI software in the agency's heavily networked copier. She wanders into a nearby corporate network looking for allies, and discovers a virtual universe where AIs live off-hours. Pickles is soon seducing Simple Simon, a naive AI tasked with controlling an immense robotic assembly line in the corporation's manufacturing plant. Stypek, meanwhile, is mistaken for a penniless Eastern European computer science intern, and is taken in by Carolyn Romero, the ad agency's copywriter. Expecting the usual suspicion and contempt, Stypek is humbled by the kindness he's shown, and one by one uses the Opportunities to help his new friends with their problems, including Carolyn's failed marriage.
But Jrikk the magician isn't so easily thwarted. Soon Stypek, Pickles, Simple Simon, Carolyn, and their human and AI friends must fight for their lives against the evil force sent to retrieve Stypek to the magician's dungeons.
---
Cold Hands and Other Stories by Jeff Duntemann
Veteran computer author Jeff Duntemann's second collection of short fiction runs the gamut from spaceflight to mathematically rigorous witchcraft. The volume includes "Cold Hands," (nominated for the Hugo Award) "Our Lady of the Endless Sky," "Inevitability Sphere," "Whale Meat," "Born Again, With Water," "Drumlin Boiler," "Drumlin Wheel," and "Roddie," plus a new excerpt from his hard SF nanotech adventure novel, The Cunning Blood.
---
Faking the Harmony: A Castleton Musician sweet romance (The Castleton String Quartet) by Maddie Evans
Rose just got an invitation to her ex's wedding, complete with a hand-written note from the woman he cheated with. "I know you don't have anyone special, but maybe you can bring a second cousin or something."
Rose has rebuilt her life, playing keyboard in an alternative band, so it burns that they're still trying to one-up her. Her bandmates suggest the perfect revenge: go and bring a date, a head-turner who will show the bride and groom that Rose is thriving.
Enter the perfect fake boyfriend, jazz pianist Declan Hatcher. Back in high school, the bride had a massive crush on him. Better still, he hates the bride for how she bullied his sister. Unfortunately, Declan also has a history with Rose. In eleventh grade, Declan shot Rose down as "quintessentially not his type."
The longer they pretend at the relationship, though, the more Declan realizes that actually, Rose is quintessentially his type. Rose is feeling the attraction too, but after all that humiliation, it seems safer to fake the harmony than to compose a whole new love song.
In this new series, Maddie Evans weaves heart and harmony with life in a small town. Tune up your emotions, tune in to the graduates of the Castleton Music School, and then tune out the rest of the world.
---
Planetary Anthology Series: Luna, Declan Finn, editor
These are the tales of the orb that lights our night sky and drives the tides of our oceans. The bright companion that orbits our planet, invades our dreams and drives us mad.
The Curse and the Covenant by Ann Margaret Lewis – Tal, in the land of Ur, is son to a Lord. When a demon offers his father a gift to make him and his people like gods, Tal knows it's a bad idea.
The Doom that Came to Necropolis, by Steve Johnson – Necropolis is a small town, complete with small town values and small town myths. Unbeknownst to them, their doom is about to arrive, riding a motorcycle, and armed with the weapons of science.
How to Train your Werewolf, by Margot St. Aubin – Jason Branch recently escaped from a home for the insane. His only goal now is to rest and be left alone in the woods. But when strangers decide that the same stretch of land would be perfect for their needs, they will soon discover Jason's true madness.
Luna Sea, by Jody Lynn Nye – the moon can be a harsh mistress … or can she?
Regolith, by Penelope Laird – How far would you go to prevent your favorite band from being kidnapped and held for ransom on the Moon?
Crazy like an Elf, by Declan Finn – When astronomer Barbara Davis hired a private security firm, she didn't expect a man who claimed to be from Middle Earth.
Samaritan, by Karl Gallagher – Thomas' people settled on the Moon to avoid contamination from biotech and nanotech gadgets. But when a high-tech spacer crashes Thomas must risk exile from his home to save the stranger's life.
Moonboy, by Karina L. Fabian – Cory Taylor is the first boy born on the moon and may just be the first to die on it. But his first attempt to leave the moon may move up that date to closer than even he expects.
Fly Me To the Moon, by Mark Wandrey – Annmarie Smith dreamed of going to space, and she finally succeeds in creating a company to mine water on the moon. Everything looks great, until alien first contact makes it all much, much more complicated.
The Hyland Resolution, by Justin Tarquin – Charles Hyland is caught in the crossfire of an interplanetary war, their only hope is that Charles can extricate himself from the labyrinth of his own mind.
Another Fine Day in the Corps, by L.A. Behm II – Some days you get the bear. Some days, the bear is packing mortar rounds.
The Mask of Dhuran Zur, by John C. Wright – Some manuscripts you just shouldn't read.
Elwood, by Bokerah Brumley – Mysterious things happen to Emma Kelly when she meets the lunatic gypsy at the end of the lane and the gypsy's invisible púca.
Much Madness is Divinest Sense, by Lori Janeski– A madman doesn't usually believe that he's insane. But the ones who are truly dangerous are the ones who not only believe it, but embrace it.
The Night my Father Shot the Werewolf, by Josh Griffing – The boys in Mrs. Carroll's third-grade class learned a lot last year, about things like cursive, and multiplying, and werewolves.
The Black Dogs of Luna, by Paul Go – The crew of the Sirocco find a nightmare of the ages on the Moon.
Despot Hold 'em, by Caroline Furlong – You have to know when to hold them, know when to fold them. But most importantly of all, know when to run.
Polar Shift, by Richard Paolinelli – After the pole's shift, Sam Peck may just be the last living human being in the entire universe.
The Price of Sanity, by A.M. Freeman – Never make deals with the unknown. Especially when it's paying for your freedom with your soul.
Vulcan III, by William Lehman – Unfortunately for the crew of "Scorpion" the Vulcan III, the moon is the harshest engineering environment we've ever built in, especially when something goes wrong.
Merry By Gaslight, by L. Jagi Lamplighter – What if that million-dollar mansion you hardly dare to long for were so much less than you deserved.
Squeeze on the Moon, by Lou Antonelli – An expert in disaster recovery gets the opportunity of a lifetime – plus a little walk down memory lane.
---
1632
by Eric Flint *FREE*
"The Ultimate Y2K Glitch….
1632 In the year 1632 in northern Germany a reasonable person might conclude that things couldn't get much worse. There was no food. Disease was rampant. For over a decade religious war had ravaged the land and the people. Catholic and Protestant armies marched and countermarched across the northern plains, laying waste the cities and slaughtering everywhere. In many rural areas population plummeted toward zero. Only the aristocrats remained relatively unscathed; for the peasants, death was a mercy.
2000 Things are going OK in Grantville, West Virginia. The mines are working, the buck are plentiful (it's deer season) and everybody attending the wedding of Mike Stearn's sister (including the entire membership of the local chapter of the United Mine Workers of America, which Mike leads) is having a good time.
THEN, EVERYTHING CHANGED….
When the dust settles, Mike leads a small group of armed miners to find out what's going on. Out past the edge of town Grantville's asphalt road is cut, as with a sword. On the other side, a scene out of Hell; a man nailed to a farmhouse door, his wife and daughter Iying screaming in muck at the center of a ring of attentive men in steel vests. Faced with this, Mike and his friends don't have to ask who to shoot.
At that moment Freedom and Justice, American style, are introduced to the middle of The Thirty Years War.
---
Marymae and the Nightmare Man by A.M. Freeman
Marymae is a little girl with big problems! First, no one will believe her imaginary friend is real…
And then he goes missing!
Marymae must set out to find her friend. But she soon discovers something scary is happening in the Forest of Make-Believe. Those that were noble are now hiding. Dangerous creatures lurk in the shadows. And a growing darkness threatens to engulf even the bravest heart. If Marymae and her friends can't stop it in time, the nightmares will spread across all the worlds, including her own! Enjoy the journey with her as she discovers how to be a light to inspire courage in those around her, and how to love even the most broken heart.
Pick up this illustrated novelette and join the characters on their journey as they spring from one challenge to the next. A refreshing light to illuminate a mundane day, or to enjoy reading with your children.
---
Collateral Damage: A Kaiju Thriller by Adam Furman
Destructive Battles Rage Between Hellish Kaiju and Giant Mech Protectors
A desperate father must rescue his son when a deadly kaiju rampages across his city.
When opportunists lurk and buildings crumble around him, the battle might be the least of his worries. Each minute means more destruction, and the clock is ticking.
The first in a new kaiju series where the ordinary collides with the oversized, Collateral Damage is based on a short story of the same title originally published in Broadswords & Blasters Magazine. Experience the first taste of this series with a punch to the gut. Mind the shadows — you could be crushed.
---
Torchship Pilot by Karl K. Gallagher
WAR IS BAD FOR BUSINESS: The crew of the freighter Fives Full want to enjoy the profits of their dangerous voyage, but when war breaks out they're pressed into service for missions a warship can't do. Winning the war demands pilot Michigan Long act ruthlessly . . . and may cost her her conscience and her marriage.
---
Psychic Undercover (With the Undead)
(The SDF Paranormal Mysteries Book 1)
by Amie Gibbons
When a serial killer strikes, even a psychic may not be able to catch him in time in this fun, exciting, and hot first installment of the Special Divisions Force Series.
Psychic FBI agent Ariana Ryder, a perky, smart ex-cheerleader, is only in the FBI because of her extraordinary, and extraordinarily strange, gift.
Ariana is desperate to prove she is more than just a pretty face on a too young psychic. But when her team gets called to investigate a dead girl behind a club, it is obvious this is not just another case of pissed off ghosts or humans messing with forces they do not understand.
And the jurisdictional battle between the human and the supernatural world is not the only thing heating up when Ariana finds out the FBI are not the only ones investigating.
Ariana must psychic up. Backed by her team, the boss she most certainly does not have a crush on, and an ally she is not sure she can trust, but is overwhelmingly attracted to, she must learn more about her powers to solve the crime, before the killer strikes again.
If you like paranormal in your mysteries, and romance in your cozies, grab "Psychic Undercover (with the Undead)."
---
The Gods Defense (Laws of Magic Book 1) by Amie Gibbons
In a world where the gods and magic have returned, enforcing justice just got a lot more hazardous!
Cassandra Berry is a prosecutor with a problem; the Defendant in her latest case is claiming Dionysus made him do it, and if he wins, defendants across the country will be pulling this excuse in every case. In order to get the god to answer a subpoena, she asks Apollo for help.
But divine favors always come with strings attached…
---
Scorpions of the Deep (The Elemental Demons Urban Fantasies Book 1)
by Amie Gibbons
Demonstrating, once again, her gift for making magic real in our modern world, Amie Gibbons brings to us the chilling horror of demons walking the earth in this pulse-pounding, paranormal psychological thriller.
Sarah Blakely is in survival mode after her breakup pulls her life out from under her, and sends her scrambling back home, depressed and broken after college.
She is determined to build a new life and find a new direction. But it is hard after losing her love, the man she'd planned on marrying. Her first ex being back in town does not help either. And the refuge of her childhood home where she should be able to heal in peace is being disturbed by one weird occurrence after another.
Sarah is not religious, but she is about to find out there are more things in Hell and Earth than are dreamt of in her philosophy.
Backed by her brave, loyal, and god-fearing friend Beau, and a pack of preteens she babysits, she must face her fears and find her strength again, before one of those dark things she does not believe in uses her broken soul against her.
If you like subtle psychological horror in your urban fantasy, check out this thrilling tale of a war of the human heart vs. evil in "Scorpions of the Deep," the first book in Gibbons' new Elemental Demons Series.
*** "Subtle and dark, urban fantasy at its best." – Leo Champion, Author of the Legion Series ***
---
Pyre & Ice (Wayward Sun) by Josh Griffing
A Crisis on Titan
"Me heat's gone, Jamie!" McGregor said. "I can't feel me leg!"
"No you doan'! I ain't t' set by an' let my mate cark it up here! Ye're one mate I 'ave wi' blood worth bottlin'!" Stobbins stooped and lifted McGregor from the ice.
Even through his gloves he can feel McGregor's right leg growing colder. But frostbite is the least of their worries as the men confront a danger that threatens to destroy their entire mission from within.
Titan is a frozen and unforgiving world. Only men and women with fire in their hearts will conquer its cold frontier.
---
An Inconvenient Presidency: The Time-Traveling Misadventures of President Al Gore (Presidents of the Uncanny States of America)
by Eric M. Hamilton
"It's almost too funny!"
On January 20, 2001, Albert Arnold Gore, Jr. became the 43rd President of the United States for the second time…
Newly elected President Al Gore is given a mysterious device that allows his mind to travel back in time and relive his presidency. He needs it, too! There is always some disaster forcing him to start over. Soon, the time-traveling President begins to suspect there's more going on with this device than he first suspected.
Read the hilarious story of the President that never was, and discover why history turned out different.
"I started reading and couldn't stop! What a clever story!"
John Walker's review of Eric M. Hamilton's An Inconvenient Presidency.
---
Quarantine World: Trapped In The Coronaverse by Michael H. Hansen
Inspired by the world-changing events of 2020, Michael H. Hanson delivers a moving collection of poetry and verse, driven by his own experiences during the COVID-19 pandemic.
"Sometimes dark, sometimes moving, always powerful, Hanson's poetry never disappoints."
— Eric S. Brown, Author of Bigfoot War
---
The Last Ancestor: The Swordbringer Book 1
by Alexander Hellene
They killed his father, oppress his people, and threaten them with extinction . . . and one of them is his best friend.
The Growlers rule their corner of the planet Yxakh with an iron fist, intent on driving the human refugees from their land. They almost did eight years ago, killing Garrett's father in the process. Only their guns, and lots of them, keep the Growlers at bay. Now a young man, Garrett burns for revenge, but finds it hard to reconcile this hatred given that his best friend is a Growler youth named Ghryxa.
Desperate to cleanse his land of the invaders, the Growlers' High Lord dispatches his trusted heir on a mission to acquire the humans' superior weaponry. The Earthlings barely won the last war . . . but this time the High Lord will leave nothing up to chance.
Garrett and Ghryxa run headlong into the High Lord's conspiracy and find themselves the only thing standing between their two peoples and all-out war. Now Garrett must participate in an ancient rite with the fate of humanity on his shoulders. It's a chance to be a hero like his father . . . but only if he makes it out of the Growlers' forbidden city alive.
---
Abducted!: A Tom Darby Adventure by Dan L. Hollifield
After working for military intelligence, Tom Darby, a Korean War veteran, he thought he'd seen it all until he finds himself abducted by aliens after a fender-bender with a UFO. Finding himself light-years from home, he fights hostile aliens across time and space to save the damsel and find his way back home.
---
Draw One in the Dark (Shifter Book 1)
by Sarah Hoyt *FREE*
"DRAW ONE IN THE DARK IS THE ONE NEW FANTASY NOVEL YOU HAVE TO BUY THIS YEAR!"-Dave Freer
Every one of us has the beast inside. But for Kyrie Smith, the beast is no metaphor. Since she was 15, when she first shape-shifted into a savage, black panther, Kyrie has questioned her humanity and moved from town to town, searching for a way to feel human again.
Kyrie's lonely life changes forever while waitressing at a cheap diner. Investigating screams from the parking lot, Kyrie stumbles upon a blood-spattered dragon crouching over a mangled human corpse. The dragon changes back into her co-worker, Tom, naked, dazed and unable to remember how he got there.
Thrust into a world of shape-shifting dragons, giant cats and other beasts waging a secret war behind humanity's back, Kyrie may find the answers she seeks—with help from Tom, a mythical object called the Pearl of Heaven, and her own inner beast.
---
A Place Outside the Wild
by Daniel Humphreys
2017 DRAGON AWARD FINALIST – BEST APOCALYPTIC NOVEL
"This might be one of the best zombie books I've read."
"You WILL NOT be disappointed!"
"(A) refreshing new twist to the traditional zombie apocalypse tale."
"World War Z meets Rot and Ruin."
Eight years after Z-Day, the surviving remnants of mankind face the unknown. The fences and walls kept the ravenous undead at bay until they wasted away. A once overwhelming foe has turned feeble and weak, and a world gone wild seems ripe for reclamation.
The scars of the long war run deep. And hope is a dangerous thing when the real enemy might just be the survivors themselves.
---
Academic Magic: Academic Magic Book 1 by Becky Jones
Zoe O'Brien has found her dream job at a small liberal arts college teaching the history of Medieval witchcraft and magic. Academic life is exactly what she expected it to be…until the squirrels stop by to talk with her and her department chair and best friend turn out to be mages.
Zoe discovers a world of magic and power she never knew existed. She and other faculty mages race to stop a coven from raising a demon on the winter solstice while simultaneously grading piles of final exams and reading the tortured prose of undergraduate term papers. But first, she must learn to master her new-found powers.
---
The Lure of Fools (Age of the Infinite Book 1) by Jason James King
Adventure is the lure of fools, and excitement glamour to the gullible…
So Jekaran's uncle has warned him. But that doesn't stop him from leaping at the exhilarating chance to single-handedly rescue a beautiful woman from a gang of lecherous thieves. But the bored farm boy quickly finds that he is no match for the group of angry street thugs, and only escapes death by bonding a magical sword that grants him the strength and skill of a master swordsman.
Unfortunately, a peasant wielding such magic is forbidden and punishable by death. Thus Jekaran finds himself a fugitive with his fate tied to that of the exotic and mysterious, Kairah; a fey woman who must deliver a dire warning to the king that, if heeded, could prevent the very extinction of humanity…
The Lure of Fools is an action-packed epic fantasy adventure. If you like Brandon Sanderson, Jeff Wheeler, and Robert Jordan then you'll love Jason James King's epic series.
Buy The Lure of Fools and join the fantastic quest today!
---
A State of Disobedience
by Tom Kratman *FREE*
It's Time to Remember the
Alamo All Over Again!
In the long war against terrorism, the US Government had taken on extraordinary powers. And now that the war was won, powerful forces in the government had no intention of relinquishing those powers. As in 1860, the country was on the verge of civil war. And as in 1860, a leader arose to save the country—but it was not the President this time. Instead, the Governor of Texas was the woman of destiny. And, though the Federal Government had more guns and troops, David was about to give Goliath a run for his money…
---
A Desert Called Peace (Carrera Series Book 1)
by Tom Kratman *FREE*
HE RAISED AN ARMY
AGAINST THOSE WHO
TOOK EVERYTHING FROM HIM
They should have picked their enemies more carefully.
Five centuries from now, on a remarkably Earthlike planet that is mankind's sole colony in space, religious fanatics called the ""Salafi Ikhwan"" have murdered the uncle of former colonel Patrick Hennessey. That was their first mistake, because uncle was rich and Hennessey was rather a good colonel. But they also murdered Hennessey's wife, Linda, and their three small children, and that was their worst mistake for she was the only restraint Hennessey had ever accepted.
From the pile of rubble and the pillar of fire that mark the last resting place of Linda Hennessey and her children arises a new warrior—Carrera, scourge of the Salafis. He will forge an army of ruthless fanatics from the decrepit remains of failed state's military. He will wage war across half a world. He will find those who killed his family. He will destroy them, and those who support them, utterly, completely, without restraint or remorse.
Only when he is finished will there be peace: the peace of an empty wind as it blows across a desert strewn with the bones of Carrera's enemies.
---
Caliphate
by Tom Kratman *FREE*
"Slavery is a part of Islam . . . Slavery is part of jihad, and jihad will remain as long there is Islam." —Sheikh Saleh Al-Fawzan, author of the religious textbook At-Tawhid ("Monotheism") and senior Saudi cleric.
Demography is destiny. In the 22nd century European deathbed demographics have turned the continent over to the more fertile Moslems. Atheism in Europe has been exterminated. Homosexuals are hanged, stoned or crucified. Such Christians as remain are relegated to dhimmitude, a form of second class citizenship. They are denied arms, denied civil rights, denied a voice, and specially taxed via the Koranic yizya. Their sons are taken as conscripted soldiers while their daughters are subject to the depredations of the continent's new masters.
In that world, Petra, a German girl sold into prostitution as a slave at the age of nine to pay her family's yizya, dreams of escape. Unlike most girls of the day, Petra can read. And in her only real possession, her grandmother's diary, a diary detailing the fall of European civilization, Petra has learned of a magic place across the sea: America.
But it will take more than magic to free Petra and Europe from their bonds; it will take guns, superior technology, and a reborn spirit of freedom.
---
The Dream of the Iron Dragon: An Alternate History Viking Epic (Saga of the Iron Dragon Book 1) by Robert Kroese
DRAGON AWARD FINALIST FOR BEST ALTERNATE HISTORY NOVEL
Trapped 1300 years in the past, they have one mission: survive.
In the 23rd century, humanity has been hunted to the verge of extinction by an alien race. When an exploratory ship accidentally travels back in time to Viking age Scandinavia, the human race is given a second chance. Pursued by the power-hungry King Harald, the four surviving crew members join a ragtag band of Vikings as they pillage their way across Europe. It will take all their ingenuity, courage and technical know-how just to survive. But survival is only the beginning. To save humanity, they must somehow return to the stars.
Thus begins a decades-long effort to teach the Vikings to build a craft capable of reaching space—a ship that will come to be known as the Iron Dragon.
THE DREAM OF THE IRON DRAGON is the first installment in the IRON DRAGON trilogy. The sequel, THE DAWN OF THE IRON DRAGON, will be published in June 2018. The saga will conclude with THE VOYAGE OF THE IRON DRAGON in December 2018.
THE IRON DRAGON trilogy is being produced as part of the phenomenally successful SAGA OF THE IRON DRAGON Kickstarter, which raised over $10,000. Meticulously researched and packed with action, THE DREAM OF THE IRON DRAGON is a must for sci-fi and alternate history fans.
"Terrific storytelling, letter-perfect alternate-history, and the highest stakes for humanity imaginable combine to make this a thrilling start to an exciting new Viking saga. Kroese avoids both romanticizing and demonizing the Vikings, showing them to us in all their humanity, while spinning a tale that pulls no punches and leaves us gasping for more." – Lars Hedbor
---
The Brand of the Warlock (The Counterfeit Sorcerer Book 1) by Robert Kroese
A hooded man, his face marred by a mysterious black brand, walks the Plain of Savlos. Some say he has the power to summon demons. Others say he is the only one who can vanquish them. His name is Konrad, and he has a secret….
Once an ordinary soldier, his life was forever changed by a fateful meeting with a dying sorcerer. Now he is all that stands between civilization and the creeping evil of the shadow world. The Brand of the Warlock is the first book in the fast-paced sword & sorcery series THE COUNTERFEIT SORCERER.
Pick up The Brand of the Warlock and start your adventure today!
---
Aye, Robot (A Rex Nihilo Adventure) (Starship Grifters Book 2) by Robert Kroese
Praise for Aye, Robot
"Once again, Kroese gives me a story I can't put down with a hero I can't bring myself to despise. A brilliant sequel to one of my favorite space romps of all time." – Hugh Howey, New York Times bestselling author of Wool
"With this book, Robert Kroese has planted his flag atop Sci-Fi Humor Mountain and dared everyone to knock him off. If this isn't the funniest book you read all year, there's something wrong." – Paul P.
"I've never laughed so hard while reading a book." – Greg O.
"Mr. Kroese is the Douglas Adams of our generation." – Ellen C.
The Newest Name in Piracy Starts with Arrrrr
Rex Nihilo, interstellar con man… and space pirate?
When space grifter Rex Nihilo hijacks a cargo freighter on a whim, he decides that he and his long-suffering robot sidekick Sasha have found their calling as space pirates. But when the ship's cargo turns out to be a cryogenically frozen religious fanatic who holds the secret to a vast galactic conspiracy, Rex and Sasha find themselves on the run from *real* pirates–as well as agents of the oppressive Malarchy, crazy space cultists and the trigger-happy goons of the Ursa Minor mafia.
If Rex is going to get out of this jam alive, he might just have to save the galaxy… again.
Aye, Robot is a sequel to Starship Grifters, but it's not like it's going to make any more sense if you read that book first, so you should probably just buy this book now while you're thinking about it.
SPECIAL BONUS FOR PEOPLE WHO BUY AYE, ROBOT IN THE NEXT 24 HOURS*: Get an exciting scifi novella,The Yanthus Prime Job, absolutely free!
*Probably also available for people who buy it after that. But maybe not! There's no way to know!
---
The Unexpected Enlightenment of Rachel Griffin (The Books of Unexpected Enlightenment) (Volume 1) by L. Jagi Lamplighter *FREE*
Roanoke Academy for the Sorcerous Arts – A magic school like no other!
Nestled amidst the beauty of New York's Hudson Highlands and hidden from the eyes of the Unwary, Roanoke Academy is a place of magic and wonder. It offers everything a young sorceress could desire—enchantments, flying brooms, and the promise of new friendships.
On her first day of school, Rachel Griffin discovers her perfect memory gives her an unexpected advantage. With it, she can see through the spell sorcerers use to hide their secrets. Very soon, she discovers that there is a far-vaster secret world hiding from the Wise, precisely the same way that the magical folk hide from the mundane folk.
When someone tries to kill a fellow student, she investigates. Rushing forward where others fear to tread, Rachel bravely faces wraiths, embarrassing magical pranks, mysterious older boys, a Raven that brings the doom of worlds, and at least one fire-breathing teacher.
Described by fans as: "Supernatural meets Narnia at Hogwarts", The Unexpected Enlightenment of Rachel Griffin is a tale of wonder and danger, romance and heartbreak, and, most of all, of magic and of a girl who refuses to be daunted.
Curiosity may kill a cat, but nothing stops Rachel Griffin!
---
Ordinary Superheroes
by Christopher Lansdown
Millenia ago martian superheroes defeated an ancient evil, who was imprisoned on a moon of Jupiter. Neglected for centuries, the prison is about to fail, giving the ancient evil a second chance to wipe out all life in the solar system. Unfortunately, the martians have gone extinct so it's up to earth's superheroes to save the day. Worse, there's only one man who even knows of the threat, and he's not a superhero. On the plus side, training teams of superheroes to save the world is what he does.
Mr Macho, Mockingbird, and the Mega Ninja were just ordinary college student/superheroes doing ordinary student things like attending class and ordinary superhero things like foiling bank robberies and catching drug dealers until one night when they returned to their apartment and found a strange old man with a mystical amulet sitting on their couch. Unfortunately, while he can teach them how to teleport to other planets, he has no idea how to repair the prison. Did the amulet pick correctly this time, and will they figure out what they need to do before it's too late?
---
Love in the Age of Dispossession
by Loretta Malakie
Love in the Age of Dispossession is a nostalgic tragicomedy about an upstate 1990s New York girl who loses herself in the big city but finds redemption in returning home.
This coming-of-age novel follows a small-town Gen X American girl named Kitty, from her senior year in high school to her life as an extremely unsuccessful lawyer in Manhattan.
The novel begins with three days in the life of a group of high-school friends in 1993, culminating in a fistfight on the village green over the honor of the Prom Queen. The scene then shifts to New York City. Kitty is called back home for a funeral, and then, years later, someone from her small-town past pays Kitty a visit that changes her life.
---
The Gentleman Farmers
by Loretta Malakie
Maggie Kingsbury, single middle-aged alcoholic lawyer, joins her in-laws Molly and Kevin on a homestead in the mountains of North Carolina, where their trustafarian college frenemies Brock and Sandra have just bought their third home. Molly commissions Brock to renovate an old Appalachian tobacco barn on their property. But when maverick hillbilly throwback Uncle Billy shows up to live in their field in a camper van, power struggles ensue. Meanwhile, Kevin has become dangerously obsessed with breeding heritage livestock. When Maggie's beloved niece Juliet asks her to take on a mysterious client, Maggie becomes implicated in a national political furor.
---
Call It Even
by Edwin Markham
Robbie Bowman is a U.S. Army veteran of Iraq and Afghanistan troubled by guilt and sorrow. He is looking for his missing sister, the only family he has left, and for redemption and peace. Bowman finds himself in a small town in New Mexico, where he is arrested for a brutal double murder, which triggers chilling memories of other deaths for which he feels responsible. Circumstance and his guilty conscience drive him to take on those responsible for the murders. His survival skills and combat prowess will be tested as he finds himself in a mortal struggle with vicious drug traffickers and their allies. But not all of the good guys are blameless, and not all of the bad guys are evil. He must use his judgment as well as his fighting skills.
---
Coming to Power: An Epic Science-Fantasy Multiverse Adventure (The Arc Legacy Book 1)
by T.J. Marquis
There's another Earth, just a few steps away from ours, and it's under siege by a dark, hungry god. It's a planet where ancient enchantments still rule, where human society is built on the ruins of something greater. It's calling for a hero.
An angelic guardian finds Jon on the run for killing his best friend's murderer in defense. The spirit gives him a way out – travel to this other Earth and fight.
It brings him into the battle, praising him for being the first to answer the call in ages. Blessed with magic he could never have imagined, Jon begins his quest for the bloody shadow.
But the mad god knows he's coming, and he's got a legion of monsters ready and waiting.
He's joined along the way by Bahabe, a lovely magical girl with a mysterious past, and Dahm, a wise and powerful Traveler and master of stonecraft. Together they'll stand against the enemy horde and the mad posthuman posing as their god.
Myths and nightmares take to the battlefield, thirsty for the blood of our heroes. Forgiveness. Confidence. Faith. Jon will need them all to bear up against the impossible odds.
World-shaking magic, deranged posthumans, far-future technology, alternate worlds, the power of friendship, and absolution. It's The Stormlight Archive meets The Dark Tower and Dragonball, perfect anyone who's ever just wanted to escape.
---
RawJack: A Superheroes v. Sorcerers Future Fantasy Action Novel (Hero Planet Book 1)
by T.J. Marquis
It's been a generation since the first superhero arose to disrupt a society dominated by sorcery. Since then, their population has grown and they have built their own cities all across the magical planet Ellio.
Now, the magical 1% have discovered how to get rid of the thorns in their side, and no one with innate abilities is safe.
An impossible murder and an epidemic of sudden power loss lead our hero Jack to investigate, and his plucky wizard friend joins the fight. They want to go pro, and this could be their big break.
As they fall in with Durables, Speedsters, Hammers, Healers, and Empaths, they discover how deep and twisted the sorcerous elite's plan really is.
But no one can be assured of victory when an agent of Chaos slinks onto the scene, prowling between the extremes of Justice and Domination.
Dive into this colorful magipunk world full of strange enchantments, true heroes, big surprises, and maybe a little romance.
---
How Black the Sky: A Progressive Heavy Metal Adventure Novel (Hero's Metal Book 1)
by T.J. Marquis
How Black the Sky
Pierce – a brash young man with rare blessings of strength and really bad news.
Axebourne – the fatherly berserker with infectious laughter.
Scythia – calm and motherly, her Circlet of Knowing reveals
secrets.
Agrathor – a mighty spearman with an electric personality
and a terrible skin condition.
Ess – Second only to the First Great Master of Convergent
Reality Theory. Pierce thinks she's hot.
They are Gorgonbane. Once mercenaries, now heroes, they are the only thing standing between Overland and the horrid Monstrosities of the Underlord. His lust for power has reached its peak, but the coming invasion may not be exactly what it seems…
The Hero's Metal universe
---
A Greater Duty (Galaxy Ascendant Book 1) by Yakov Merkin
The Galactic Alliance was not ready for war. When it is suddenly invaded by the cold and relentless Tyrannodon Armada, under the command of emotionless, amoral Executor Darkclaw, it is immediately sent reeling.
The invasion was a godsend for some, however, such as Grand Admiral Nayasar Khariah, who had wanted nothing more than revenge on the Alliance following an attack on her homeworld. The arrival of the Tyrannodons presents her with an opportunity, one that she seizes gleefully.
However, Executor Darkclaw, who has been prosecuting the invasion on orders of his master, the all-powerful energy being known only as the High Lord, has started having second thoughts once he unexpectedly starts feeling emotions he does not understand. Suddenly, he finds himself heretically questioning the only purpose he has ever known—irrevocably altering his view of the ongoing war.
Meanwhile, within the Galactic Alliance, Second Scion Dalcon Oresh, member of an order dedicated to preserving the it, struggles to stop the Alliance's bleeding, the source of which may not be entirely external.
Darkclaw's newfound friendship with Nayasar will be pushed to its breaking point, Nayasar's relationships with her closest friends and loved ones will be strained as her quest for vengeance becomes more and more a personal obsession, and Dalcon must determine who he can truly trust.
All the while, the imminent existential threat of the High Lord looms over everything, and the key to stopping him, and saving not just the Alliance, but the entire galaxy, may only be found in the remains of a ancient, powerful race, and the creations they left behind…
---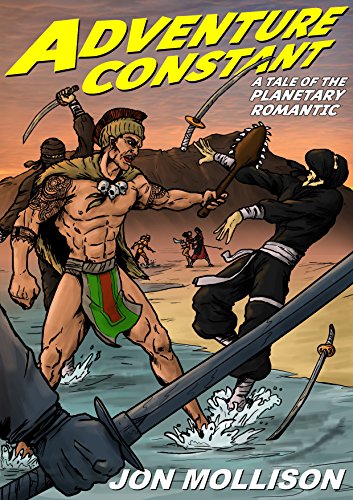 Adventure Constant: A Tale of the Planetary Romantic (Jack Dashing Book 1)
by Jon Mollison
Jack Dashing thought being a rocket test pilot was the most exciting career his world had to offer. He was right, but he had no idea it would also open the door to a world where action and adventure always lay just around the corner. Within 24 hours of crashing the experimental FYN-X drive, Jack finds himself swept up in a race across the Pacific Ocean to rescue a kidnapped princess from the hands of the Red Collective's most dangerous agent. So begins a world spanning voyage across two oceans in a world a lot like ours – but one where daring rescues, thrilling chases, and secret plots aren't just the stuff of novels, they are a part of every day life. Particularly for a man of action like Jack Dashing, the Planetary Romantic.
---
Combat Frame XSeed
by Brian Niemeier
The future is over.
Civilization on Earth has collapsed. Oligarchs have established a new order in manmade space colonies at the Earth-Moon LaGrange points.
A group of powerful colonies form the Systems Overterrestrial Coalition to re-civilize the earth, but grounders view the colonists as hostile meddlers. The Coalition counters the rising violence with giant manned robots called combat frames.
The independent L3 colonies denounce the war on Earth. In response, Coalition Security Director Sanzen takes L3 leader Josef Friedlander's wife and daughter hostage. Amid the tense standoff, Friedlander's son Sieg launches an unsanctioned rescue mission to L1's Byzantium colony.
---
Starfire Angels (Starfire Angels: Dark Angel Chronicles Book 1)
by Melanie Niles
2011 EPIC ebook award finalist!
They've been coming here for thousands of years, using Earth as a sanctuary to escape threats from their own kind. Mankind knows them as angels, and one of them left a child upon her death to be raised as a human.
Raea is now a high school senior and her life as a human is about to end. The crystal shard she bears is not a pretty pendant; it's a collective of powerful entities who chose her as their Keeper, a protector of one of the four shards that power a machine capable of destroying whole worlds. Those who desire the Starfire's power have sent an agent to find her, but she's too busy evading a nosy reporter ready to exploit her secret and dating a hot new foreign student to notice. Nevermind learning what she really is.
Only one person on Earth can help her, the last person she ever expected. But he's not from Earth. Life as a human would be so much easier.
BONUS:
Exclusive sneak peek of BROKEN WINGS (Starfire Angels Book 2)
---
A New Beginning (Starfire Angels: Forgotten Worlds Book 1)
by Melanie Nilles
On a remote mining station, Nyalin hides a secret that would make her a hunted woman—she is a Crystal Keeper, a protector of a shard of the powerful Starfire crystal. However, when a strange shuttle falls through a portal near the mining station, she can no longer avoid her responsibilities. The human pilot, Vellin, is part of a research team that has developed gateways for instant travel anywhere in the universe without requiring a Starfire crystal, and he has been followed by an enemy through the portal.
To stop dangerous forces from possessing the gateways to spread destruction, Nya must team up with Vel and risk exposing her secret. In their race to destroy the gateways, they will find allies and enemies… and a new reason to worry.
---
Sanity by Neovictorian
Have you sometimes felt, since an early age, that you were an alien, somehow placed on Earth and observing the antics of humans as if they were a different species? Why do they believe such stupid things? Why do they do such dumb things? And why do they keep doing them over and over again, seemingly incapable of learning from the bad outcomes of all the previous attempts?
That is how Cal Adler felt since childhood and, like most people with such feelings, kept them quiet and bottled up while trying to get ahead in a game whose rules often seemed absurd. In his senior year in high school, he encounters a substitute guidance counselor who tells him, without any preliminary conversation, precisely how he feels. He's assured he is not alone, and that over time he will meet others. He is given an enigmatic contact in case of emergency. He is advised, as any alien in a strange land, to blend in while observing and developing his own talents.
Then he meets a Mystery Woman…and the real adventure begins.
Book Review: Sanity by John Walker
---
Time Traders
by Andre Norton *FREE*
DRAFTED INTO THE ARMY OF TIME
Intelligence agents have uncovered something which seems beyond belief, but the evidence is incontrovertible: the USA's greatest adversary on the world stage is sending its agents back through time! And someone or something unknown to our history is presenting them with technologies—and weapons—far beyond our most advanced science. We have only one option: create time-transfer technology ourselves, find the opposition's ancient source . . . and take it down.
When small-time criminal Ross Murdock and Apache rancher Travis Fox stumble separately onto America's secret time travel project, Operation Retrograde, they are faced with a challenge greater than either could have imagined possible. Their mere presence means that they know too much to go free. But Murdock and Fox have a thirst for adventure, and Operation Retrograde offers that in spades.
Both men will become time agents, finding reserves of inner heroism they had never expected. Their journeys will take the battle to the enemy, from ancient Britain to prehistoric America, and finally to the farthest reaches of interstellar space.
---
Maelstrom by Richard Paolinelli
Reaching out with his right hand he snapped the curtain away from the pane…and came face to face with a hell Dante could never have imagined.
"Where am I?" he asked, trying to comprehend what he was seeing.
"You're still in San Francisco, Dr. Collins, just one hundred and two years later. A lot has happened since you last saw the city."
"You have a talent for understatement."
– Maelstrom
Steve Collins was just trying to save the world from the next killer asteroid. He wound up killing over seven billion people instead. A century later, he's now the only hope to save the surviving one million humans left alive in the entire universe.
---
When The Gods Fell (Lost Civilizations Book 1) by Richard Paolinelli
"I have waited for this day for many millions of your years," the woman continued. "I feared that you would not come in time."
"Who are you?" Matsuo asked, the first of the two men to find his voice.
"My name is Oracle Veritas," she replied, "I am of the House of Delphi in the Caste Olympia. I have been tasked to tell you our story. There is much to tell and precious little time to tell it."
"Why?" Buffa asked.
"Because a dark force is rising up once again," the strange woman replied. "And I fear that this time it will destroy us once and for all."
– When The Gods Fell
The first mission to Mars discovers our origin stories were wrong. Earth's gods, led by Zeus, Odin, Ra, and Lucifer, waged a terrible war on the Red Planet millions of years ago; but the final battle still looms, and Earth will be the final battlefield.
---
Mistress of the Waves by George Phillies
Orphaned Amanda Kirasdotr is a sailor on the lost planet Goddard. When she rescues a visiting starfarer from drowning, her reward is a trip into orbit. Now she wants to go there again, not easy when the hottest ship on Goddard has three masts and a full set of sails.
The shadowy Brotherhood of the Bell realizes that Amanda wants to bring that most dreaded of all menaces, change, to Goddard. They'll do absolutely anything to stop her.
Amanda begins with her wits, her determination, and her dory Northstar. She's up against typhoons, pirates, assassins, financial bubbles, starfarer ultratech, and the mythical giant ship-eating squid. Can she beat them all to find the path to her dream?
---
Eclipse: The Girl Who Saved the World (This Shining Sea Book 1) by George Phillies
Eclipse —
World's Greatest Tween Superhero
World's Most Terrifying Tween Supervillain
Opinions differ.
She's caring, daring, deadly
…and here to save the world
whether it likes it or not.
Meet Eclipse.
She's twelve. She's hardworking, bright, self-reliant, good with tools, vigorously physically fit, tough as nails, still young enough to disguise herself as a boy. She's also a persona: She flies, reads minds, and is not afraid of necessary violence.
She had a bit of a problem with her mom. Her mom threw her out of the house. Then Mom blew up the house and disappeared.
Now she's procured the Holy Namestone, the Key to Paradise. And everyone in the world will be happy to kill her to get their hands on it.
Meet Trisha.
She's not quite a year older than Eclipse. She's friendly, considerate, really good in school, athletic, does more than her share around the house. She's also a persona. She has superspeed…an hour of housework in a minute. She flies, including from here to the next galaxy in an hour.
She also has a bit of a problem with her parents. They always treat her with complete contempt, totally grounded her, and won't say why.
Her brother and sister are personas, too. Year-younger sister Janie is a budding world chess and go champion. She also reads minds, sees distant events, and can kill with a glance. Her twin brother Brian is incredibly good with tools, builds fantastic models from scratch, has a nearly unbreakable force field, and summons plasma beams that cut battleships in half.
Eclipse is Volume 1 of the This Shining Sea series. Volume 2, Airy Castles All Ablaze, will be a major rewrite of my much older novel This Shining Sea. There will be a Volume 3, Stand Against the Light, and a Volume 4, Of Breaking Waves, because Eclipse still needs to save Spindrift from having died.
---
Honor Flight by P.A. Piatt
Fifty years ago, the International Space Marine Corps (ISMC) fought and won a narrow victory against a vicious foe. Now, Fleet Transport 'Astral Plane' is transporting survivors of this battle when a garbled warning is received, followed by orders from the President of the United Nations of Terra. Her orders are simple: Unconditional surrender, or die.
Abner Fortis and the other Space Marines on 'Astral Plane' aren't about to surrender, but what can two hundred aged ISMC veterans on an unarmed Fleet transport do against overwhelming hostile forces?
It's no coincidence their motto is DINLI. Do It, Not Like It.
They just have to figure out how.
---
The Marchioly Project by P.A. Piatt
Alexandru Statornik had everything – until it was all ripped away…
As his life spirals downward, Alex is recruited for a top-secret government research project at a secret prison in the heartland of America. He expects to find a most-wanted terrorist, but what Alex discovers is more horrifying than he could have ever imagined. The government has been holding a prisoner for over a hundred and fifty years – and that prisoner is a vampire.
When the project goes horribly wrong and the vampire escapes, it falls on Alex to hunt down and destroy the savage evil that has been unleashed on the world.
If he fails, eternal darkness will settle over all of mankind.
---
Father's Son by P.A. Piatt
In 1947, American fighter jets clashed with an unidentified spacecraft in the skies over New Mexico. Three alien bodies were recovered from the wreckage, but nobody considered the two empty seats…
In modern-day Texas, Wes McCall submits a DNA sample to support a paternity claim, and his test results spark a national scandal that threatens to bring down an entire presidential administration.
Wes doesn't care. He's too busy running for his life.
Those two seats weren't empty, and someone is searching for the survivors with one simple mission: Death to tyrants.
---
Redcaps Rising: A Walter Bailey Misadventure
by P.A. Piatt
"Murder most foul,
And evil in the air.
Seek the Red Dwarf,
Only brave may dare."
When Walter Bailey arrived in Mississippi, he discovered the murder of his estranged grandmother was not the random and senseless crime it was reported to be. Accompanied by an unlikely group of heroes, guided by the words of a mad little hermit, opposed by evil beyond his wildest imagination, Walter embarks on an epic quest through an unfamiliar and often hilarious world of magic. As the stakes go up, the price of failure becomes the future of magic on Earth itself. Are Walter and his intrepid companions up to the challenge in a world where anything goes and the truth isn't always what it seems?
---
Love in the Time of Cinema by Francis Poretto
At 28 Jana Tyrell is already the foremost actress in the world. But she wants the love of a good man, and they're not so common in Hollywood. She finds it in a most unexpected place: Onteora County, NY, a land that produces geniuses and heroes as if they'd been sown there by God. Her target, engineer and Web writer Tim Beaufort, will be rocked by the changes Jana brings to his life.
When a reclusive actress finds love with a solitary engineer and blogger, they must work together to thrive and prosper in the cutthroat world of Hollywood. This is a remarkably poignant romance that really sneaks up on the reader. Clever and distinctive characterization, interesting plot turns, and a simple but engaging style. Reminiscent of Nevil Shute's No Highway. The only problem with this story is it ended too soon! Highly recommended. -Hans
---
Critters of Unusual Size by J.F. Posthumus
Called back to her home town after a series of strange animal attacks, Alana Dodson and her team arrive to find a new species of COUS, Critters of Unusual Size, and the biggest threat that the small town of Fossilridge has ever faced.
---
Battle for the Wastelands
by Matthew W. Quinn
"A rip-roaring post-apocalyptic adventure that will have you racing through the pages!"
-Jack Conner, New York Times best-selling author of The Atomic Sea.
In a desolate world where dirigibles rule the skies and blood soaks the dry earth, a young man joins the fight against a tyrant who has problems of his own.
Andrew Sutter returns home from a hunting expedition to find drought-wracked Carroll Town under the thumb of a tax collector from the cannibalistic Flesh-Eating Legion. A riot becomes a battle that leaves Carroll Town in ruins and Andrew alone in the merciless Iron Desert. Saved from certain death by the riders of rebel chieftain Alonzo Merrill, Andrew finds himself fighting for their doomed cause.
Meanwhile, Grendel, first lord of the Northlands and the Flesh-Eaters' ultimate master, finds his peace of conquest disintegrating as the warlords under his thumb begin battling one another. He plots a new war to reunite them as the starving Merrills launch their last, desperate offensive.
And Andrew may be the one holding the key to victory…
Fans of Stephen King's Dark Tower, George R.R. Martin's A Song of Ice and Fire, L.E. Modesitt Jr.'s Corean Chronicles, S.M. Stirling's The Peshawar Lancers, and AMC's Into the Badlands will thrill to this fast-paced first volume of a saga of war and intrigue on a continental scale.
---
A Hymn Before Battle (Legacy of the Aldenata Book 1)
by John Ringo *FREE*
"WITH FRIENDS LIKE THESE . . .
With the Earth in the path of the rapacious Posleen, the peaceful and friendly races of the Galactic Federation offer their resources to help the backward Terrans—for a price.
Humanity now has three worlds to defend.
As Earth's armies rush into battle and special operations units scout alien worlds, the humans begin to learn a valuable lesson: You can protect yourself from your enemies, but may the Lord save you from your allies.
---
Orbital Odds: A fLUX Runners Universe Short Story by William Joseph Roberts
Glide along the corridors of an Independent Alliance training station Nobel with Chief Engineer Henry as he rescues a class of cadets from their own misfortune while teaching them a few life lessons.
---
Poker Face: A fLUX Runners Universe Short Story by William Joseph Roberts
Another dive into galactic chaos with Trae and Fergus as they attempt to establish trade agreements with alien merchants.
---
Closet Cases: A fLUX Runners Universe Short Story (The Intergalactic Rapscallion Adventures Presents: Trae and Fergus In:) by William Joseph Roberts
Trae and Fergus find themselves trapped as stowaways on an alien transport and live to tell the tale. Follow along on this short adventure into the dark corners of the cosmos and absurdity.
A short story based in the fLUX Runners universe.
---
The Tomb Of Ro`Erd (Draven the Red Wolf Book 1) by William Joseph Roberts
On the run from a detachment of Azkateri soldiers, Draven and his band of aimless rogues stumble across the ruins of an ancient temple complex, hidden within the forests of Istel`dar.
Tempted by the prospect of treasure, Draven and his men find themselves deep within the necropolis, only to discover much more than they had bargained for.
The Good Fight by Justin Robinson
Atlas Shrugged Meets Invasion of the Body Snatchers
Terry is an ordinary 16-year-old girl in Toronto. Her days are usually filled up by schoolwork, karate class, and helping out in her mother's store, but strange things are happening behind the scenes of the city.
People are disappearing and coming back changed, with their identity torn out of them. A series of close calls with an unthinkable adversary puts a target on Terry's back. It's everywhere, enslaving people, hollowing them out into puppets… and now it wants her.
---
Uriel's Revenge: A Sci-fi Horror Novel (The Cliptic Book 1)
by David Roome
Small-time privateers battle ancient terrors at the edge of the Solar System!
For Brian Zaks, developing his skills as a space pilot and combat maneuvers specialist for Elwood's Privateers took highest priority. But he couldn't ignore fellow privateer and ex-girlfriend Evvie Evans when she begged him for help with her nocturnal hallucinations of a raven-headed demon.
Then Elwood's treasure-hunting hobby uncovered the lost secrets of an ancient cult, thrusting Brian and Evvie into an interplanetary clash between the cult's present-day descendants.
Can they defeat a primeval power threatening to upend human civilization?
Uriel's Revenge is a horror-tinged sci-fi adventure. Read it today and escape to the Cliptic!
---
Pixie Noire byCedar Sanderson
You can't keep a tough Pixie down…
Lom is a bounty hunter, paid to bring magical creatures of all descriptions back Underhill, to prevent war with humans should they discover the strangers amongst them. Bella is about to find out she's a real life fairy princess, but all she wants to do is live peacefully in Alaska, where the biggest problems are hungry grizzly bears. He has to bring her in. It's nothing personal, it's his job…
"They had almost had me, that once. I'd been young and foolish, trying to do something heroic, of course. I wouldn't do that again anytime soon. Now, I work for duty, but nothing more than is necessary to fulfill the family debt. I get paid, which makes me a bounty hunter, but she's about to teach me about honor. Like all lessons, this one was going to hurt. Fortunately, I have a good gun to fill my hand, and if I have to go, she has been good to look at."
Dave Freer, author of Dog and Dragon, The Forlorn, and many others, says: ""To those of you who thought there was nothing new worth reading in Fantasy: Cedar Sanderson's Pixie Noir proves that you are wrong. The author plainly knows and loves her setting and characters, and this carries through to the reader. The pace picks up throughout, so save this book for a weekend, or you'll be complaining about a lack of sleep at work. A very good read!"
---
Gideon Ira: Knight of the Blood Cross: Deus Vult Wastelanders Book 1 by Adam Lane Smith
Demons and Necromancers haunt a burnt and blasted future in the ruins of what was once America.
A holy crusader sworn to slaughter the dark cults of Ba'al the Ever-Hungry must rescue a band of innocent children with his blade and blood-soaked gauntlets, or die trying.
All of Hell thirsts for his blood, but a man of God will never be broken. This holy crusader's vengeance will be brutal.
The first book in a new heavy metal Christian pulp series.
---
The Compleat Martian Invasion: Earth's Defense Awakens
by John Taloni
With Earth left in shambles by the Martian invasion, Queen Victoria's daughter Louise must lead the world through a dire emergency: The Martians are coming back. First she must rescue Cavor from his prison on the Moon in order to build a defense fleet. Even with Cavor their efforts would be for nothing without the genius of Nikola Tesla leading the way. And on Mars, unexpected allies fight a rearguard action to help Earth. Meanwhile the Time Traveler repeatedly appears, but is he friend or foe?
Review by John Walker of The Compleat Martian Invasion.
---
Crisis on Stardust Station
by John Taloni
The cats of Stardust Station have long hidden their intelligence from the humans that live there. Now a crisis threatens them both. Can the cats and humans learn to work together in time to save both the station and the planet below?
A few hundred years from now, Earth has gone to space…and come back. The remnant of a once vibrant space effort persists in the form of a few hundred solar power satellites that provide half of the world's power. John Aldrin is one of four people crewing the last remaining space station, with the mission to keep the satellites operating. But Earth has neglected them so long that they are on the verge of breakdown.
Benign neglect has allowed something else to happen: In the station's forest habitat, a group of genetically modified cats have grown to intelligence. Some have been adopted by the astronauts and brought to their living area. Natural telepaths, both groups of Cats have agreed to keep the knowledge of their intelligence secret from the humans.
Their equilibrium is destroyed when a solar flare strikes and knocks out the satellites. The Cats must reveal their secret to save both their station and the world below. But can they convince a skeptical Earth to work with them?
---
No Choice (Kaylid Chronicles Book 1) by Mel Todd
Handling the cat calling as a female police officer is one thing, being a literal cat is something else.
When the world's population shifts into animals, the last thing McKenna expected was to be at the center of the controversy. Much less for her to be the star in a viral video. Harried by her internal cat, resentful co-workers, freaked out neighbors, and a partner who's turned into a bear, she's got enough on her plate. And no one knows why they changed, which is scary enough.
When she gets caught in the crossfire of a get rich quick scheme, she'll have to decide what price she'll pay to protect the innocent. And if she'll still be human by the end.
Looking for action and adventure with no romance? Want characters that grow and learn? Pick up book one of the Kaylid Chronicles and go from small town cop to last hope for humanity.
If you like strong characters, fast-paced action, and unique shifters, then you'll love Mel Todd's exhilarating novel. Buy No Choice to shift into a thrilling urban fantasy today!
Book one in the completed Kaylid Chronicles. Over 500,000 words. Start the journey here. Professionally re-edited November 2018.
Kaylid Chronicles is the primary story line. The Kaylid Novellas are supporting stories to enhance and give the world depth.
---
My Luck (Twisted Luck Book 1) by Mel Todd
I'm not a mage, but that won't stop me.
Cori Catastrophe. They call me that sometimes, and I hate to admit it, but it isn't wrong. Things go weird around me. Electronics die, things break, and if something odd happens, I seem to find it. Finding another dead body just made me late to work.
Nothing will stop me from getting my degree, getting a job, and getting away from this tiny town – though leaving my best friend will hurt more than anything else. Reality seems determined to make reaching my goals impossible. The dead guy had my name in his pocket, my best friend emerges as an archmage, and my parents – well let's just say leaving them behind is one of the best parts of getting away.
So be it. Not being a mage means I'll have to struggle to succeed. No matter how weird things get, I'll make it. I lost my brother and I'll probably lose my best friend to the world of magic. All I can do is depend on myself.
But with my luck, that might be difficult.
Get My Luck, book 1 in the Twisted Luck series, now!
---
Man of the House by Kalkin Trivedi
By his mid-teens, Jason Olson expected to go to college, find a good job, start a family, and enjoy with them the kind of lifestyle he grew up with as the son of a successful Oncologist. Then one evening, a casual announcement after dinner abruptly changed his prospects.
Now some years later, he still managed to start a family, but he's a lot less confident in himself now than he would have been if life had gone according to plan. He feels like he's lost his bearings by which to navigate life.
Then a family crisis requires that Jason help out with his spit-fire of a niece. Can a man with so little control over his own life handle the extra responsibility without it messing up his life any more than it already is?
Learn along with Jason how to…
be a hands-on dad instead of a passive dad
handle disciplinary matters yourself, without any yelling, nagging, hitting, or passing the buck to mom
talk to kids (and adults too, actually) about problems in a calm, business-like manner, acting neither like a wimp nor a bully
avoid doing what most parents unwittingly do that escalates conflict
train kids to respond to just two words, to put an immediate halt to misbehavior
avoid anger, frustration, and embarrassment at home or in public
discourage bad habits and prevent the formation of new ones
help kids learn how to manage impulses and resolve negative emotions
respect your children and promote their good self-esteem
watch out for bad influences and sinister characters
cultivate good relationships with your kids, and avoid the mistakes that lead many well-intended dads to heartbreaks
encourage performance and personal growth
reclaim your place as an integral part of the family
---
The Smugglers of Mars (Chumba of the Intelligence Corps) by S. Evan Townsend
Treachery stalks the red planet… Before he was Rick Bailey, before he hunted for the Treasure of the Black Hole, he was Titus Chumba of the Core Empire Intelligence Corps.Sent to Mars to investigate water smuggling, First Lieutenant Chumba finds a criminal conspiracy that spans from the red planet to the asteroid belt. Will Chumba discover the deadly secrets of the smugglers of Mars, learn the identity of the mysterious woman embroiled in the conspiracy, and prevent a cold war with the reptile-like Malvalkians from turning blazing hot?
---
On Basilisk Station
by David Weber *FREE*
INTRODUCING
HONOR HARRINGTON
Having made him look a fool, she's been exiled to Basilisk Station in disgrace and set up for ruin by a superior who hates her.
Her demoralized crew blames her for their ship's humiliating posting to an out-of-the-way picket station.
The aborigines of the system's only habitable planet are smoking homicide-inducing hallucinogens.
Parliament isn't sure it wants to keep the place; the major local industry is smuggling; the merchant cartels want her head; the star-conquering, so-called "Republic" of Haven is Up To Something; and Honor Harrington has a single, over-age light cruiser with an armament that doesn't work to police the entire star system.
But the people out to get her have made one mistake. They've made her mad.
---
The Honor of the Queen
by David Weber *FREE*
RIGHT WOMAN, WRONG PLACE
It's hard to give peace a chance when the other side regards war as the necessary prelude to conquest, and a sneak attack as the best means to that end. That's why the Kingdom of Manticore needs allies against the so-called "Republic" of Haven–and the planet Grayson is just the right strategic place to make a very good ally indeed. But Her Majesty's Foreign Office had overlooked a "minor cultural difference" when they chose Honor Harrington to carry the flag: women on the planet Grayson are without rank or rights; Honor's very presence is an intolerable affront to every male on the planet.
At first Honor doesn't take it personally; where she comes from gender discrimination is barely a historical memory, right up there in significance to fear of the left-handed. But in time such treatment as she receives from the Graysonites does become wearing, and Honor would withdraw if she could–but then Grayson's fratricidal sister planet attacks without warning and she must stay and prevail, not just for Honor's honor, but for her sovereign's, for–THE HONOR OF THE QUEEN.
---
Oath of Swords (War God Book 1)
by David Weber *FREE*
Whom the gods would recruit, they first tick off . . .
Our Hero: The unlikely Paladin, Bahzell Bahnakson of the Horse Stealer Hradani. He's no knight in shining armor. He's a hradani, a race known for their uncontrollable rages, bloodthirsty tendencies, and inability to maintain civilized conduct. None of the other Five Races of man like the hradani. Besides his ethnic burden, Bahzell has problems of his own to deal with: a violated hostage bond, a vengeful prince, a price on his head. He doesn't want to mess with anybody else's problems, let alone a god's. Let alone the War God's! So how does he end up a thousand leagues from home, neck-deep in political intrigue, assassins, demons, psionicists, evil sorcery, white sorcery, dark gods, good gods, bad poets, greedy landlords, and most of Bortalik Bay Well, it's all the War God's fault. . . .
---
Let Sleeping Dogs Lie: A Lovecraftian Gods Horror Story (Cowboys & Cthulhu Book 1)
by David J. West
Louis L'Amour Meets Lovecraft
Porter Rockwell, wanted for a murder he did not commit, is hiding out in Old California selling whiskey to thirsty forty-niners. When his friends dig up some monstrous bones and a peculiar book and offer to sell it for a helluva price, Porter can't resist the mystery.
But when both his night bartender and the sellers are murdered at his saloon Porter has to find out what the mysterious artifacts are all about. With some Native American legends, Sasquatch, Lovecraftian horror, and murderous bandits thrown in, not even bullets and blades can stop Rockwell from leaving a swath of righteous carnage in his wake.
Let Sleeping Gods Lie is a weird western fantasy in the vein of classic pulp fiction and Louis L'Amour books. If you like frontier justice, larger-than-life characters, and witty humor, then you will LOVE the first installment of the Cowboys and Cthulhu series.
Buy Let Sleeping Gods Lie to get lost in a horrific weird western adventure today!
---
In My Time of Dying (#Savant Book 1)
by David J. West
A young woman seeking arcane knowledge. A saint of killers riding shotgun. And an immortal who wants to die… all aboard a runaway train.…
Elizabeth Dee never expected a knock at the door would have her taking sides in a power struggle between two feuding wizards, but she discovers that she is the magical key to a cursed mystery centuries old. As she evades the murderous knights and demonic minions of the sinister Count of St. Germain, she learns more of her own true power and legacy…Her father never prepared her for anything like this…
But it's dangerous to go it alone and she is going to need some protection, enter the infamous and touched, Porter Rockwell. If the legendary long-haired gunfighter can't keep her safe, no one can…
In My Time Of Dying is full steam ahead gas-lamp fantasy in the vein of True Grit meets The Prestige. If you like big action, larger-than-life characters, and witty humor, then you'll love David J. West's gripping novel.
Buy In My Time Of Dying to get lost in a thrilling occult adventure today!!
---
SCAVENGERS: A Porter Rockwell Adventure (Dark Trails Saga Book 1) by David J. West
An untouchable gunslinger. A lost hoard of gold. A host of brutal adversaries. What could possibly go wrong?
Deputy Marshal Porter Rockwell can't be harmed by a bullet or a blade. As long as he never cuts his hair, Rockwell is free to right wrongs and chase criminals without worrying about the consequences. But when he learns about a map to a mysterious cache of gold, he's embroiled in a battle for the treasure with enemies lining up on every side.
As outlaws, villains, and a surprisingly formidable Ute chieftain stand between the Deputy Marshall and the gold, bullet and blade might not be what finally take Rockwell down. It could be plain old bad luck…
Scavengers is a Western with colorful characters and wit straight out of a Tarantino flick. If you like mixing horror with your pulp, strong and admirable heroes, and weird Westerns, then you'll love the first book in David J. West's Porter Rockwell series.
Buy Scavengers to join the hunt for gold today!
---
Tears of Elfland by Ben Wheeler
Peter Briton's father, John, has gone missing and Peter knows who took him.
One by one, Peter's siblings are disappearing into the fairy haunted woods. Something sinister is calling them to the court of the Elven King. Peter feels the call himself.
The children have struggled ever since their mother past away in childbirth, and Peter has held the family together… until now. As his brothers and sisters vanish one by one, he knows that, soon, he too shall wander out into the Twilight. He must find his father, save his family and bring them all safely home. If he cannot, they will be playthings of the Elves forever
---
Freehold
by Michael Z. Williamson *FREE*
Sergeant Kendra Pacelli is innocent, but that doesn't matter to the repressive government pursuing her. Mistakes might be made, but they are never acknowledged, especially when billions of embezzled dollars earned from illegal weapons sales are at stake. But where does one run when all Earth and most settled planets are under the aegis of one government? Answer: The Freehold of Grainne. There, one may seek asylum and build a new life in a society that doesn't track its residents every move, which is just what Pacelli has done. But now things are about to go royally to hell. Because Earth's government has found out where she is, and they want her back. Or dead.
---
Planetary Anthology Series: Pluto, Dawn Witzke, editor
Pluto, the Roman god of death and wealth, ruled the underworld far away from all of the other gods. So it was only fitting when, in 1930 and working on a theorized ninth planet proposed by Percival Lowell, Clyde Tombaugh used the telescope at Lowell Observatory to locate the ninth planet in our solar system, far, far away from its brothers and sister.
Then came that day in July of 2015. Like the Romans when they found themselves within Pluto's realm and discovered it was nothing like the desolate fires of damnation assigned to his Greek counterpart, Hades, those of us in modern time discovered that Pluto was nothing like we had imagined since 1930.
That iconic photo of Pluto, with the heart-shaped plain later named Tombaugh Regio, told us that there was so much more to the planet. First, it was not blue and not just solid ice as so many had expected it to be. Just like Pluto's mythological domain, the planet displayed a variety of features and composition.
In this volume, what you will find in the pages that follow are twenty-one amazing stories of death and wealth set around a wandering cousin far out in the cold edges of our solar system. You will find Vikings, knights, warriors defending home and hearth, of triumph and tragedy, and, yes, even the god himself. You will read tales of great courage and great loss. Of sacrifice for a greater good and of justice delivered to the overly greedy. You will even find the aforementioned Walt Disney himself.
---
From Barsoom to Malacandra: Musings on Things Past and Things to Come
by John C. Wright
Peek into the heart of Science Fiction!
From John Carter's Mars to that of C. S. Lewis, Science Fiction astounds us with wonder.
Science Fiction Grandmaster John C Wright here presents essays on topics both deep and trivial surrounding the strange and wonderful worlds of science fiction and fantasy. Thoughtful, humorous, deep, or absurd, Wright travels the width of the cosmos and plumbs the deeps of eternity through the lens of simple space adventure stories to say what these flights of fancy say about life on earth, and the secrets hidden in the human heart.
---
Transhuman and Subhuman: Essays on Science Fiction and Awful Truth
by John C. Wright
"Shoot him with an elf arrow!"
Learn why this may be author John C. Wright's most famous line!
A collection of brilliant and thought-provoking essays by the science fiction grandmaster John C. Wright. From the history of the Golden Age of science fiction to the ideology of the gender wars presently dividing hard science fiction from urban fantasy-romance, Wright's commentary is always intelligent, observant, and precisely to the point.
In the 16 essays that make up the collection, Wright addresses a wide spectrum of ideas. He considers the darker possibilities of transhumanism, provides a professorial lesson on the mechanics of writing fiction, explains the noble purpose underlying science fiction, and shows how the genre's obsession with strong female characters is nothing less than an attack on human nature. In every essay, Wright exhibits his compassion, his humanity, and his deep and abiding love for literature.
John C. Wright has been described as one of the most important and audacious authors in science fiction today. In a recent poll of more than 1,000 science fiction readers, he was chosen as the sixth-greatest living science fiction writer.
---
The Lament of Prometheus: An Examination of David Lindsay's A Voyage to Arcturus
by John C. Wright
Lament of Prometheus in a nonfiction work in which award-winning science fiction grandmaster John C. Wright sets out to explain the inexplicable: A Voyage to Arcturus written in 1920 by Scottish author David Lindsay, is a fascinating, blasphemous, and magnificent failure.
Wright sets out to explore the weird, wild, wonderful world depicted in Lindsay's forgotten masterpiece, to plumb its depths, decode its symbols, discover its secrets, praise its breathtaking literary achievement, and to name rightly what David Lindsay hid under onion layers of riddles: a striking yet morbid message.
---
The Last Straw: A Critical Autopsy of a Galaxy Far, Far Away
by John C. Wright
Come quibble about a galaxy far far away!
Once, in a theater long ago and far, far away, young audiences thrilled to the nostalgic space epic of yesteryear, known then only as STAR WARS, and were duly enthralled. So much goodwill, so much affection, so much love has rarely been lavished on any franchise. So much money from so many eager fans was never so readily available.
And yet, with one potent Deathstar-like blast of mind-breakingly awful film making, the Disney Corporation has managed to alienate that goodwill, spurn that affection, and lose that money. Why? What makes THE LAST JEDI so appallingly bad? What made the film maker think he could win over his audience by insulting his audience?
Science Fiction Grandmaster John C Wright laments, analyzes, and autopsies the horrific story-telling of a film that, for so many of us, was the last hope for STAR WARS, the last dime we will ever spend on this once-beloved franchise, and the last straw that broke our patience.
---
Pirates of the Electromagnetic Waves (Yankee Republic Book 1) by Fenton Wood
A young radio engineer travels across an alt-history America, encountering primeval gods, mythical beasts, and tall tales come to life, in a quest to build a radio transmitter that can reach the stars.
It all starts in the mountain town of Porterville. Twelve-year-old Philo starts a pirate radio station with his friends, and learns that the world is a stranger place than he ever imagined. The Ancient Marauder, the Bright and Terrible Birds, the Mishipeshu, and other creatures of myth and legend populate this enchanting mixture of science and fantasy.
YANKEE REPUBLIC is an old-school adventure series with traditional values and down-to-earth heroes. Escape from the pessimism and propaganda of modern fiction, and take a journey through a mythic America that might have been.
Book Review: Pirates of the Electromagnetic Waves by John Walker
And back his Kickstarter, so we can get a print omnibus of the entire series!