Bypass the cultural gatekeeping, support non-woke authors, and get yourself some great books from both established and emerging talent for only $0.99 – many titles free!
The sale runs through Tuesday November 28.
Fan Favorites: These are some of the most popular titles from previous sales: 198 titles from 101 authors. This is a great place to start, if you've never been to a sale before, or if you want to be sure you haven't overlooked a great deal.
New Arrivals: These are new releases and other books that we have not previously featured in a sale or that have not appeared in a while: 76 titles from 55 authors. If you've been to the sale before, this is a great place to start for some fresh reads.
Non-Fiction: We also have a handful of non-fiction works as well ranging from politics to theology to writing to homesteading.
Our friends at Castalia House are joining in the Based Book sale, offering eight of their titles for $0.99. Those titles are:
The Nine Laws by Ivan Throne
Wardogs Inc. #1: Battlesuit Bastards by G.D. Stark
Wardogs Inc. #2: Hunter Killer by G.D. Stark
Wardogs Inc. #3: Metal Monsters by G.D. Stark
Mutiny in Space by Rod Walker
Corrosion by Johan Kalsi
There Will Be War Vol. I by Jerry Pournelle (editor)
Summa Elvetica and Other Stories by Vox Day
In addition A Throne of Bones by Vox Day is only $1.99. And the first eight volumes of their richly-illustrated Junior Classics are only $19.99.
Arkhaven Comics: Speaking of free entertainment, Arkhaven Comics offers a wide variety of serialized web-comics absolutely free. Genres include horror, science fiction, fantasy, thriller/adventure, comedy and political cartoons. Some of my personal favorites are:
You can support Arkhaven for as little as the cost of an ebook a month, keep the servers running, and help fund more exciting, entertaining, and based content.
UPDATE: From November 24 through November 30, Castalia Library is selling four leather-bound "Library" books at a discount price of $69.99 for everyone in the USA and the UK. This includes both subscribers and non-subscribers alike; no discount codes are necessary or applicable to the books on sale. Free shipping is included.
The Lawdog Files
The Jungle Books
The Black Swan
Fooled by Randomness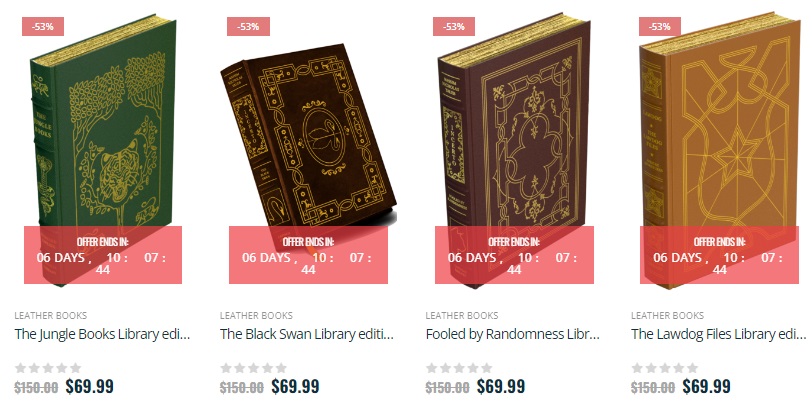 Castalia Library is also selling four premium goat-skin "Libraria" books at a discount price of $199.99. The same rules apply.
Ethics
Politics
Summa Elvetica
The Promethean
Once again, thanks to the Aetherczarina who chipped in to help me execute our latest sale.