Discover The Hidden Truth !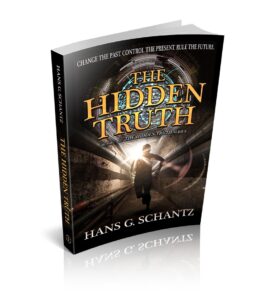 "… the best science fiction techno-thriller since
whatever Neil Stephenson's last book was."
-Ken Holder, L. Neil Smith's The Libertarian Enterprise
Buy now (hardcover edition $29.99)!
Buy now (paperback edition $14.99)!
Buy now (Kindle ebook $3.99;
FREE with Kindle Unlimited)!
They'll do anything to hide the truth.
When high school student Peter Burdell uncovers a subtle clue in a dusty book buried deep in a forgotten Appalachian library, he realizes someone altered history. Who's been lying, and why?
His discovery lands Peter in the cross hairs of the deadly Cabal whose Deep State agents changed the past to control the present, so they can rule the future. Aided by family and friends, Peter races against the odds to expose the conspiracy and uncover the answer to the most important question of his life:
What is The Hidden Truth?
Reviews:
Hans G. Schantz' THE HIDDEN TRUTH is most highly recommended. 
It is a gem of a book, a rare find, combining a charming coming of age story, diamond-hard science fiction speculation, a conspiracy thriller, a touch of trenchant political commentary, and, uniquely, a challenge written into a science fiction book of the reigning scientific orthodoxy of the day….
This trilogy works on several levels. In style, theme, in social commentary, in genre, in plot-weaving and world-building, the craftsmanship is top-notch.
Stylistically, it is written in the same journalistic prose as a Heinlein juvenile, but, frankly, is better. Not only are some of Heinlein's more dubious moral lessons absent, the work attempts something more ambitious: introducing a real theory of physics in the midst of a fictional adventure yarn.
Thematically, it is a bracing and inspiring coming-of-age story telling young readers and reminding older readers what it means to be a man, a man of integrity, in a world where no one is there to dig you out of a mess.
It works as social commentary. As in a Heinlein juvenile, there are memorable quips and trenchant observations about political realities peppered throughout the dialog, which have as much application in our world as theirs.
John C. Wright
It features the kind of plot and twists that might be ruined by a reviewer revealing too much, but I will say that if you enjoy "alternative histories" you'll probably enjoy this one; alternative futures are of course a staple of science fiction, and that may be another way to describe the background of the book….
The Hidden Truth is trying to do something in the world, and it entertains at the same time. I'd like to talk to you about its ideas, and recommend it.
Robert Pearson

Readers React:
"It's YA, but it's smart as hell; it's wildly original and inventive, and it's so conservative it's a thermonuclear Red Pill." -Yonder Bob
"Think of this as a Heinlein juvie for the 21st Century." -John L
 "I had to laugh out loud at all the points in the story where a poor sensitivity reader's head would gratifyingly explode. Schantz keeps a completely straight face about it all, which only makes it funnier." -Joseph Moore
"A fun read, redolent of both Ayn Rand and Neal Stephenson at times. Engaging, full of conspiracy bits to suck you in, with an oh-too plausible societal backdrop." -Brian J. Schnack
"This is a masterpiece of alternative history techno-thriller science fiction. It is rich in detail, full of interesting characters who interact and develop as the story unfolds, sound in the technical details which intersect with our world, insightful about science, technology, economics, government and the agenda of the "progressive" movement, and plausible in its presentation of the vast, ruthless, and shadowy conspiracy which lies under the surface of its world. And, above all, it is charming—these are characters you'd like to meet, even some of the villains because you want understand what motivates them." -John Walker
Let this book warn this generation of the dangers of our day; deep state corruption, fake news, public school political indoctrination, and the panopticon surveillance state; just as George Orwell's Nineteen Eighty Four was warned his generation of the dangers of socialism and political correctness in his day. -John C. Wright
"What an enjoyable read! Hans's story pulls you in and won't let you go until the end. I was already familiar with his expertise in electro-magnetics, which is sprinkled throughout the book. But I had no idea he knew so much about computer hacking and the art of picking up girls!
"All fun aside, this book has a more serious purpose – it is an impassioned plea in support of libertarian principles. In this respect, Hans updates the classical arguments of Heinlein and Rand for a more modern and younger audience…
"Hans's technical books have already made him famous in electro-magnetics. It seems likely that his fiction will extend his notoriety outside that narrow area. Bravo for this first effort! I look forward to many more." -Amazon Customer
Welcome to the homepage for The Hidden Truth. In an alternate timeline, the 9/11 attack killed President Gore and the government instituted comprehensive and pervasive surveillance. A conspiracy rewrote history, subverted science, and corrupted society. The Hidden Truth tells the story of how a young man discovers subtle hints and clues of the cover-up. Then, he must rally his friends and family to figure out the hidden truth, before the conspirators can figure out who is after their secrets.
Buy now (paperback edition $12.99)!