These are some of the top offerings from previous book sales including science fiction grandmasters, established mainstream authors and emerging indie talent. Authors include Kit Sun Cheah, Declan Finn, Hans G. Schantz, David Humphreys, Robert Kroese, Jon del Arroz, J.P. Mac, Ryan Williamson, Neovictorian, Peter Grant, J. Daniel Sawyer, Milo James Fowler, S. Kirk Pierzchala, Noble Red, Daniel P. Riley, Yakov Merkin, L. Jagi Lamplighter, Iris Paustian, Rachel Fulton Brown and the Dragon Common Room, Paula Richey, Richard Sezov, Kevin Trainor, Jr., David Roome, Kalkin Trivedi, Harry Harrison, C.S. Johnson, David Skinner, N.R. LaPoint, T.J. Marquis, Donavan Walker, David J. West, James Alderdice, Jonathan P. Brazee, Neovictorian, Adam Furman, Michael Z. Willaimson, Fenton Wood, Timothy Zahn, Joseph L. Kellogg, Frank B. Luke, David Weber, Justin Robinson, Michael McCloskey, Andre Norton, Russell May, H.G. Wells, John Taloni, Tom Kratman, Charles E. Gannon, Francis Porretto, John Ringo, Alexander Hellene, Loretta Malakie, Leigh Brackett, Christopher G. Nuttall, J.D. Cowan, Tony Andarian, Paul Hair, and Hawkings Austin.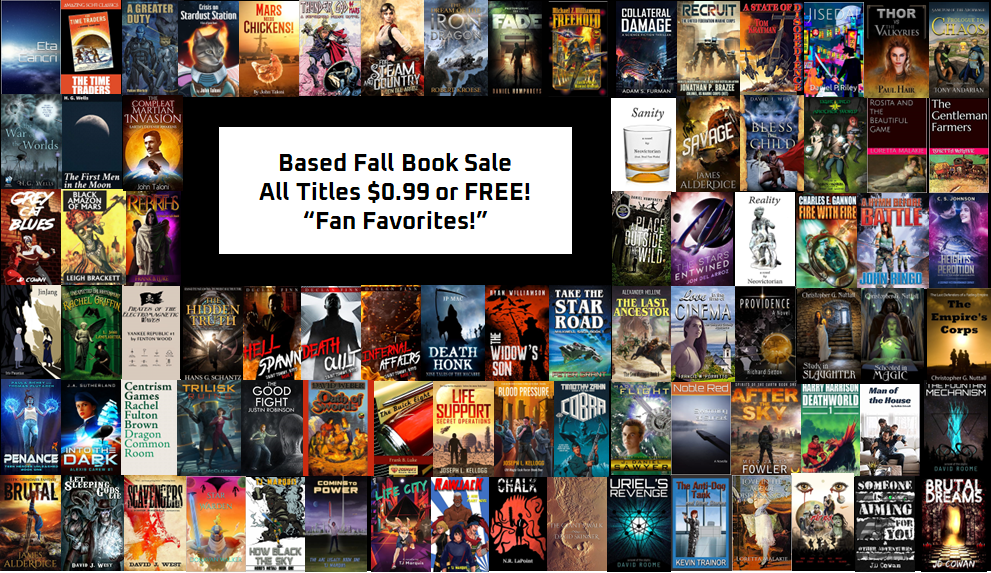 And every title is either free or $0.99. Note: prices are set by the authors, so please confirm before you buy.
---
Saga of the Swordbreaker
by Kit Sun Cheah
#1 Best Seller in Teen & Young Adult Other Religious Fiction!
#1 Teen & Young Adult Buddhism Books!
#1 New Release in Taoism!
#1 New Release in Buddhism!
#1 New Release in Chinese Literature
#1 New Release in Teen & Young Adult Myths & Legends eBooks!

Li Ming is a small-town boy with big dreams.

In the era of the Five States and Ten Corporations, the immortals of the jianghu stand head and shoulders above the masses. Li Ming aspires to join their ranks.

But the world of the rivers and lakes is fraught with peril. Deception and danger lurk in the shadows. Bloodthirsty beasts roam the wilds. Martial cultivators constantly battle for wealth, glory and status.

Armed with his ancestral swordbreaker, Li Ming enters the jianghu as a biaohang, eager to deliver justice with steel and magic—and to chase the dream of immortality.

But first, he must prove himself worthy.

Author's Note: This series is not a power fantasy. There are no LitRPG / GameLit elements, no unconventional relationships, and no sexual content. It is, quite simply, a cultivation story—in the actual sense of the term.
---
Yamada Yuuki is an ordinary college student with an extraordinary hobby: the classical martial art of Kukishin-ryu.
Until one fateful day when a demon rips through the fabric of space-time, abducts everyone in his dojo, and transports them to another world.
To return home, Yamada and his friends must join forces with other displaced humans to conquer the dungeon that runs through the heart of the world. Standing in their way are endless hordes of bloodthirsty monsters and countless traps.
Armed only with steel, faith and guts, they must battle their way through the winding catacombs to confront the demon waiting at the bottom floor.
Yamada was once a student. Now he must become a samurai.
---
The Singularity is Coming!
The 22nd century brings an era of technological wonders—and horrors. Cybernetics and genetic engineering. Mass surveillance and social credit. Full body cyborgs and nanoscale engineering. And the pinnacle of human achievement: machine intelligence.
Edenet is the next generation of the Internet. Designed by Anatol Corporation, it will bring the power of a supercomputer to the fingertips of every user, anywhere in the world. At the heart of Edenet lies a cutting-edge artificial intelligence that regulates all traffic on the network.
And one of its lead scientists has disappeared.
Fearing the worst, Anatol hires psychic contractor James Morgan to track her down. Accompanying him is Eligia Ogrod, the mysterious assistant to Anatol's CEO. Their investigation takes them through the militarized streets of Warsaw, a corporate fortress in Shenzhen, and the human hives of Hong Kong.
Morgan is no stranger to intrigue. Yet the deeper he digs, the more questions emerge. Who is Eligia Ogrod? What does Anatol want?
And what is the truth behind Edenet?
But when machine superintelligences go to war, is there still a place for the human soul?
---
The #1 Amazon Bestseller from three time Dragon Award nominee Declan Finn!
My name is Officer Thomas Nolan, and I am a saint.
Tommy Nolan lives a quiet life. He walks his beat – showing mercy to the desperate. Locking away the dangerous. Going to church, sharing dinner with his wife and son. Everyone likes Tommy, even the men he puts behind bars.
Then one day a demon shows up and he can smell it. Tommy can smell evil – real evil. Now he's New York City's only hope against a horrifying serial killer that preys on the young and defenseless.
But smell alone isn't enough to get a warrant. Can Tommy track down the killer and prove his guilt?
Dragon Award Nominated Author Declan Finn returns with his typical action-packed, Catholic influenced style, in this groundbreaking horror series about an honest, religious man given the powers of a saint to fight demons in the Big Apple.
How do you do forensics on a killer possessed by a demon?
---
All saints are dead.
Detective Tommy Nolan is no stranger to bizarre events. After all, he's a New York cop. And after the demon, he thought he'd seen it all.

When home invaders threaten his family, he was prepared to take it as a risk of the job. When it turns out the intruders were covered in the mark of the demon, he knew the trouble was just beginning.

Now, it's a race against time as the cult who raised the demon take their revenge. They know that Tommy is not yet a saint.

Because all saints are dead.
---
Detective Tommy Nolan is having a bad day.
First, the celebrant was murdered during mass.
Then the SWAT team knocked down his door trying to kill him.
With a million dollar bounty on his head, every gunman and demonic monster is coming out of the pit to collect it.
Tommy has to discover who's out to make him a martyr…
…before he becomes a saint for real.
---
Change the past. Control the present. Rule the future.
They'll do anything to hide the truth.
When high school student Peter Burdell uncovers a subtle clue in a dusty book buried deep in a forgotten Appalachian library, he realizes someone altered history. Who's been lying, and why?
His discovery lands Peter in the cross hairs of the deadly Cabal whose Deep State agents changed the past to control the present, so they can rule the future. Aided by family and friends, Peter races against the odds to expose the conspiracy and uncover the answer to the most important question of his life:
What is The Hidden Truth?
Reviews: "Umberto Eco wishes that he had written these books."
Hans G. Schantz' THE HIDDEN TRUTH is most highly recommended.
It is a gem of a book, a rare find, combining a charming coming of age story, diamond-hard science fiction speculation, a conspiracy thriller, a touch of trenchant political commentary, and, uniquely, a challenge written into a science fiction book of the reigning scientific orthodoxy of the day….
This trilogy works on several levels. In style, theme, in social commentary, in genre, in plot-weaving and world-building, the craftsmanship is top-notch.
Stylistically, it is written in the same journalistic prose as a Heinlein juvenile, but, frankly, is better. Not only are some of Heinlein's more dubious moral lessons absent, the work attempts something more ambitious: introducing a real theory of physics in the midst of a fictional adventure yarn.
Thematically, it is a bracing and inspiring coming-of-age story telling young readers and reminding older readers what it means to be a man, a man of integrity, in a world where no one is there to dig you out of a mess.
It works as social commentary. As in a Heinlein juvenile, there are memorable quips and trenchant observations about political realities peppered throughout the dialog, which have as much application in our world as theirs.
Review by John C. Wright
---
2017 DRAGON AWARD FINALIST – BEST APOCALYPTIC NOVEL
"This might be one of the best zombie books I've read."
"You WILL NOT be disappointed!"
"(A) refreshing new twist to the traditional zombie apocalypse tale."
"World War Z meets Rot and Ruin."
Eight years after Z-Day, the surviving remnants of mankind face the unknown.
The fences and walls kept the ravenous undead at bay until they wasted away.
A once overwhelming foe has turned feeble and weak, and a world gone wild seems ripe for reclamation.
The scars of the long war run deep.
And hope is a dangerous thing when the real enemy might just be the survivors themselves.
---
Fade
by Daniel Humphreys
Harry Dresden's sorcery goes on a Supernatural-style road trip. Cool car sold separately.
Paxton Locke is the son of a Witch.
Family drama is bad enough without adding human sacrifice to the mix. Ten years ago, his mother killed his father in a grisly ritual that Paxton interrupted. Now he criss-crosses the countryside in his RV working as a paranormal investigator while Mother languishes in jail. She'll never forgive him for interfering…or for stealing her spellbook.
It started as a normal job for Paxton. At least as normal as speaking to ghosts ever was. But then the terrified shade of a murdered boy warns him of a dangerous, newly-freed entity, and suddenly he has to talk to Mother again to save the day.
In a battle for his very soul, will he be able to endure – or simply fade away?
Dragon Award nominee Daniel Humphreys' urban fantasy debut brings all the best elements of Supernatural and the Dresden Files, written with his typical engaging style and evocative prose. Avid fans of the genre will be satisfied with the sarcasm, quips, and pop culture jokes found in Fade. Not to mention the spells, action and family drama.
Buy it now!
---
The world's only airship is hers to command!

Can she save her kingdom from destruction?

Zaira Von Monocle is called upon to take command of the legendary airship, Liliana, to help stave off the evil Wyranth Empire's recent advances. The Wyranth's army creeps ever closer, ravaging towns and villages along Rislandia's border. To make matters worse, the enemy invaders have tapped into supernatural forces with incredible destructive power.

But Zaira is a simple farm girl, raised away from the excitement of her adventurer father's life of airships and gadgets. Before he disappeared, he tried to shelter her from the dangers of the world, and their family's ties to the worst of tyrants, the Iron Emperor of the Wyranth.

Zaira must grow up quickly and learn to become a leader before she loses the life her father tried to build for her.

Readers who love a swashbuckling airship adventure with high-stakes action will love the first book in this #1 Bestselling YA Steampunk series.

Buy For Steam And Country today!
---
The Steam Knight (The Adventures of Baron Von Monocle Book 5) by Jon del Arroz is also on sale; on the New Additions page.
---
Earth needs a spy…

…is he prepared?

Lieutenant Sean Barrows is thrust into a plot of sabotage and destruction brought on by the mysterious Aryshan Empire.

His assignment: to infiltrate an enemy warship to bring his superiors information on their destructive capabilities and battle plans.

But the Ayrshans share telepathic bonds which make them paranoid of outsiders, and try as he may to win the heart of a beautiful Aryshan commander, he can only get so close.

To make matters worse, Earth stands on the brink of destruction as the Aryshans develop a new, invisible weapon.

Fans of The Old Man's War by John Scalzi and The Ember War by Richard Fox will love this epic space opera. Read today!
---
DRAGON AWARD FINALIST FOR BEST ALTERNATE HISTORY NOVEL
Trapped 1300 years in the past, they have one mission: survive.
In the 23rd century, humanity has been hunted to the verge of extinction by an alien race. When an exploratory ship accidentally travels back in time to Viking age Scandinavia, the human race is given a second chance. Pursued by the power-hungry King Harald, the four surviving crew members join a ragtag band of Vikings as they pillage their way across Europe. It will take all their ingenuity, courage and technical know-how just to survive. But survival is only the beginning. To save humanity, they must somehow return to the stars.
Thus begins a decades-long effort to teach the Vikings to build a craft capable of reaching space—a ship that will come to be known as the Iron Dragon.
THE DREAM OF THE IRON DRAGON is the first installment in the 5-part Saga of the Iron Dragon.
"Terrific storytelling, letter-perfect alternate-history, and the highest stakes for humanity imaginable combine to make this a thrilling start to an exciting new Viking saga. Kroese avoids both romanticizing and demonizing the Vikings, showing them to us in all their humanity, while spinning a tale that pulls no punches and leaves us gasping for more." – Lars Hedbor
---
"Mac is a fine writer, with a tremendously twisted sense of justice, injustice and just desserts." — Matt McAvoy Book Reviews
Menace, Murder, Mystery!
Trespass forbidden boundaries, cross into eerie dimensions, mingle with the sinister and the lost in a treasury of nine peculiar tales ranging from the supernatural to the satirical.
A naïve publisher blindly sets in motion the annihilation of Earth.
High school students risk their lives in a brutal quest for popularity.
An ambitious District Attorney struggles against the consequences of his inane policies.
Written over a decade, these stories span the worlds of magical realism, dark urban fantasy and classic horror. Greed, innocence and betrayal draw characters into settings laced with tension, black humor, and the creepy abominations of H.P. Lovecraft. So grab a copy, relax and set your imagination to cruise as an anthology of fantastic fables awaits.
---
KEEP THE GOOD BOOK CLOSE AND YOUR SIX-GUN CLOSER
Pass the bottle, stranger, and I'll tell you a true story of a West that never was. A tale of the lawman Zarahemla Two Crows and his quest for the widow's son that led him through the gates of Hell.
A story of the child's young pioneer mother who joins Two Crows, and the vampire-hunting nun and cavalryman with his steed of steam and iron who come to their aid. A tale of a world where one needs a trusty six-gun at their side and an even greater trust in God to survive.
I'll tell you of their battle into the heart of darkness, and the faith required to prevent the resurrection of a godlike entity of evil—a power greater than the world has ever known.
I'll tell you a story, friend, of when the West was weird.
Ryan Williamson's The Widow's Son is a gritty blend of steampunk fantasy, the occult, and Western adventure "that will take you on a wild ride unlike anything you've experienced before." (Woelf Dietrich, author of The Seals of Abgai)
---
Sanity
by Neovictorian
Have you sometimes felt, since an early age, that you were an alien, somehow placed on Earth and observing the antics of humans as if they were a different species? Why do they believe such stupid things? Why do they do such dumb things? And why do they keep doing them over and over again, seemingly incapable of learning from the bad outcomes of all the previous attempts?
That is how Cal Adler felt since childhood and, like most people with such feelings, kept them quiet and bottled up while trying to get ahead in a game whose rules often seemed absurd. In his senior year in high school, he encounters a substitute guidance counselor who tells him, without any preliminary conversation, precisely how he feels. He's assured he is not alone, and that over time he will meet others. He is given an enigmatic contact in case of emergency. He is advised, as any alien in a strange land, to blend in while observing and developing his own talents.
Then he meets a Mystery Woman…and the real adventure begins.
---
A secret society of the best humanity has to offer but no leaders, no followers, no formal structure, no written records…

Have you ever felt like you didn't quite fit in, that the people around you are concerned with petty things, that they're actors in a play that doesn't quite make sense?

Cal Adler does, until a mysterious new guidance counselor at his high school tells him exactly how he feels, and that he has friends he's never met. One day a woman strikes up a conversation on the college quad. And the real adventure begins.

A sequel, and a prequel, to the novel Sanity. Further adventures and experiences in the mysterious life of Cal. Many amazing ideas and events that had to be withheld from Sanity have been cleared by The Outfit for inclusion in Reality.
---
Take The Star Road
(The Maxwell Saga Book 1)
by Peter Grant
Nineteen-year-old Steve Maxwell just wants to get his feet on the star road to find a better homeworld.
By facing down Lotus Tong thugs, he earns an opportunity to become a spacer apprentice on a merchant spaceship, leaving the corruption and crime of Earth behind.
Sure, he needs to prove himself to an older, tight-knit crew, but how bad can it be if he keeps his head down and the decks clean?
He never counted on the interstellar trade routes having their own problems, from local wars to plagues of pirates – and the jade in his luggage is hotter than a neutron star.
Steve's left a world of troubles behind, only to find a galaxy of them ahead…
---
Hadrian Jin.
Skyguard.
Refugee.
Twelve times a day, this sixteen-year-old proprietor of Luna City's best orn-suit shop fits his wings and jumps out into the open air to soar with the grace of an eagle. For forty dollars an hour, he can teach any groundhog how to fly bird-fashion in the moon's low gravity.
But when the tramp of military boots on the road to his home forces him to flee, he finds himself adrift between planets, on the run from government agents, without hope of home.
Out of his depth and thrust into danger for which he's ill-prepared, Hadrian must learn the true reason for his exile, and finally spread his own wings…
…before war comes crashing down around him.
---
The meek have not inherited the earth.
The world isn't how they left it.
When the bunker airlocks release them after twenty years in hibernation, the survivors find a silent, barren world outside.
But they are not alone.
There is a presence here, alive in the dust—spirits of the earth, benevolent and malicious as they interact with the human remnant.
---
When cyber security defender Owen Dylan MacIntyre is forced from behind his computer screen to investigate a potential terror threat to the Pacific Northwest, he crosses paths with the unpredictable and tragic Tomás Chen-Diaz and his brother, the enigmatic Francisco.
A wealthy global plutocrat, Francisco is also a brilliant amateur biotech scientist who has many powerful associates and a few dark family secrets—-secrets he's ready to kill to keep hidden.
Rapidly drawn into Chen-Diaz' web of international conspiracies, MacIntyre finds his skills tested to the limit as he's trapped in a world where science and technology invade the most sacred realms of the human heart and soul…a world where he'll confront some uncomfortable truths about himself…
...if he survives.
Book One of the Beyond Cascadia series, Echoes Through Distant Glass deftly weaves timeless themes of humanity and a range of relevant geo-political and bioethics issues into a memorable cyberpunk techno thriller drama. The vivid prose, haunting imagery and unforgettable characters will linger with the reader long after the thought-provoking and emotional conclusion.
---
An un-named Englishman in an un-named English city suffers a personal tragedy that leaves him devastated and alone in the world.
Driving on impulse to a nearby coastal town, he feels himself born again in the icy waters of the marine lake, and spends a long hot summer re-forging himself into a man who is ready for anything.
One evening at the lake, he sees an intensely charismatic young woman swimming at sunset, and their lives are inexorably drawn together.
But shadows are gathering across the city and, haunted by the image of a missing teenager, he must face the darkness alone.
'Swimming at Sunset' is the debut novella by British dissident author Noble Red. Inspired by the self-publishing phenomenon that is Delicious Tacos, as well as the Vitalist philosophy of Bronze Age Pervert, he has penned a short, simple, direct and yet powerfully emotional novella that is influenced by such classic works as 'L'Étranger' by Albert Camus and 'The Sailor Who Fell From Grace With The Sea' by Yukio Mishima, while also containing references to Orwell, Shakespeare and The Iliad.
---
Jisedai
by Daniel P. Riley
Gabriel is a killer for the mega-corporation that raised him, trained in the ancient arts of Bushido.
Hana was kidnapped, forced into a world of depravity and darkness.
When the two meet by chance on the grimy, rain-soaked streets of a frightening future Harajuku sector, it changes both their lives forever. For honor, Gabriel must now face the group of trained killers and soldiers that he swore loyalty to and bloody his white hare katana to protect the young girl and her strange pet.
Dark Angels and wicked assassins wage war in the ruins beyond the borders of oppressed Tokyo in Jisedai!
---
The Galactic Alliance was not ready for war. When it is suddenly invaded by the cold and relentless Tyrannodon Armada, under the command of emotionless, amoral Executor Darkclaw, it is immediately sent reeling.
The invasion was a godsend for some, however, such as Grand Admiral Nayasar Khariah, who had wanted nothing more than revenge on the Alliance following an attack on her homeworld. The arrival of the Tyrannodons presents her with an opportunity, one that she seizes gleefully.
However, Executor Darkclaw, who has been prosecuting the invasion on orders of his master, the all-powerful energy being known only as the High Lord, has started having second thoughts once he unexpectedly starts feeling emotions he does not understand. Suddenly, he finds himself heretically questioning the only purpose he has ever known—irrevocably altering his view of the ongoing war.
Meanwhile, within the Galactic Alliance, Second Scion Dalcon Oresh, member of an order dedicated to preserving the it, struggles to stop the Alliance's bleeding, the source of which may not be entirely external.
Darkclaw's newfound friendship with Nayasar will be pushed to its breaking point, Nayasar's relationships with her closest friends and loved ones will be strained as her quest for vengeance becomes more and more a personal obsession, and Dalcon must determine who he can truly trust.
All the while, the imminent existential threat of the High Lord looms over everything, and the key to stopping him, and saving not just the Alliance, but the entire galaxy, may only be found in the remains of a ancient, powerful race, and the creations they left behind…
---
As a soldier, Uriel Makkis was prepared for many things. Being pulled through a portal into another world was not one of them.
He soon learns that he was brought to this world for a reason, as the heralded Sword of Light. However, something is amiss, as he first appeared in the middle of nowhere, rather than the capital as intended.
While he is meant to travel there straightaway to learn more, Uriel has no intention of doing as he's told, not when there are people he can help right where he is.
Back home, he was just an average soldier; here, he can truly make a difference, and Uriel will not let the opportunity pass by.
But it won't be easy. Uriel will have to rely on his faith, his newfound friends, and the skills and knowledge he brings from back home, as he throws himself headlong into a new conflict, becoming a beacon of light on this new world!
In this new isekai adventure, you can't just leave the old world behind.
---
Roanoke Academy for the Sorcerous Arts – A magic school like no other!
Nestled amidst the beauty of New York's Hudson Highlands and hidden from the eyes of the Unwary, Roanoke Academy is a place of magic and wonder. It offers everything a young sorceress could desire—enchantments, flying brooms, and the promise of new friendships.
On her first day of school, Rachel Griffin discovers her perfect memory gives her an unexpected advantage. With it, she can see through the spell sorcerers use to hide their secrets. Very soon, she discovers that there is a far-vaster secret world hiding from the Wise, precisely the same way that the magical folk hide from the mundane folk.
When someone tries to kill a fellow student, she investigates. Rushing forward where others fear to tread, Rachel bravely faces wraiths, embarrassing magical pranks, mysterious older boys, a Raven that brings the doom of worlds, and at least one fire-breathing teacher.
Described by fans as: "Supernatural meets Narnia at Hogwarts", The Unexpected Enlightenment of Rachel Griffin is a tale of wonder and danger, romance and heartbreak, and, most of all, of magic and of a girl who refuses to be daunted.
Curiosity may kill a cat, but nothing stops Rachel Griffin!
---
Jinjang by Iris Paustian
As different as Night and Day.
Tender One lost her beloved brother, and now someone in this unfamiliar, underground Night Dweller community wants Tender One dead. If she can overcome her culture shock, maybe she can discover the truth before anyone else is harmed.
Nub is fascinated by Tender One and her people—but he is also the prime suspect. Will Tender One reject this stranger who looks nothing like her people? Or will she find the courage to follow her heart?
And then Tender One discovers a dragon's egg!
As cultures clash, love is kindled and mysteries unfold on Jinjang, the world where a year is but a single day.
Buy it now!
---
Centrism Games
by Rachel Fulton Brown and the Dragon Common Room
Chivalry is dead. These knights want Fame. And Fama's a witch.
Follow a band of very different Knights on their quest to become the most balanced, the most tolerant, the most compromising of everyone on the modern political spectrum.
Each knight dares to liberalize and conserve, but who will win the ultimate prize and stay safely in the centre?
A cautionary tale in heroic couplets modeled on Alexander Pope's scathing 18th-century Dunciad.
Reviews:
Dr. Rachel Fulton Brown and her merry band of poets have compiled here a fun, pointed collection of verse through the very active Dragon Common Room Telegram chat. The whole point–as I gather it–is that rather than mucking about in the culture wars, we should be out _creating_ culture on our own.
_Centrism Games_ does just that. It's wonderful to see these modern knights prove that the pen is, indeed, mightier than the sword.
This poem savagely rips the hearts out of political centrists and moral relativists, and makes them eat it.
Polite Christians and social Conservatives (so-called) will be offended at the prose in 'Centrism Games', justly so. Readers both Right and Left will be asking themselves "what would I be willing to do for glory in this world?", and at each page realize the inglorious catastrophe of the politically correct, postmodern, subjective and relativistic dogmas that praise tolerance and liberty whilst hell is set loose all around us. Readers will be challenged to overcome their revulsion at the themes and language to see the great moral lesson of this modern-Dunciad: every ticket has a hidden price.
This is not a Boomer-friendly story.
---
At fifteen, Alexis Carew has to face an age old problem – she's a girl, and only a boy can inherit the family's vast holdings.
Her options are few.
She must marry and watch a stranger run the lands, or become a penniless tenant and see the lands she so dearly loves sold off.
Yet there may be another option, one that involves becoming a midshipman on a shorthanded Navy spaceship with no other women.
---
Penance Copper won't be a tool for evil any longer!

For as long as Penance can remember, Acid has owned her. Day after day, year after year, he has exploited her electromagnetic superpower for his own gain, while she lives on the streets and scrounges for food and clothing. She copies RFIDs and credit cards, opens electronic locks, causes explosions and havoc, but at least she's never had to kill anybody.

Until now.

The superhero Justice is getting too close to finding out where Acid has been selling trafficked girls, and it's Penance's job to take him out.

She seizes this chance to escape Acid and join up with the good guys in a desperate attempt to gain protection and make a new life for herself. Unfortunately, this is the same day that aliens invade…

Soon, Penance is embroiled in an intergalactic encounter with an alien boy named Kail, who is perhaps as lonely and broken as she is. Even if he is infuriatingly arrogant.

The first young adult series in the Heroes Unleashed universe launches with the Teen Heroes Unleashed series. Readers will love hardworking, sassy Penance as she tries to learn to use her powers to save the world instead of to steal.

Can Penance and Kail find the missing girls and save the Earth from an alien invasion? Or will Acid find her again and punish her for running away?

Read Penance today and find out!
---
Two coasts, two tragedies.
A car accident in the east sends the lives of multiple unrelated people in different directions, some of them on collision courses.
A school shooting in the west takes some lives and saves others.
What are we to make of all this?
Is life just a series of meaningless, unrelated events, or is reality following a plan?
A teacher, plumber, librarian, student, deadbeat, and more learn the answer to this and more during the course of a single, roller coaster of a day.
---
Five short stories about life in the America of the future: during a new Civil War, societal collapse, and a different kind of alien invasion.
Kevin Trainor is an Army Security Agency veteran – Russian/German/Spanish linguist, doing signal intelligence and electronic warfare – who served four years active duty (two years in Germany) and another twelve years in the National Guard and Reserve. Currently living in Las Vegas, where he does tax accounting for H&R Block during the tax season and spend the rest of the year writing, reading, and playing various video games. Used to write about independent baseball for USA TODAY'S BASEBALL WEEKLY when that was a thing, and since then I've moved on to non-fiction essays and my first love, science fiction. If you like Robert Heinlein, David Drake, and Keith Laumer, I hope you'll like my books.
---
Small-time privateers battle ancient terrors at the edge of the Solar System!
For Brian Zaks, developing his skills as a space pilot and combat maneuvers specialist for Elwood's Privateers took highest priority.
But he couldn't ignore fellow privateer and ex-girlfriend Evvie Evans when she begged him for help with her nocturnal hallucinations of a raven-headed demon.
Then Elwood's treasure-hunting hobby uncovered the lost secrets of an ancient cult, thrusting Brian and Evvie into an interplanetary clash between the cult's present-day descendants.
Can they defeat a primeval power threatening to upend human civilization?
Uriel's Revenge is a horror-tinged sci-fi adventure. Read it today and escape to the Cliptic!
---
An everyman defies death cults and demons!

Driven to his wits' end by his dysfunctional family, Arthur Wilson fled small-town Mars for seedy Earth L4.
And his problems had only begun.
A chance encounter brought him to an illicit ritual, but an invisible demon crashed the party, and it was coming for him!

To find peace from destructive forces, Arthur would have to recover a stolen relic of power from the depths of an abusive cult and return to Mars to face homegrown fears.

The Fountain Mechanism is a follow-up to Uriel's Revenge.
Read it today and escape to the Cliptic!
---
By his mid-teens, Jason Olson expected to go to college, find a good job, start a family, and enjoy with them the kind of lifestyle he grew up with as the son of a successful Oncologist. Then one evening, a casual announcement after dinner abruptly changed his prospects.
Now some years later, he still managed to start a family, but he's a lot less confident in himself now than he would have been if life had gone according to plan. He feels like he's lost his bearings by which to navigate life. Then a family crisis requires that Jason help out with his spit-fire of a niece. Can a man with so little control over his own life handle the extra responsibility without it messing up his life any more than it already is?
Learn along with Jason how to…
be a hands-on dad instead of a passive dad
handle disciplinary matters yourself, without any yelling, nagging, hitting, or passing the buck to mom
talk to kids (and adults too, actually) about problems in a calm, business-like manner, acting neither like a wimp nor a bully
avoid doing what most parents unwittingly do that escalates conflict
train kids to respond to just two words, to put an immediate halt to misbehavior
avoid anger, frustration, and embarrassment at home or in public
discourage bad habits and prevent the formation of new ones
help kids learn how to manage impulses and resolve negative emotions
respect your children and promote their good self-esteem
watch out for bad influences and sinister characters
cultivate good relationships with your kids, and avoid the mistakes that lead many well-intended dads to heartbreaks
encourage performance and personal growth
reclaim your place as an integral part of the family.
---
Deathworld
by Harry Harrison *FREE*
Harry Harrison's Deathworld is a 1960 sci-fi classic, nominated for a Hugo. The story is a straight up action packed thriller of a planet that appears intent on killing its human inhabitants. An adventurer with a flair for gambling due to psionic powers assists its leader with acquiring more weapons for their never ending battle with both fauna and flora that continuously mutates to ever deadlier forms that are constantly attacking the small colony. The adventurer checks out the place and finds a dwindling community that is so focused on exterminating nature that they can't even remember how they arrived on the planet generations ago. Eventually, he goes native and finds others living under better conditions and slowly surmises the basis for the state of affairs which the groups have little interest in pursuing.
While space travel is routine, biological mutation and evolution is front and center. Psionic abilities also play a prominent role. Given the global state of affairs at the time of its publication, the planet is clearly a metaphor for the single-minded stubbornness of large groups (be they colonists or whole governments) to pursue self-destructive paths with expectations of total annihilation of an equally matched enemy, never questioning the overall strategy and constantly upping tactical approaches. Not surprisingly, the story transcends its time and resonates even today.
---
Falling in love was out of the question … until it was the answer.
There is nothing Aeris St. Cloud wants more than to win her father's love and the acceptance of her family unit by joining the Military Academy at New Hope. But after she is captured by the fearsome space pirate, Captain Chainsword, Aerie is certain falling in love with her nation's arch enemy is the last possible way to earn their coveted esteem.

Driven by vengeance, Exton Shepherd never set out to save anyone. As he circles the war-torn world in his pirated starship, the Perdition, he only sees his father's ghost lurking around every corner and the looming darkness on the horizon. When Aerie unexpectedly tumbles into his life, he finds he cannot trust her, anymore than he can ignore her. But just like the raging war down on Earth, it's tempting to think he can …

When the war ascends to the heights of the Perdition, Aerie's loyalty, and Exton's heart, are put to the test. But will love be enough to save them — and others — from certain destruction?

FROM THE AUTHOR:
The Heights of Perdition is the first book in the Divine Space Pirates trilogy, a futuristic romance series where family, faith, and freedom take center stage.
WHAT REVIEWERS ARE SAYING:
Questions raised about government, religion, and human nature were peppered throughout the narrative, elevating The Heights of Perdition from a mere space fantasy to something much more thought-provoking. ~ Author Jess Jesinghaus
4th Place in Best RF Christian Sci-Fi & Fantasy for 2018
---
In 1858, young priest Zebediah Goodnow and the orphaned Joanna pursue a murderous Giant and soon find themselves among the Martians.
In 1957, astronaut Scott Winslow Hale takes his sick wife Helen to the shrine of the beatified Zebediah and, soon after, clashes with a stranger named Eddie.
In a tangle of Providential events, perseverance and peace are drawn from the toil of Faith.
---
Catholic schoolgirl Raven Mistcreek has no memory.
Her family is missing, her home is gone, and she is being hunted by monsters.
Why do demonic forces want her dead?
Is her family still alive?
And why do her chalk drawings become real?
Across the Qualitative Continuum, levels of reality are sinking lower.
A colossal terror lies sleeping. Waiting.
---
Grab your copy today! Free with Kindle Unlimited. Although this book stands alone as a creature feature, it begins The Long War series. The next book is THE ATLANTA INCURSION. Fans of STRANGER THINGS and IT will love this tale of small-town terror.
---
It's been a generation since the first superhero arose to disrupt a society dominated by sorcery. Since then, their population has grown and they have built their own cities all across the magical planet Ellio.
Now, the magical 1% have discovered how to get rid of the thorns in their side, and no one with innate abilities is safe.
An impossible murder and an epidemic of sudden power loss lead our hero Jack to investigate, and his plucky wizard friend joins the fight. They want to go pro, and this could be their big break.
As they fall in with Durables, Speedsters, Hammers, Healers, and Empaths, they discover how deep and twisted the sorcerous elite's plan really is.
But no one can be assured of victory when an agent of Chaos slinks onto the scene, prowling between the extremes of Justice and Domination.
Dive into this colorful magipunk world full of strange enchantments, true heroes, big surprises, and maybe a little romance.
Our Heroes:
Jack – an ultra-Durable hero with a food-based healing factor and a strange relationship with pain.
Dugen – a light mage loaded with enchanted gadgets and goodies.
The Slip – a talented rogue, she can slip through the cracks of space to get places other people can't.
Riotman – the passionate hero. His emotional feedback affects others, empowering himself and his group.
Overdog – the canid-man, his specialty is hunting sorcerous Hunters.
And more!
---
THE LAMB LIFTED THEM UP…
…BUT THE BEAST WANTS TO TEAR THEM DOWN.
The uplifted animals of Life City are used to destructive alien incursions from above.
Everyone knows how to fight back.
Heroic rock band Magikrash makes a living playing music and fighting invaders, but there are some threats they may not be prepared for…
When a new and disturbing trend pops up in Life City, punk singer Saqi and her bear bassist Barley must discover how to save their brainwashed friends, and the city.
Vibes of classic Saturday Morning cartoons, punk rock and metal, synthwave, and fast-paced adventure combine for an uplifting read with the Lamb at its heart.
---
There's another Earth, just a few steps away from ours, and it's under siege by a dark, hungry god. It's a planet where ancient enchantments still rule, where human society is built on the ruins of something greater. It's calling for a hero.
An angelic guardian finds Jon on the run for killing his best friend's murderer in defense. The spirit gives him a way out – travel to this other Earth and fight.
It brings him into the battle, praising him for being the first to answer the call in ages. Blessed with magic he could never have imagined, Jon begins his quest for the bloody shadow.
But the mad god knows he's coming, and he's got a legion of monsters ready and waiting.
He's joined along the way by Bahabe, a lovely magical girl with a mysterious past, and Dahm, a wise and powerful Traveler and master of stonecraft. Together they'll stand against the enemy horde and the mad posthuman posing as their god.
Myths and nightmares take to the battlefield, thirsty for the blood of our heroes. Forgiveness. Confidence. Faith. Jon will need them all to bear up against the impossible odds.
World-shaking magic, deranged posthumans, far-future technology, alternate worlds, the power of friendship, and absolution. It's The Stormlight Archive meets The Dark Tower and Dragonball, perfect anyone who's ever just wanted to escape.
Multiverse Books
Each novel and short story in the Multiverse comes with a map and basic world statistics for use in roleplaying and other non-commercial gaming scenarios. We have included only basic stats that should be adjustable for any use you have!
Share what you've done with the author @HabitualLevity on Twitter.
Don't forget to follow TJ and leave a review!
---
How Black the Sky
Pierce – a brash young man with rare blessings of strength and really bad news.
Axebourne – the fatherly berserker with infectious laughter.
Scythia – calm and motherly, her Circlet of Knowing reveals secrets.
Agrathor – a mighty spearman with an electric personality and a terrible skin condition.
Ess – Second only to the First Great Master of Convergent Reality Theory. Mysterious and alluring.
They are Gorgonbane. Once mercenaries, now heroes, they are the only thing standing between Overland and the horrid Monstrosities of the Underlord. His lust for power has reached its peak, but the coming invasion may not be exactly what it seems…The Hero's Metal universe
The world of Chasmgard is a place with endless secrets and a strange cosmology. A deep red sun crawls across a canvas of black, and nobody remembers why. Landlocked by a depthless Chasm, Overland and the Underlands have always vied for power and land. In How Black the Sky, we join a band of legendary warriors who may just be at the end of an age.
Out of the Deep: A Heavy Metal Pulp Adventure (Hero's Metal – Heavy Metal Pulp Adventures Book 2) is a New Addition.
---
For he is the Star Warden none shall find him wanting in the face of evil.
Once upon a time, in a world far far away. Darkness reigns and innocents suffer. One knight dares to challenge the forces of evil. That knight is Sir Samuel Bailey, The Star Warden. Armed with the holy sword Dawnbringer, ray gun, rocket pack, and a heart of a hero. He journeys the world with Princess Kaguya on his quest to end the tyranny of the Dark Lord Daimos and restore all that is good and right.

Daimos will stop at nothing to keep his iron grip on the planet. In his latest effort to crush resistance, he conjures a Curse of Eternal Night against a knightly order. During the Star Warden's quest to end this curse he encounters dangerous monsters and malicious machines but can he overcome the greatest enemy of all? His own fear.
This is a straightforward tale of high adventure, action, and romance with the spirit of a Saturday Morning Cartoon show. Come and enter a fantastical world of heroism, true love, faith, in a war of good vs evil.
---
An untouchable gunslinger. A lost hoard of gold. A host of brutal adversaries. What could possibly go wrong?
Deputy Marshal Porter Rockwell can't be harmed by a bullet or a blade. As long as he never cuts his hair, Rockwell is free to right wrongs and chase criminals without worrying about the consequences. But when he learns about a map to a mysterious cache of gold, he's embroiled in a battle for the treasure with enemies lining up on every side.
As outlaws, villains, and a surprisingly formidable Ute chieftain stand between the Deputy Marshall and the gold, bullet and blade might not be what finally take Rockwell down. It could be plain old bad luck…
Scavengers is a Western with colorful characters and wit straight out of a Tarantino flick. If you like mixing horror with your pulp, strong and admirable heroes, and weird Westerns, then you'll love the first book in David J. West's Porter Rockwell series.
Buy Scavengers to join the hunt for gold today!
---
Louis L'Amour Meets Lovecraft
Porter Rockwell, wanted for a murder he did not commit, is hiding out in Old California selling whiskey to thirsty forty-niners. When his friends dig up some monstrous bones and a peculiar book and offer to sell it for a helluva price, Porter can't resist the mystery.
But when both his night bartender and the sellers are murdered at his saloon Porter has to find out what the mysterious artifacts are all about. With some Native American legends, Sasquatch, Lovecraftian horror, and murderous bandits thrown in, not even bullets and blades can stop Rockwell from leaving a swath of righteous carnage in his wake.
Let Sleeping Gods Lie is a weird western fantasy in the vein of classic pulp fiction and Louis L'Amour books. If you like frontier justice, larger-than-life characters, and witty humor, then you will LOVE the first installment of the Cowboys and Cthulhu series.
Buy Let Sleeping Gods Lie to get lost in a horrific weird western adventure today!
---
He has no name. His past is a mystery. His future is etched in blood…
The Sellsword knows an opportunity when he sees one. When he rides into the border city of Aldreth, he can tell that the power struggle between two feuding wizards needs a solitary spark to ignite into all-out-war. As he sets the corrupt paladins and demonic adepts against each other, he's not surprised when the blood begins to flow…
But after the alluring duchess catches his eye, the Sellsword puts himself in harm's way to protect her and the innocent people of Aldreth. To save the noble few, spells and blades won't stop the Sellsword from leaving a swath of righteous carnage in his wake…
Brutal is an action-packed grimdark fantasy in the vein of classic pulp fiction and Sergio Leone spaghetti westerns. If you like gory battles, larger-than-life characters, and witty humor, then you'll love James Alderdice's gritty tale.
Buy Brutal to get lost in a bloody sword and sorcery adventure today!
---
They say whomever hears the song of the cursed pipe goes mad, and the Usurper is about to play.
Waylaid on his return to Vjorn, the Usurper is beset with magic and mystery. Coerced into retrieving a magical pipe of the gods, what terrors await he who hears the call of such an instrument?
And when the fate of a nation hangs in the balance, can he choose the right thing at the cost of his very soul?
SAVAGE is an action-packed adventure in the vein of classic pulp fiction and heroic dark fantasy. If you like larger-than-life characters, mythic monsters, vile sorcery, fearsome warriors, and witty humor, then you'll love James Alderice's gritty tale.
Buy SAVAGE to get lost in a bloody sword and sorcery adventure today!
---
He has no name. His past is a mystery. His future is etched in blood…
The Spartan knows an opportunity when he sees one. There is unholy work for a mercenary in the Holy Land. And work is good, for there is no end of service amongst kings and robber barons for a man who sells his sword so well. Can a mercenary trained only for war become an instrument of peace?…
But after an alluring handmaiden to the queen catches his eye, the Sellsword puts himself in harm's way to protect her and the innocent people of Jerusalem. To save the noble few, curses and blades won't stop the Spartan from leaving a swath of righteous carnage in his wake…
Bless the Child is an action-packed historical in the vein of classic pulp fiction and biblical epics. If you like gory battles, larger-than-life characters, and old school drama, then you'll love David J. West's gripping tale.
Buy Bless the Child to get lost in a bloody sword and sandals adventure today!
---
Desperate to escape a life of poverty on his desolate home planet, Ryck Lysander enlists in the United Federation Marine Corps, hoping to make a better future for himself.
However, Ryck soon discovers that the Corps is more than a means of escaping his former life as he is pushed beyond the very limits of his strength and willpower.
From bootcamp brawls to skirmishes with galactic pirates, Ryck's new life presents him with unimaginable adventures and forces him to prove his mettle as he forges his new identity and fights to earn his place…
…as one of the Brotherhood of Marines.
---
Destructive Battles Rage Between Hellish Kaiju and Giant Mech Protectors

A desperate father must rescue his son when a deadly kaiju rampages across his city.

When opportunists lurk and buildings crumble around him, the battle might be the least of his worries. Each minute means more destruction, and the clock is ticking.

The first in a new kaiju series where the ordinary collides with the oversized, Collateral Damage is based on a short story of the same title originally published in Broadswords & Blasters Magazine. Experience the first taste of this series with a punch to the gut. Mind the shadows — you could be crushed.
---
Freehold
by Michael Z. Williamson *FREE*
Sergeant Kendra Pacelli is innocent, but that doesn't matter to the repressive government pursuing her.
Mistakes might be made, but they are never acknowledged, especially when billions of embezzled dollars earned from illegal weapons sales are at stake.
But where does one run when all Earth and most settled planets are under the aegis of one government?
Answer: The Freehold of Grainne.
There, one may seek asylum and build a new life in a society that doesn't track its residents every move, which is just what Pacelli has done.
But now things are about to go royally to hell. Because Earth's government has found out where she is, and they want her back. Or dead.
About Michael Z. Williamson:
"A fast-paced, compulsive read…will appeal to fans of John Ringo, David Drake, Lois McMaster Bujold, and David Weber." – Kliatt
"Williamson's military expertise is impressive." –SF Reviews
---
A young radio engineer travels across an alt-history America, encountering primeval gods, mythical beasts, and tall tales come to life, in a quest to build a radio transmitter that can reach the stars.
It all starts in the mountain town of Porterville.
Twelve-year-old Philo starts a pirate radio station with his friends, and learns that the world is a stranger place than he ever imagined.
The Ancient Marauder, the Bright and Terrible Birds, the Mishipeshu, and other creatures of myth and legend populate this enchanting mixture of science and fantasy.
YANKEE REPUBLIC is an old-school adventure series with traditional values and down-to-earth heroes. Escape from the pessimism and propaganda of modern fiction, and take a journey through a mythic America that might have been.
---
Cobra
by Timothy Zahn *FREE*
EARTH'S ONLY HOPE WAS THE COBRAS
The colony worlds Adirondack and Silvern fell to the Troft forces almost without a struggle. Outnumbered and on the defensive, Earth made a desperate decision.
It would attack the aliens not from space, but on the ground—with forces the Trofts did not even suspect.
Thus were created the Cobras, a guerilla force whose weapons were surgically implanted, invisible to the unsuspecting eye, yet undeniably deadly.
But power brings temptation, and not all the Cobras could be trusted to fight for Earth alone.
Jonny Moreau would learn the uses—and abuses—of his special abilities and what it truly meant to be a Cobra.
---
Exsanguinated. Not a word any cop wants showing up in his report.
But when a drained body falls from a skyscraper across national borders, the case lands on the desk of Agent Reylic Antali at the Trans-Metro Police, and it's up to him and his team to figure out who the killer is, and what they're after.

In a city where four magical races coexist under an uneasy unity, tensions flare up as more bodies land in the morgue.
The city seems on the verge of tearing itself apart as Reylic and his Old Magic Task Force race to find the culprit.
But what they find may change the nature of magic as they know it…
---
Father Tanner treats the sick and injured on a dusty backwater planet.
Desperate for supplies, he takes a job to treat a visiting alien official, teaming up with Damien Rogers, an out-of-work smuggler, to get him there.
The problem?
They're on the wrong side of enemy lines in the middle of a cold war.
Forced to hide their identities, Father Tanner and his team are stumped by the bizarre patient, whose condition steadily worsens.
To make matters worse, the alien crew catches onto the ruse, and the missionary is forced to turn to kidnapping.
Can they find the diagnosis before their only bargaining chip dies on the operating table?
---
Joshua's Pawn Shop. If you find Joshua's Pawn Shop, you need Joshua's. Usually, you don't even know what you've lost, but at Joshua's you get a second chance.
Years ago, Simon Johnson made a choice that changed his life for the worse. He's looking to start over.
After he sells some old jewelry tonight, he'll send the divorce papers tomorrow.
That's the plan, anyway. At Joshua's Pawn Shop, he'll be given a different way to start over.
The cost: he'll have to not only let a tragedy happen, he'll have to witness it.
---
Whom the gods would recruit, they first tick off . . .
Our Hero: The unlikely Paladin, Bahzell Bahnakson of the Horse Stealer Hradani.
He's no knight in shining armor.
He's a hradani, a race known for their uncontrollable rages, bloodthirsty tendencies, and inability to maintain civilized conduct.
None of the other Five Races of man like the hradani.
Besides his ethnic burden, Bahzell has problems of his own to deal with: a violated hostage bond, a vengeful prince, a price on his head.
He doesn't want to mess with anybody else's problems, let alone a god's. Let alone the War God's!
So how does he end up a thousand leagues from home, neck-deep in political intrigue, assassins, demons, psionicists, evil sorcery, white sorcery, dark gods, good gods, bad poets, greedy landlords, and most of Bortalik Bay Well, it's all the War God's fault. . . .
---
Atlas Shrugged Meets Invasion of the Body Snatchers
Terry is an ordinary 16-year-old girl in Toronto.
Her days are usually filled up by schoolwork, karate class, and helping out in her mother's store, but strange things are happening behind the scenes of the city.
People are disappearing and coming back changed, with their identity torn out of them.
A series of close calls with an unthinkable adversary puts a target on Terry's back.
It's everywhere, enslaving people, hollowing them out into puppets… and now it wants her.
---
Telisa Relachik studied to be a xenoarchaeologist in a future where humans have found alien artifacts but haven't ever encountered live aliens.
Of all the aliens whose extinct civilizations are investigated, the Trilisks are the most advanced and the most mysterious.
Telisa refuses to join the government because of her opposition to its hard-handed policies restricting civilian investigation and trade of alien artifacts, despite the fact that her estranged father is a captain in the United Nations Space Force.
When a group of artifact smugglers recruits her, she can't pass up the chance at getting her hands on objects that could advance her life's work.
But she soon learns her expectations of excitement and riches come with serious drawbacks as she ends up fighting for her life on a mysterious alien planet.
---
DRAFTED INTO THE ARMY OF TIME
Intelligence agents have uncovered something which seems beyond belief, but the evidence is incontrovertible: the USA's greatest adversary on the world stage is sending its agents back through time! And someone or something unknown to our history is presenting them with technologies—and weapons—far beyond our most advanced science. We have only one option: create time-transfer technology ourselves, find the opposition's ancient source . . . and take it down.
When small-time criminal Ross Murdock and Apache rancher Travis Fox stumble separately onto America's secret time travel project, Operation Retrograde, they are faced with a challenge greater than either could have imagined possible. Their mere presence means that they know too much to go free. But Murdock and Fox have a thirst for adventure, and Operation Retrograde offers that in spades.
Both men will become time agents, finding reserves of inner heroism they had never expected. Their journeys will take the battle to the enemy, from ancient Britain to prehistoric America, and finally to the farthest reaches of interstellar space.
---
Five hundred years into the future, humans have conquered the void of space and spread throughout the galaxy. But we're about to discover that – in the cold, dark places between the stars – an ancient horror has been watching. And waiting.
On the distant edge of a far-flung planetary system, faith and science are about to go to war with monstrous evil.
Lars Stockwell is one of the last combat Cyborgs still in service. When a remote mining colony falls mysteriously silent, he and his team of black ops veterans are sent in with orders to terminate any threats to human life.
What they discover is worse than anything they could've imagined.
Along with a callow data analyst, a rogue Artificial Intelligence, and a spacefaring grifter, Lars and his men find themselves on the front lines of a war between humanity… and Hell incarnate.
if an ancient monster doesn't devour both worlds first.
---
"This isn't a war," said the artilleryman. "It never was a war, any more than there's war between man and ants." ― H.G. Wells, The War of the Worlds
The War of the Worlds is a science fiction novel by English author H. G. Wells. It first appeared in serialized form in 1897, published simultaneously in Pearson's Magazine in the UK and Cosmopolitan magazine in the US. The first appearance in book form was published by William Heinemann of London in 1898.
It is the first-person narrative of an unnamed protagonist in Surrey and that of his younger brother in London as Earth is invaded by Martians. Written between 1895 and 1897, it is one of the earliest stories that detail a conflict between mankind and an extraterrestrial race. The novel is one of the most commented-on works in the science fiction canon. The War of the Worlds has two parts, Book One: The Coming of the Martians and Book Two: The Earth under the Martians.
The narrator, a philosophically inclined author, struggles to return to his wife while seeing the Martians lay waste to the southern country outside London. Book One also imparts the experience of his brother, also unnamed, who describes events as they deteriorate in the capital, forcing him to escape the Martian onslaught by boarding a paddle steamer near Tilling ham, on the Essex coast.
A True Classic that Belongs on Every Bookshelf!
---
What good would the moon be to men?
Even of their own planet what have they made but a battleground and theatre of infinite folly?
Small as his world is, and short as his time, he has still in his little life down there far more than he can do.
A chance meeting forms an unlikely friendship between a London businessman (Mr. Bedford) and a physicist (Mr. Cavor), who is developing a new material, aptly named "cavorite," that negates the force of gravity. Soon the material is tested successfully and the two men build a ship that capable of transporting them to the Moon!
What awaits our two enterprising men destined for the surface of the Moon?
---
What awaits our two enterprising men destined for the surface of the Moon?
---
With Earth left in shambles by the Martian invasion, Queen Victoria's daughter Louise must lead the world through a dire emergency: The Martians are coming back. First she must rescue Cavor from his prison on the Moon in order to build a defense fleet. Even with Cavor their efforts would be for nothing without the genius of Nikola Tesla leading the way. And on Mars, unexpected allies fight a rearguard action to help Earth. Meanwhile the Time Traveler repeatedly appears, but is he friend or foe?
Review: A number of years have elapsed since the Martian Invasion chronicled by H.G. Wells in The War of the Worlds . The damage inflicted on the Earth was severe, and the protracted process of recovery, begun in the British Empire in the last years of Queen Victoria's reign, now continues under Queen Louise, Victoria's sixth child and eldest surviving heir after the catastrophe of the invasion. Just as Earth is beginning to return to normalcy, another crisis has emerged. John Bedford, who had retreated into an opium haze after the horrors of his last expedition, is summoned to Windsor Castle where Queen Louise shows him a photograph. "Those are puffs of gas on the Martian surface. The Martians are coming again, Mr. Bedford. And in far greater numbers." Defeated the last time only due to their vulnerability to Earth's microbes, there is every reason to expect that this time the Martians will have taken precautions against that threat to their plans for conquest.

Earth's only hope to thwart the invasion before it reaches the surface and unleashes further devastation on its inhabitants is deploying weapons on platforms employing the anti-gravity material Cavorite, but the secret of manufacturing it rests with its creator, Cavor, who has been taken prisoner by the ant-like Selenites in the expedition from which Mr Bedford narrowly escaped, as chronicled in Mr Wells's The First Men in the Moon . Now, Bedford must embark on a perilous attempt to recover the Cavorite sphere lost at the end of his last adventure and then join an expedition to the Moon to rescue Cavor from the caves of the Selenites.

Meanwhile, on Barsoom (Mars), John Carter and Deja Thoris find their beloved city of Helium threatened by the Khondanes, whose deadly tripods wreaked so much havoc on Earth not long ago and are now turning their envious eyes back to the plunder that eluded them on the last attempt.

Queen Louise must assemble an international alliance, calling on all of her crowned relatives: Czar Nicholas, Kaiser Wilhelm, and even those troublesome republican Americans, plus all the resources they can summon—the inventions of the Serbian, Tesla , the research of Maria Skłowdowska and her young Swiss assistant Albert, discovered toiling away in the patent office, the secrets recovered from Captain Nemo's island, and the mysterious interventions of the Time Traveller , who flickers in and out of existence at various moments, pursuing his own inscrutable agenda. As the conflict approaches and battle is joined, an interplanetary effort is required to save Earth from calamity.

As you might expect from this description, this is a rollicking good romp replete with references and tips of the hat to the classics of science fiction and their characters. What seems like a straightforward tale of battle and heroism takes a turn at the very end into the inspiring, with a glimpse of how different human history might have been.
---
The cats of Stardust Station have long hidden their intelligence from the humans that live there. Now a crisis threatens them both. Can the cats and humans learn to work together in time to save both the station and the planet below?
A few hundred years from now, Earth has gone to space…and come back. The remnant of a once vibrant space effort persists in the form of a few hundred solar power satellites that provide half of the world's power. John Aldrin is one of four people crewing the last remaining space station, with the mission to keep the satellites operating. But Earth has neglected them so long that they are on the verge of breakdown.
Benign neglect has allowed something else to happen: In the station's forest habitat, a group of genetically modified cats have grown to intelligence. Some have been adopted by the astronauts and brought to their living area. Natural telepaths, both groups of Cats have agreed to keep the knowledge of their intelligence secret from the humans.
Their equilibrium is destroyed when a solar flare strikes and knocks out the satellites. The Cats must reveal their secret to save both their station and the world below. But can they convince a skeptical Earth to work with them?
---
Thor vs. Ares with the fate of Mars in the balance!
An urgent challenge calls Thor to Mars, where hostile forces threaten a new colony's fragile future.
To aid the colonists he must contend against opportunistic deities from Earth and Mars, as well as the harsh environment of Mars itself.
This Novella-length book is inspired by Thor comics and Ray Bradbury's "Martian Chronicles," with a dash of Richard Riordan.
Contains six short stories making one complete arc.
Also includes a bonus story where being normal is enough to be a superhero.
---
Giant chickens run amok on Mars!
When Katy steals her father's experimental dinosaur growth serum to help her runt chicken it works much better than she could have anticipated.
Can she keep her chicken from ruining the dome that the colony lives under?
Also includes "Lord of the Rings Short Version" with a flight to a Martian Mount Doom!
Contains two stories of giant Martian chickens totaling 12K words.
---
It's Time to Remember the
Alamo All Over Again!
In the long war against terrorism, the US Government had taken on extraordinary powers. And now that the war was won, powerful forces in the government had no intention of relinquishing those powers. As in 1860, the country was on the verge of civil war. And as in 1860, a leader arose to save the country—but it was not the President this time. Instead, the Governor of Texas was the woman of destiny. And, though the Federal Government had more guns and troops, David was about to give Goliath a run for his money…
Reviews: "Probably the most realistic depiction of a second American Revolution ever written."
"Kratman looks at the state of the nation and sees how far we've fallen in the past eighty to one hundred years, and the kinds of people who have risen to the top in this progressive, corporate state. A tiny extrapolation, combined with his military and legal experience and wordsmithing skills, and he produced a real spell-binder of a novel of the near future, very much like his Carrera series. I like that he chose Texas as the place where things start to turn around, but I suspect he underestimated the speed with which other states would have come to Texas' aid."
---
2105, September: Intelligence Analyst Caine Riordan uncovers a conspiracy on Earth's Moon—a history-making clandestine project—and ends up involuntarily cryocelled for his troubles. Twelve years later, Riordan awakens to a changed world. Humanity has achieved faster-than-light travel and is pioneering nearby star systems. And now, Riordan is compelled to become an inadvertent agent of conspiracy himself. Riordan's mission: travel to a newly settled world and investigate whether a primitive local species was once sentient—enough so to have built a lost civilization.
However, arriving on site in the Delta Pavonis system, Caine discovers that the job he's been given is anything but secret or safe. With assassins and saboteurs dogging his every step, it's clear that someone doesn't want his mission to succeed. In the end, it takes the keen insights of an intelligence analyst and a matching instinct for intrigue to ferret out the truth: that humanity is neither alone in the cosmos nor safe. Earth is revealed to be the lynchpin planet in an impending struggle for interstellar dominance, a struggle into which it is being irresistibly dragged. Discovering new dangers at every turn, Riordan must now convince the powers-that-be that the only way for humanity to survive as a free species is to face the perils directly—and to fight fire with fire.
---
At 28 Jana Tyrell is already the foremost actress in the world. But she wants the love of a good man, and they're not so common in Hollywood.
She finds it in a most unexpected place: Onteora County, NY, a land that produces geniuses and heroes as if they'd been sown there by God.
Her target, engineer and Web writer Tim Beaufort, will be rocked by the changes Jana brings to his life.
Review: When a reclusive actress finds love with a solitary engineer and blogger, they must work together to thrive and prosper in the cut-throat world of Hollywood.
This is a remarkably poignant romance that really sneaks up on the reader. Clever and distinctive characterization, interesting plot turns, and a simple but engaging style. Reminiscent of Nevil Shute's No Highway.
The only problem with this story is it ended too soon! Highly recommended.
---
"WITH FRIENDS LIKE THESE . . .
With the Earth in the path of the rapacious Posleen, the peaceful and friendly races of the Galactic Federation offer their resources to help the backward Terrans—for a price.
Humanity now has three worlds to defend.
As Earth's armies rush into battle and special operations units scout alien worlds, the humans begin to learn a valuable lesson:
You can protect yourself from your enemies, but may the Lord save you from your allies.
---
They killed his father, oppress his people, and threaten them with extinction . . . and one of them is his best friend.
The Growlers rule their corner of the planet Yxakh with an iron fist, intent on driving the human refugees from their land. They almost did eight years ago, killing Garrett's father in the process. Only their guns, and lots of them, keep the Growlers at bay. Now a young man, Garrett burns for revenge, but finds it hard to reconcile this hatred given that his best friend is a Growler youth named Ghryxa.
Desperate to cleanse his land of the invaders, the Growlers' High Lord dispatches his trusted heir on a mission to acquire the humans' superior weaponry. The Earthlings barely won the last war . . . but this time the High Lord will leave nothing up to chance.
Garrett and Ghryxa run headlong into the High Lord's conspiracy and find themselves the only thing standing between their two peoples and all-out war. Now Garrett must participate in an ancient rite with the fate of humanity on his shoulders. It's a chance to be a hero like his father . . . but only if he makes it out of the Growlers' forbidden city alive.
---
Pulp Rock: An Anthology of Musically Inspired Tales
by Alexander Hellene, Patrick Walts, JD Cowan, Ryan Williamson, David J West, David V Stewart, Alexander Nader, Alexandru Constantin, Jon Del Arroz, Paul McKesley
ADVENTURE ROCKSSpace pirates and superspies, ghostly singers and half-orc bards, lost cities and deals with the devil . . . all this awaits and more in Pulp Rock: Twelve musically inspired tales of adventure, excitement, and horror by some of the most exciting voices in science-fiction and fantasy. Come explore the nexus between music and the written word, and get ready to rock.
Altered Egos by Patrick Walts Glam-metal juggernauts Slamurai were past their prime, until a surprise new album and tour thrust them back into center stage . . . but is the band who it claims to be?
Mad Wind by JD Cowan On a distant colony world, a young student sets out to discover the secret of ancient ruins none have returned from . . . and music may be his only weapon against the Mad Wind.
Doom Chord by Ryan Williamson A half-orc bard and his gnome companion seek knowledge of the legendary chord required to play a song so epic even denizens of the netherworld long to hear it.
Keep It Burning Bright by Alexander Hellene An aging explorer with nothing to live for embarks on one final expedition to a frozen city to discover the one song said to be the source of all life . . . if he can make it past the city's deadly guardians.
The Devil's Harp by David J. West Her performance was magical . . . diabolically magical. Now a big-city reporter and a rough-and-ready lawman must track down the secrets of an occult instrument to save a woman's soul from eternal damnation.
Farewell to Once and Future Kings by David V. Stewart They're a band on tour in the far reaches of interstellar civilization with a secret mission: find the mole that threatens to upend the delicate balance of powers . . . even if it risks true love.
The Crying Girlby Alexander Nader She's done it! She's created a drug that allows its users to see and feel music. But even she doesn't understand its side-effects during a powerful metal show for the ages.
Entomocronicity by Alexandru Constantin In the deserts of Afghanistan, a Marine hears a ghostly recording from the forgotten past that sets him on an obsessive, destructive quest to find the singer . . . and the malevolent intelligence behind her song.
Master of Puppets by Jon Del Arroz All he wanted was for his puppet show to be given respect it deserves! And when a blood ritual brings his marionettes to life, he will have his revenge.
Princess of the Night by Paul McKesley On an interstellar cruise, an undercover bandleader plots to recover his birthright from rival nobles . . . if scheming aliens out for revenge don't steal it first!
A Song for Melienope by Alexandru Constantin A traveling bard gets more than refuge from a storm when his wanderings bring him to the doorstep of an ancient forest spirit. Now he must play the song of his life or forfeit his immortal soul.
Kentucky Mothers by Alexander Hellene What is the connection between a country music superstar and a spate of dead journalists? One imprisoned music reporter knows the secret . . .but will anyone believe him?
---
Maggie Kingsbury, single middle-aged alcoholic lawyer, joins her in-laws Molly and Kevin on a homestead in the mountains of North Carolina, where their trustafarian college frenemies Brock and Sandra have just bought their third home.
Molly commissions Brock to renovate an old Appalachian tobacco barn on their property.
But when maverick hillbilly throwback Uncle Billy shows up to live in their field in a camper van, power struggles ensue.
Meanwhile, Kevin has become dangerously obsessed with breeding heritage livestock.
When Maggie's beloved niece Juliet asks her to take on a mysterious client, Maggie becomes implicated in a national political furor.
The scars of the long war run deep. And hope is a dangerous thing when the real enemy might just be the survivors themselves.
---
"Rosita met the Lycan at an after-party. Of course. Where else would you meet a werewolf. It was probably about 4 in the morning, and he was on the wane. He was a Lycan on the wane in general, which was why he was even approachable. The embers still smoldered in his eyes, but the spark was out."
Thus begins an epic game of psychological cat and mouse. For solace, Rosita seeks emotional support from a varied cast of characters:
Josh: Rosita's college friend. He's working on his PhD. He thinks it's all just pheromones and the Lycan is a credit risk.
Caligulito: Rosita's brother. So-called because he's a lot like Caligula, only smaller. He thinks the Lycan is a great guy.
The Maiden Aunt: Rosita's best law-school friend. He's 23, but he looks 37. So-called because he's into feeble remonstration.
Margot: Another college friend. Two days into their trip to Costa Rica, Margot tells Rosita that, due to the natural and spiritual setting, she has quit her psychiatric medication cold turkey.
Rosita's mother: All Rosita's life, Rosita's mother has told her to never get married. Now suddenly she's lighting candles in churches for Rosita to meet a nice boy.
Rosita's grandmother: She walks with a cane, and Rosita's worried. Someday she's going to smack someone with it.
Father Pavel: Rosita's grandmother calls him "the gloomy Slav." He accepts small-talk with Rosita as just another cross to bear.
The Vampire: Rosita's high-school sweetheart. Rosita uses his own "Art of War" dating advice against him.
And Rosita, who is she? Rosita is the girl in the computer lab now googling "hysterical pregnancy" after half an hour spent googling "early pregnancy symptoms."
---
Coming-of-age novel following a small-town Gen X American girl named Kitty, from her senior year in high school to her life as an extremely unsuccessful lawyer in Manhattan.
The novel begins with three days in the life of a group of high-school friends in 1993, culminating in a fistfight on the village green over the honor of the Prom Queen.
The scene then shifts to New York City. Kitty is called back home for a funeral, and then, years later, someone from her small-town past pays Kitty a visit that changes her life.
---
Enraged at the Almighty after losing everything, Derke turns to black magic in hopes of restoring his old life. But the evil one demands a terrible price. Derke, once blessed, stands at the edge of a cliff, ready to lose himself to darkness.

Amazon Cusomter Review:
I really liked this story. Derke is a priest (miracle-man) whose faith is crushed when he loses his family to a plague. A hope of regaining them is extended by a woman who tempts him to abandon his faith and follow her. Derke does. He leaves all of his former life behind and delves deep into the dark magical arts of necromancy to try and recover his wife and children.
But his faith calls him back. He struggles and fights against what he knows is right in his heart.
The matters of faith in this story are derived straight from the Christian viewpoint. There is more than simple allusion to the Christian faith, it is a Fantasy story steeped in a Christian world.
Buy The Lure of Fools and join the fantastic quest today!
It better be, because ready or not, Marc's going into action as Flak-Jack, the Bulletproof Man!
---
Grimly Eric John Stark slogged toward that ancient Martian city—with every step he cursed the talisman of Ban Cruach that flamed in his blood-stained belt.
Behind him screamed the hordes of Ciaran, hungering for that magic jewel—ahead lay the dread abode of the Ice Creatures—at his side stalked the whispering spectre of Ban Cruach, urging him on to a battle Stark knew he must lose!
Classic sci-fi from the writer of The Empire Strikes Back.
Review: I picked this up because Gary Gygax recommends Leigh Brackett in his Appendx N to the 1st edition AD&D Dungeon Master's Guide Unfortunately, it is not the beginning of her Mars series, as I discovered, but nearer the end. Even without knowing the protagonist's backstory, however, it's a great pulp space opera story in what some authors call Old Mars – the Mars of the pulps, full of ancient cities consumed by endless deserts, canals bearing life-giving water, frozen cities under the polar ice caps, etc. I really liked this one – I'm going to read more! But this is the easiest Brackett book to find on Amazon, so it is where I started!
---
You Should Never Speak Truth To Power…
The Galactic Empire is dying and chaos and anarchy are breaking out everywhere. After a disastrous mission against terrorists on Earth itself, Captain Edward Stalker of the Terran Marine Corps makes the mistake of speaking truth to power, telling one of the most powerful men in the Empire a few home truths. As a result, Captain Stalker and his men are unceremoniously exiled to Avalon, a world right on the Rim of the Empire. It should have been an easy posting…
Well, apart from the bandits infesting the countryside, an insurgency that threatens to topple the Empire's loose control over Avalon, and a corrupt civil government more interested in what it can extort from the population than fighting a war. The Marines rapidly find themselves caught up in a whirlwind of political and economic chaos, fighting to preserve Avalon before the competing factions tear the world apart. They're Marines; if anyone can do it, they can
---
Emily is a teenage girl pulled from our world into a world of magic and mystery by a necromancer who intends to sacrifice her to the dark gods. Rescued in the nick of time by an enigmatic sorcerer, she discovers that she possesses magical powers and must go to Whitehall School to learn how to master them. There, she learns the locals believe that she is a "Child of Destiny," someone whose choices might save or damn their world … a title that earns her both friends and enemies. A stranger in a very strange land, she may never fit into her new world …
…and the necromancer is still hunting her. If Emily can't stop him, he might bring about the end of days.
Book I in the Schooled in Magic series.
---
Brimming with new ideas for magical research, Emily returns to Whitehall School for her Second Year, only to discover that things are going to be different. Her friends have become sports-mad fanatics, her new roommates are strangers to her, her new classes are far harder and one of the teachers seems to actively dislike her. As she returns to the comforting routine of the only place she considers home, she finds that Second Year will be far harder than the first.
But as the students settle in to continue their studies, it rapidly becomes clear that all is far from well at Whitehall. There's a murderer running loose in the school. A murderer who may be a newborn necromancer. And then there's the spy watching Emily from the shadows, waiting for her to make one tiny, but fatal mistake …
As the darkness falls on Whitehall, Emily may be their salvation…or the person who damns them all.
---
A Living Nightmare
After awakening in the woods, Christopher Archer finds himself trapped in a world outside of time.
Fog monsters, armed gangsters, and a legendary spear, all await his arrival.
But what about the fiancé who disappeared months ago?

As Archer explores this eternal midnight, he can only wonder—is this all just a dream, or is there something more hidden in the dark, watching his every move?

There is one choice.
He must traverse the nightmare and learn the truth.
---
Siege on the Shadow Planet!
Ex-punk Two Tone is left for dead and his friend is taken. His assailants: men of mud from some place darker than Hell!
The inscrutable Sarpedon has slithered from the depths to rule a planet that has long abandoned hope for a better tomorrow. With no one to stop his spree of violence, it is only a matter of time before Two Tone's world is overrun.
Old friends and a mysterious beauty gather by his side, but are they enough? Is it too late for this dying world? If all cats are grey in the dark, will anyone see the panther stalking its prey? Two Tone will find the answers the best way he knows how—through his fists!
Grey Cat Blues tells the tale of a distant planet at humanity's end. In this place, a man must choose between love and hate. And where his choice leads him might not be where he expects . . .
---
SEVEN TALES OF MAYHEM IN THE MAGIC CITY!
Vigilantes fight from the shadows. In Summerside, Dark Magic poisons the dying city of cultists and gangsters. This is where heroes are made.
A man with a deadly touch, an ex-hitman, a concrete teenager, an invisible myth, and an indestructible knight, are but a few of those who stalk the midnight hour.
In these seven stories you will meet those fighting for the soul of the city, and those hoping to bring it to a brighter future. But is there anything left worth saving in a world of death?
Powers or Magic. Only one will win this war.
---
"This society is decadent beyond redemption. It is time for it to be purged in fire and rebuilt from the ashes."
The royal family of Carlissa struggles to guide their land into a new age of enlightenment. But when a radical professor of magic is targeted for heresy by the Inquisition, they end up caught in the crossfire. And when that violent confrontation spawns political infighting in the kingdom, it leads to the return of a dark and ancient threat thought lost to the legends of time.
Prologue to Chaos introduces the vast world and cast of characters of the Sanctum of the Archmage saga. Aron and Gerard, princes of Carlissa, race to stop the rampage of an arrogant mage targeted by the Inquisition. King Danor navigates his government's factions in a struggle to reform its archaic laws. Orion, a scholar, prepares for his first day as an instructor at the academy, while Randia, a talented bard, looks forward to a life of music and theater with her beloved consort.
They do not know it yet, but each of them will be called upon to fight or die in a desperate battle that follows the opening of the Hell Gate.
Prologue to Chaos finally brings the world and story of the award-winning Sanctum of the Archmage role-playing games to the world of fantasy fiction. Get it now and don't miss this exciting start to the saga!
Note: An earlier version of several chapters from this book appeared as part of the novel Dawn of Chaos, published briefly on Amazon several years ago. That book has now been re-written and expanded into a series of six novella-length installments.
---
No one ever accused Thor of being the silent type.
But he's a man of few words when a group of Valkyries seize his palace, launch a coup against Asgard, and make his Lady Sif their slave.
With none of Thor's allies nearby, the Valkyries vow to crush him before they conquer everything else.
Yet surrender never crosses his mind and he rushes headlong into the fight.
Packed with action and drama, "Thor vs. the Valkyries" is a quick tale of treachery and retribution, with an ending that will leave you smiling . . .
…or with your jaw hanging.
---
2018 NEBULA AWARD FINALIST: BEST NOVELLA
Floribeth Salinas O'Shea Dalisay is an Off-Planet Worker, employed as an exploration pilot by the giant corporation, Hamdani Brothers. Sent on a routine mission to analyze one of the millions of systems in the galaxy, she stumbles across something that could threaten humanity's very existence. She barely escapes with her life, but in the process, has to shut down her scout's AI.
As with all OPWs, she has few rights, and instead of being lauded as a hero, the corporation thinks she is lying. Her managers believe she found something valuable and shut down her AI in an attempt to hide that fact, hoping she can sell that information to the highest bidder. Grounded, and with a huge debt now over her head, Beth has to convince the powers that be that a very real danger to humanity is lying in wait out there in deep space.
---
The devil hasn't killed Purity Wellman yet.
But he's still got time. Life isn't going to settle down for Purity anytime soon. She might have killed the dark pastor and his demons, but the fallout from the fight is still plaguing her. It looks like her old enemy Don Bello is behind everything. He's coming for Purity and what remains of her family.
And for anyone that has ever dared help them in their fight. Her brother's friends and allies are brutally murdered, and it won't be long before they find her. Purity must push aside her terrible memories of being the devil's prisoner and fight back. That's what the Wellmans always do. For, the devil's work is never finished and the family business is never done.
The second Purity Wellman book picks up right where the last one ended, in the middle of the mystery, magic and battle against evil. Buffy the Vampire Slayer meets Sookie Stackhouse in Purity Wellman, a fish-out-of-water resurrected girl trying to find her place in a creepy Appalachian American Gods universe.
Can Purity win against the devil? Or will he claim her soul as his own again?
---
Can Purity control the vampire within herself? Or is it lying to her so it can take her power for itself? Purity must find the witches, and stop them. She's only got a week to do it, and she's got to do it alone.
The demon from the Dark World is strong enough that she's beginning to worry it might control her, but Purity barely has time to miss her brother John, much less deal with the monster inside her head. The Forest People speak of a coming doom, brought about by three witches. Purity works to unravel the mystery and save the world. But she's out-powered and out-classed. The vampire in her head says it can help her. If it stops the apocalypse, her soul might be an acceptable price to pay.
The third Purity Wellman book pits Purity against her most dangerous enemy yet–herself. Buffy the Vampire Slayer meets Sookie Stackhouse in Purity Wellman, a fish-out-of-water resurrected girl trying to find her place in a creepy Appalachian American Gods universe.
---
A Shadow Man is stalking the children of Ard, leaving the dead lying in the forest with their eyes black pits. The people are in a panic, but the investigating Ruad philosophers have no explanation. Seeking someone to blame, the people of the ancient city of Ard demand the head of the most dangerous person in their midst, the giant Waylaid.
Once great among the Fomor – a prince, a sorcerer, a priest – Waylaid has been cast out by his people. He has come to Ard with his Bolg apprentice, Piju, to live quietly and study in Brea's library. Can he escape the maddened crowed and find the killer without breaking his vow to give up sorcery?
And has he failed to teach his young and impetuous apprentice the most important lesson of them all, that the price of using sorcery is always too high?
---
Prophesy has shaken the foundations of the world.
Three kingdoms search for a king,
while an evil sorcerer has raised a spirit to destroy the fragile peace of the Daen Empire.
Piju fights to free the slaves of Ard, and Waylaid must find a way to defeat a god which has the power to take his bones.
---
Zoe O'Brien has found her dream job at a small liberal arts college teaching the history of Medieval witchcraft and magic.
Academic life is exactly what she expected it to be…until the squirrels stop by to talk with her and her department chair and best friend turn out to be mages.
Zoe discovers a world of magic and power she never knew existed.
She and other faculty mages race to stop a coven from raising a demon on the winter solstice while simultaneously grading piles of final exams and reading the tortured prose of undergraduate term papers.
But first, she must learn to master her new-found powers.
---
When the remnant of the anarchist Spooner Federation fled Earth before the genocidal wrath of the States, the fugitives had only the slimmest chance of finding a habitable world orbiting a benign star. Yet 544 years after embarking on their planetoid-ship, they found one that seemed too good to be true. They named it Hope.
Like all things that are too good to be true, Hope isn't what it seemed.
For 1200 years, a secret Cabal has elevated powerful psi talents to the the management of Hope's crust, at the eventual cost of their lives. The alternative was a choice between mass death by heavy-metal poisoning and mass death by starvation. But the pool of psi talents has dwindled till only two remain: Armand Morelon, heir apparent to the richest and most prestigious clan on Hope, and Victoria Peterson, a young woman of great beauty and intelligence immured in poverty and abuse. But one is utterly unwilling and the other is murderously insane. And the survival of Mankind hangs in the balance.
---
Sequel to Which Art In Hope.
As they pass from mortal life, Armand and Teresza Morelon, foremost of all the residents of the wholly ungoverned world of Hope, lay a charge upon their granddaughter Althea: to break the lightspeed barrier, travel to Earth, and determine why no radio emissions from the cradle of Mankind have reached Hope since the Spoonerite Hegira. It shapes the young polymath's life from that moment onward.
Althea spends her young adulthood playing Hope's equities market, amassing a fortune for her mission. At 30 she falls in love with Martin Forrestal, a genius of another kind. The two are soon married.
Jacksonville is in flux. Armand Morelon had facilitated a mass relocation from the Hopeless peninsula, where Hope's undesirables had sheltered, to the Jacksonville region. Douglas Kramnik, patriarch of one of the relocated clans, seeks payback for the long-ago diminution of his clan to outcast status. First, he seeks to marry Althea to his son and clan scion Barton. When Morelon matriarch Charisse declines the offer, his resentments swell. They culminate in an attempt to thwart Barton's betrothal to Althea's cousin Nora, which elicits an intervention by Althea herself.
Charisse tries but fails to dissuade Althea from going to the stars. Her failure couples to her desire for power, and she begins to scheme. Her attempts to become a local baroness are revealed through a discovery by Patrice Kramnik Morelon of irregularities in the clan's finances. It costs Charisse her position, but doesn't end her quest for power.
After Althea and Martin have tested Freedom's Horizon, a ground-to-orbit spaceplane, Martin presses her with his desire for children. It proves catastrophic: the child is stillborn. The birth leaves Althea in lasting agony. She and Martin are estranged for two years. They reunite after an intervention by Barton and Nora, but the tensions between them have not been dispersed.
Hope's progress has emphasized biotechnology. Hallanson-Albermayer Corporation develops a medipod capable of healing its owner of virtually any ill. Althea and Martin become the first customers. Althea's medipod provides her with cover for a telekinetic repair of her damaged nervous system. She's guided by her "dead" grandfather Armand, who has taught her the use of her psi powers, as great as his own.
Althea and Martin establish an orbital lab on the Relic, the planetoid-ship that ferried the original Spoonerites to Hope. Groundside, Charisse abandons Clan Morelon and her husband Chuck without warning, and isn't seen again for years. Althea soon discovers a way around the lightspeed limit, and a power source suitable for propelling a starship.
When Althea's starship Liberty's Torch is ready for its maiden voyage, she finds an unexpected ally in her desire to leave Martin safely behind: Barton Kramnik Morelon, who rose upon Charisse's resignation to the Morelon patriarchy. Between them, they persuade Althea's husband to remain on Hope for the three years of her journey to Eridanus cluster, signals from which hint at intelligent life.
At Eridanus, Althea is greeted by representatives of the Loioc, a humanoid race whose males have been deliberately rendered nonsentient, supposedly to put an end to violence among them. It's their intention that Althea do the same to the men of Hope. Althea escapes their plot and destroys the space station the Loioc had used to suppress interstellar travel, but is infected with the nanites the Loioc women use to suppress the development of intelligence in men.
Althea returns to the Relic, hoping that her medipod has removed the nanites from her body, and discovers that in her absence, Hope has been visited by the supreme evil the Spoonerites fled Earth to escape: warfare.
To be continued in Freedom's Fury, the concluding volume of the Spooner Federation trilogy.
---
Althea Morelon has returned from Eridanus cluster. The Loioc have infected her with a self-replicating nanite that destroys the sentience potential of male zygotes, filling her with a lust for vengeance. But she has more to cope with than just her nanite infection.

Interclan warfare has broken out on Hope. Though Althea must remain on the Relic until she's certain she's free of the Loioc nanite, only she can save her kin from subjugation. And there's more and worse to come.

The State is rising again.

Freedom's Fury, the third volume of the Spooner Federation saga, completes the tale of struggle and survival begun in Which Art In Hope and continued in Freedom's Scion.