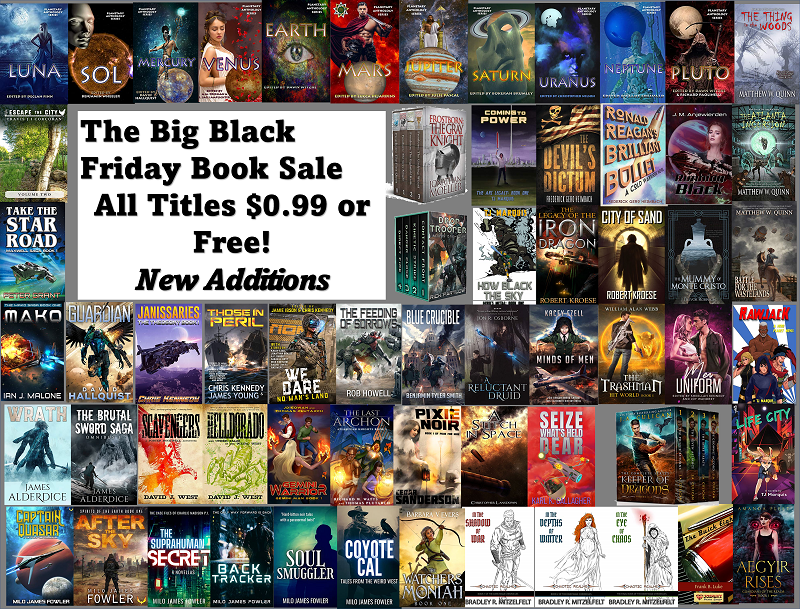 These titles have not appeared in previous sales: a great place to start looking for some fresh reads. Offerings include titles from Peter Grant, Robert Kroese, J. Trevor Robinson, Jonathan Moeller, Frederick Gero Heimbach, J. M. Anjewierden, James Alderdice, Frank B. Luke, Ian J. Malone, David Hallquist, Chris Kennedy, James Young, Jamie Ibsen, Rob Howell, Benjamin Tyler Smith, Jon R. Osborne, Kacey Ezell, William Alan Webb, Sheellah Kennedy, Joy Wanderey, E.E. "Doc" Smith, Amanda Fleet, Tim C. Taylor, Rick Partlow, David J. West, J.D. Cohen, Richard Watts, Cedar Sanderson, Mathew W. Quinn, Bradley Mitzelfelt, J.A. Culican, Barbara V. Evers, C.S. Johnson, T.J. Marquis, Milo James Fowler, and Karl Gallagher. You'll find the entire Planetary Anthology series, several box sets or omnibus collections, and a special offering from Travis Corcoran.
And every title is either free or $0.99. Note: prices are set by the authors, so please confirm before you buy.
---
Escape the City is the perfect guide for people who live in the city or suburbs and want to move to the country.
This is the "missing manual" that tells you absolutely everything you need to know on thousands of topics that you never even realized existed.
Whether you're interested in shopping for a used tractor, starting garden seeds in a grow tent, logging your own trees, planting a berry patch, breeding sheep, arranging for firewood delivery, making ten gallons of hearty soup from a pig skeleton, installing solar electric power, or fighting invasive species, Escape the City has the information you need.
There are endless books on gardening, farming, and homesteading. Why this book?
* Other books don't have sufficient breadth. EtC covers absolutely everything related to living in the country.
* Other books have blind spots about the basic stuff. EtC explains the "obvious" stuff: the difference between straw and hay, and between discing plowing and rototilling.
* Other books don't spell out the details. EtC has checklists, choices for different budgets, and step by step instructions. Escape the City explains all of the basics – everything from buying a tractor to fertilizing gardens – and concludes with dozens of recipes for farm-to-table dishes like Apple Pie with lard crust, Maple Creme Brulee, Pork Stock, Duck Leg Confit, Pork and Pumpkin Soup, Lamb Chops, and even a Whole Pig Roast.
Normally $9.99, now only $0.99 each!
---
Take The Star Road
(The Maxwell Saga Book 1)
by Peter Grant
Nineteen-year-old Steve Maxwell just wants to get his feet on the star road to find a better homeworld.
By facing down Lotus Tong thugs, he earns an opportunity to become a spacer apprentice on a merchant spaceship, leaving the corruption and crime of Earth behind.
Sure, he needs to prove himself to an older, tight-knit crew, but how bad can it be if he keeps his head down and the decks clean?
He never counted on the interstellar trade routes having their own problems, from local wars to plagues of pirates – and the jade in his luggage is hotter than a neutron star.
Steve's left a world of troubles behind, only to find a galaxy of them ahead…
---
Caught violating Earth's Zero Tolerance for Violence laws, Peter Novilio is sentenced to a one-way trip to Hell, Earth's prison planet in the Zeta Tucanae system.
Hell is forever: Two centuries earlier its ecosphere had been infected with microscopic nanomachines that destroy electrical conductors, condemning its inmates to a neo-Victorian steam-and-gaslight society without computers, spaceflight, or any hope of escape.
Peter soon learns that he has been framed by Earth's paranoid world government, and is offered a pardon in return for conducting a reconnaissance mission to Hell and back. There are hints that Hell is developing impossible technologies or has even neutralized the wire-eating nanobugs entirely. How he will return from Hell is a secret known only to his grim mission partner, agent Geyl Shreve of Earth's shadowy Special Implementer Service.
But Peter has a secret as well: He is a member of the outlawed Sangruse Society, and in his blood flows the Sangruse Device, Version 9, the most powerful nanocomputer AI ever created. Although supposedly Peter's protector and advisor, the Device answers to no one but the Society's mysterious leader, and has reasons of its own for visiting Hell. Peter soon discovers that he is little more than a disguise, caught in a covert war among Earth, a revolutionary group bent on overthrowing Earth's government, Hell's ingenious inmates, and the deadly mechanism in his veins.
For as fearsome as it is, the Sangruse Device itself is afraid—and the fates of whole worlds would be decided by the threat that the Cunning Blood has discovered outside of space and time.
---
Teddy MacIsaac has discovered a force beyond his imagination.
Thanks to a mystical coin from the Nameless Kingdom, he is now the Pyre Knight, wielder of cleansing red fire.
When enemies bring living shadows to the world, Teddy must defend the town he once hated.
As he fends off giant flying insects, a man of living stone, a belligerent warrior of honor, and an otherworldly woman, he will either become the legendary Knight of Flames, or die.
With the Lightning Maiden, the voice in his sword, and a ninth grade brawler by his side, Teddy must overcome annihilation, and become the hero he was destined to be.
---
SEVEN TALES OF MAYHEM IN THE MAGIC CITY!
Vigilantes fight from the shadows.
In Summerside, Dark Magic poisons the dying city of cultists and gangsters.
This is where heroes are made.
A man with a deadly touch, an ex-hitman, a concrete teenager, an invisible myth, and an indestructible knight, are but a few of those who stalk the midnight hour.
In these seven stories you will meet those fighting for the soul of the city, and those hoping to bring it to a brighter future.But is there anything left worth saving in a world of death?
Powers or Magic. Only one will win this war.
---
The war against the implacable Cho-ta'an carried a desperate group of humans 1300 years into the past, but the fight for humanity's future is just beginning!
Mankind's future among the stars now rests on a ragtag band of Vikings who have taken to the stars. The Norsemen's only hope is to ally with the mysterious people called Truscans, who possess the technology to defeat the aliens. But where did the Truscans come from? What do they want? Can they be trusted as allies against the Cho-ta'an?
The Legacy of the Iron Dragon continues the story began in the Dragon Award-nominated The Dream of the Iron Dragon in a sweeping saga that carries us from war-ravaged planets in the twenty-third century to first century Judea, where the fate of the Roman Empire is being decided. The Legacy of the Iron Dragon is an epic mashup of military sci-fi, time travel and alternate history.
---
You Can't Go Home Again…
He thought he knew this place.
He was wrong.
Retired police detective Benjamin Stone returns to the city of his childhood to find his missing daughter, Jessica. But the city of Sunnyview seems to have changed in ways Benjamin Stone can't put his finger on–and when Jessica turns up dead in a creek bed, apparently murdered, Benjamin follows clues that suggest a conspiracy involving a startup company and a Silicon Valley pioneer with a disturbing past. As the mystery unravels, Benjamin must confront the reality of terrible crimes that occurred in the idealized town of his youth, which helped to make Silicon Valley what it is today. But as Benjamin attempts to unravel the conspiracy, all the clues begin to point toward a horrifying possibility: Sunnyview isn't what it seems.
A departure from Kroese's usual humorous fare, City in Sand is a mindbending mystery that will keep you turning pages to get to the bottom of the Sunnyview's dark past and its disturbing present.
City of Sand is perfect for fans of Philip Dick's Man in the High Castle, Blake Crouch's Pines and Marcus Sakey's Brilliance.
Do you dare take a trip to Sunnyview?
---
Revenge takes time; fortunately Edmond Dantes doesn't sleep. Or breathe.
In a world of monsters and magic, Edmond Dantes has a pretty good life.
He's just been made captain of a ship, and he's about to marry his sweetheart.
But when jealousy, spite, and ambition conspire to frame him for treason, he loses everything.
To make things right, he'll need to give up the only thing he has left: his humanity.
They thought their troubles died with Edmond. They were wrong on both counts.
---
Combined for the first time in one volume are the first three books of the internationally bestselling FROSTBORN saga – FROSTBORN: THE GRAY KNIGHT, FROSTBORN: THE EIGHTFOLD KNIFE, FROSTBORN: THE UNDYING WIZARD, and the prequel novel FROSTBORN: THE FIRST QUEST.
RIDMARK ARBAN was once a Swordbearer, a knight of renown. Now he is a branded outcast, stripped of his sword, and despised as a traitor.
But he alone sees the danger to come, and undertakes the dangerous quest to stop the return of the Frostborn.
ABOUT THE AUTHOR
Standing over six feet tall, Jonathan Moeller has the piercing blue eyes of a Conan of Cimmeria, the bronze-colored hair of a Visigothic warrior-king, and the stern visage of a captain of men, none of which are useful in his career as a computer repairman, alas.
He has written the DEMONSOULED series of sword-and-sorcery novels, and continues to write THE GHOSTS sequence about assassin and spy Caina Amalas, the COMPUTER BEGINNER'S GUIDE series of computer books, and numerous other works.
---
In a topsy-turvy United States founded by pirates, the personal assassin to the chief justice receives a terrifying order: round up and kill all men who look like himself.
Why does the chief justice want these men dead?
What threat could they possibly pose?
And can the assassin save them—or will he become the final victim?
Spooky, sly and satirical, The Devil's Dictum recasts J. Edgar Hoover as a Satanic high priest, Calvin Coolidge as a private eye, and Richard Nixon as the pilot of a giant armored robot. Readers hungering for original and mind-blowing alternate history need look no further.
---
It's Ronald Reagan in a jet pack! The author of The Devil's Dictum returns with another novel that shreds the history books.
The setting is the Cold War and Ronald Reagan has a shiny new toy to play with: a rocket powered suit. He'll need it to battle the terrifying monstrosity Leonid Brezhnev is building on a secret base in Siberia.
Standing with Reagan are Margaret Thatcher and Billy Graham, each wielding super powers. (If Thatcher in an eye patch won't turn you on, nothing will.)
Reagan insists on piloting the rocket himself—but the hardware is experimental and just might kill him.
Threats are everywhere: a treacherous Congressman, a wide-eyed nun from the Tudor era, an enigmatic boy genius called R2, talking heads on Mount Rushmore, punks in back alleys and missiles in the skies.
All while signs of a literal Armageddon unfold before Reagan's steely eyes.
---
Hadrian Jin.
Skyguard.
Refugee.
Twelve times a day, this sixteen-year-old proprietor of Luna City's best orn-suit shop fits his wings and jumps out into the open air to soar with the grace of an eagle. For forty dollars an hour, he can teach any groundhog how to fly bird-fashion in the moon's low gravity.
But when the tramp of military boots on the road to his home forces him to flee, he finds himself adrift between planets, on the run from government agents, without hope of home.
Out of his depth and thrust into danger for which he's ill-prepared, Hadrian must learn the true reason for his exile, and finally spread his own wings…
…before war comes crashing down around him.
---
This omnibus edition of the first three volumes of The Clarke Lantham Mysteries introduces disgraced former cop Clarke Lantham turned private investigator, his intern Rachael, and a mysterious young woman and subject of their first case, Nya Thales.
And Then She Was Gone 72 hours. The cops only look for missing adults after 72 hours.
Three days for Nya Thales to turn up dead somewhere around the San Francisco Bay, if disgraced ex-cop Clarke Lantham can't find her first. Following a scant few traces from her past, Lantham dives headlong into a dark hole filled with biotech labs, activists, kink clubs, cyberpunks, and mercenaries. But from the moment he sets foot in Nya's world, Lantham's race against time turns into a run for his life. Blocked at all corners, framed for murder, and stalked by a shadowy figure willing to kill to keep Lantham from finding out who kidnapped Nya Thales—and why.
A Ghostly Christmas Present For crappy Christmas presents, Detective Clarke Lantham figures most people couldn't beat getting thrown in an out-of-state jail on a trumped up charge. So when he calls up his brother for help with bail, he thinks he's prepared for the ordeal of spending a holiday weekend with relatives who put the "strange" back in "estranged.That was his first mistake. But with an old client gumming up the works, a ten-year-old niece with a ghost problem, and an occasional murder competing for his attention, it might not be his last.
Smoke Rings Every detective deserves a second chance…Holidays make Clarke Lantham squirm—not even New Year's Eve escapes his scorn. With his space cramped, his personal life on the skids, and his business under assault from lawyers and bill collectors, he holes up in his office, counting his blessings that the year from hell ends tonight.So when an old girlfriend shows up with a chance for a $50,000 reward and a New Year's Eve reconciliation, he jumps at the chance. After all, things can only get better, right?Yeah, right.
---
An explosion is only the beginning of her problems…
Morgan is finally back to work, having returned from her disastrous attempt at a vacation just in time to watch an accident cause a massive explosion on one of the other freighters.
With the damaged ship out of commission it is up to the crew of STEVE – Morgan included – to frantically get the cargo transferred and depart more than a month ahead of schedule.
But what Morgan doesn't know is that the assassination attempts were only the beginning.
Missed maintenance isn't the only, or worst, danger lurking out in the black.
Previously featured Book 1 and Book 2 also available!
---
An everyman defies death cults and demons!
Driven to his wits' end by his dysfunctional family, Arthur Wilson fled small-town Mars for seedy Earth L4. And his problems had only begun. A chance encounter brought him to an illicit ritual, but an invisible demon crashed the party, and it was coming for him!
To find peace from destructive forces, Arthur would have to recover a stolen relic of power from the depths of an abusive cult and return to Mars to face homegrown fears.
The Fountain Mechanism is a follow-up to Uriel's Revenge. Read it today and escape to the Cliptic!
Book 1 also available for $0.99!
---
The entire Planetary Anthology Series – only $0.99 each!
---
Luna
Declan Finn, editor
These are the tales of the orb that lights our night sky and drives the tides of our oceans. The bright companion that orbits our planet, invades our dreams and drives us mad.
The Curse and the Covenant by Ann Margaret Lewis – Tal, in the land of Ur, is son to a Lord. When a demon offers his father a gift to make him and his people like gods, Tal knows it's a bad idea.
The Doom that Came to Necropolis, by Steve Johnson – Necropolis is a small town, complete with small town values and small town myths. Unbeknownst to them, their doom is about to arrive, riding a motorcycle, and armed with the weapons of science.
How to Train your Werewolf, by Margot St. Aubin – Jason Branch recently escaped from a home for the insane. His only goal now is to rest and be left alone in the woods. But when strangers decide that the same stretch of land would be perfect for their needs, they will soon discover Jason's true madness.
Luna Sea, by Jody Lynn Nye – the moon can be a harsh mistress … or can she?
Regolith, by Penelope Laird – How far would you go to prevent your favorite band from being kidnapped and held for ransom on the Moon?
Crazy like an Elf, by Declan Finn – When astronomer Barbara Davis hired a private security firm, she didn't expect a man who claimed to be from Middle Earth.
Samaritan, by Karl Gallagher – Thomas' people settled on the Moon to avoid contamination from biotech and nanotech gadgets. But when a high-tech spacer crashes Thomas must risk exile from his home to save the stranger's life.
Moonboy, by Karina L. Fabian – Cory Taylor is the first boy born on the moon and may just be the first to die on it. But his first attempt to leave the moon may move up that date to closer than even he expects.
Fly Me To the Moon, by Mark Wandrey – Annmarie Smith dreamed of going to space, and she finally succeeds in creating a company to mine water on the moon. Everything looks great, until alien first contact makes it all much, much more complicated.
The Hyland Resolution, by Justin Tarquin – Charles Hyland is caught in the crossfire of an interplanetary war, their only hope is that Charles can extricate himself from the labyrinth of his own mind.
Another Fine Day in the Corps, by L.A. Behm II – Some days you get the bear. Some days, the bear is packing mortar rounds.
The Mask of Dhuran Zur, by John C. Wright – Some manuscripts you just shouldn't read.
Elwood, by Bokerah Brumley – Mysterious things happen to Emma Kelly when she meets the lunatic gypsy at the end of the lane and the gypsy's invisible púca.
Much Madness is Divinest Sense, by Lori Janeski– A madman doesn't usually believe that he's insane. But the ones who are truly dangerous are the ones who not only believe it, but embrace it.
The Night my Father Shot the Werewolf, by Josh Griffing – The boys in Mrs. Carroll's third-grade class learned a lot last year, about things like cursive, and multiplying, and werewolves.
The Black Dogs of Luna, by Paul Go – The crew of the Sirocco find a nightmare of the ages on the Moon.
Despot Hold 'em, by Caroline Furlong – You have to know when to hold them, know when to fold them. But most importantly of all, know when to run.
Polar Shift, by Richard Paolinelli – After the pole's shift, Sam Peck may just be the last living human being in the entire universe.
The Price of Sanity, by A.M. Freeman – Never make deals with the unknown. Especially when it's paying for your freedom with your soul.
Vulcan III, by William Lehman – Unfortunately for the crew of "Scorpion" the Vulcan III, the moon is the harshest engineering environment we've ever built in, especially when something goes wrong.
Merry By Gaslight, by L. Jagi Lamplighter – What if that million-dollar mansion you hardly dare to long for were so much less than you deserved.
Squeeze on the Moon, by Lou Antonelli – An expert in disaster recovery gets the opportunity of a lifetime – plus a little walk down memory lane.
---
Sol
Benjamin Wheeler, ed.
Sol, the center of our solar system, the very reason why we exist at all.
These are the stories of our Sun, stories of nobility and righteousness.
---
Mercury
David Hallquist, ed.
It wanders through space in fiery temperatures that make Hades look like a vacation spot by comparison. The first planet in our Solar System that races around the Sun once every 88 days. Named after the Roman god of commerce, eloquence, messages, travelers, boundaries, luck, trickery and thieves; he also serves as the guide of souls to the underworld.
These then, are the tales of Mercury:
In The Palace of Promised Immortality, by John C. Wright, takes place on Mercury itself, yet is also the tale of a traveler not only in time, but alternate worlds.
Schubert to Rachmaninoff, by Ben Wheeler, deals with a messenger braving hazards while traveling across the barren wastes of Mercury.
The Element of Transmutation, by Jagi L. Lamplighter, brings us the mythic character Mercury himself, and the element's fascination with early alchemists.
The Haunted Mines of Mercury, by Joshua M. Young, brings a man into confrontation with the past while exploring the subterranean tunnels of Mercury.
The Tower of the Luminous Sages, by Corey McCleery, is a tale of fantasy and fantastic travel though strange realms.
Quicksilver, by J.D. Beckwith, is the tale of a crisis on a ship traveling near Mercury.
Ancestors Answer, by Bokerah Brumley, is a tale of a different type of travel: time, in a matter of family honor.
Last Call, by Lou Antonelli, brings us a Mercury of the far future, mined out of its precious minerals and all but forgotten.
Deceptive Appearances, by Declan Finn, brings a tale of rogues and schemes under the domes of Mercury.
mDNA, by Misha Burnett, is a tale of a different kind of messanger: a genetic courier in a desolate wasteland.
The Star of Mercury, by April Freeman, involves bitter rivalry and high technology on Mercury, but most of all, the importance of a child's life.
Cucurbita Mercurias, by Dawn Witzke, brings us a murder mystery during a crucial phase of the colonization of Mercury.
The Wanderer, by David Hallquist, is a tale of two explorers, one an alien probe, and the other a man researching the interior of Mercury.
---
Venus
A.M. Freeman & L. Jagi Lamplighter, eds.
Oh Venus. Doesn't that just roll off the lips like a lovers kiss?
What image does it draw to your mind? A great planetary body of deadly gases neighboring Earth, existing as its own world, mysterious and alluring? Or an image of a more fantastical nature such as the jungles described by Edgar Rice Burroughs? Or do you think perhaps, of a goddess who holds power and beauty beyond measure, whose name, throughout the ages, has been synonymous with love? Perhaps you imagine something in-between, with adventure and romance.
Love, of any kind, has the power to bring the magic of Gods into the events of men. Within these covers you will find tales of wonder, some of space, some of the heart, some that follow in the footsteps of the goddess herself.
Read and be enchanted!
These are the stories of Venus: Tales of the planet, of the goddess, and of love:
Just Look, I'll Be There, by A. M. Freeman —A Gypsy boy leaves Venus for the stars, but his beloved's eyes shine brightest of all.
Morning And Evening Star, by David Hallquist — A honeymoon among the sulfurous fumes of Venus takes an unexpected turn.
90 Seconds, by Bokerah Brumley — Online video blogger heads to Venus for the ultimate extreme sports, and jumps into something more than just the sky.
The Wrong Venus, by Lou Antonelli — The worst criminals are sent to a high security prison on Venus, but an intrepid criminal might get himself sent to a different Venus.
Texente Tela Veneris, by Edward Willett — If you could change the history of your love life, would you? That is the question a pair of tourists on a remote Grecian island must answer.
Happiest Place On Earth, by Misha Burnett — A story of pure love in an unexpected place.
Love Boat To Venus, by Declan Finn — On a tour around the solar system, elite fighters pause to give marital advice, until they are interrupted.
Venus Times Three, by Margot St. Aubin — Two lawyers travel to Mars to settle a will that, inexplicably, involves Venus. Will they be able to untangle this complicated web?
Avalon, by Dawn Witzke – A new school on Venus brings new opportunities for a young man to escape the shadow of his childhood friend.
The Rituals Of Venus, by Joshua M. Young — A hero fights cultists among the jungles of Venus for the sake of his love. Can he save her?
First Cat In Space, by Dana Bell — Some cat has to be lucky enough to be the first cat in space.
Venus Felix, by W. J. Hayes — A routine day at the bar turns into anything but for this gumshoe, when robots begin shooting at a newcomer.
The Rocket Raising, by Frederic Himebaugh — A young girl must choose between marrying her love and venturing to a new world for the sake of her people.
Star-Crossed, by Julie Frost — A werewolf detective helps an unlikely client in her revenge after her lover is murdered, but old memories aren't the only thing that comes back.
Honeymoon In Fairland, by L. Jagi Lamplighter — Can love and trust be rekindled between a betrayed husband and his wife? Even when they are as powerful as Gods?
37 Shades of Yellow, by J.D. Beckwith — The new Venus base is up and running, but what does it take to live there when your wife is homesick for Earth?
The Fox's Fire, by Danielle Ackley-McPhail — A spirited fox spirit seeks love in ancient America.
Smiley The Robot, by Amy Sterling Casil — An old woman living alone on Venus finds herself falling for Smiley, the police robot.
Stones In High Places, by Jane Lebak — A dying world watches with anguish as a young one awaits its demise, until one man conceives of a way to save them, but it will take an act of unprecedented love.
---
Earth
Dawn Witzke, ed.
Welcome to Earth. We know so much about our home planet, yet so very little. From the ancient astronomers who sought to figure out our place among the stars to the modern day scientists studying the deepest oceans to those who looking for life on other planets.
In this anthology resides 18 stories of discovery and daring that exhibit the spirit of adventure that has led explorers to risk their lives trying to discover the mysteries and secrets of Earth.
Silesian Treasure by WJ Hayes – RAF Group Captain Enoch P. Simmons is tasked as liaison to a business convention. He meets Buchanan Polk and the pair suddenly find themselves in the midst of a robbery.
This Planet is a Hole by Lou Antonelli – An alien teen is forced to move with her family to the worst planet in all of space and she's not happy about it.
Extinction Point by Richard Paolinelli – Every civilized planet reaches a point when its technological advances lead to its ultimate demise. Major Adam Armstrong has just discovered that Earth has reached its extinction point and he is racing back to warn his homeworld before it is too late.
I Hate Mars! By Arlan Andrews – An exile from Earth is sent to Mars in a robotic body. He hates the Red Planet, but makes an unexpected life for himself there.
The Mantle of Gaia by Jody Lynn Nye – When Earth is under attack from an enemy force, her defender might be the one with the most unlikely of talents. College student Winston Chun is the last survivor of the programmers who can operate the planetary repulsor web against the incursion of bloodthirsty aliens, but can he reach the control center in time?
Reality Run by Alfred Genneson – A post-human discovers the world outside of the computer.
The Lamp By Which My Feet Are Guided by R. W. Ware – What's left after a religious apocalypse? The brave men and women of the Mavericks.
Escape From The Lost Land by Nathan Dabney – Explorers Virgil Shephard and Ross Kent have discovered a tropical paradise deep in the snows of Antarctica, but there lurks a mysterious evil from which they must escape.
Unacceptable Losses by John M. Olson – Caroline Storm is stranded in a combat zone, her team missing or dead, communications on blackout. Can she complete her mission and survive?
Climate of Change by Marie Genneson – A marital spat between Pluto and Persephone sends the world into chaos. Can Athena mend the split before the drastic temperature changes destroy the humans and kill them all?
Welcome to Mars! by A. M. Freeman – Some rivalries span decades, but how far is too far when doing what it takes to win?
The Dawn of Reason by Dan Gallagher – At the dawn of humanity there was a choice to walk in trusting humility, or else covet equality with God as a thing to be grasped. How'd that work out?
Under A Wayward Sun by Josh Griffing – Terran Fleet Ensign Jack Williams is about to make history on Topeka-2 as the youngest officer ever to lead a survey team to a planet's surface.
The Hidden Conquest by Hans Schantz – Faster-than-light travel is a myth, yet an invasion crosses light years of space and eons of time, employing a small but devastating secret weapon to conquer another world. Can he can stop the Civic Circle's "Hidden Conquest," before it's too late?
Complicit in Their Bondage by J. Manfred Weichsel – A US Soldier discovers an ancient secret in the mountains of Afghanistan.
Ringrun by Ben Wheeler – A robotic scientist is on the run from a nanotech swarm desperate to rip out the information he holds in his mind.
Xolotl Resurrected by J. D. Beckwith – A convergence of breakthroughs in quantum intelligence and materials technology has led to the birth of matter conversion. Can the idealistic inventors prove its viability to the world?
We'll Always Have Earth by Bokerah Brumley – Ilsa Land works as an AA, Aware Android. When a ship-wide malfunction sends Ilsa's plans awry, she must choose between saving her future or an innocent life.
---
Mars
Lucca Dejardins, ed.
Mars.
The Red Planet.
Bringer of war, the God of war itself.
The planet that gave birth to the modern era of science fiction when H.G. Wells gazed upon the red light in the night sky and envisioned an army gathering upon its plains to invade our world.
These are the stories of Mars.
Stories of adventure, conflict and war.
---
Jupiter
Julie Pascal, ed.
There are stories here that explore the mythology of Zeus and the personalities in myth, as well as urban fantasy and fantasy stories that explore our understanding of leadership.
The science fiction worlds range from splendidly alien to profoundly human to mixes of each as authors presented their visions of what life might be like on Jupiter's moons.
---
Saturn
Bokerah Brumley, ed.
Saturn. The Ringed Planet. Harbinger of ideas and wonder. The planet that gave birth to the modern era of science envisioning the myriad of multi-colored rings circling the planet, one of the reasons for the invention of the telescope and the second largest in our solar system. These are the stories of Saturn, the great Titan. Tales of time, age and endings.
---
Uranus
Christopher Wilson, ed.
These are the stories of Uranus. Stories of new beginnings and creation. Stories of the mysterious seventh planet in our solar system and of the God of the sky that it was named after:
The Rising of Michael Reid, by Constantine Nakos – Michael Reid wasted his life. Now he has been given the chance to make amends. Every day he wakes up in the grave where he was buried and sets off for wherever Providence guides him.
Serendi-bunny, by Julie Frost – Alex Jarrett may be a mad scientist, but he's a mad scientist on a mission to cure cancer. When he buys a pair of robot bunnies from the internet to help him accelerate his research, he gets more than he bargained for when they turn out to be assassin-bots sent from the future.
Forty-Two Years of Summer, by Karina Fabian – Forty-Two years of summer is a love story, an old woman's reminiscing, and a peek at what the future could be. It reminds us that whatever the challenges, even the coming 42 years of Uranus winter, there is love and joy and the 42 years of summer.
Weather Witch of the West, by Ben Wheeler – Uranus is controlled by the Weather Witches. From their floating sky-palaces, they manipulate the weather, change the seasons and hold the lives and deaths of the countless inhabitants of the gas giants in their calculations.
Muddification, by Clint Hale – When human-like creatures are produced by advanced technology, they have no soul. They are a mere shell. What happens when mankind attempts to fuse the human soul and intellect with one of these uninhabited bodies? Is the body only a vessel, or does it also have some impact on who and what a person is?
The Last Human, by Richard Paolinelli – Anne Fontana needed a getaway, a vacation all to herself. But some vacations are just too short. The world has changed, and when she returns, she discovers that she alone holds the power to save humanity, or change it irrevocably.
Blue Ring Beginning, by Bokerah Brumley – Archibald wants a new start. A former detective, he lands on the Uranus station, desperate for work. Will a last-second offer from the station's commanding officer give him the fresh start he needs, or dredge up the past he wants to forget?
Two Households, None Alike, by A.M. Freeman – Two worlds collide with an inharmonious clash at a ceremony meant to unite. The Princess of Uranus, full of pride for her society's progress, must marry the Prince of Mars – and become queen of a rough and foreign land.
Creativity, by Arlan Andrews Sr. – Arlan was once criticized by a supervisor for being "too creative." This is a wish fulfillment revenge story. "Sometimes management should not try to screw over a truly creative person." (And never, never irritate a science-fiction writer)
Kashika's Empty Nest, by Sarah Byrne – As the newly widowed dowager queen of an ancient kingdom, Kashika is looking forward to a life of retirement and freedom from her royal duties when she finds herself arrested for the murder of the late king. Only her young and inexperienced son, now king in his own right, believes in her innocence.
The Long Dream, by Caroline Furlong – The U.S.S. Andrew Jackson discovers an abandoned cryo-pod in orbit over Uranus, prompting questions about the first manned mission to the seventh planet in the Solar System – questions someone does not want answered.
The Morrigan, by Christopher Wilson – Civilization is dying, society falling apart, anarchic reavers and hungry gangs taking control now that no one is left to stop them. But an aging scout pilot, driving an old relic from a bygone era, may finally have an answer.
Cold Heart of Ouranos, by J.D. Cowan – Underneath Ouranos lies a hidden evil forgotten by those who live in the frozen wastes and the heated city. Mysteries from the past have revealed themselves once more.
Room to Breathe, by Marina Fontaine – Home. Family. Friends. Daniel knows those words used to mean something special. But not anymore. Not for him.
---
Neptune
Jake Freivald, ed.
Artists in every era and medium have depicted Neptune as a tempestuous god with ever-changing moods, so it's fitting that his anthology follows suit. In these pages, you'll find stories by turns heroic, comic, pensive, absurd, uplifting, and ambiguous.
They also reflect different conceptions of what it means to be "related to Neptune," as this volume was intended to be.
Some anchor themselves in mythology–the power of the sea, naturally, but also of earthquakes, along with Neptune's love of horses and his sexual proclivities–while others focus on the planet, and still others are weird amalgams of Neptunian themes. Sometimes it's just an beguiling blend of water and wonder.
These pages are graced with stories from talented authors with a broad range of sensibilities and perspectives. These are the the 15 stories of the God of the oceans, stories of the high seas and knowledge.
---
Pluto
Dawn Witzke & Richard Paolinelli, eds.
Pluto, the Roman god of death and wealth, ruled the underworld far away from all of the other gods. So it was only fitting when, in 1930 and working on a theorized ninth planet proposed by Percival Lowell, Clyde Tombaugh used the telescope at Lowell Observatory to locate the ninth planet in our solar system, far, far away from its brothers and sister.
Then came that day in July of 2015. Like the Romans when they found themselves within Pluto's realm and discovered it was nothing like the desolate fires of damnation assigned to his Greek counterpart, Hades, those of us in modern time discovered that Pluto was nothing like we had imagined since 1930.
That iconic photo of Pluto, with the heart-shaped plain later named Tombaugh Regio, told us that there was so much more to the planet. First, it was not blue and not just solid ice as so many had expected it to be. Just like Pluto's mythological domain, the planet displayed a variety of features and composition.
In this volume, what you will find in the pages that follow are twenty-one amazing stories of death and wealth set around a wandering cousin far out in the cold edges of our solar system. You will find Vikings, knights, warriors defending home and hearth, of triumph and tragedy, and, yes, even the god himself. You will read tales of great courage and great loss. Of sacrifice for a greater good and of justice delivered to the overly greedy. You will even find the aforementioned Walt Disney himself.
---
Combined for the first time in one volume, here are the first five bestselling books of THE BRUTAL SWORD SAGA series – BRUTAL, THE USURPER, FIERCE, RAGE and SAVAGE.
He has no name. His past is a mystery. His future is etched in blood…
The Sellsword knows an opportunity when he sees one. When he rides into the border city of Aldreth, he can tell that the power struggle between two feuding wizards needs a solitary spark to ignite into all-out-war. As he sets the corrupt paladins and demonic adepts against each other, he's not surprised when the blood begins to flow…
But after the alluring duchess catches his eye, the Sellsword puts himself in harm's way to protect her and the innocent people of Aldreth. To save the noble few, spells and blades won't stop the Sellsword from leaving a swath of righteous carnage in his wake…
The Brutal Sword Saga is an action-packed epic fantasy in the vein of classic pulp fiction. If you like gory battles, larger-than-life characters, and witty humor, then you'll love James Alderdice's gritty tale.Buy The Brutal Sword Saga Omnibus 1 to get lost in a bloody sword and sorcery adventure today!
---
This is not his land. This is not his fight. But he will cover it in blood…
The Sellsword knows injustice when he sees it. When he rides into the borders of Marence, he discovers that his enemies have a cruel reach even outside his homeland. Warring factions jostle for position, taking advantage of creeping chaos across the nations, and he wants no part of it…
But after discovering a sinister key to his enemies' plans, the Sellsword will answer the call and do what he does best. Righteous vengeance is coming …
Wrath is an action-packed heroic adventure in the vein of classic pulp fiction and 80's fantasy movies. If you like bizarre monsters, larger-than-life characters, and witty humor, then you'll love James Alderdice's gritty tale.
Buy Wrath to get lost in a bloody sword and sorcery tale today!
At that moment Freedom and Justice, American style, are introduced to the middle of The Thirty Years War.
---
Courage, Danger, Valor…

…all await in Steampunk's special forces.
The Knights of the Crystal Spire are Rislandia's most elite fighters. Trained from a young age, they alone can face the deadliest enemies of their kingdom and beyond.
James Gentry joins the Knights' ranks, starting as an apprentice on his journey from a simple farmer's life to the way of the warrior. He must face spies and traitors, soldiers and assassins, and doing so under the watchful eye of a beautiful princess.
Does he have what it takes?
Fans of strong men relying on the camaraderie of a band of brothers will love The Steam Knight. Read today!
---
Humanity is at war…

…many citizens want no part of it.
Governor Antony Lemkin has done the unthinkable as a politician–voluntarily stepping down from his post in protest of Earth's escalating war with the Aryshans.
With war drums beating and the machinery of government going full force, there's little he can do to but voice his dissent, until mega-industrialist Fabio DePino presents him with a plan: build a new Earth, far away from humanity's conflicts.
But will Earth's government simply let colonists leave their control?
Fans of Babylon 5 and Robert Heinlein's classic The Moon Is A Harsh Mistress will love this new space colonization adventure by #1 Bestselling author Jon Del Arroz!
---
Joshua's Pawn Shop. If you find Joshua's Pawn Shop, you need Joshua's. Usually, you don't even know what you've lost, but at Joshua's you get a second chance.
Years ago, Simon Johnson made a choice that changed his life for the worse. He's looking to start over.
After he sells some old jewelry tonight, he'll send the divorce papers tomorrow.
That's the plan, anyway. At Joshua's Pawn Shop, he'll be given a different way to start over.
The cost: he'll have to not only let a tragedy happen, he'll have to witness it.
---
She just wants a normal life. When an ancient demon seeks revenge, can she stop him before he slaughters everyone she loves?
Reagan is on the brink of her life finally coming together. Safe and loved, and living with her long-term partner, she's looking forward to landing her dream job. But then, all around her, people start dying.
Soon, she finds herself battling an ancient demon while fighting to keep hold of her sanity. Are the nightmares she's having actually memories? And why does she keep finding strange objects inside her house?
Reagan needs to figure out who she really is in order to stop everyone she loves being destroyed.
Aegyir Rises is the first book in the thrilling new-adult contemporary fantasy series The Guardians of The Realm. If you like kick-ass heroines fighting forces of evil, you'll love Amanda Fleet's page-turning novels.
Buy Aegyir Rises now, and lose yourself in a world of soul-stealing demons, warriors, and the fight of good against evil.
★★★★★ "There's nothing out there as intriguing, tense and unputdownable in the urban fantasy genre that I've came across in a very long time."
★★★★★ "Oh my god! I have cried and been on the edge of my seat!"
---
Four complete books. 1200+ pages of explosive, military sci-fi action complete the entire first arc of the bestselling Drop Trooper Series.
Go to war or go to jail. For small-time street hustler Cam Alvarez, the choice is simple…
He has no family, no friends, no place in the world…nothing to lose. When his latest con results in the death of a cartel hitman, Cam opts to join the Marines and leave Earth to fight a vicious alien enemy.
Drafted into the Marine Drop-Troopers, Cam discovers there's one thing he's even better at than running street-con games, and that's killing the enemy. Wrapped in an armored battlesuit, Cam finds purpose amidst the horror and destruction of the war, and the opportunity for a new sort of friends and family…if he can break the habits of a life spent alone, trusting no one.
And, if he can survive…
Buy this special edition omnibus to experience a thrilling and unpredictable Military Sci-Fi Adventure! It's perfect for fans of JN Chaney, Jay Allan, and Joshua Dalzelle.

Books included in the Set:
Book 1: Contact Front
Book 2: Kinetic Strike
Book 3: Danger Close
Book 4: Direct Fire
---
An untouchable gunslinger. A lost hoard of gold. A host of brutal adversaries. What could possibly go wrong?
Deputy Marshal Porter Rockwell can't be harmed by a bullet or a blade. As long as he never cuts his hair, Rockwell is free to right wrongs and chase criminals without worrying about the consequences. But when he learns about a map to a mysterious cache of gold, he's embroiled in a battle for the treasure with enemies lining up on every side.
As outlaws, villains, and a surprisingly formidable Ute chieftain stand between the Deputy Marshall and the gold, bullet and blade might not be what finally take Rockwell down. It could be plain old bad luck…
Scavengers is a Western with colorful characters and wit straight out of a Tarantino flick. If you like mixing horror with your pulp, strong and admirable heroes, and weird Westerns, then you'll love the first book in David J. West's Porter Rockwell series.
Buy Scavengers to join the hunt for gold today!
---
A bitter winter, a bitter war, and a hungry ghost are waiting for Porter Rockwell in Helldorado.
Maybe Porter Rockwell can't be harmed by bullet or a blade, but his friends have no such luck as they are thrown into a duel between mining companies fighting for the right to dig up a rich gold vein on the edge of Indian land. Diabolical twists are around every turn as death stalks the streets of Helldorado with either a six-gun or insatiable hunger for blood.
Based loosely on true events, HELLDORADO is wild ride into the borders of madness when good men are pushed too far. Along with the new novella are a host of other Porter Rockwell stories collected here for the first time from a variety of previous publications.
HELLDORADO is a Western with colorful characters and wit straight out of a Tarantino flick. If you like mixing horror with your pulp, surprise twists, strong and admirable heroes, and Weird Westerns, then you'll love the next book in David J. West's Dark Trails Saga.
Buy HELLDORADO to join the hunt for gold today!
---
A steady paycheck. A simple job. Absolutely no contact with another human being.
The night shift at a science lab sounds like the break Matthew White has been waiting for. A steady paycheck. A simple job. Absolutely no contact with another human being.
It's perfect.
But Matthew gets more than he bargained for when he accepts a different position with the company. A job that is highly paid – and highly bizarre. He is plunged into the terrible machinations of his new boss, Mrs. Stohl, and a sullen teenaged boy named Jason is along for the ride. The fact that Jason is practically his twin only makes it all creepier.
Dragged through a mirror into an alien dimension, Matthew is in way over his head. He should have known the job was too good to be true. To escape, Matthew and Jason must brave the wilds of this new universe and learn to control their new powers.
And hardest of all, Matthew must learn to be a hero.
Will they escape Mrs. Stohl's terrible plans for them? Can they make it home to their world, or will they be trapped in the mirror dimension forever?
Join Matthew and Jason on their pulp superhero adventure. Read Gemini Warrior today!
---
The man who thought he would live forever is running out of time.
For three thousand years, Deckard Riss has been alone. Ever since his home sunk into the sea with Atlantis, he has been the last of his people. The final Atlantean knight, the last Archon.
Then fate forced an apprentice on him, and now the pair of them police the streets of Atlanta, magicians in hiding as superheroes.
Now there are whispers of Atlantis on the wind, another sorcerer at work. This unknown dark wizard sacrifices superpowered teenagers in grisly ritual suicides. And Deckard's magic, once so easily accessed, starts slipping beyond his grasp.
If he doesn't have his powers, he can't stop the rending of reality to allow monsters into our world. If he doesn't have his powers, he is nothing.
Deckard only has to hold on for another year. Just one more year, to train his apprentice to take his place, and stop the end of the world. And he's not sure he can do it.
Will his apprentice step up to save the world, or will he drive the boy away with his secrets?
Doctor Strange meets HP Lovecraft in this new Heroes Unleashed series about wizards, prophets and superheroes in Atlanta.
Can Deckard find the mysterious sorcerer, stop the portal from opening, and prepare his apprentice to take his place before his time runs out?
Read The Last Archon today and find out!
---
You can't keep a tough Pixie down…
Lom is a bounty hunter, paid to bring magical creatures of all descriptions back Underhill, to prevent war with humans should they discover the strangers amongst them. Bella is about to find out she's a real life fairy princess, but all she wants to do is live peacefully in Alaska, where the biggest problems are hungry grizzly bears. He has to bring her in. It's nothing personal, it's his job…
"They had almost had me, that once. I'd been young and foolish, trying to do something heroic, of course. I wouldn't do that again anytime soon. Now, I work for duty, but nothing more than is necessary to fulfill the family debt. I get paid, which makes me a bounty hunter, but she's about to teach me about honor. Like all lessons, this one was going to hurt. Fortunately, I have a good gun to fill my hand, and if I have to go, she has been good to look at."
Dave Freer, author of Dog and Dragon, The Forlorn, and many others, says: ""To those of you who thought there was nothing new worth reading in Fantasy: Cedar Sanderson's Pixie Noir proves that you are wrong. The author plainly knows and loves her setting and characters, and this carries through to the reader. The pace picks up throughout, so save this book for a weekend, or you'll be complaining about a lack of sleep at work. A very good read!"
---
A long and dangerous voyage to a strange new world
In the year 2462, Father Guerin voyages to a new world, like the priests who sailed the Atlantic in the 1700s.
Joined by three other passengers and the crew of the cargo ship Hopeful, he sets off for the recently colonized planet Xanadu.
What kind of person spends half a year cut off from the rest of humanity by the vast distances of interstellar space?
What will they make of the over-educated and over-confident priest?
And how will they cope when the space pirates attack?
Firefly's Shepherd Book meets C.S. Lewis's space trilogy!
---
A dozen cities nuked.
Millions dead.
The Fierans are burning for revenge.
Marcus Landry is eager to fight the Censorate, but desperate to protect the innocents oppressed by Censorate rule . . . including his beloved, trapped behind enemy lines.
Review:
It's Karl Gallagher doing space battles.
He's literally a rocket scientist. This is his wheelhouse. He owns this wheelhouse. David Weber should be taking notes and hire Karl as his consultant, if not his ghostwriter.
---
It's just a game…or is it?
On the heels of his divorce, down-and-out history professor Lee Summerston doesn't have a lot going for him—a nowhere job at a third-rate college with kids who don't care about anything except how to slide through class. All of that changes, though, when Lee leads a team of old friends to virtual glory as the first-ever group to beat Mako Assault, a revolutionary new game that has emerged from nowhere to take the Internet by storm.
As a reward for their achievement, the group is flown to meet the game's mysterious designer and assist in developing the follow-on game Mako 2.0. But what they find when they get there is more than they'd expected…much more.
Mako's intent was never to entertain its players. It was to train them.
An epic sci-fi thrill-ride of action, suspense, laughter, and romance, Mako is the story of five ordinary people who will have to rise to the challenge of extraordinary events, driven only by their faith in each other. If they can't, the game will become very real to more than just themselves—the Earth itself may ultimately be at stake.
---
The Solar System is at war!
A war between the planets would be unthinkably destructive, yet Jovian Republic Navy pilot Michael Vance is recalled to his host carrier for just that reason.
The Jovian Republic Navy relies on an elite corps of warriors to fight their battles anywhere in the air, on land, or in space. They're known by a simple name: Angels. These cybernetically enhanced warriors pilot the giant Guardian exo-frames that are able to fight in nearly any environment. In their prime, they were the best…but that day is long past. Now the old Guardian frames are obsolete, and Michael's flight goes to war already down one member due to a training accident.
Even worse, the Angels will have to fight the best forces the Solar System has to offer. The Saturnine Union seeks to dominate the system and transform everyone into cybernetic drones under the control of the Saturn Undermind. Utterly ruthless, relentless, and with terrifying technology, the other planets can't stop Saturn…only Jupiter can. If it's lucky.
The Angels are on the way…but will they be enough?
---
The war with China was over and Lieutenant Shawn 'Calvin' Hobbs just wanted his life to get back to normal. The hero of the war, he had a small ream of paperwork to fill out, a deployment with his Navy F-18 squadron to prepare for, and a new girlfriend to spend some quality time with. Life was good.
Until the aliens showed up.
They had a ship and needed to get to their home planet, but didn't have a crew. They had seen Calvin's unit in action, though, and knew it was the right one for the job. There was just one small problem–a second race of aliens was coming, which would end all life on Earth. Calvin's platoon might want to do something about that, too.
Having won a terrestrial war with 30 troops, winning an interstellar war with nothing but a 3,000 year old cruiser should be easy, right?
"Janissaries" initiates "The Theogony," a trilogy that will take Lieutenant Hobbs and his Special Forces platoon to the stars. It will also show them that there's much more to Earth's history than is written in the history books!
Books in The Theogony Series
Occupied Seattle Duology
1. Red Tide, Occupied Seattle #1
2. Occupied Seattle, Occupied Seattle #2
The Theogony Trilogy
1. Janissaries, The Theogony #1
2. When the Gods Aren't Gods, The Theogony #2
3. Terra Stands Alone, The Theogony #3
Codex Regius Trilogy
1. The Search for Gram, Codex Regius #1
2. Beyond the Shroud of the Universe, Codex Regius #2
3. The Dark Star War, Codex Regius #3
The Progenitors' War Trilogy
1. A Gulf in Time, The Progenitors' War #1
2. A Gulf in the Past, The Progenitors' War #2
3. The Progenitors' War, The Progenitors' War #3
---
"Those in Peril" presents some intriguing concepts by reshuffling naval history's deck of cards…Full credit to all the authors for originality!" — Barrett Tillman, author of On Wave and Wing: The 100-Year Quest to Perfect the Aircraft Carrier
Fourteen outstanding authors. Fourteen worlds that never were.
Throughout the human experience, historians have wondered, "What if?" What if Japan had been on the side of the U.S. in World War II? What if things had been just a little different in the Falklands? What if Russia had started World War Three?
Wonder no more, for these questions, along with many others, are answered within the pages of this book. Told by a variety of award-winning authors, like Sarah Hoyt, the 2018 Dragon Award Winner for Alternate History, and Kacey Ezell, the winner of the 2018 Baen Reader's Choice Award, "Those in Peril," deals with naval warfare that never happened in our world…but easily could have.
The first book in the exciting new "Phases of Mars" anthology series, there is something for everyone inside! From sailing ships, to steam, to today's modern aircraft carriers, "Those in Peril" traces several centuries of naval warfare…that wasn't. From adding a psychic…to making a different choice of friend or foe…to something insignificant toppling a kingdom, this book has it, so come aboard and find out "what if" all of these things had changed history…just a little. You'll be glad you did!
Inside you'll find:
Naked by Kacey Ezell
Captain Bellamy's War by Stephen J. Simmons
A Safe Wartime Posting by Joelle Presby
Beatty's Folly by Philip Wohlrab
Martha Coston and the Farragut Curse by Day Al-Mohamed
The Blue and the Red: Palmerston's Ironclads by William Stroock
Far Better to Dare by Rob Howell
Off Long Island: 1928 by Doug Dandridge
For Want of a Pin by Sarah A. Hoyt
Nothing Can Be Said Sufficient to Describe It by Meriah Crawford
Corsairs and Tenzans by Philip S. Bolger
For a Few Camels More by Justin Watson
Per Mare Per Terram by Jan Niemczyk
Fate of the Falklands by James Young
---
Fifteen outstanding authors.
Fifteen outstanding female leads!
Ripley facing down the Xenomorph Queen. Sarah Connor fighting the Terminator. David Weber's Honor Harrington. Science fiction novels and the silver screen are full of badass women kicking butt and taking names. Sometimes it's the momma bear persona stepping up to defend her young, but, other times, she's just the meanest one standing—bionic arm or not!
Edited by Jamie Ibson and Chris Kennedy, "We Dare: No Man's Land" is a collection of 15 all-new stories with female leads. Whether it's changing an engine on the outside of a spaceship's hull or chasing SimNACs through the jungle, these heroines have only one goal in mind—to win at all costs! From defending asteroid bases to searching giant space stations, these women get the job done!
What makes female leads great? Does it matter—these women are incredible! Be warned though—they may be referred to as the "fairer" sex, but don't cross these ladies, or you're gonna get what you have coming! The authors dared write about these awesome women; will you dare to join them on their adventures? If so, step inside. But beware…this is No Man's Land!
With stories by:
Marisa Wolf
Rick Partlow
A.K. DuBoff
Jamie Ibson
Marie Whittaker
Griffin Barber
Joelle Presby
Chris Kennedy
Sarah A. Hoyt
Quincy J. Allen
Melissa Olthoff
Jonathan P. Brazee
Rachel Aukes
Josh Hayes
Kacey Ezell
---
Once is an accident. Twice is a coincidence. Three times is enemy action.
When Zuul-led thugs attack members of the Queen Elizabeth's Own Foresters leaving the Lyon's Den, the battles on Cimaron 283133-6A and Peninnah become enemy action, not simply mercs fulfilling contracts. What the Foresters don't realize is that these attacks have been planned for years as part of an even larger series of plots aided by members of the Mercenary Guild.
Unlikely allies appear, including a Peacemaker who doesn't like being used, an electronic intelligence specialist with a past that's heavily redacted, and the strangest recruit in the Foresters' history, but will their aid be enough against foes who seek the unit's complete and utter destruction? And more importantly—who is funding the intelligence specialist's special toys?
Answers will be found as the Foresters battles across the stars and in alien jungles—but will the answers only bring more questions?
Only two things are certain. Alliances will shift. And sorrows will be fed.
---
Justice lives, even when society dies.
The end came fast for Lieutenant Nathan Ward. One moment he was participating in an international convention of mounted police officers, the next he was in a command bunker watching the world's two biggest Corporations—Obsidian and Teledyne—destroy it in an exchange of nuclear hellfire.
While Columbia, Missouri was spared a direct strike, a near-miss EMP fried most of the vehicles and the electrical grid. Then the Corporations started a shooting war in the streets, and they didn't care who got caught in the crossfire. But Columbia was one of the last cities still standing, and Nathan and his fellow officers weren't going to give it up. Even if it meant facing the worst the Corporate militaries could throw at them.
The Corporations had no intention of giving up the city, either, and Obsidian called in reinforcements to match Teledyne's Specialist, a woman with the power to defeat a company of soldiers all on her own. Both Corporations intended to reign supreme and were willing to crush anyone who got in their way. In the post-apocalyptic world, there was only one law—theirs—and not the one with a badge.
The world may have fallen, but the Thin Blue Line's battle is only beginning.
---
What if you could bring back the gods?
Centuries ago, the followers of the new gods defeated the old gods and the folk of legend, banishing them from the world of man. With their departure, magic faded from the land.
The Milesian Accords had provisions for a new challenge, though, and the Exiled Gods have sent their minions back to our world to seek out a champion to fight for them and a druid able to wield the magic needed to fulfill the challenge.
A descendant of the druid who participated in the original challenge, Liam Knox doesn't know anything about the Accords or his ancestors, but those seeking to maintain the status quo are hunting him, and the beings of myth are doing their best to convince him to help the Exiled Gods return to the world of man, bringing magic back with them.
Liam is faced with a choice he doesn't want, and if he chooses wrong, he risks more than his own life—he could end the world as we know it. And he's running out of time to decide.
---
2018 Dragon Award Finalist–Best Alternate History Novel
Evelyn Adamsen grew up knowing she had to hide her psychic abilities, lest she be labeled a witch. However, when the U.S. Army Air Corps came calling in 1943, looking for psychic women to help their beleaguered bomber force, Evelyn answered, hoping to use her powers to integrate the bomber crews and save American lives.
She was extremely successful at it…until her aircraft got shot down.
Now, Evelyn is on the run in Occupied Europe, with a special unit of German Fallschirmjager and an enemy psychic on her heels. Worse, Evelyn learns that using her psychic powers functions as a strobe that highlights her to the enemy.
As the enemy psychic closes in, Evelyn is faced with a dilemma in her struggle to escape—how can she make it back to England when the only talent she has will expose her if she uses it?
---
Everything you don't believe…is real. Steed learned that the hard way.
When the 9-11 attacks wiped out America's government, and the timid remnants refused to commit the US military, patriotic mercenaries went abroad to hunt down those responsible. They were the LifeEnders, who executed the responsible terrorists on live pay-TV.
Seeking to lessen the crime rate back home, the government allowed them to form LifeEnders, Inc., to perform contract killings for anyone who could afford to hire them. But only licensed Shooters could accept a contract, which ensured the government got their cut.
After fighting overseas to avenge his wounded country, Duncan Steed built a lucrative LifeEnders franchise and lived well. Until he fell in love with the wrong woman. After that, nothing ever made sense again.
When Steed breaks the one unbreakable rule of Shooters—for love, naturally—he quickly discovers that reality bears no resemblance to what he's been taught. The first hint is when the orange rhino charges through a rip in the sky…
---
14 Outstanding Writers…13 Steamy Stories!
What's hotter than a man in uniform? A man OUT of uniform, of course, and there are plenty of those inside! "Men in Uniform" features stories with all sorts of men in and out of uniform, no matter whether that uniform is military, police, or firefighter.
Can you find love in a combat zone? It's possible…but how do you make it work? And when servicemen are back home, they need love, too, but with the au pair? Need to shake things up? We've got a story for you.
A firefighter looks for love with an old flame as she works toward opening day with her restaurant, while another firefighter is fanning the flames with a beau she hasn't seen in many years. Will a policewoman looking for clues find love instead? Finally, when love's involved, will a woman be able to find the trust she needs?
These stories—and many more—are all inside, from a variety of talented authors you know and love, as well as others you may not know—yet. Step inside and get a steamy look at men in uniforms…and out of them, as well!
With stories from:
Melissa Daniels
Monalisa Foster
Kat Beaty
Philip K. Booker
Susan Lynne McKenzie
Zoey Damone
Joy Wandrey
J. A. Wing
Angela Rysanek
Angie Jameson
Stacey Steverson
Dawn Witzke
Philip Inverness
Sheellah Kennedy
Great for fans of Janie Crouch, Tawdra Kandle, and Cat Johnson!
---
War has come to the worlds of Humans. The rich planet of Tau-Rietzke, however, is far from Earth and the Mercenary Guild's invasion, and its alien-registered mercenary companies are a safe haven for Humans on the run. Organizations like the Midnight Sun Free Company.
Having just completed another successful mission and taken possession of three Raknars, it was party time for Saisho Branco and the personnel of the Midnight Sun, and they were enjoying a little down time…until the war spilled over into their corner of the galaxy and two competing mercenary organizations showed up to steal the Raknars.
But no one takes the company owner's toys, and Gloriana has given the Midnight Sun a new mission—return the Raknars to her at all cost…or don't return at all.
This is the hardest mission the Midnight Sun has ever taken, and it will test not only the military prowess of the company, but also its members' loyalties as well. When everyone is against you, and your race calls you to war, do you heed the call or continue to trust your shadowy employer? Outnumbered and outgunned, the Midnight Sun must decide whether to fight or to give up the Raknars and save their lives. Little do they know, it's a decision which will impact the war being fought hundreds of light years away!
---
Matt Olsen is on the trail of something that just might get him killed.
Reporting for The Orbis Observer, a yellow rag that's cracked cases like Area 51 and Bigfoot, Matt's used to tangling with the paranormal.
Now, he's tracking the Hantu Jarang Gigi: the legendary ape-men spirits of the Malaysian jungle.
What Matt doesn't know is that something in the steamy maze is also tracking him…and it might just change his life forever…or end it.
The first in a series of action-packed, supernaturally-laced stories known as Tenet's Tales, The Truth is Out There is sure to please fans of The Dresden Files, The Witcher, The Sandman Slim Series, and The Secret Histories.
---
High-schooler Pierre Chastain, surly hobbyist and shady dealer, secretly holds the power of illusions. With it, he controls perception and bends reality to his will. He is a god among men, or at least he was until he discovered he was not alone.
The girl who can animate the dead was only the first to appear. Many more magic-users of all types reveal themselves–illusionists, summoners, kids who can see the future, and entire agencies with nefarious goals. They all seek to exploit Pierre's talents in their schemes. Little do they know he has schemes of his own.
Pierre only has one chance to break free from these meddlesome jerks, a dangerous magic heist that could help him ascend to godhood– but it requires betraying everyone who cares about him.
Q&A with the Author
What kind of book is Illusion of Grandeur?
Illusion of Grandeur is a young adult (YA) urban fantasy heist and character drama. It is a coming of age book themed around the idea of self-presentation. Pierre has the power to present himself to the world with whatever image he likes. He uses his powers to mask his actions, magic, a healthy dose of awkwardness and an unhealthy dose of snark to varying levels of success.
Who is the main character, and what is he about?
Pierre is number one. There is no number two. That about sums him up.
He's a teenage illusionist with a god complex, certain that he is the only person that really exists. His power controls everything that can be seen, heard, smelled, and tasted all around him. If he controls reality, he thinks, why shouldn't he be a god?
Pierre uses his power in everyday life, making money by tricking people with illusions and practicing his magic by providing effects for the Drama Club's productions. He wants to grow strong enough to take the entire world into his hands, but he's not there yet. Unfortunately, this recent business with zombies and necromancers in the previous book has ripped the world out from under him.
Do you have to have read the first book to understand this one?
This book follows a different main character from the first, with different goals and struggles. The story begins two days after the first book ends, but Pierre only has his own understanding of those events, and that understanding is relayed in this book.
In short, no. If reading about an egotistical illusionist sounds interesting, and you have no interest in a necromancer having a crisis of faith and power, then this is a perfect place to start. This can be its own standalone novel.
What other media was inspiration for this book?
Jim Butcher's Dresden Files and Wildbow's various works, like Worm and Pact. They have really pushed my writing of powers and personalities. Durarara and My Hero Academia are good sources of inspiration, worlds where anything can happen and the powers that be are visible. A bunch of Brandon Sanderson works like Mistborn and Warbreaker helped me to put those visible powers into text form.
And above all, I'd say Death Note inspired Pierre. I'm not sure how well I could have written a cocky egotist without a little influence from Light Yagami.
Why did you write this book?
After writing Through the Lichgate, I had to figure out who the heck this Pierre guy was, and why he was such a weirdo. Turned out that he was more fun than Thana in some ways, and it was really easy to get him into trouble. It also seems like every book I write about the Drama Club raises more questions than answers, so I really can't help but keep going! I hope you enjoy!
---
The E. E. "Doc" Smith MEGAPACK™ collects 11 works by Smith, including entries in the Lensman, Skylark, Subspace, and Lord Tedric series — in all, more than 1,700 pages of galaxy-spanning adventure! Included are:

TRIPLANETARY

FIRST LENSMAN

THE VORTEX BLASTER

THE GALAXY PRIMES

MASTERS OF SPACE

THE SKYLARK OF SPACE

SKYLARK THREE

SPACEHOUNDS OF IPC

SUBSPACE SURVIVORS

TEDRIC

LORD TEDRIC
---
Captain Quasar is out of time.
Pursued by vengeful Goobalob toll collectors, savage Arachnoid bounty hunters, and formidable Amazonians, Captain Bartholomew Quasar must do whatever he can to keep the crew of the Effervescent Magnitude out of harm's way.
All in a day's work—except time is not on his side.
Torn from the present to relive his past, he vows to keep mistakes from occurring the second time around. But is he doomed to repeat history? Or can he erase his regrets?
Villains will be vanquished. Lives will be lost. Bonds will be betrayed. Heroes will be heroic. Join the crew of the Effervescent Magnitude for a hilarious time-travel space adventure the likes of which you've never seen!
The Hitchhiker's Guide meets Star Trek in this series for fans of Galaxy Quest, Guardians of the Galaxy, and Star Wars Legends.
---
The meek have not inherited the earth.
The world isn't how they left it.
When the bunker airlocks release them after twenty years in hibernation, the survivors find a silent, barren world outside.
But they are not alone.
There is a presence here, alive in the dust—spirits of the earth, benevolent and malicious as they interact with the human remnant.
---
The public can't know they exist. It could start a panic. The average citizen is perfectly fine with superheroes saving the day or causing mayhem in movies and comic books. But if those suprahumans actually walked among us, what would happen then?
In a crumbling post-war city of the future, private eye Charlie Madison stands in the gap. The last of his kind, a champion of lost causes, he confronts corrupt cops, violent bratva and yakuza, doing whatever he can for the average citizen in need of help. A war veteran with plenty of hardship in his past, he's not afraid to go toe-to-toe with the powers that be, whether they're in the criminal underworld or the federal government.
Madison has encountered more than his share of unusual suspects over the years. But this time he's up against something he's never seen before, on or off the battlefield: people with unnatural abilities. Suprahumans. Gifted ones. Their powers are too incredible to believe, too dangerous in this unstable world. Their existence is a secret guarded by government agents who mindwipe anyone encountering them.
For Charlie Madison, the Suprahuman Secret emerges when a little girl goes missing and no ransom demand is made. He takes the case, but time isn't on his side. After 48 hours in this town, it's unlikely an abducted child will be found in one piece. As the mystery unfolds, Madison uncovers a bizarre truth about the girl that seems impossible. But it could explain why she was kidnapped – and why she might still be alive.
Collects 4 Crime Noir / Science Fiction Novellas from the Case Files of Charlie Madison, P.I.:
Girl of Great Price, Immaterial Evidence, Yakuza Territory, and Chimera Effect
Precursor to The Gifted Ones
---
Harold Muldoon, hard-boiled detective, must travel back through time to save two colliding realities – before he loses his head.
Muldoon has a big problem: he's dead. Twenty years ago, a monk with a kodachi cut off his head. Now Irena, his widow, is searching for him. So is Gavin Lennox, power-hungry owner of The Pearl, the hottest night spot in all of NewCity. Cyrus Horton, an eccentric inventor, has also joined in the search. They're all looking for the BackTracker, a time travel device that has caused divergent realities to spiral out of control. In one of them, Muldoon is still alive.
He was a private investigator, the best at what he did. He solved his cases 100% of the time. Hindsight is, after all, 20/20. And the BackTracker allowed him to change the past. But in the process, his travels through time have unraveled the universe, stretching, tearing the fabric of space-time and sending his own mind into oblivion. He can no longer distinguish between true and false memories; he no longer knows who he was.
BackTracker is about a hero dealing with the consequences of his actions. It's about second chances. And it's about what makes us human despite technology's power to shape society. But at its core, it's a story about a man and woman who won't allow anything to keep them apart – not space-time, not even death.
---
Who is Mercer? Coyote. Soul Smuggler.
A body-hopping, phantasmal anti-hero. A disenfranchised spirit doomed to inherit the earth, cursed by both Heaven and Hell. An enemy of God, but no friend of the devil.
Soul Smuggler collects 9 Mercer tales:
"The Coyote" – In the future, Mercer's services are requested by a powerful man seeking to keep his stepdaughter quiet about certain indiscretions.
"Soul Smuggler" – An orphan boy seeks Mercer's help in reuniting with his dead mother.
"The Second Option" – Father Thomas, assassin from the clandestine Terra Sacra order, sets out to destroy Mercer once and for all.
"Abomination of Desolation" – A boy with horrifying powers is at the top of the Church's extermination list, replacing Mercer for the time being. Father Thomas makes Mercer a deal he can't refuse if he helps rid the earth of the young abomination.
"The Coyote's Word" – When Mercer says he'll take a soul across the border, he's true to his word. But navigating the afterlife is no easy feat, even for the Soul Smuggler.
"Back for Blood" – A ravenous monster is on the loose in the city, and a young nun seeks out Mercer's help. It may take a monster to get rid of a monster, but Mercer has never dealt with anything like this before.
"A Coyote's Revenge" – Armageddon is coming, and the devil wants his due: those suicidal souls Mercer has been escorting to the Pearly Gates.
"Mercer's Ghost" – In this weird western, a young man on the frontier in search of fame and fortune instead finds himself swindled and left destitute. But help arrives in the form of a phantasmal, body-hopping gunslinger who seems to have ulterior motives.
"Coyote for Breakfast" – In this post-apocalyptic tale, a young girl grieving after a recent loss seeks out Mercer's help, but both she and the Soul Smuggler get more than they bargained for.
Short Stories – Dark Fantasy / Horror
---
There's Trouble on the Range
In these thrilling tales from yesteryear, Coyote Cal and his trusty sidekick Big Yap encounter a wizard able to change his shape at will, a scheming witch, a confused zombie, la chupacabra grande, bloodthirsty vampyres, and other sordid fiends. Our heroes will have to rely on their wits, skills, and loads of hot lead to ensure justice prevails.
This volume collects all 9 weird western stories in the Coyote Cal Adventure Series, including:
"Fool's Gold" – Coyote Cal and Big Yap encounter their most challenging adversary yet: a Portuguese wizard able to change his shape at will. Our heroes will have to rely on their wits, skills, and loads of hot lead if they hope to foil this shape-shifter's evil schemes before he ends them, once and for all.
"Coyote Cal's Guide to the Weird, Wild West" – Coyote Cal must match wits with Donna "the Witch" Jamison, a master of the dark arts intent on planting him in the ground. Cal has stood toe to toe with his fair share of villains in the past–but this time, he's up against something altogether different in the form of a metal-mouthed gunslinger named Sleepy Rider and his dead brother, Easy.
"El Diablo de Paseo Grande" – Something's attacking the livestock outside the little town of Paseo Grande, and our heroes are hot on the monster's trail. But Coyote Cal, Big Yap, and Donna "the Witch" Jamison may have bitten off more than they can chew this time, and only one of them will be able to save the day — or die trying.
"Harbinger of Arroyo Seco" – Like many heroes, Coyote Cal was once a boy… There's a storm brewing over the town of Arroyo Seco, and a sheriff with his uncanny eye on the future sees nothing but trouble for our hero-in-the-making. In love with an older woman and hunted by a gang of outlaws seeking retribution, young Calvin must walk a fine line between protecting the one he loves and becoming a ruthless killer.
Short Stories – Weird Western / Horror / Humor
---
The complete USA Today and International Bestselling Series.
Moody Dragons. Snarky Elves. Fierce Mermaids. And two unlikely heroes who are fated to save them all.
Cole's life spirals into an uncontrollable battle of life and death on his 18th birthday when he discovers his dragon heritage and the prophecy that awaits.

As if being a normal teenager isn't hard enough, Cole learns that he's also royalty. His birth parents are the king and queen of dragons. That makes Cole the Prince of Ochana–and their future king.

With that legacy comes a special mystical calling–devoting an eternity to protecting all beings from creatures bent on bringing an end to all that is good. This makes Cole the newly-minted Keeper of Dragons. With no formal training or control of his mahier dragon-magic, his first task is to keep the nefarious farro-fallen fairies at bay.

The foreseen prophecy set his fate in stone. If Cole can't embrace his destiny, then all beings will die–including his new dragon family.
Genre: A YA Dragon Shifter Fantasy

Boxset includes the following full length novels:
Book 1: The Prince Returns
Book 2: The Elven Alliance
Book 3: The Mere Treaty
Book 4: The Crowns' Accord
"An epic fantasy all ages will love. Adventure, intrigue and dragons!"- NY Times Bestselling Author Christopher Morgan

"The Keeper of Dragons is the perfect adventure fantasy for anyone with a big imagination." -NY Times Bestselling Author K.N. Lee
---
When a murderer strikes within the palace, Dearic Thyne is swift to action. The death of one of the Kingdom's Minister's threatens to throw them into war with an army of elves which will stop at nothing to destroy them. Unless he can manage to track down the killer and his accomplice, there is no hope for the survival of his people.
His plan has little to go on, and even his father, the King, doesn't seem inclined to believe that he can accomplish the task. A distasteful guard is sent to join him in his hunt, and the two don't get along right from the start. Joined on their quest by a willful and free-spirited church cleric, the companions set off to scour the countryside in effort to solve the murder, but they only have a week before the army marches.
Will that be enough time, or will their efforts fail In The Shadow Of War?
---
In the aftermath of the disaster at Xilu, and his failure to capture the person responsible for the murder of the Minister, Dearic moves in with the dwarves. There he makes an important discovery about who he is, but is ultimately left with more questions than answers. And when a mysterious force appears outside of the dwarven city, the necessity of moving forward becomes evident.
In the forest of Laradain, he discovers more of his destiny and learns to harness more of his ability. He isn't there long before he's off on a quest which leads him face to face with someone he would never expect to meet.
But is it all for nothing? Betrayal looms on the horizon; death hangs in the air. In the void there is Chaos, but in Amarand there is even greater peril. Join Dearic and company as they journey to find hope In the Depths of Winter.
---
The shadow of the end has come, and Dearic is staring down a reality more grim than he could have imagined. The elves, dwarves, and mists are all dead except for those who stand beside him. Worse still, his kingdom is in chaos when he returns to it.
Thrust into the spotlight once more, he races to rescue as many of those still alive as he can before Chaos comes to destroy their realm. But standing in his way is the one member of his family he never wanted to meet: the dark mage known as Gregor. The grizzly old man intends to kill him, and stop his flight from the realm.
But as Chaos bears down on them, Dearic faces an impossible task, and the fates of hundreds rest on his willingness to complete it. Find out if he succeeds or fails IN THE EYE OF CHAOS!
---
Treachery stalks the red planet… Before he was Rick Bailey, before he hunted for the Treasure of the Black Hole, he was Titus Chumba of the Core Empire Intelligence Corps.
Sent to Mars to investigate water smuggling, First Lieutenant Chumba finds a criminal conspiracy that spans from the red planet to the asteroid belt.
Will Chumba discover the deadly secrets of the smugglers of Mars, learn the identity of the mysterious woman embroiled in the conspiracy, and prevent a cold war with the reptile-like Malvalkians from turning blazing hot?
---
An elite Watcher trainee, fifteen-year-old Princess Adana had everything going for her. Everything, that is, until her mother, the queen, dies. Too young to be queen herself, her mother's last royal act is a decree that seals Adana's fate—she's to be sent to the neighboring Kingdom of Elwar for her own protection. She'll be alone there, as the only person Adana knew in Elwar—her betrothed, Prince Serrin—dies at the same time as her mother.
The three-year stay in Elwar seems like a death sentence, as she will be separated from her telepathically-bonded giraffe and removed from her Watcher training. It only gets worse when she meets the person who will be teaching her about the rules of court protocol and politics—Serrin's stepmother, Queen Quilla, a sharp-tongued woman who dislikes everything Adana stands for.
When a vision shows her the existence of Maligon—a tyrant thought killed twenty years prior—she realizes everything is not as it seems in the Four Kingdoms. Evil is at work in the shadows, and Maligon will stop at nothing short of total control over the Four Kingdoms. Will she be ready in time to claim her birthright, or will Maligon succeed with his malevolent plans?
---
Seventeen-year-old James Daly thought moving from Atlanta to small-town Edington senior year would kill him, but he didn't mean it literally.
But his father bought a bigger house to go with a promotion at his law firm, only to lose his job when the housing bubble popped. Now James has to work at the Edington Best Buy to help pay the mortgage they're underwater on. He can't wait until he turns eighteen and can leave Edington behind forever.
But when a local boy challenges him to an ATV race near a tree farm most people avoid, things get much worse. James' rival is slaughtered by a tentacled horror emerging from a nearby pond.The monstrosity has been worshiped by a secretive coven since before the Civil War, and its devotees don't take kindly to their secrets being threatened.Now with the aid of Amber Webb, a local girl he doesn't like liking, and a renegade cult member, James must fight to avoid ending up bound to a picnic table and offered up to a monster. He must do battle with both the local cultists and their predatory master, THE THING IN THE WOODS.
★★★★★ Quinn writes effectively and convincingly in recreating a new take on H.P. Lovecraft and the genre. I am not much of a fan of horror, but this work kept the right mix of tempo, detail, suspense, interesting characters, and plot development to keep me engaged. The creepiest horror stories are the ones that take place in setting just like where you live… – John Allred
★★★★★ This is Not Mayberry – This tale of a Lovecraftian cult in the backwoods of a rural Georgia town is both suspenseful and frightening. The creature being worshiped by the cult is an ancient, multi-tentacled monster that lives in a lake in the middle of an isolated tree farm. When high school student James Daly stumbles upon the cult and watches the monster devour a rival classmate, things go downhill fast. Matthew W. Quinn blends together small-town politics, Civil War legends, and more profanity than Lovecraft himself would be comfortable with. This is not Mayberry. Highly recommended for fans of eldritch horror in a realistic, modern-day setting. – Darrell Grizzle
★★★★★ Good Read – A fast-paced horror novel with a likeable hero, a monster with a backstory, and a hidden commentary on social issues in southern small towns. – Alex S.
Grab your copy today! Free with Kindle Unlimited. Although this book stands alone as a creature feature, it begins The Long War series. The next book is THE ATLANTA INCURSION. Fans of STRANGER THINGS and IT will love this tale of small-town terror.
---
Fresh from the galactic holodesk comes a science fiction anthology guaranteed to electrify your mind.
Smoke In The Stars paints a vibrant portrait of the future with breathtaking stories exploring alternate life forms, the human condition when faced with overwhelming violence, and the struggle for survival on hostile worlds. Learn what the mind experiences when locked into a state of cryogenic suspension. Experience the transcendental human capability for love. Feel the terror of floating free in the infinite abyss when your tether is suddenly cut.
Pick up a copy of Smoke In The Stars from Hawks Barrow Press and find your next favorite author from the likes of Bev Vincent, co-editor of Flight Or Fright with Stephen King and author of The Dark Tower Companion, whose story The Vengeance will have you questioning the terrible price of retribution. Become lost in the work of Deidre J Owen, famed children's author and co-owner of Mannison Press, whose story Unintentional will make you wonder if what we call life isn't a bizarre alien experiment after all.
Your new favorite author is written in the stars. Discover them today!
---
James Daly thought he was safe at college after defeating small-town cultists and their otherworldly master. He was wrong. Although the Thing in the Woods is dead, there's more to this world than just one monster.
In May of his senior year of high school, he'd faced a murderous coven and the otherworldly horror they worshiped in the woods outside small-town Edington, Georgia. And though there was a price to be paid, he came away triumphant. Now dating fellow survivor Amber Webb, he's attending Georgia State University with his best friend Eli Schwartz and doing his best to forget the bloody events of the previous summer. But just in time for Amber to visit one October weekend, the nightmares plaguing him begin invading his waking hours. Something far more sinister than post-traumatic stress may be afoot, especially when the mysterious man in black who'd made James an offer he couldn't refuse returns. Meanwhile, reluctant Edgewood Jack Boy Javion Jackson joins more hardened gang members in an ambush of the Boulevard Crips, only to find his companions dead and himself a prisoner of sadistic extraterrestrials.
The four are about to be dragged into an interstellar conflagration deep in the heart of downtown Atlanta. And not all will come home alive…
This is the second book in The Long War series. Fans of the Men in Black, Charles Stross's Laundry Files, and Delta Green will enjoy this tale of a secret war against otherworldly forces.
---
In a desolate world where dirigibles rule the skies and blood soaks the dry earth, a young man joins the fight against a tyrant who has problems of his own.
Andrew Sutter returns home from a hunting expedition to find drought-wracked Carroll Town under the thumb of a tax collector from the cannibalistic Flesh-Eating Legion. A riot becomes a battle that leaves Carroll Town in ruins and Andrew alone in the merciless Iron Desert. Saved from certain death by the riders of rebel chieftain Alonzo Merrill, Andrew finds himself fighting for their doomed cause.
Meanwhile, Grendel, first lord of the Northlands and the Flesh-Eaters' ultimate master, finds his peace of conquest disintegrating as the warlords under his thumb begin battling one another. He plots a new war to reunite them as the starving Merrills launch their last, desperate offensive.
And Andrew may be the one holding the key to victory…
Fans of Stephen King's Dark Tower, George R.R. Martin's A Song of Ice and Fire, L.E. Modesitt Jr.'s Corean Chronicles, S.M. Stirling's The Peshawar Lancers, and AMC's Into the Badlands will thrill to this fast-paced first volume of a saga of war and intrigue on a continental scale.
---
It's been a generation since the first superhero arose to disrupt a society dominated by sorcery. Since then, their population has grown and they have built their own cities all across the magical planet Ellio.
Now, the magical 1% have discovered how to get rid of the thorns in their side, and no one with innate abilities is safe.
An impossible murder and an epidemic of sudden power loss lead our hero Jack to investigate, and his plucky wizard friend joins the fight. They want to go pro, and this could be their big break.
As they fall in with Durables, Speedsters, Hammers, Healers, and Empaths, they discover how deep and twisted the sorcerous elite's plan really is.
But no one can be assured of victory when an agent of Chaos slinks onto the scene, prowling between the extremes of Justice and Domination.
Dive into this colorful magipunk world full of strange enchantments, true heroes, big surprises, and maybe a little romance.
Our Heroes:
Jack – an ultra-Durable hero with a food-based healing factor and a strange relationship with pain.
Dugen – a light mage loaded with enchanted gadgets and goodies.
The Slip – a talented rogue, she can slip through the cracks of space to get places other people can't.
Riotman – the passionate hero. His emotional feedback affects others, empowering himself and his group.
Overdog – the canid-man, his specialty is hunting sorcerous Hunters.
And more!
---
THE LAMB LIFTED THEM UP…
…BUT THE BEAST WANTS TO TEAR THEM DOWN.
The uplifted animals of Life City are used to destructive alien incursions from above.
Everyone knows how to fight back.
Heroic rock band Magikrash makes a living playing music and fighting invaders, but there are some threats they may not be prepared for…
When a new and disturbing trend pops up in Life City, punk singer Saqi and her bear bassist Barley must discover how to save their brainwashed friends, and the city.
Vibes of classic Saturday Morning cartoons, punk rock and metal, synthwave, and fast-paced adventure combine for an uplifting read with the Lamb at its heart.
---
There's another Earth, just a few steps away from ours, and it's under siege by a dark, hungry god. It's a planet where ancient enchantments still rule, where human society is built on the ruins of something greater. It's calling for a hero.
An angelic guardian finds Jon on the run for killing his best friend's murderer in defense. The spirit gives him a way out – travel to this other Earth and fight.
It brings him into the battle, praising him for being the first to answer the call in ages. Blessed with magic he could never have imagined, Jon begins his quest for the bloody shadow.
But the mad god knows he's coming, and he's got a legion of monsters ready and waiting.
He's joined along the way by Bahabe, a lovely magical girl with a mysterious past, and Dahm, a wise and powerful Traveler and master of stonecraft. Together they'll stand against the enemy horde and the mad posthuman posing as their god.
Myths and nightmares take to the battlefield, thirsty for the blood of our heroes. Forgiveness. Confidence. Faith. Jon will need them all to bear up against the impossible odds.
World-shaking magic, deranged posthumans, far-future technology, alternate worlds, the power of friendship, and absolution. It's The Stormlight Archive meets The Dark Tower and Dragonball, perfect anyone who's ever just wanted to escape.
Multiverse Books
Each novel and short story in the Multiverse comes with a map and basic world statistics for use in roleplaying and other non-commercial gaming scenarios. We have included only basic stats that should be adjustable for any use you have!
Share what you've done with the author @HabitualLevity on Twitter.
Don't forget to follow TJ and leave a review!
---
How Black the Sky
Pierce – a brash young man with rare blessings of strength and really bad news.
Axebourne – the fatherly berserker with infectious laughter.
Scythia – calm and motherly, her Circlet of Knowing reveals secrets.
Agrathor – a mighty spearman with an electric personality and a terrible skin condition.
Ess – Second only to the First Great Master of Convergent Reality Theory. Mysterious and alluring.
They are Gorgonbane. Once mercenaries, now heroes, they are the only thing standing between Overland and the horrid Monstrosities of the Underlord. His lust for power has reached its peak, but the coming invasion may not be exactly what it seems…The Hero's Metal universe
The world of Chasmgard is a place with endless secrets and a strange cosmology. A deep red sun crawls across a canvas of black, and nobody remembers why. Landlocked by a depthless Chasm, Overland and the Underlands have always vied for power and land. In How Black the Sky, we join a band of legendary warriors who may just be at the end of an age.
---
Finally, a topical new release for only $2.99!
---
NATIONAL BESTSELLER!

Pharma-funded mainstream media has convinced millions of Americans that Dr. Anthony Fauci is a hero. He is anything but.

As director of the National Institute of Allergy and Infectious Diseases (NIAID), Dr. Anthony Fauci dispenses $6.1 billion in annual taxpayer-provided funding for scientific research, allowing him to dictate the subject, content, and outcome of scientific health research across the globe. Fauci uses the financial clout at his disposal to wield extraordinary influence over hospitals, universities, journals, and thousands of influential doctors and scientists—whose careers and institutions he has the power to ruin, advance, or reward.

During more than a year of painstaking and meticulous research, Robert F. Kennedy Jr. unearthed a shocking story that obliterates media spin on Dr. Fauci . . . and that will alarm every American—Democrat or Republican—who cares about democracy, our Constitution, and the future of our children's health.

The Real Anthony Fauci reveals how "America's Doctor" launched his career during the early AIDS crisis by partnering with pharmaceutical companies to sabotage safe and effective off-patent therapeutic treatments for AIDS. Fauci orchestrated fraudulent studies, and then pressured US Food and Drug Administration (FDA) regulators into approving a deadly chemotherapy treatment he had good reason to know was worthless against AIDS. Fauci repeatedly violated federal laws to allow his Pharma partners to use impoverished and dark-skinned children as lab rats in deadly experiments with toxic AIDS and cancer chemotherapies.

In early 2000, Fauci shook hands with Bill Gates in the library of Gates' $147 million Seattle mansion, cementing a partnership that would aim to control an increasingly profitable $60 billion global vaccine enterprise with unlimited growth potential. Through funding leverage and carefully cultivated personal relationships with heads of state and leading media and social media institutions, the Pharma-Fauci-Gates alliance exercises dominion over global health policy.

The Real Anthony Fauci details how Fauci, Gates, and their cohorts use their control of media outlets, scientific journals, key government and quasi-governmental agencies, global intelligence agencies, and influential scientists and physicians to flood the public with fearful propaganda about COVID-19 virulence and pathogenesis, and to muzzle debate and ruthlessly censor dissent.