More than fifty new arrivals to the sale!
These are some offerings either new to the sale or that haven't appeared for a while.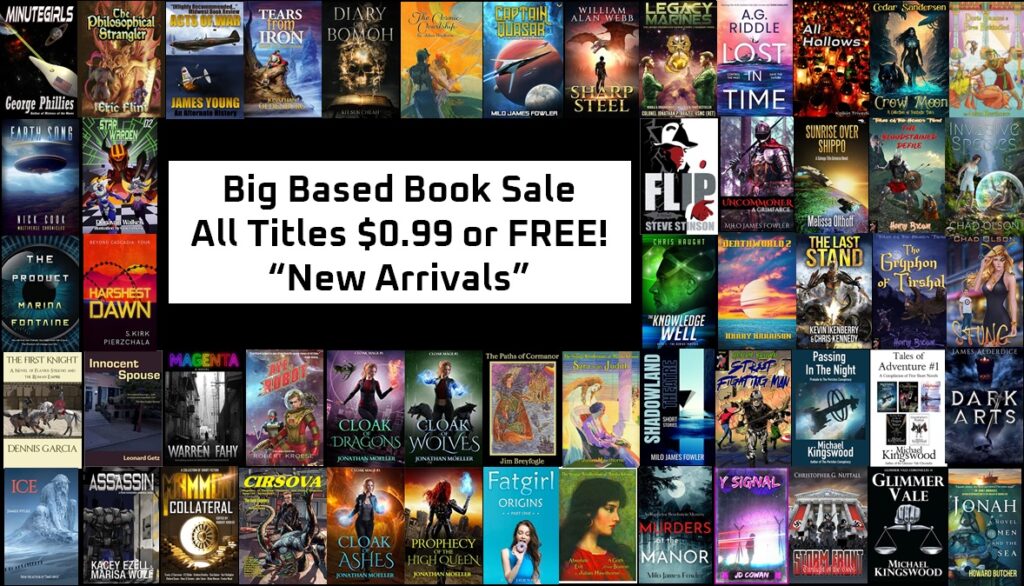 The contributors include science fiction grandmasters, Dragon Award winners and nominees, established mainstream authors, and emerging indie talent. Authors include P. Alexander, James Alderdice, Jon Del Arroz, Jonathan P. Brazee, Jim Breyfogle, Bob Brill, Henry Brown, Howard Butcher, Kit Sun Cheah, J.D. Cohen, Nick Cook, Paul Clayton, Lucca DeJardins, Kacey Ezell, Warren Fahy, Eric Flint, Marina Fontaine, Milo James Fowler, Dennis Garcia, Karl Gallagher, Michael Gallagher, Leonard Getz, Roy M. Griffis, Chris Haught, Harry Harrison, Julian Hawthorne, Kevin Ikenberry, C.S. Johnson, Chris Kennedy, Michael Kingswood, Robert Kroese, Robert A. Lupton, Jonathan Moeller, Christopher G. Nuttall, Jonathan Oldenburg, Chad Olson, Melissa Olthoff, P.A. Piatt, George Phillies, S. Kirk Pierchala, James Pyles, A.G. Riddle, Cedar Sanderson, R.H. Snow, Glen Sprigg, Steve Stinson, Michael Tierney, Kalkin Trivedi, Donavan Walker, William Alan Webb, Marisa Wolf, and James Young.
And every title is either free or $0.99! Note: prices are set by the authors, so please confirm before you buy. And some of the offerings are short stories or novellas instead of full-length novels.
Sale Links:
---
In a World gone Viral, a Hero shall Arise – join the Revolution with WATCHER of the DAMNED!
The Happening wreaked havoc as Humanity got a hard reset from a deadly gender-cidal Virus – and for TransMutated Survivors like The Watcher, life in Post-Apocalyptic Texas just got a whole lot bloodier and a whole lot lonelier. In a cyberpunk Wild West gone awry, The Watcher was a Rebel without a clue under the System: a brutal, high-tech Social Construct engineered to serve the Enlightened and oppress the Damned. But that's all about to change, thanks to a cheeky chaos agent named Rose…
Now The Watcher must lead a Revolution to save Rose from the System He helped create, or Rose will die – and Humanity will die with her.
Fight the System – Join the Revolution – with WATCHER of the DAMNED!
---
Nick Polgar leads a double life.
At his day job in Big Tech, he is a mild-mannered NPC who obediently regurgitates all the Current Year Cultural Marxist talking points.
Out on the streets, where the ideological culture war flares hot, he is Hockey Man–a skilled brawler armored for modern melee combat, wielding a hockey stick.
His fistic exploits have earned him infamy on social media; but also a growing army of fellow marauders, fighting back against the RevComs (Revolutionary Communists) who are hell-bent on suppressing dissent and quashing any challenge to The Narrative.
Hockey Man just knows the RevComs will inevitably disrupt the demonstration against hate crime hoaxes downtown; and his Enforcers are ready to rumble.
But in the fog of battle, they may be plunging a little too deep into enemy turf.
---
Somehow I doubt that this is quite how anyone expected Adolf Hitler's death to turn out…—Squadron Leader Adam Haynes, No. 303 (Polish) Squadron
August 1942. London is in flames. Heinrich Himmler's Germany stands triumphant in the West, its "Most Dangerous Enemy" forced to the peace table by a hailstorm of nerve gas and incendiaries. With Adolf Hitler avenged and portions of the Royal Navy seized as war prizes, Nazi Germany casts its baleful gaze across the Atlantic towards an increasingly isolationist United States.
With no causus belli, President Roosevelt must convince his fellow Americans that it is better to deal with a triumphant Germany now than to curse their children with the problem of a united, fascist Europe later. As Germany and Japan prepare to launch the next phase of the conflict, Fate forces normal men and women to make hard choices in hopes of securing a better future.
For Adam Haynes, Londonfall means he must continue an odyssey that began in the skies over Spain. For while fighting Fascism has already cost him dearly, he would sooner perish than see a world where freedom has been snuffed out by a jackboot heel.
Despite nominally being a noncombatant, American naval officer Eric Cobb finds that neutrality is a far cry from safety. Forced to choose between the letter of the law and its spirit, Cobb makes a choice that irrevocably changes history.
In the Pacific, Tamon Yamaguchi must prepare himself and his men to fight a Pacific War that is far different than what his nation and the IJN had planned. Forced to call off a meticulously planned surprise attack in December 1941, Japan instead turned north. Rather than finding resources in Siberia, the Imperial Army found defeat and a tremendous loss of face. Now, the Imperial Japanese Navy has once more turned its intentions towards Hawaii and the USN's Pacific Fleet. Although Yamaguchi knows that his force will likely be detected, he intends to strike a heavy blow for his Emperor regardless of cost.

Acts of War is the first novel of the Usurper's War series, which charts a very different World War II. As young men and women are forced to answer their nation's call, the choices they make and risks they take will write a different song for the Greatest Generation.
Acts of War [is an] enjoyable read that I can recommend to anyone looking for a good war alternate history–Matt Mitrovich, Amazing Stories, America's First Sci-Fi Magazine (2015)
---
One of the most haunting mysteries in American history — The Lost Colony of Roanoke — comes roaring back to life in White Seed, with a compelling cast of characters, among them: Maggie Hagger, indentured Irish serving girl, a victim of rape and intimidation, Manteo, Croatoan interpreter for the English, inhabitant of two worlds, belonging to neither, John White, ineffective Governor, painter, dreamer, father and grandfather, Captain Stafford, brave and disciplined, but cruel soldier, and Powhatan, shrewd Tidewater warlord who wages a stealthy war against the colonists.
From Publishers Weekly: This above-average historical hews closely to the record of Sir Walter Raleigh's second doomed attempt to plant the British flag in Virginia, but embroiders the who, what, when with enough… embellishment to create a riveting story.
The focus is 17-year-old "wench" Maggie Hagger, whose passage on Raleigh's ship was paid by colony Governor Sir John White so she can serve his pregnant daughter.
The ship's stormy passage to the New World — during which widower White falls for Maggie, who is meanwhile evading unwanted advances from a scalawag — establishes the many well-wrought characters, some noble (particularly real-life Native Manteo), others evil.
The depiction of the colony's physical and moral disintegration between 1587 and 1590 — as drunken, cannibalistic soldiers mutiny and brutalize the settlers they were meant to protect, and as colonists confront disease, starvation and madness — evokes a harrowing sense of human fallibility.
Readers with more than a nodding familiarity with American colonial history will experience a … déjà vu, but others less hip to what happened in late-16th century times will find this saga, which starts slowly but soon reaches page-turner velocity, to be both a dandy diversion and an entertaining education.
---
1555. Calling Crow is haunted by his recurring dream of the Destroyer who will one day lay waste to his village.
Then Spanish colonial slavers from the island of Hispaniola arrive on the shores of the Southeast, lands that have been home to the Muskogee people for generations.
Calling Crow and another brave are taken and bound into slavery.
Life in the gold pits and slave camps is humiliating and brutal, but Calling Crow refuses to let them break his spirit.
Aided by a kindly priest, Calling Crow vows to learn the language and ways of an overwhelmingly powerful enemy in order to eventually save his own people. But first he must regain his own freedom.
---
2001 Frankfurt eBook Award Finalist: The year is 1968. Like thousands of other American boys, Carl Melcher is drafted and sent to Vietnam. His new company is infected with the same racial tensions plaguing the nation. Despite that, Carl makes friends on both sides of the color line. The war, like a tiger lurking in the bushes, picks off its victims one by one. Naively over-optimistic, Carl believes that karma and good intentions will save him and his friends. Then fate intervenes to teach Carl something of the meaning of life, and death.
Carl Melcher Goes to Vietnam was a finalist at the 2001 Frankfurt eBook Awards, along with works by Joyce Carol Oates and David McCullough.
Recommended by: Library Journal:
"In this fictional account of the Vietnam War, Clayton shuns drama and political issues, detailing instead the minutiae of one soldier's experience. The simple language reflects the identity of an uncertain youth drawn involuntarily into a new and unfamiliar world. …this novel does reveal Clayton, himself drafted in 1968, to be a reflective and strategic writer."
---
Rosemary's Baby meets Revolutionary Road…
On the border between the necropolis of Colma, home to over two million dead souls and 1,794 somewhat live ones — and the gritty industrial working-class town of South City —

At 1015 Crestview, little seven-year-old Reynaldo cowers under the escalating abuse hurled by an adoptive mother who now sees him as a burden.

Allen, a workaholic Silicon Valley techie, seeks relief from domestic conflict by slipping away to sample the sweet brews at McCoy's, a mysterious pub and Hell's Angels hangout.

Up the street, young adults Rad and Tawny drift between the worlds of skateboarding and community activism, free love and commitment. Sampling Buddhism and squabbling with the relatives, they avoid thinking about the 15-foot Burmese python in their garage.

Does evil exist? Is it still with us? How would it manifest in modern life? This genre-bending novel of alienation and betrayal suggests that evil, as well as redemption, can come In the Shape of a Man.

Paul Clayton is the author of Carl Melcher Goes to Vietnam , which was short listed for a 2001 Frankfurt eBook Award, along with works by Joyce Carol Oates and David McCullough.

"Society's ambivalence about the value of children, and personal responsibility, creates drama in two neighboring households. The haunting story of little adopted Reynaldo will send you running to hug your kids." — Stephen Gallup, author of What About the Boy

REVIEW: From the opening scene on, IN THE SHAPE OF A MAN wraps a fog of dread around readers, pulling them into the misty depths of moral turpitude. Adopted as an infant, then later shunted aside after the birth of his sister, seven-year-old Reynaldo is at the epicenter of abuse from his mother Tina and benign neglect from father Allen. Through skilled juxtaposition of description, dialogue and narrative, author Paul Clayton does such an effective job of depicting family dysfunction, and the underlying evil forces, that the reader's heart just breaks for Reynaldo. One knows this child is doomed, but the who, what, where and how keep the pages turning.

Less compelling but also skillfully portrayed are a freewheeling young couple down the street, Tawny and Rad, the default caretakers of Ketsel, a 15-foot Burmese python who resides in their garage, a good faith deposit from a former roommate who never claims him. Tawny struggles with an unwanted pregnancy and Rad's infidelity while Ketsel has his own agenda. — Judge, 2nd Annual Writer's Digest Self-Published eBook Awards.

In 2015, In the Shape of a Man was selected as a finalist for the Eric Hoffer Awards. (Only ten percent of submitted books become finalists) The Hoffer Award was founded… to honor freethinking writers and independent books of exceptional merit. The commercial environment for today's writers has all but crushed the circulation of ideas …Furthermore, many of the top literary prizes will not even consider independent books …choosing instead to become the marketing arms of large presses. The "Hoffer"… books are chiefly from small, academic, and micro presses, including self-published offerings. Throughout the centuries, writers such as Emily Dickinson, James Joyce, Walt Whitman, and Virginia Wolfe have taken the path of self-publishing rather than have their ideas forced into a corporate or sociopolitical mold.
---
A new epic of military fantasy has arrived. Reviewers call Tears from Iron a "jaw-dropping" "wonderful fantasy" that is "elegantly done" with "one of the best endings of any fantasy novel" and "a great hero's journey."
Vistus is a warrior-brother, his prowess in battle matched only by his loyalty to the Syraestari Empire. Ninanna is a sword-whisperer, the personal guardian to the Empress. Theirs is a world shattered by cataclysm and held together only by steel and sorcery. As rebellion and war threaten the Empire, Vistus and Ninanna must join forces or see the prophecies of dead gods destroy everything they have sworn to protect.
"Tears from Iron by Jonathan Oldenburg is a story of heroism and the spirit of freedom that combines the magic of Brandon Sanderson with intricate worldbuilding seldom seen outside of the Lord of the Rings." – L. Jagi Lamplighter, author of Prospero's Children
"The beginning of an epic tale that I cannot wait to read more of." James Young, author of Aries' Red Sky
---
Two tech trillionaires have monopolized the market with staggering advancements while arming the world's worst governments with the most terrifying technology. Their plan, once every government on Earth has become dependent on their network, is to use a backdoor key that will unravel it all with a single switch: a handheld device they call "FreeWill." One of these tech titans, however, has fallen in love with their global machine and no longer wishes to flip that switch. As a last resort, his partner hides the device with one random isolated teenager, who doesn't know he has it, so that when the window of time arrives when it can be switched, her partner can't stop it. His machine has one year to find the unlikely guardian she has chosen as we see through the eyes of that solitary teen a world where everyone strives to keep their social credit badge PURPLE and any deviation from acceptable thought can turn them MAGENTA, erasing them forever. The fate of the human race depends on one misfit teenager who has no idea he's being hunted by artificial intelligence at every turn.
Praise for Warren Fahy's other works:
FRAGMENT:
"Fast-paced action adventure with a spectacular scientific edge." —Library Journal
"Fahy takes readers on a wild ride through a parallel universe where evolution has run amok—think Jurassic Park but scarier." ―The Wall Street Journal

PANDEMONIUM:
"Warren Fahy's PANDEMONIUM is pure genius, an otherworldly wonder as creative as the best of Jules Verne. Here is riveting scientific speculation paired with bravado storytelling." ―James Rollins, New York Times bestselling author of The Last Odyssey
"PANDEMONIUM is probably the best high-tech thriller I've read since The Mote in God's Eye. My heart was pounding (literally) from page one. Can't wait for his next tale." —David Hagberg, New York Times bestselling author of Gambit.
---
White Ops
by Declan Finn
The Pharmakoi rampaged across dozens of star systems, taking on the toughest races in the Galaxy in their campaign of conquest. But they are only the beginning.
Sean Patrick Ryan sees that another race is behind the Pharmakoi expansion ; a race that wants to test our galaxy for weakness, and who needs to be eliminated from within.
To fight the enemy in the shadows, Sean will put together a strike team to light up the darkness— with nukes if necessary.
They will get the job done at any cost.
They will be White Ops.
About the Author
As penance for his sins, Declan Finn spent over 40 years in New York City. He has since made his escape from New York to Texas. He is the author of books ranging from thrillers to urban fantasy to SciFi, including the Dragon Award Nominated Novel for Best horror in 2016, Honor at Stake, and the 2017 follow-up, Live and Let Bite. He was also nominated for "Best Apocalypse" novel at the Dragons in 2017. He also won the book of the year award with his novel Hell Spawn from CLFA.
Finn is known for being annoyingly Catholic, his action sequences, and writing faster than most readers can keep up with. In less than a decade, he has written over 30 novels, and is waiting for all of them to be published. He's been part of multiple anthologies, and will write for anyone.
---
"The Tattoo Murder" is the story of a U-S Army combat veteran who became a police officer back in his home town after he'd seen enough injustice in the world.
A different kind of cop, Det. John Potenza travels to the tune of his own drum, the waves which he loves to surf, the women who occupy his life and the music which drives him.
All this is secondary to getting it right when it comes to justice. An Italian-American who knows his way around the kitchen, the fit and trim with comic book hero good looks catches the eye of almost every woman he meets.
If he were British he'd probably be in "her Majesty's Secret Service" with a Double-O in his name.
Many of the characters in the book are derived from Bob Brill's own past and acquaintances and friends and while the book is a work of fiction, the people are real – well sort of.
---
Retired journalist and author, Michael "Mac" McMullin, is offered a life-changing seat on the first manned mission to Mars.
At first, both he and mission specialist Aiko Tsukuda, are outcasts among the eight-person crew.
As the flight leaves Earth and heads for Mars, Mac quickly proves his worth… and discovers the last thing he thought he'd find in space.
A second chance at love.
But planting humanity on Mars is a difficult task as the crew quickly finds out.
As they face and overcome each new challenge, they discover that Mac is a man who will never give up, never stop fighting to make the mission succeed.
A catastrophic failure leaves Mac stranded on Mars alone, help from Earth several months away. He must use all of his skill, wit, and grim determination to keep mankind's foothold on Mars secure.
He'll have to overcome great odds until a relief crew can arrive, especially after all communication with Earth – the far away, pale blue dot in the Martian sky – is lost.
---
Amusing…inventive…clever. Fans of H.P. will enjoy The Thing From HR
—Paul Guay, co-writer Liar, Liar, The Little Rascals, Heartbreakers
What's a nice Shoggoth like him doing in a dump like this?
Narg was content working as a Damnation Services-10 in HR. Sure, he was related to one of the Elder Gods, but a little nepotism never hurt any Thing.
His life was just wailing and gibbering, right up until his Uncle needed a small favor from his nephew.
All Narg had to do was go down among the humans…and pretend to be one of them.
These are not your Grandfather's tales of Eldritch Horror: this is the untold story of the ghastly, unappreciated (and entirely expendable) minor monstrosities that support the Inscrutable Plans Of Dark Gods And Elder Things Beyond The Knowledge Of Men.
The Cthulhu, Amalgamated series is a comic romp full of action and mystery, including, of course, Sanity-Shattering Horror––and that's just the paperwork.
Even H.P. could not conceive of the Corporate Terrors that await The Thing from HR.
---
June 30, 1908, Russia. A stupendous explosion rocks the Russian countryside, an event producing world-changing consequences. A madman seeks to draw unlimited power, while across the world, a scientist vows to learn the meaning of these impossible changes in humanity across the world.
One journeyman reporter learns the fantastic truth, and now he must help others cope with the impossibilities that surround them. With the world still oblivious to the reality of enhanced life, the challenges that await these people are looming in the near future. Can they adapt in time, or will their new gifts overwhelm them?
And how will they react to the greatest threat of all?
The first in a new series of steampunk superheroics, The Gilded Age is an anthology that introduces Earth, 1908, but with a twist that will change the world forever.
---
A stolen jewel. A terrorist attack on a hotel. A mining disaster. A secret weapon that can devastate entire worlds. In the distant future, one man stands unafraid in the face of terrifying danger and impossible odds. A soldier, a starship captain, and a man of honor, Bard Conley puts his life and his ship on the line against the threats of an entire solar system. But what starts out as a series of unrelated events becomes so much more than it seems. And behind it all, a faceless enemy awaits, dagger in hand and silken words on his throat.
In a solar system filled with danger, heroes still matter. Join Sergeant Bard Conley and his intrepid crew aboard the Scheherazade as they attempt to unravel a conspiracy of epic proportions that spans the entire solar system.
A linked anthology of ten short stories, Bard Conley's Adventures Across the Solar System is science fiction in the spirit of the Golden Age of the Pulps, where the priority is fun and entertainment.
---
Stranded on the other side of the world, Kane of Yuthia struggles to find his place in a foreign land.
Growing up in a monastery, the orphaned boy must learn not only the sacred arts of battle, but how to live with honor in a land that will never accept him.
Armed with his wits, his honor, and the friendship of a samurai and his entourage, Kane must find his place in the Empire of Kumitori before all he holds dear is lost forever to hatred and destruction.
Spanning decades and two continents, the two-volume Book of Kane tells the fantastic tale of one of the great heroes of the Empire of Kumitori.
---
Check out his blog, Sprigg's Scribblings, at gcsprigg.blogspot.com.
---
Collateral: A Collection of Short Fiction (Mammon)
by Robert Kroese, Travis J I Corcoran, Hans G Schantz, Graham Bradley, Fenton Wood, Karl Gallagher, Richard Sezov, John Taloni, Dan Gainor
A collection of stories set in the Mammon universe. Includes:
"Crypto Cat" by John Taloni
"Short, Random Words" by D.S. Blake
"Double Cross" by Graham Bradley
"The Siege of Acme" by Richard Sezov
"Duty" by Karl Gallagher
"The Alumni Association" by Hans G. Schantz
"Getting Out" by Dan Gainor
"The Kulaks" by Fenton Wood
"Glomar Extractor" by Travis J I Corcoran
---
In a quiet neighbourhood in Singapore, a body is found inside a locked apartment.
Tasked with identifying the deceased, Inspector Ibrahim has his work cut out for him.
With no identity documents at the scene, and no neighbours who remember the resident, his only clue is a set of diaries written in English, Malay and Arabic.
Partnering with Station Inspector Jafri, Ibrahim translates the diaries. They discover the story of a bomoh, a traditional Malay shaman.
It is a story of sorcery and occultism, vice and sin, madness and damnation.
But the diaries won't give up their secrets so easily.
A terrible evil lurks within their pages.
And now, it is awake.
About the Author
Singapore's first Hugo and Dragon Award nominated writer. A blogger and martial artist, he is the Herald of the Pulp Revolution, combining the aesthetics and mindset of the pulp era with modern-day tastes and tradecraft.
Author of the Covenant Chronicles and Song of Karma series.
---
The Unshrouded Stars
By DAVID SKINNER
When an astronaut confronts a lamia, she has a proposition for him: she will refrain from eating children for an entire year…if he will take her into outer space!

Hunger in the Void
By ANDREW GALLANT
Allan Buxley, a daring-hearted Voyager, ventures into an Orion Gate with his robot companion Sigma-6 in the Sagan-12… and finds a black hole on the other side!

The Gold Exigency
(Part 1 of 4)
By MICHAEL TIERNEY
A race of birdlike alien humanoids are being hunted and murdered for the gems grown in their skins! A cop seeking answers and looking to stop the killings is approached by an unlikely benefactor: Achilles Hister of the Artomique Corporation!

Quicksilver
By J. COMER
Cartmill Station has an outbreak of a deadly virus! Can a daring rescue mission to deliver nanomedicines using a dangerous experimental rocket reach them in time?

Comes the Hunter
By BILL WILLINGHAM
Following the trail of dead, the hunter closes in on his quarry: the last of the wizard knights! His magic exhausted, can he defeat his dastardly foe with his wits alone?!

Starring Hedy Lamarr
By TROY RISER
An alien intelligence on the moon with the ability to possess victims engages in an all out secret war against Earth! It's up to a secret world-wide conspiracy to stop it!

The Feast of the Fedai
By JIM BREYFOGLE
Kat is intent on raising an army to reclaim Alness! Can she and Mangos arrange to recruit an elite core of highly trained Fedai in Alomar before her secret gets out?!

Egg
By JAIME FAYE TORKELSON
A geo-seismic research team is stationed on the strange moon Epsilon Epsilon Six, better known as Egg, a smooth and volatile body that could go at any moment!

Search Pattern
By WILLIAM SUBOSKI
A strange woman seemingly miraculously cures a man's terminal cancer! His son has devoted his life to data sciences, but can he follow the clues to track her down?!

My Name is John Carter (Part 15)
By JAMES HUTCHINGS
---
Fiera's victories angered the Censor into deploying the force needed to retake his lost worlds.
Marcus Landry is now trapped on an occupied world, trying to fight back against the Censorate.
Can he win without hurting the innocent civilians trapped in the crossfire, including his wife and child?
About the Author
Karl K. Gallagher is a systems engineer, currently performing data analysis for a major aerospace company. In the past he calculated trajectories for a commercial launch rocket start-up, operated satellites as a US Air Force officer, and selected orbits for government and commercial satellites. Karl lives in Minnesota with his family.
---
The Blood Of Giants
(The Adventures of Baron Von Monocle Book 2)
by Jon Del Arroz
Danger looms on a foreign continent…

Zaira must take her airship to solve a crisis like none, Rislandia has ever seen. Caught in a terrible cycle of withdrawal from their power-serum, Wyranth soldiers are ravaging the countryside in a berserk rage. The Grand Rislandian Army has been unable to slow their bloodthirsty advance.

The Wyranth's serum has its origin in legend, a children's tale about giants roaming the land of Zenwey, far across the ocean. Zaira must take the Liliana and her crew to this faraway land, in hopes that she might find a cure before the Wyranth take even more lives.

When Zaira arrives on Zenwey, she finds the continent to be a mysterious and hostile environment. She must navigate her way past savage jungle warriors, fantastic creatures and terrors, and evil forces that have flying machines of their own. Before she can try to save Rislandia, she has to survive!

If you love action-packed steampunk books, you will enjoy reading The Blood Of Giants. Start your adventure today.
---
For Steam And Country – A Steampunk Fantasy (The Adventures of Baron Von Monocle Book 1) by Jon del Arroz is listed on the "Fan Favorite" page.
---
Absolute Evil
"Thomas Aquinas says that angels, white and black, can change men into beasts permanently; enchanters could do it, too, but not for long. Seventeenth century witchcraft affirmed that certain natural objects and rites could produce strange effects without aid of God or devil. But the operator must renounce God and Christ, be re-baptised, trample on the cross, and be marked in a certain way—a symbolic transaction. The person could then do only evil—good was forbidden to him, or her!"
Absolute Evil is, in many ways, Julian Hawthorne's coda on his father's works pertaining to the theme of Calvinist "doom." Many of Nathaniel Hawthorne's villains and tragic figures hearken back to Marlowe's Faustus, with the worldview that destiny and damnation are unalterable though it was the choices they made through free-will that set them on the road to hell.
Unlike his father's work on the subject, however, Absolute Evil is an action-packed thriller in which a Presbyterian minister turns himself into a werewolf and haunts the New England beaches.
A Goth From Boston
"Her father assured me with pride that she could—as he expressed it—lick any boy of her age on the Beach. And he said to her once, in my hearing, when she had come in rather late to cook dinner, with that grin of hers, in spite of a black eye and a bloody nose, and with a tale how she had 'walloped' her latest antagonist—'Right-o, Polly, my lass,' he said; 'as long as ye lick 'em, ye're excused; but the first one as licks you ye'll marry him—mind that!—so be he's not married already; and that'll be a lesson to ye never to mix it up with married men, anyway!' A plain reversion to the Stone Age, you see."
While on an errand to gently turn down a proposal from Cabot Selwyn, a Professor of Biology, Martha Klemm meets a most intriguing and alluring beauty–working in the service of the good doctor as mere maid!
Fate and the forces of nature conspire to throw the trio together time and again: can the Doctor escape his ivory tower understanding of biology and embrace the human?
Hawthorne explores the dichotomy between the "Prospero" and the "Caliban" within the human spirit, in this adventure on the high seas featuring a delightful Tomboy, a hapless professor, a chad sailor, and of course, Martha Klemm!
---
"She is not there, she is something else; she is an angel—or a devil come back to peep at us, to be worshiped, to mock us, to kill us, to smile on us as we die, and to go on to another, again to ravish and destroy him! What is she—who is she? No one knows! But she was, before the Pyramids, and when our great Londons and Parises are a jungle and a swamp, she was what men desire and can never possess, the glimmer in the dark, the mirage in the desert, the thing that is, and is not!"
The editor for All-Story Weekly called "Sara Was Judith" "one of the most remarkable stories ever written. It is entirely unlike any story that you have ever read." Indeed, Hawthorne weaves a strange tale that straddles gothic, romantic adventure, and even body horror in a work that is truly prototypic of what would eventually become known as "Weird Fiction."
Martha Klemm's school chum, Sara, is an impossibly bland and uninspired woman living a rather dull and ordinary life—quite the contrast with Martha's, filled with globetrotting adventure. Sara's daughter Judith is her exact opposite: filled with life and vibrancy, mystery and mischief.
When a deadly storm drowns the girl saving the young lad who fancies her, Sara, in her one act of passion, hangs herself in her boudoir. Pronounced dead, Sara shocks the mourning household, friends, and doctor when she emerges later that evening, more vivacious than she has ever been… and protesting that she is Judith!
Julian Hawthorne's final novel for All-Story Weekly is a haunting and beautiful tale of love and betrayal and the struggle between good and evil that Miss Martha Klemm finds herself caught, an active and partial observer, within!
---
Doris Dances & Fires Rekindled Kindle Edition
by Julian Hawthorne, P Alexander (Editor), Michael Tierney (Editor), Robert A Lupton (Editor)
Doris Dances
Robert "Bob" McIvor Melrose, an eccentric banjo-playing millionaire, was always a child at heart and wanted nothing more than a child of his own. When his gold-digging wife forces him to choose between her and an orphan infant girl he adopted, Bob takes little Doris with him on the road.
Leaving all but a pittance for himself and Doris to live on to his wife, the father and daughter live a simple and carefree life as tramps. Gerda Kent, an artist on the verge of fame, hones her skills and creates her masterpiece capturing the loving father and daughter, Bob picking on his banjo while Doris dances.
Hawthorne delivers a cozy and clever comic romance to warm the heart.
Fires Rekindled
"Yes, it may be that thunders of Armageddon portend that after so many blindfolded ages, the veil of Isis is being lifted at last! Some of us at last may consciously be admitted to intercourse with souls disincarnate, and hear nightingale notes of paradise. How can I doubt it!"
Against the backdrop of the Great War, an American visitor in London doing research on his ancestor is struck by a peculiar deja vu–much stronger than the mere sense he has been to the house where he is staying, he finds he knows of details that he could not possibly, even had he once visited in his youth. The strange sense sends him on a quest for knowledge to uncover a past-life love and solve a century-old possible murder!
---
Mary Faust, a brilliant scientist, has developed a machine that can allow the conscious human soul to explore the cosmos! Her promising young assistant Miriam Mayne has accidentally transferred her consciousness to Saturn, where she falls under the enchantment of an evil sorcerer! Jack Paladin, her love, sets out after her on a thrilling celestial journey to the ringed planet! Swashbuckling adventure and high romance await in Julian Hawthorne's The Cosmic Courtship!
While most are at least somewhat familiar with Nathaniel Hawthorne as one of the great American authors, less well known is that his son Julian was an incredibly prolific writer in his own right. Julian wrote on a wide variety of subjects, ranging from literary analysis of his father's works to poetry to period romances and adventures. Late in his career, Julian even dabbled in the emerging genre of Science Fiction.
The Cosmic Courtship was serialized in Frank A. Munsey's All-Story Weekly across four issues, beginning with the November 24, 1917 issue and running through the December 15, 1917 issue. While this story has been in the public domain for some time, it has never been collected or published elsewhere until now.
---
Amara is a young woman of Cormanor, a household whose womenfolk have the ability to transform into cormorants to fly and dive for fish. Kellen is the youngest prince of the realm, a seventh son of a seventh son, and wishes to see these remarkable women for himself.
During the pageantry upon the lake, Amara's cousin falls into the water and is spirited away by the Grimly, a malign creature of the elder world! Kellen braves both water and monster to rescue the boy. However the Grimly manages to trap the prince's soul and mark him for death! Amara tracks the Grimly to her lair, slays the wicked beast, and restores life to the young prince… but a piece of Kellen's soul is trapped within Amara!
The death of the sinister Grimly is just the beginning—Kellen must find the means to recover his missing piece of soul, while Amara and her family are haunted by the vengeful offspring of the monster she had slain! Kellen and Amara each must undertake their own harrowing journey, meeting delightful friends and dastardly foes, along the Paths of Cormanor!
Jim Breyfogle's beautiful new novel of fantastical romance is inspired by Eastern and Northern European myth and fairytale and sure to delight readers of all ages.
---
Combined for the first time in one volume are the first three books of the internationally bestselling urban fantasy epic – CLOAK OF DRAGONS, CLOAK OF WOLVES, and CLOAK OF ASHES!

My name is Nadia, and I'm an errand girl.

Except my boss is the High Queen of the Elves.

And my errands for her involve spying on people. Or stealing things. Or hunting down monsters. Or, on occasion, killing people.
But this time she wants me to solve a murder.
And unless I find the killer, I'm going to be his next target…because dragons never forgive a murder.
---
A girl, her grandmother, and half a dozen radioactive doughnuts …
There's nothing that seventeen-year-old Kallie Grande-White hungers for more than to be a famous model like her mother — except maybe actually food. But that's a small inconvenience, especially with the Model Middle America reality show holding auditions for the Next Top Heartland Teen Heartthrob Model right in Kallie's hometown.
Now that she has a chance to make her dream come true, Kallie is determined not to let anything stand in her way — not her best frenemy, Amory Franklin, not her lacrosse-playing crush, Blake Turner, and especially not the new, awkward fat kid in her computer class.
And while the sudden appearance of her PhD-in-nuclear-nanotechnologist grandmother definitely throws Kallie off, the rest of the world will soon find out that it's not over until the fat lady sings — or in this case, it's not over until Fatgirl sits on a terrorist's face.
You'll never look at doughnuts the same way again.
Perfect for anyone who's ever felt out of place in high school and never felt good enough for others to love you for who you are.
Fatgirl: Origins: Part One is the first in a new series featuring a satirical science fiction superhero take on growing up, PC culture, and diet culture from award-winning, genre-hopping author C. S. Johnson.
---
"With this sword, I can even slay the volkh lordling, were he not hiding behind his dwarven puppet"

Jeremy and Galena traveled with Bolgor to his home city, only to find the legendary city of the dwarves torn apart by politics. What was to be a pleasant visit turned into a struggle against the Dark attempts to corrupt it from within.

The young wizard, his bear-shifter lady, and his dwarven sword brother must find a way to deal with different political parties, monsters, and assassination attempts. They have to find the instigator in a different culture with very different rules. Rules that separate Jeremy from Galena. Among a people many of whom think the volkh are frauds.

And the fall of this city to Darkness would lead to a new reign of terror as its satellite cities fall and a new Dark Empire arises in the North. Only Jeremy and his friends stand in the way of a new age of war and the bloodshed that will bring.

Click above to join Jeremy as he faces the latest challenge of the dark. A challenge that threatens not only those he loves but an entire civilization and perhaps the world. If you like adventures set in a unique magical world, you will love the latest in the Avatar Wizard series.
---
Humanity is slowly losing its intellect and Dr. Brill Everly is the only one to notice.
Armed with a special gift from his father, Brill begins to unlock the deep genetic secrets of human intelligence.
Forced to reconcile with his lacking emotions and avoid constant government surveillance, Brill teams up with the dashing double agent spy turned academic, Liora Abrams.
Together they begin this journey across the globe to uncover the ancient genetic linkages to human intelligence, which leads to the ultimate discovery of the Knowledge Well.
This globe-trotting quest leads them through the ancient ruins of a Tibet temple, narrowly escaping a Chinese military ambush, only to be ensnared by a drug cartel, finally arriving at the Maori graveyards of New Zealand.
If you like fast-paced adventure, engaging mystery thriller, and romance, you will love the first installment in Chris Haught's page-turning series.
Buy The Genius Threads, Book 1 of the Knowledge Well series to read Brill's latest adventure today.
---
Flip
by Steve Stinson
What happens when you take both roads?
Young Matt Andrews knew right from wrong. He just had a habit of sliding into wrong – until one wrong step forced him to make a man's choice.
The wrong one, of course.
One man heals him, sets him straight, and launches him into a well-lived life. One woman loves him, giving him the perfect backdrop of a warm home, happy children, and a nurturing retreat to complement his successful career as a cartoonist.
Then, FLIP.
A spinning coin carelessly tossed by a mysterious traveler forces Matt to revisit the life of fame and fortune he would have lived – the family he would have had – and the daughter he betrayed. He learns to love them, then
FLIP.
Back and forth between present and present, Matt endures a bewildering and agonizing journey – not toward redemption, but to learn what redemption truly is, AND TO DISCOVER THE MEANING OF THOU.
---
Unlikely heroes unite!
When the eccentric Baron Rauxtund is kidnapped from Havenwaye Manor by a cabal of traitorous knights, it will be up to a handful of peasants to save the day.
But what can a young serf, an old village priest, and a few loyal yet quarrelsome subjects do against such overwhelming odds?
And who is this masked Strange One who rises to the occasion while kicking below the belt?

WARNING: This is not your cute fairy godmother's adventure story.
It is a tale of uncommon heroes and horrid villains, of virtues and vices, of courage against powerful evil schemes.
Gird up your funny bone, for intense giggles, groans, and gasps in equal measure await!

Uncommoner: A GrimFarce was originally serialized on Kindle Vella.
---
In the vein of The Twilight Zone, The Outer Limits, and Black Mirror, this collection offers short & strange standalone episodes of horror, science fiction, and fantasy guaranteed to stay with you long after you've turned out the lights for the night:

"Bad Digestion"
"Alive Again"
"Rugged Adventurers"
"Trash Day"
"Powerful People"
"Tapped Out"
"Omega 7"
"World Forge"
"Delicious Revenge"
"Hollow Company"
"Dream Flight"
"Road Rage"
"What Episode?"
"Deep Breath"
"The Hunted"
"Left Behind"
"Ever Watchful"
"Spring Underground"
"Dark Delights"

Shadowland Theatre was originally serialized on Kindle Vella.
---
Murders Most Foul
"What would you say if I were to tell you I believed…that in the heart of every man and woman alive, there lies the potential for ultimate evil?"

So begins a mystery of murder, jealousy, and revenge, as old friendships are tested and new alliances form.

When a wealthy heir invites half a dozen people to his recently inherited estate, all hell breaks loose, and it will be up to the quirky, lovelorn Inspector Willem Broekstein to find out whodunnit. But of course all is not as it seems, and Broekstein will need his wits about him if he's to keep from losing his head—or his heart—along the way.

Murders at the Manor was originally serialized on Kindle Vella.
---
Captain Quasar is out of time.

Pursued by vengeful Goobalob toll collectors, savage Arachnoid bounty hunters, and formidable Amazonians, Captain Bartholomew Quasar must do whatever he can to keep the crew of the Effervescent Magnitude out of harm's way.

All in a day's work—except time is not on his side.

Torn from the present to relive his past, he vows to keep mistakes from occurring the second time around. But is he doomed to repeat history? Or can he erase his regrets?

Villains will be vanquished. Lives will be lost. Bonds will be betrayed. Heroes will be heroic. Join the crew of the Effervescent Magnitude for a hilarious time-travel space adventure the likes of which you've never seen!

The Hitchhiker's Guide meets Star Trek in this series for fans of Galaxy Quest, Guardians of the Galaxy, and Star Wars Legends.
---
"Honor Flight" is a stand-alone novel in the Abner Fortis, ISMC universe.
It is set fifty years after the series begins with "Cherry Drop."
Please enjoy it as the novel that inspired the series.
Fifty years ago, the International Space Marine Corps (ISMC) fought and won a narrow victory against a vicious foe.
Now, Fleet Transport 'Astral Plane' is transporting survivors of this battle when a garbled warning is received, followed by orders from the President of the United Nations of Terra.
Her orders are simple: Unconditional surrender, or die.
Abner Fortis and the other Space Marines on 'Astral Plane' aren't about to surrender, but what can two hundred aged ISMC veterans on an unarmed Fleet transport do against overwhelming hostile forces?
It's no coincidence their motto is DINLI. Do It, Not Like It.
They just have to figure out how.
---
Stung
by Chad Olson
Gary Schoenfeld is hoping for an express ticket out of his lonely life, but gets more than he bargained for when he strikes up a relationship with a beautiful Russian stranger named Natalya. Things go from super to supernatural faster than you can say perestroika when she rescues him from an attack by an insect as big as he is in a Chicago alley. But not before he is stung by it. Gary is determined to find out what happened, but is also determined to let nothing get in the way of his blossoming romance with Natalya.
The questions continue to pile up, though.
Why are police ignoring attacks by the same creature all around Chicago?
Why has Gary's body begun to change in remarkable and disturbing ways?
Why has his soon-to-be ex-wife decided to reinsert herself in his life at exactly the wrong time?
To find answers, he will face down insane gypsies wielding unearthly powers, human-insect hybrids bent on his destruction and a telepathic mutt who's equal parts philosopher and finicky eater. Gary realizes it's not just his own life at stake.
The new love of his life might just be the greatest enemy humankind has ever faced.
---
Y Signal
by J.D. Cowan, L. Jagi Lamplighter (Editor)
BACK IN 1995
Summer vacation is the same as usual for Ray and his friends. It's video games, hanging out, and endless good times! But when his cousin introduces him to a mysterious midnight radio broadcast, reality is inverted. What is real, and what is a dream? Is the future open, or is disaster inevitable? The Y Signal reveals all.
Join Ray on his journey as time and space itself bends to forces beyond his control, in his quest to come out the other side. Ape-men, crazed punks, sky trains, hidden worlds, the past, and a so-called Paradise, await him as he fights to discover the truth in a world gone mad.
Paradise is but one dream away. All he has to do is reach out and touch it . . .
---
Jason dinAlt has been kidnapped and is being returned to the planet Cassylia to stand trial for his crimes.
But en route the space ship he is on crash lands on a planet inhabited by men who have lost much of their technology.
It is up to Jason to find a way to stay alive and get off planet.
Can he succeed in leaving this new Deathworld?
"A rousing novel." —The Magazine of Fantasy and Science Fiction
About the Author
Harry Harrison is an American science fiction author best known for his character the Stainless Steel Rat and the novel Make Room! Make Room! (1966), the basis for the film Soylent Green.
---
The SUNDAY TIMES bestseller

"Amazing! One of the twistiest time-tales I've ever read."
–Diana Gabaldon

"Crichtonesque thrillers don't come much better than this… Readers won't be able to turn the pages fast enough."
–Publishers Weekly (Starred Review)

"Are we talking plot twists? More like spirals. Gripping, clever, mind-bending stuff."
–Daily Mail

From the worldwide bestselling author of Departure and Winter World comes a standalone novel about a father and daughter trying to unravel an intricate murder mystery spread across time – with a jaw-dropping twist.

Control the past.

Save the future.

One morning, Dr. Sam Anderson wakes up to find that the woman he loves has been murdered.

For Sam, the horror is only beginning.

He and his daughter are accused of the crime. The evidence is ironclad. They will be convicted.

And so, to ensure his daughter goes free, Sam does what he must: he confesses.

But in the future, murderers aren't sent to prison.

Thanks to a machine Sam helped invent, the world's worst criminals are now sent to the past – approximately 200 million years into the past, to the dawn of the time of the dinosaurs – where they must live out their lives alone, in exile from the human race.

Sam accepts his fate.

But his daughter doesn't.

Adeline Anderson has already lost her mother to a deadly, unfair disease. She can't bear to lose her father as well.

So she sets out on a quest to prove him innocent. And to get him back. People around her insist that both are impossible tasks.

But Adeline doesn't give up. She only works harder.

She soon learns that impossible tasks are her specialty. And that she is made of tougher stuff than she ever imagined.

As she peels back the layers of the mystery that tore her father from this world, Adeline finds more questions than answers. Everyone around her is hiding a secret. But which ones are connected to the murder that exiled her father?

That mystery stretches across the past, present, and future – and leads to a revelation that will change everything.
---
On the run from their past, swordsmen Raedrick Baletier and Julian Hinderbrook search for a place of refuge where they can start over.
That search sends them through a remote mountain valley called Glimmer Vale, where unbeknownst to them, dark forces threaten the population's lives and fortunes.
With their hopes of quiet passage through the Vale dashed, and facing a deadly conflict against overwhelming odds, Raedrick and Julian will need all of their wit, courage, and skill just to survive, let alone prevail.
Fans of sword and sorcery will enjoy this fast-paced tale of redemption set in a world of valor and magic.
---
Prelude to The Pericles Conspiracy.
A year-long shift in the middle of the interstellar void can get pretty boring. For the Fourth shift crew of the starliner Pericles, enroute to Earth from one of the colony worlds, the passage could best be called routine.
Until the forward sensors detect an unknown and unexpected object ahead.
What they find there, in the endless night of space, will forever change the universe, for them and for all mankind.
Assuming they survive to tell anyone about the encounter.
---
A fateful meeting in deep space.
A journey to a distant world to hunt the ultimate game: Dragons.
Two young soldiers search for a lost family heirloom.
Honeymoon bliss turns into a fight for survival on a remote moon.
The Champion of Light battles the Champion of Dark to determine the fate of the universe.
Tales of Adventure is a collection of five science fiction and fantasy novelettes and novellas: Passing in the Night, So You Want To Be A Dragon Slayer… , Grandfather's Pendant, Delphinus, and The Champion.
---
The Honor Triad have journeyed to Javo's native country shortly after its transition from a free republic to a monarchy. The first king of Cemar has hired the three mercenaries to rid the land of the legendary supernatural beast that lives high on Mount Tirshal, outside the city. Neither the diminutive horse-archer Turgar, nor the giant barbarian Krag the Wrecker feel comfortable with the mystical forces surrounding Tirshal, but their lust for gold outweighs their fear. The horrifying truth awaiting they and Javo at the gryphon's perch is more chilling than the legion of hideous predators they'll have to fight through to reach it.
From the Author
This is heroic fantasy more than sword & sorcery. There's plenty of sword, but only a little sorcery in the Tales of the Honor Triad. In Gryphon, there's really no overt sorcery at all.

Tolkien and his legion of imitators have not influenced me much. You can lay the blame squarely on the heads of Robert E. Howard, Edgar Rice Burroughs, and Poul Anderson.

Even within the flavor of fantasy I prefer, I've found too many fantasy protagonists to be built on a clichéd template: naively chivalrous romantics whose bumbling gullibility acts as a plot device, ensnaring them in trap after trap, which they escape from every time, usually by dumb luck. I envision these characters differently. Javo is the most concerned with chivalry, but not to the point of folly. Krag is far more cunning than his size and tremendous strength leads most to assume, except when it comes to women. Turgar is a calculating pragmatist who deals honestly with friends, but who fights to win.
---
During the bloody wars of an alien world's dark ages, loyalty, integrity and friendship are rare commodities. Why would anyone guess they could be found in the hearts of mercenaries?
Sir Javo left his native Cemar to join the Order of the Black Lancers, and has built a reputation as a champion in single combat. He has never met his match; but that is about to change.
Krag the Wrecker has been promised treasure, a horse, and a lady-in-waiting if his suicide mission succeeds. "Victory or death" are acceptable terms, for a giant barbarian raised to worship Death.
Turgar was once a troop chief in the nomadic armies of Gabom, until framed for a capital crime. Now he hires out his bow to the highest bidder. This job may convince him to re-think his pragmatism.
A great storm, an epic battle, and three dangerous warriors…all on a collision course for a narrow mountain pass that is already a bloodstained defile.
---
Nick Polgar leads a double life. At his day job in Big Tech, he is a mild-mannered NPC who obediently regurgitates all the Current Year Cultural Marxist talking points. Out on the streets, where the ideological culture war flares hot, he is Hockey Man–a skilled brawler armored for modern melee combat, wielding a hockey stick.
His fistic exploits have earned him infamy on social media; but also a growing army of fellow marauders, fighting back against the RevComs (Revolutionary Communists) who are hell-bent on suppressing dissent and quashing any challenge to The Narrative.
Hockey Man just knows the RevComs will inevitably disrupt the demonstration against hate crime hoaxes downtown; and his Enforcers are ready to rumble. But in the fog of battle, they may be plunging a little too deep into enemy turf.
---
Being an IRS agent isn't all fun and games. Mostly it's downright dull, and that suits agent Ivan Samuels just fine. Sure, there was that time he'd found illegal gambling and organized crime when he audited a restaurant, but that was an anomaly. He was happy quietly pursuing tax cheats in court, dating his tax lawyer girlfriend Alice, and raising his college-student daughter Liz.

But no. Somehow he acquired an assistant and trainee, the chirpy and cheerful Keisha, and a new case: investigating the Philadelphia Times, ostensibly for taxes but secretly looking for leads that the FBI could pursue. And then a dead body turns up – Liz's dear friend and a star reporter for the Times.

Pursuing leads from the archives and stacks of the Times seemed less important than supporting Liz or dealing with his stubborn, independent father Harold's heart condition from thousands of miles away – until it becomes clear that the body, the Times, and Islamic terrorism are all interconnected. Now Ivan must figure out the links before tragedy strikes.
---
The job should have been simple…
Tam Zphinx is a Rat Catcher, a detective of sorts in the decadent city of Derenz. He investigates petty crimes for low pay but when the gorgeous Jessa Valinton walks in offering a hundred times the usual fee, he and his partner Riles jump at the chance for an easy score…
But after his partner is murdered and other curious characters turn up wanting the same thing as the dame, things get monstrously complicated…
Dark Arts is an action-packed noir fantasy in the vein of classic pulp fiction and sword & sorcery tales. If you like mysterious intrigues, larger-than-life characters, and witty humor, then you'll love James Alderice's gritty tale. This is a prologue for The KINSLAYER and the epic fantasy Language of the Sword series.
Buy Dark Arts to get join in a bloody sword and sorcery mystery today!
---
Esther and Noah Lysander are the twin children of General Ryck Lysander, Commandant of the Marine Corps, leader of the Evolution, and Chairman of the Federation.
When they are told that their father and mother have been assassinated, they are both devastated.
Cut adrift, they each decide to enlist in the Corps—but for different reasons. Esther feels it is her duty to carry on the family legacy, confident that she can excel and reach the top. Noah simply wants to earn his father's pride, even if it is too late.
As children of General Lysander, they are not "normal" recruits.
Seniors and peers are well aware of their background, and the twins can't escape the public eye.
From under their father's heavy shadow, the two have to discover his or her personal path in the Corps, even when that seems to pull them apart from each other.
---
"NEXT TIME ON STAR WARDEN!"
It's an all-out brawl under the desert sun as Star Warden and friends race for an ancient treasure! When Daimos unleashes his most vile creation yet, Can our hero seize the treasure and save the day?! Or has the Dark Lord put the Star Warden in Checkmate?! Find out in the pages of Star Warden, Volume 2!
Star Warden is the story of the rebel knight Samuel Bailey and his adventures with Princess Kaguya as they fight against the tyranny of the Dark Lord Daimos. A straightforward action adventure series taking place on a world other than our own. A world filled with wonderous magic, powerful technology, and the battle of good vs evil.
---
In 1941, Adolf Hitler didn't declare war on the United States. Now, in 1985, the Third Reich stretching from the coast of France to the icy wastes of Eastern Russia, appears supremely powerful. With a powerful force of nuclear warheads and the finest military machine on Earth, there is no hope for freedom for the billions who groan under its rule. Adolf Hitler's mad dreams have come to pass.
And yet, all is not well in the Reich. The cold war with the United States and the North Atlantic Alliance is destroying the Reich's economy, while a savage insurgency in South Africa – a war the Reich cannot win and dares not lose – is sapping its military strength. And, while the Reich Council struggles to find a way to save the Reich from its own weaknesses, a young German girl makes a discovery that will shake the Reich to its core.
But the Reich Council will not go quietly into the night…
---
Assassin
(The Revelations Cycle Book 11)
by Kacey Ezell and Marisa Wolf
"Skipping this book will be your biggest regret of 2018." –Jonny Minion
Depik. The race of cat-like assassins is feared galaxy-wide. Few living people have seen them, as the sight of one is usually the last thing its victim sees.
Clan politics on the Depik home world of Khatash are complicated, with clans jockeying for contracts and the prestige and wealth they bring. There's only one rule—Depik do not kill other Depik. Ever.
When Reow is implicated in killing the Depik Governor, though, her clan is declared anathema. Her four offspring are placed under interdict—they are to be killed on sight—and Del, Flame, Blade, and Death must flee with their molly, Susa.
With Reow dead, and Hunters tracking them across the galaxy, will they live long enough to find the real killer, or will they find themselves assassinated by their own kind?
---
One last chance to save the world!
When the first asteroid was spotted heading toward Earth, no one thought much about it. But then a second one was found, and then a whole string. One might have been happenstance… but thirteen was enemy action!

But who was responsible for them? With asteroids bearing down on the U.S., China, and Russia, all the nations that could have done it were unlikely to have been the ones who actually caused the apocalypse headed toward Earth.

It was bad when the asteroids began hitting the planet, devastating the areas where they fell… but when 35-meter-tall monsters began climbing out of the impact craters, things quickly became far, far worse. And when they were found to be immune to most conventional weapons, everything went completely into the toilet.

With the alien hordes dominating the land and sky, though, humanity did what it did best—it created the Guardians, massive mecha that were able to take the battle to the aliens, and rushed them into production. But with four continents already about to fall, there was just one question—would they make a difference?
---
How did it all go so bad?
All Kailey Jackson ever wanted to do was study the lost civilization of the Asur in peace. When she proposed an archaeological investigation into the ruins on Shippo, home of the fox-like Kitsoonay who raised her, she had no idea the infamous Badar Syndicate was funding the dig, or that they would use it as a cover to invade her world.

Now, Shippo is under attack, and Kailey and her Kitsoonay sister, Jinx, barely escaped the Syndicate with the help of the Lancers mercenary unit. The Lancers are going to take the planet back for them, but they can't go in blind. Kailey, feeling responsible for the attack, volunteers to lead the scout mission back to Shippo.

The Syndicate is expecting her return, after all, one way or another. So what if it puts her life in danger? So what if she isn't a fighter? Kailey is willing to do whatever it takes to fix what she has broken, even if it means putting herself back in the hands of the very organization killing her people.

Because sometimes… sometimes you have to fight to protect what you love.
---
Winner of the 2018 Darrell Award!

He was exiled into a world of monsters, evil wizards, and mad gods…and they'd be well advised to stay out of his way!

What 21-year-old swordsman would choose the cloistered life of a priest over one of sharp steel and high adventure? Not Alden Havenwulf. As Prince of Corland, the mightiest kingdom on Reven, his world is driven by ancient traditions and rigid obligations.

Instead of the twisted politics of the Royal Court, though, Alden chooses exile, wandering the world in search of enough riches to buy his own estate. Along with his giant friend Dexter—and Dexter's enormous axe—the Corlandishman leaves a wake of dead wizards, broken monsters, and angry gods.

If you love Robert E. Howard's original Conan stories, Michael J. Sullivan, or Michael-Scott Earle, you'll love a book that combines all of their best traits in fast-paced, captivating, classic sword and sorcery tales. It's a tale to remind you of why you loved fantasy in the first place!
---
It's hard to be a man of honor when the Emperor wants you dead.
Flavius Stilicho's quiet provincial life ended the day he was called up to the Emperor's Own Proctectores, who served both as bodyguards at official functions and as a pool of junior officers for the most prestigious military positions in the Empire. Here, he grew close to the children of Rome's greatest people, including the barbarian prince Alaric, and fell in love with Serena, the lovely adopted daughter of the Emperor Theodosius.
When Stilicho and his companions foil an attempt on the Emperor's life, he boldly asks for Serena's hand in marriage as a reward. The Emperor, to escape this quandary, poses an impossible task for Stilicho as a prerequisite: he would be the Emperor's plenipotentary, a special ambassador holding the powers of the Emperor himself in bargaining with other nations, and he would bring home a peace treaty with alien and treacherous Persia, Rome's greatest enemy and rival. While he would be well-provisioned and encouraged to bring a small detachment of men for protection and support, Stilicho's courage, honor, and skill with diplomacy would determine his success or failure.
But first Stilicho had to survive months of travel through the most dangerous lands on the edges of the Roman Empire, where the Pax Romana had long since broken down. Worse, his own close-knit circle of friends begins to fall apart as it becomes clear that the goals of some diverge from Rome's well-being.
---
She was about to discover we were not alone.
Lauren didn't ask to be a hero. But one night during the graveyard shift at Jodrell Bank, she captured an astonishing fast radio burst from an alien race. And just like that, the fate of the world was thrust into her hands.
Now she's put everything on the line to blow open the conspiracy of silence surrounding UFOs.
She's on the run from MI5, and a secret organization determined to stop her. After a year of dead ends and a heart-breaking personal tragedy, she's on the verge of being forced to abandon her personal crusade.
But then alerts erupt across the international UFO forums. What are the crystal runic symbols that have appeared all over the Isles of Orkney? Could they mean that the alien intelligence Lauren previously encountered is once again reaching out to humanity?
And if so, why?
With a ruthless enemy closing in fast, Lauren teams up with Jack Harper, an archaeologist and UFO sceptic, in a last desperate attempt to unearth the truth. Together, can they discover the source of the strange activity on Orkney? If they fail, humanity will stand alone to face a threat coming for us from the stars.
Time is running out for the survival of all life on Earth.

Praise for Earth Song
"Get ready, Mulder and Scully, there's a new alien hunter in town and she's called Lauren Stelleck. This is what a cracking sci-fi thriller should be like. Earth Song grabs hold of you and doesn't let go until the last page." Barry J. Hutchison, author of the Space Team series.
"Made me fall in love with sci-fi all over again." Alexander Gordon Smith, author of The Fury and the Escape from Furnace series.
★★★★★ "Well, I started this book as a change of pace from my usual selections and OMG, it's a very good story! I was up until 3am reading and I never do that!"
★★★★★ "A total joy – a brilliant and extremely unusual blend of hi-tech action thriller and mystery sci-fi that completely gripped me from start to finish."
★★★★★ "I loved the thriller-esque nature of it. It's fast-paced with a kick-ass heroine, Lauren, who goes all in to get the job done. The job? Saving the human race and planet Earth from what feels a very real extraterrestrial threat."
★★★★★ "Maybe it's because I've just recently got back into science fiction, but Nick Cook's books hit all the right spots! The second book in this series is just as satisfying as the first. I love how he mixes a good dose of current cutting edge science into the story, and it keeps you enthralled to the very end."
★★★★★ "Fascinating, fun, intriguing, exciting. Roller coaster ride…need I say more? now I must go – the next book in the series awaits!"
Follow humanity's epic struggle to survive across parallel universes in the Multiverse Chronicles, a series of interlinked stories that include the Earth Song series, its prequel The Signal, and also the Fractured Light and Cloud Rider trilogies, as well as the Inflection Point time travel series.
Author Note: I suggest you start by reading my free novella prequel, The Signal by Nick Cook, first. This will set you up with the backstory for the Earth Song series. For my friends across the Pond, please note that this book is written in UK English and uses single quotes rather than double ones. Yes, Brits are weird like that!
---
The Product. It's addictive, seductive, mind-altering, life-changing. Dangerous. Deadly, even. Your friendly local government wants to protect you from all dangerous things, so those dealing the Product are persecuted to the fullest extent of the law – public beatings, brutal mishandling, and ultimately permanent psychological reprogramming or death.

If you're a dealer and they see you, you run. Capture is not an option.

Kevin got caught. His girlfriend Lily knows it. Now her only goal is to help him escape, and to do that, she must enter the underworld formed around the Product. They might say no. They might even kill her. And even if the rescue succeeds, Lily needs to choose: stay in her safe, Government-protected life or join Kevin as a hunted fugitive or in the dangerous freedom of the Outers.

But first, they have to make it through the day.

What Reviewers Say:

"There is a hardness to the setting and the ideas here that is reminiscent of Ayn Rand." – Jeffro Johnson

". . . a well-paced, descriptive offering. . . I recommend it to anyone who is looking for fiction from the Superversive movement." – Dave Truesdale
---
Jonah, an apprentice oil field diver, is partnered with Seed, a parolee from Angola, Louisiana's notorious maximum security prison.
The two strangers work in the brutal and exotic offshore world of the Gulf of Mexico.
An accident enrages Seed, and his shocking retaliation starts a blood feud. Roughnecks and Riggers across the Gulf want retribution against Jonah's dive team.
Every assignment sends Jonah farther out to deeper and more dangerous jobs.
Topside, he must fight to survive the worst that men can do, while undersea he works in a surreal world where every breath can bring death, the night ocean lights up with bioluminescence, and giant predators hunt.
About the Author
Howard Butcher has worked as a shark researcher in the Caribbean Sea, apprentice commercial diver in the Gulf of Mexico, and as the manager of a horse farm in the San Juan Mountains. Apart from his Wild Ocean sea thrillers, his other works include a children's book that is also an animated show, The Dancing Pumpkin and The Ogre's Plot, which is available on Amazon Prime. Today he teaches high school English and lives in Colorado with his wife and children.
---
A day in the life of Cyrus, who works on a plantation.
The day begins with an accident, and then goes downhill from there after a run-in with a pit-viper and a long day of hard labor.
Then he remembers how he got himself and everybody he loved into this mess, and how things used to be…
Does it seem like things are crazy right now? Read Cyrus's backstory for clues.
This is your guide to adapting to the rest of the 21st century.
About the Author
I sing as I work.
I look for win-win solutions to things.
I'm a cosmopolitan in the literal sense of having been raised with a generalized, international cultural background as the result of events that happened long before I was ever born. Nevertheless: soulful, loyal, and unpretentious.
I've learned a lot of lessons the hard way. I like to spin those lessons into stories so you can learn the same lessons in a more enjoyable way.
---
Minutegirls
by George Phillies (Author), Cedar Sanderson (Illustrator)
Massive space battles! Desperate hand-to-hand combat! Politics! Hot babes with guns!
Minutegirls… Nice young women who just want some good clean fun with power armor, plenty of high explosives, and a few cute Minuteboys.
It is 2174. From the hills of American Manchuria to the depths of Outer Space. America's Girl Militia battles Franco-German treachery to shield the American Stellar Republic.
Second edition with author's revisions.
About the Author:
I retired from being a physics professor in order to write. I've been doing that my whole life. 170 scientific papers, more single-author than not. and more than two dozen books. Now I can write full time. My current novels in progress include Academician (Adara volume 2), Of Breaking Waves (Eclipse volume 4), Tales of the Anglic Union Astrographic Service, and Phenomenology of Polymeric Fluid Simulations.
---
Eight fantastic tales of swords, sorcery, love and justice.
The honeymoon is over…. before it even began. Nico and Emie face the biggest decision of their lives, and hope that it won't kill them.
Cecelia's dowry is a worthless field, and a friendship begun in a macabre deal.
Soleh fights her way out of a cruel marriage and swears vengeance by the lost gods of a dead clan. She rides with the darkest of companions at her side.
In a breath of air on an unmasked face, the worth of a life is laid bare.
Amaya Lombard faces her past, risking her future, in the very place where her magic was stripped from her blood and bone.
He answered his son's call for help, but nothing could have prepared him for what his son had done… and expected him to take care of.
The boyar's son must marry, to save his lands and people. The domovoi bids him wed, but she will only come to him if he fills her every request. Can he swallow his gorge long enough?
Lom rides for the goblin camp, death along the path. His bargain will have a cruel cost…
---
A grim dawn rises in the Pacific Northwest…
The progressive "Successor" party has seized control of the West Coast, further isolating the region from the decayed and feckless United States. Imposing their warped utopian vision on the defenseless citizens, the leaders of the new nation of Pacifica swiftly ramp up persecution of all social and religious opposition.
In a haven far from the chaos, American cyber defender Owen MacIntyre hears disturbing rumors about conditions in his former home, but there's little he can do to help. Frustrated and powerless, he wonders if it's time to abandon politics and focus instead on building a peaceful life elsewhere with his wife, Sofia.
But Owen's ex-supervisor, Pacifica's Chief Enforcer Hayden Singer, has other ideas. Even a world away, he has MacIntyre dead in his sights and is determined to make him pay for his disloyalty.
Thus politics becomes personal when the fugitive couple is caught in a revenge-fueled scheme that rips their family apart. Desperate and driven, Owen and Sofia will need every skill at their disposal—and some top-secret, risky new technology—to overcome the nightmare of Singer's sadistic plans.

Although Harshest Dawn builds on the events in Eclipse Rising,the author includes enough backstory that readers new to the series will have no trouble getting up to speed and enjoying this fast-paced tale of high-stakes personal drama, played out against a backdrop of all-too-believable political turmoil.
---
Ice
by James Pyles
In eons past, the armies of Surtur the fire goddess and Ymir the frost giant waged an unceasing battle for dominance over the Earth. For all those ages, they maintained an uneasy but enduring balance. Then humanity rose from the mud, and with the passage of time, came to fear fire more than ice, devoting their own meager forces to the conflict. Not to be denied, Surtur beat back both mortals and giants, consigning the planet to unrelenting heat and the ice lords to seeming oblivion. Before leaving the material realm, in jest she gave humanity the gift of magic and the curse of the return of dragons.
For thousands of years thereafter, the race of people knew nothing but a world without ice. Spanning the globe in sailing ships, the humans continued to thrive and remembered not the distant past. Then Captain Ki-Moon Yong of the Oceanic Trading Company vessel the Star of Jindo is assigned the task of solving the most profound mystery ever encountered. Another ship has gone missing and her only remaining crewman suddenly commits suicide after visiting the sunken continent of Antarctica. All of the dinosaur species of the south have gone mad, invading the guarded towns and cities on their way north, as if to escape some monstrous terror.
The answers to these enigmas all lie on the continent at the bottom of the world, and Captain Moon must take the Star to a strange research facility to discover them. But once there, he is confronted with a truth so profound and so nightmarish that it will change the very nature of reality. Can the Star of Jindo escape the inevitable in time to warn an unbelieving world of that truth, or will they be consumed in frozen horror?
---
PHILOSOPHY: THE HANDS ON APPROACH
Mighty Greyboar, the world's greatest professional strangler, is dissatisfied with his lot in life. The work is steady and the pay is good, but what, he wonders, is the point of it all
But when he learns that there is a Supreme Philosophy of Life*, Greyboar the Strangler is Born Again! Still, just how can a professional man in good standing pay the bills with all this philosophical exploration getting in the way
That's what his hard-headed agent and manager Ignace wants to know! And Ignace's skepticism turns quickly into outright horror when Greyboar's philosophical preoccupation leads to one disaster after another . . .
—simple choke jobs turn into ethical quandaries . . .
—a bizarre artist and a deadly arms-master turn up to complicate their life . . .
—as if their new girlfriends haven't complicated it enough!
Before you know it, Greyboar the strangler and his disgruntled manager find themselves embroiled with an abbess at odds with her deity, heretics on the run, dwarves needing to be rescued, and then—worst of all!
Greyboar's long-estranged sister Gwendolyn, political activist and revolutionary, comes back to town asking Greyboar's help in an insane mission to the underworld. It's purely a noble cause, one which no self-respecting assassin would touch for a moment. But in the pursuit of Enlightenment, anything can happen. . . .
*What You want the details Hint: Entropy. For more on the secret, buy this book!
At the publisher's request, this title is sold without DRM (DRM Rights Management).
---