These are some offerings either new to the sale or that haven't appeared for a while.
The contributors include science fiction grandmasters, Dragon Award winners and nominees, established mainstream authors, and emerging indie talent. Authors include Patrick Abbott, James Alderdice, J.M. Anjewierden, Graham Bradley, Henry Brown, Misha Burnett, Paul Clayton, Mel Dunay, Marina Fontaine, Karl K. Gallagher, N. Gray, Steve Griffiths, William Hastings, Chris Haught, Daniel Humphreys, Becky R. Jones, M.R. Kayser, Chris Kennedy, Moe Lane, B.P. McCoppin, Jon Mollison, Chance Paladin, S. Kirk Pierzchala, Alex Rath, Denton Salle, Cedar Sanderson, David Skinner, R.H. Snow, Glen Sprigg, Henry Vogel, David J. West, Thomas Wilson, John C. Wright, and Page Zaplendam.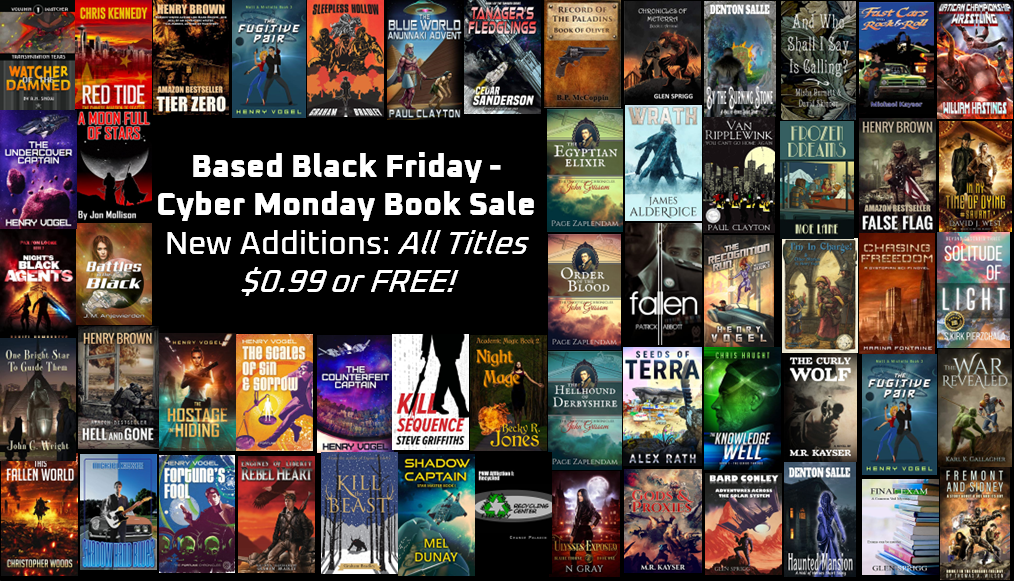 And every title is either free or $0.99! Note: prices are set by the authors, so please confirm before you buy. And some of the offerings are short stories or novellas instead of full-length novels.
---
Madness, murder, and mystery permeates throughout this Edgar Allan Poe-inspired thriller!
It is early April 1853.
Franklin Pierce, the newly elected President of the United States, has suffered the greatest personal tragedy of his life, plunging him into a depression fueled madness.
The Vice President, William King, unexpectedly appears at the White House in the middle of the night having overheard details of an international assassination conspiracy that threatens both King and Pierce. Unfortunately, Vice President King is killed without any clue as to who could have done it.
Can President Franklin Pierce overcome his personal demons and discover who killed the Vice President before they kill him too?
Franklin Pierce in Death of a Vice President is a thrilling psychological horror, starring the president from the 1850's you forgot in 4th Grade. It's an exciting read, and you don't have to be familiar with Franklin Pierce at all to enjoy the story (in fact, it may be a better story if you go in knowing almost nothing). This is perfect for the American history-buff and "normal people" alike!
---
Thana Ayers is a part-time necromancer, the undefeated defender of Green Grove Cemetery.
She commands small armies of the dead to repel worse abominations, and still manages club meetings, homework assignments, and church services.
It's a balancing act, but hey, the dead don't raise themselves. Right?
Thana's act is turned on its head when a new breed of monster shows up.
He's got necromantic powers and secrets she's never seen before, but he's not after the power of the gate.
He knows Thana's name, and he's coming for her.
---
"It's almost too funny!"
On January 20, 2001, Albert Arnold Gore, Jr. became the 43rd President of the United States for the second time…
Newly elected President Al Gore is given a mysterious device that allows his mind to travel back in time and relive his presidency. He needs it, too! There is always some disaster forcing him to start over. Soon, the time-traveling President begins to suspect there's more going on with this device than he first suspected.
Read the hilarious story of the President that never was, and discover why history turned out different.
"I started reading and couldn't stop! What a clever story!"
---
There are many strange places off the beaten paths in this great land of ours. From the abandoned shopping malls where squatters revel in violent nihilism to the new subdivisions built atop ruins where tragedies lay buried, Misha Burnett is your guide to the weird and out of the way places that are haunted by the past and the future.
This all new collection from Misha Burnett includes 16 strange tales of the macabre as well as 16 original poems, exploring the mysterious nature of the seemingly mundane world, where the run-down warehouses, shady night clubs, and even 24-hour gas stations may be home to magical fae creatures or skulking maniacs.
You've been offered a map to these beautiful vistas and disturbing local attractions. Just try not to get lost.
---
Vran, the Chaos-Warped (Book 1)
By D.M. RITZLIN
Vran the Chaos-Warped has sworn that the wizard Foad Misjak must die for his debaucheries! Vran's strange nature due to a sorcerous accident, however, twists with unpredictable results all magic around him… and strands both on another world!
Orphan of the Shadowy Moons (Part 2)
By MICHAEL TIERNEY
The Black Assassins have slaughtered all the children of the Worldlord except Strazis, the strange golden child he adopted as his heir! Strazis's escape strands him on a mysterious isle as the Worldlord goes to war to secure the fragile empire!
Death and Renewal
By JIM BREYFOGLE
The Prince of Alomar has won a slave from the Bursa… Kat and Mangos must ensure the slave's silence at all cost, but on one condition: they cannot kill him!
What Price the Stars
By JEFF STONER
Jørgen Pangloss offers the promise of the unthinkable: faster-than-light travel! To what lengths will potential investors go to win Jørgen monopoly… and its fetters!?
Dead Planet Drifter
By J.D. COWAN
Galactic Enforcer Ronan Renfield finds himself prisoner of a death-worshiping cult! Can the whispers from his past aid him in his battle against the cannibals?!
The Last Khazar
By REV. JOE KELLY
Two men, one a Polish Jew, the other a Prussian Nazi, are bound by dreams and bound by destiny to confront one another, both in the present and in the past!
Melkart and the Crocodile God
By MARK MELLON
An evil and sorcerous monster plagues the land of Kush! Can Melkart stop the crocodile-headed man-beast Sosostris from enslaving the people of Meroë!?
My Name is John Carter (Part 12)
By JAMES HUTCHINGS
Reviews
By J. COMER
---
Shoot the Devil
by N.R. LaPoint, Steven G. Johnson, James Pyles, L. Jagi Lamplighter, Daniel Humphreys, Declan Finn, Russell Newquist, John C. Wright, Corey Comstock, and Michael Gallagher
Ten of superversive's finest team up to bring you tales from a serial killer's basement, to the weird west, to the average small town, all featuring "mostly" ordinary men and women fighting back against the forces of darkness.
Review: A collection varied in style from hauntingly beautiful, to high octane action, all mix with a common theme, overcoming evil. The stories can all be read on their own but some involve characters with an establish history and previous stories. Every story is at least very good and several are excellent, like John C. Wright's contribution. Overall its a great read and I would recommend to anyone who wants stories that are gritty and real but with a positive message showing human courage.
---
Thrown into the past by ancient, alien technology, Master Scout Gavin Hart becomes a lost human colony's only hope for survival. But a power-hungry warlord and his army stand between Hart and the colony's salvation.
Hart discovers allies among the warlord's prisoners—royal guardsmen to a captive princess. But they're intent on rescuing their princess from the warlord's clutches, not stopping the invisible doom from Hart's warning. To save their world, Hart must save their princess first.
Every hero has his own heroes. For Scout legend David Rice, that hero was Gavin Hart. Join Hart on his greatest adventure and discover why David idolized him.
---
In a World gone Viral, a Hero shall Arise – join the Revolution with WATCHER of the DAMNED!
The Happening wreaked havoc as Humanity got a hard reset from a deadly gender-cidal Virus – and for TransMutated Survivors like The Watcher, life in Post-Apocalyptic Texas just got a whole lot bloodier and a whole lot lonelier. In a cyberpunk Wild West gone awry, The Watcher was a Rebel without a clue under the System: a brutal, high-tech Social Construct engineered to serve the Enlightened and oppress the Damned. But that's all about to change, thanks to a cheeky chaos agent named Rose…
Now The Watcher must lead a Revolution to save Rose from the System He helped create, or Rose will die – and Humanity will die with her.
Fight the System – Join the Revolution – with WATCHER of the DAMNED!
---
From Dragon Award nominee Daniel Humphreys

Paxton got the crap kicked out of him foiling his mother's plans.
But even that isn't enough to keep him in one place. With his new partner (don't call her a sidekick!) at his side, Paxton heads to Arizona to help an old friend with a supernatural murder problem.
But Mother is on the loose and not content to lay low after escaping prison. She's got a brand-new coven and wants her grimoire back. Nothing will stop her from recovering her book of spells—not her son or the ancient evil stirring from its sleep in the Valley of the Sun.
Paxton's faced witches, ghosts, and shadow demons, but can he handle something far worse? He can't afford to back down with the lives of two kidnapped boys hanging in the balance.
Harry Dresden's sorcery goes on a Supernatural-style road trip. Cool car sold separately.
---
The race to colonize is on!

With industrial expansion on Earth bringing the planet's habitability into question, there's only one place to look. Up. And, with both the Moon and Mars colonized, the next best option is outside the Solar System. Captain Maxwell Reeves, a former test pilot for the United States Space Force, and his wife, Annica, moved to Switzerland to assist in that effort. They both joined the Terran Space Project, a group with no allegiance to any country or government, with one purpose—to send people to space.
The Wormhole Traversal Project was formed within the TSP four years ago when exploration vessels detected a wormhole at the edge of the solar system, and a probe launched to test the wormhole showed back up in the Alpha Centauri system.
Four hundred people signed on to be part of the mission to Alpha Centauri, and Traveler, Earth's first extra-solar colony vessel, was constructed. Now, Captain Reeves is ready to take the ship and its crew and colonists through the wormhole to find a new home, but some questions remain. Will they actually end up at Alpha Centauri? What will they find there? And—worst of all—when the traitor emerges, will Captain Reeves be ready for the most difficult mission of his life?
---
The world has Fallen, but life goes on…

Matthew Kade was a corporate assassin—one of the best agents Obsidian Corporation had. But then the bombs began falling, and the old world ended. Now he must navigate the new world he finds himself in, a world where the strongest survive, and the weaker do their bidding…or die.

Kade was always one of the strongest, though, so when a rich man's daughter goes missing, he turns to Kade to find her and bring her back. But she has already been gone three days, and in the Fallen World, that is an eternity in which any number of things could have happened to her.

Can Kade—a man with a price on his head—pick up the trail of the young woman and navigate the streets of the city to find her, or will the city's denizens be the end of him? It will take all of Kade's abilities to find her and save her life…if he doesn't lose his first.

"This Fallen World" includes three novellas in an exciting new universe by bestselling author Christopher Woods. You'll want to get it—right now!
---
Tommy Robertson was once a king.
As a child, he and his three friends found their way to a magical elfin world and saved it from the Winter King.
Now a grown man successful in the world, Tommy has all but forgotten his childish adventures. He hasn't even spoken to those friends in years.
Then a silver key and a black cat show up on his front porch, and Tommy starts to remember. Just because he grew up and left Faerie behind doesn't mean that Faerie is finished with him.
Tommy is called to be the hero of England, and for that, he wants his friends at his side. But the real world has weighed them down and they are no longer the children he remembers. And evil things from childhood stories grow older and darker and more frightening with the passing of the years.
One Bright Star to Guide Them begins where other fairy tales end.
Can Tommy remember the courageous boy he once was, and set aside grown-up things to be a child again to save England? Or will the weight of the world prove to be too much for him and his friends?
---
SECOND EDITION! Note: This edition has been revised to account for current events and re-edited.

Analysts have long predicted that China would go to war to reintegrate the province of Taiwan. It isn't a matter of "if;" it's a matter of "when." For decades, the only thing that has kept China from invading Taiwan is the American promise to defend it, even if that means World War III. To date, China has not been ready to go that far. But what if China figured out a way to put the United States on the sidelines of their fight to regain Taiwan? Would they do it then?

Drawn from today's headlines, Red Tide: The Chinese Invasion of Seattle is set in a not-too-distant future where China decides to invade Seattle to use American citizens as high-stakes chips in a game of nuclear blackmail. Will the United States get Seattle back? It will, if a shot down F-18 pilot, a retired Navy SEAL, and a platoon of Army Rangers have anything to say about it.

Written by a former aviator with over 3,000 hours flying attack and reconnaissance aircraft for the United States Navy, including many missions supporting U.S. Special Forces, Red Tide: The Chinese Invasion of Seattle is a look at one possible future that isn't as improbable as you might think. Events in it are not only possible, they're already happening. Could China attack the United States to get back Taiwan?

Yes.

We thought the war against China would be fought in Asia. We were wrong.


Books in The Theogony Series

Occupied Seattle Duology
1. Red Tide, Occupied Seattle #1 (https://www.amazon.com/dp/B0160RR8BU/)
2. Occupied Seattle, Occupied Seattle #2 https://www.amazon.com/dp/B0160SHB3E/)
The Theogony Trilogy
1. Janissaries, The Theogony #1 (https://www.amazon.com/dp/B00I59QVL0)
2. When the Gods Aren't Gods, The Theogony #2 (https://www.amazon.com/dp/B00JW4OFE2/)
3. Terra Stands Alone, The Theogony #3 (https://www.amazon.com/dp/B00MQDWBHO)
Codex Regius Trilogy
1. The Search for Gram, Codex Regius #1 (https://www.amazon.com/dp/B010IKQHPI/)
2. Beyond the Shroud of the Universe, Codex Regius #2 (https://www.amazon.com/dp/B017CFC2DI/)
3. The Dark Star War, Codex Regius #3 (https://www.amazon.com/dp/B01GULFO4O)
The Progenitors' War Trilogy
1. A Gulf in Time, The Progenitors' War #1 (https://www.amazon.com/dp/B0829FLV92)
2. A Gulf in the Past, The Progenitors' War #2 (https://www.amazon.com/dp/B0888368RJ)
3. The Progenitors' War, The Progenitors' War #3 (https://www.amazon.com/dp/B096WRN6TY)
---
All Rome ever wanted was to earn a place in the village as a hunter, so that he could explore beyond the safe confines of the village farm fields, but when monstrous slavers destroy his village he is forced to head west into the irradiated wastelands in search of anything that might give him the power to save his people.
Accompanied by his chief rival, his journey takes him farther than he ever imagined.
---
Morgan had a simple plan: sell her captured pirate ship, hire mercenaries, and rescue her parents from her former homeworld. Nothing was going to stop her, not even the pirates trying to take her prize back. All they got for their trouble was two more ships added to Morgan's forces, but the pirates were only the beginning. The very people she wants to liberate her parents from have invaded her new home, laying siege and cutting them off from the rest of the galaxy.
Desperate for ships and experienced spacers to crew them, Morgan, her crew, and her ships have been conscripted into the Navy of her adopted home, despite the exhaustion of the former and the damage to the latter. Morgan herself has been given the unwanted and laughable rank of Commodore. What for most would be a position of pride only represents the things standing in the way of Morgan's plan. She has a new plan now; simpler, but also more dangerous.
Survive.
The rest of the The Black Chronicles is also $0.99 and is on the "Fan Favorite" page.
---
An Amazon Bestseller!
This rag-tag gang of has-beens has never worked together before, but Dwight "Rocco" Cavarra has less than a week to train them and lead them on the hairiest operation of their lives.
It's not bad enough that they have to plow through an African civil war, infiltrate a fortified terrorist encampment and steal a black market tactical nuke from a mob of fanatic sociopaths – there are Israeli wild cards in play: two death-dealing Mossad agents who don't necessarily share Cavarra's agenda.
When the mission is compromised before it has even started, Rocco and his Retreads are caught between bloodthirsty local warlords and the genocidal government in a fight to the death. And this battle might be just the first in the next world war.
Hell and Gone is a character-driven pulp action thriller that will take you on a wild ride.
---
When a party of American college girls are sold into slavery by human traffickers, a rescue mission is too dirty, too dangerous, and too difficult for any government to touch. That's where The Retreads come in.
The pirates thought they found the perfect target: a private yacht foolishly sailing through the Malacca Straits, which could discretely and easily be sold on the black market.
The human traffickers thought the boat was hauling the perfect cargo: young, attractive women who would generate income in brothels around the region.
What made the caper not so perfect was that one of the girls had an uncle who took it personally.
Another Amazon Bestseller from Henry Brown…"One helluva adventure writer." – Jim Morris (author of War Story, The Devil's Secret Name)
You can take a man out of Special Operations, but you can't take SpecOps out of the man. Tommy Scarred Wolf calls on his old friend Rocco Cavarra, who still has contacts in the intelligence business. Other survivors of the Sudan mission also rally behind Tommy, signing on for the kind of favor that can never be repaid.
Armed with all the firepower and force multipliers they can scrounge, shadowed by a team of secret assassins, the Retreads ride again, bringing smoke and taking names. Tier Zero is old-school military adventure you haven't enjoyed since the full-auto glory days of Able Team and Phoenix Force.
---
"Thanks, Hank, for the authenticity. Semper Fi!"
A perfect storm is bearing down on the United States of America, combining nationwide financial devastation, conventional and nuclear terror, and Civil War II. High-placed traitors in the Deep State want to make it worse–not better. The Retreads have overcome some long odds in the Sudan and Indonesia, but nothing like this end game on the home front.
"If ever a time should come, when vain and aspiring men shall possess the highest seats in Government, our country will stand in need of its experienced patriots to prevent its ruin." – Samuel Adams
Diverse Americans are living their lives the best they can during twilight's last gleaming–most of them never suspecting the turmoil about to come crashing down all around them. Others see the storm approaching, but don't know what, if anything, can be done to avoid it.
Joshua Rennenkampf loves his country, but prepares for an economic collapse he believes inevitable. Dwight Cavarra is horrified by what looks like an impending race war, but speaking reason into the pressure cooker of irrational hatred might as well be punching at the wind. Tommy Scarred Wolf pushes back against the fundamental transformation from Rule of Law to a Strong Man police state, but can only accomplish so much by himself.
Rennenkampf discovers evidence of what might be a false flag attack in the making. Cavarra is tipped off about a secret hit list of "potential domestic terrorists," through which he and his friends are targeted. Scarred Wolf has already lost his brother for the sin of poking his nose into government Black Ops; and now must decide whether a little more temporary tranquility for his family is worth the shock and awe to be wrought on the entire country if he fails to take action.
With harbingers of national cataclysm all around, there will be no averting disaster if the false flag conspiracy turns out to be true. These men, who have put their lives on the line for their country so many times already, now have little choice but to treat the threat as real. And in the tumultuous political climate, their lives, fortunes and sacred honor will all be at risk. Where they go one, they go all.
The bestselling Retreads Series turns the corner from military thriller to apocalyptic fiction. False Flag blazes a fiery trail where other political books fear to tread.
---
WHEN THE GODS GO TO WAR, YOU HAD BETTER BE SURE THE ONE YOU SERVE WILL PREVAIL…
The invisible god, El Elyon, has promised the young nation of Yacov their own homeland. Trouble is, the land is full of giants, backed up by a pantheon of gods who would rather see Yacov slaughtered to a man.

And they are just men. The Yacovites are desert nomads without even enough swords for all their militia.

Salmon and Othniel are two of the young soldiers who must face the gigantic warriors in battle, starting at the fortress city of Bet-Yariq, with formidable walls that only giants empowered by gods could build.

Brave men's hearts melt with fear. The very planet reels to and fro as if ready to tear itself apart. But though El Elyon is outnumbered by the enemy gods, and his warriors are far outclassed, he has assured them that he himself will lead them into war, and together they will beat all the odds.
---
Deke Jones finally has a car ready to compete in the Conquistador—a short but grueling campaign covering racetracks all over the Southwest United States. He can't wait to challenge the rich boys with their expensive toys, but complications begin stacking up on him before the first flag drops.
First, he is invited to join Stormin' Norman's new rock band for a whirlwind tour. It's a once-in-a-lifetime opportunity to play with a musical genius and he can't let it pass…but it's scheduled for the very week he needs for last minute wrenching so his car can make the Conquistador's tech inspection.
Next, he gets tangled up with beautiful bad girl Lena Castillo, just when he was patching things up with a local débutante he lost touch with after high school. Lena has a deadly superpower: the ability to turn any man stupid—and Deke Jones is no exception.
Jones also crosses paths with five-time Conquistador champ Bob Tilford, and there's bad blood between them from the starting gun. It was going to be challenging enough racing against Tilford with his big-time sponsors, high-dollar mechanic and world-class GT car, but Tilford also has tremendous influence over race officials he doesn't hesitate to use in his grudge against Deke Jones. To keep it all interesting, Deke's co-driver bails on him at the last minute, with no time to scrounge up a replacement.
Get your motor runnin'. Deke Jones is gonna close this summer out with a bang, one way or another.
---
In 1954 budding blues virtuoso Waymon "Tornado" Fuller is executed for the murder of a North Carolina woman. In 1994 nomadic hot-rodder, moonlighting private investigator and blues aficionado Deke Jones stumbles upon Fuller's guitar, triggering a mudslide of buried truths. Fuller's innocence is one revelation. Another is "Shadow Hand Blues"–the last song he recorded, which Jones has never heard of.
An impromptu search for the studio where the recording session took place leads Jones to a small hippie town seemingly still enjoying the Summer of Love, where the psychodelic atmosphere turns from surreal to hostile when he begins asking questions.
Vintage Fender Telecaster in one hand, steering wheel of his radical Cyclone Spoiler II in the other, Deke Jones launches a one-man crusade to exonerate the infamous musician and find the obscure recording. The blood trails are 40 years cold, but neither corrupt good ol' boy cops, sex industry sadists, nor fanatical pyramid-schemers can throw Deacon Jones off this case.
This investigative pilgrimage propels Jones right into the bloodstained fingers of a clandestine power elite Tornado Fuller called the Shadow Hand.
---
The settlers in the Redbud Valley are peaceable, God-fearing folk who try to follow the golden rule, but they've been pushed too far by the mayor of Blue Stone, who wants their land and seemingly has the law on his side.
Just as the nesters are banding together to resist the land grab, Blue Stone's newest deputy rides through their valley.
Before they realize the sleepy-eyed youngster called Arizona is a veteran gunfighter hired to bulldoze them off their claims, he has already broken bread with them, danced with their daughters…and stolen the heart of one.
Young Theresa Gutierrez believes Arizona is more than a curly wolf with quick trigger fingers and a stone-cold heart, but her parents and neighbors have good reason to believe otherwise.
What everyone agrees upon is that, in the brewing range war, the Arizona Kid is liable to be right smack in the midst of the killing.
---
A young prince is left in charge of the kingdom and has a wonderful time giving orders.
When the prince goes too far, he learns a lesson about being in charge.
Seven Silly Brothers away from home for the first time in their young lives.
They get into very silly trouble and make a very silly plan to fix everything.
When their plan doesn't work, they end up in real trouble.
A king comes up with three questions to help him find a suitable prince to marry his daughter.
But what happens when the princess doesn't like the answers the king likes?
Storyteller Henry Vogel and artist Richard J. Luschek, II have created a storybook children will love and parents will cherish.
---
Matt Connaught wants nothing more than to enjoy life with his new wife, Michelle, and to catch up on lost time with his parents, who were held captive for seven years. As a member of one of the wealthiest families in the Terran Federation, this should be easy.
It's not.
Because Matt is psychic. If anyone outside of his family discovers his secret, he'll be taken from his family and forced to serve in Psi Corps. When Federation agents come looking for him, Matt and Michelle have only one choice—to go on the run.
But how can they hope to escape from Psi Corps, when the Corps has the full might of the Terran Federation behind it?
---
Psi Corps wants Matt, the most powerful psychic in generations. He slipped through their fingers twice and escaped beyond the borders of the Terran Federation. But mere laws won't stop Psi Corps from coming after Matt.
Psi Corps wants Michelle, Matt's wife and the key to controlling him. Trained as a bodyguard since birth, Michelle is the only reason Matt is still free. But no bodyguard can stop the full might of the most powerful government in known space.
When a surprise attack almost catches them, Matt and Michelle realize they have nowhere to hide. They must take the fight to Psi Corps. To live free they must find Psi Corps' weakness and exploit it. They must be David to Psi Corps' Goliath. They must slay the giant or serve it.
Slayer or slavery—there are no other options.
---
In a family full of heroes, Nora Connaught is the normal one.
She's never fought space pirates.
Never saved anyone's life. Never done anything remotely heroic.
Now she's 18, and going off to college on another planet.
Nora hopes she'll finally have get to live a normal life.
But life never goes as expected.
After pirates highjack the starliner she traveling on, putting thousands of lives at risk, Nora must live up to the Connaught name.
Can she cast her own heroic shadow?
---
Captain Nancy Martin expects a lonely death.
Passing out as her battle-damaged starfighter bleeds the last of its air, she comes to in the cavernous and deserted docking bay of an unknown starship. Leaving her crippled fighter to seek help, she finds she's been scooped up by a gigantic generation ship inhabited by the descendants of the original crew and passengers—people whose entire universe is the ship!
Mistaken for the vast ship's long-lost and near-mythical Captain, Nancy is welcomed as a savior. She believes she's found the allies she needs in her desperate fight for survival. But an even greater menace lurks in the shadows of the ship—one that controls every inch of the ship and every life aboard it. One that will stop at nothing to destroy—
The Counterfeit Captain.
Set in the same universe as Vogel's best-selling novel, The Fugitive Heir, The Counterfeit Captain further expands the stage for Vogel's exciting brand of star-spanning science fiction adventure.
---
Unwillingly drawn out of her annual drunken stupor, Captain Nancy Martin, Retired, finds herself involuntarily reactivated. Her assignment—help Special Agent Erica Hampton solve the disappearance of an entire school's student body.
Hampton's superiors suspect a slaver ring has kidnapped the children, to sell them on a rim world beyond the Terran Federation's borders.
When Nancy and Erica discover the truth behind the abductions, they realize their deadline is quite literal, and much closer than they thought.
When the gloves come off, the missing children couldn't have anyone better fighting for their lives.
It will take every bit of skill Nancy and Erica have to track down the villains behind the disappearances.
Defeating them will be a different matter entirely.
---
Jeanine is on the run from someone very powerful.
She doesn't know who wants her dead, or why.
She only knows they have already killed her family, and if they catch her, she's next.
Drake's family was in the wrong place at the wrong time.
Now, he drifts from spaceport to spaceport, searching for cargo and running from the grief he can never escape.
When Jeanine barrels into Drake's life, he must push aside his grief and run with her.
But time is not their ally.
When they cannot run from their enemies, Jeanine's and Drake's only hope is to run toward those enemies.
Their only hope is to make The Recognition Run.
---
He digs through the past to unearth his future. But will rocketing into the expanse blast him into deadly trouble?
Xenoarchaeologist Mark Fortune just needs one big find to be set for life. Roaming the post-apocalyptic galaxy in search of riches, the pragmatic loner believes he's finally made the breakthrough of his career when he activates an ancient portal. But when he's catapulted onto an unknown planet, he's followed by a revenge-driven skybiker out for his blood.
For the sake of survival, Mark and the motorhead form an uneasy alliance until they can escape the strange and unforgiving world. But the only path back home pits them against a ruthless warlord in a flying space fortress armed with pre-holocaust tech and a horde of killer robots…
Can Mark tear down a dictator before his newest discovery is otherworldly death?
Fortune's Fool is the first book in the edgy Fortune Chronicles science fiction adventure series. If you like throwback futurism, gritty action, and expansive worlds, then you'll love Henry Vogel's interstellar doorway.
Buy Fortune's Fool to open the door to uncharted planets today!
---
He holds the keys to the galaxy. But what horrors lurk beyond the portal?
Xenoarchaeologist Mark Fortune defeated Earth's would-be warlord and claimed his reward—codes for a pre-collapse galactic portal network. Mark and his new friend Tusk enter the portal and cross untold lightyears in a single step. They emerge into a gothic cathedral during an incomprehensible ritual.
Swept into the middle of a simmering religious conflict where events dictate enemies and allies, Mark and Tusk side with a masked vigilante and a posh madam against a demagog bishop. Trapped in a city teetering on the brink of civil war, Mark must make a deal with a vicious mob boss and overthrow a religious inquisition. If he fails, he and Tusk will never see Earth again.
Will Mark face judgment or redemption?
The Scales of Sin & Sorrow is the second book in the Fortune Chronicles science fiction adventure series. If you like gritty action and dark themes, you'll love this installment of Henry Vogel's homage to the pulps of yesteryear.Buy The Scales of Sin & Sorrow and open the portal to adventure!
---
For centuries the British Empire has ruled territories the world over, maintaining its grasp on its far-flung colonies by way of magic and brute force. Any successful attempt at rebellion is short-lived, as the rebels do not have the benefit of wizardy on their side.
The most recent attempt at secession happened in the New World in 1776, some two hundred years ago. General George Washington nearly succeeded at rallying his countrymen in a military revolt against the Crown. But disunity and infighting ultimately brought them down, and Washington was executed in a public spectacle.
Most people gave up. But not all.
The cleverest and most driven survivors went to ground. They learned from their mistakes. They planned, they plotted, they tinkered and they toiled. They began to develop new weapons and machines that would level the playing field. With technology at their fingertips, anyone could stand toe-to-toe with a British mage and come off conqueror.
The uprising has been a long time coming. The arsenal is as large as it's going to get. Now all the "technomancer" army needs is soldiers, young patriots like Calvin Adler, who has had enough of the mages pushing him around.
Freedom beckons, if he will but pay the price in blood, sweat, and tears.
This is the New Revolution.
---
In this spoof on a classic fairy tale, village hero Gautier must get past his recent spurning by local heartthrob Robinette, who has gone missing from their French mountain town.
When newcomer Danielle arrives in the middle of the night, claiming to have been attacked in the woods by a giant beast, Gautier sets out to find it and put it down…only to learn that Robinette might be involved, and that his love for her might not be true.
---
Josie Penninger can see ghosts, and it's been nothing but trouble for her. She learned not to talk about it in her teens, but that didn't make the trouble go away.
Now that she's out of college and short on cash, she decides to embrace her abilities and work with local ghosts to solve old mysteries. And since she lives in Sleepy Hollow, New York, there's plenty of work to keep her busy.
But then, on Halloween night, an old ghost comes to town with vengeance in his heart and a two hundred year-old score to settle. Using highly advanced spectral technology, he traps ten thousand people inside the town borders and uses them to power a machine that will let him alter history. Even if he fails, his machines might kill everyone Josie knows.
Now she has to team up with a spirit who knows far more about her than he lets on, and a freelancing ghost hunter who shoots first and doesn't bother asking questions at all. The three of them should be able to take down one simple villainous ghost, right?
Unless he has the deadliest warrior-ghost of the region in his corner…
Packed with action, wit, humor, and good old-fashioned fun, SLEEPLESS HOLLOW is an illustrated adventure that ties in fully with Washington Irving's classic American horror story, "The Legend of Sleepy Hollow."
---
The burning stone. In Slavic myths, it marks where the road forks and the hero chooses his path, for good or ill, for life or death. His decision tests his wisdom and his courage.
Alex entered the Otherworld not looking for treasure or glory but to rescue his friend. Emily rode off with the vila, and he plans to bring her home. Well, if his strength, courage, and wisdom are enough.
He barely enters the Otherworld when the first test arises. Will he find his heart's desire or will his bones lay unburied along the roads and paths of the Slavic Fairieland?
Return to the legend haunted Texas, where creatures of Slavic folklore and nightmares walk. And where a kind act can change your destiny.
---
The Baker Mansion has had its fill of sorrow and strangeness, from Mr. Baker's death before it was finished, his daughter dying and the disappearance of his son. Unsurprisingly, the building was considered haunted for years. A long line of ghost hunters found nothing, and various ministers could not lay the reputed spirits. Taken over by a historical society, they asked the Brotherhood if they could take a look.
Dating back to St. Boris-Michael and St. Yaroslav the Wise, the Brotherhood enforces an esoteric agreement called the compact. One of them decides to spend the night of St. John's Eve, when the walls between worlds are thin, in the mansion.
But the Otherworld is never simple and ghosts are often the easiest thing to deal with. There are other things…
In a Texas haunted by the creatures of Slavonic myth, how knows what one may find? Join the members of the Brotherhood as Ukrainian legends walk in Cowtown.
---
KIRKUS REVIEWS: Clayton… updates the story of Rip Van Winkle in this social novel. In 2015, a backhoe at a construction site in Philadelphia unearths a coffin containing the long-slumbering Van Ripplewink, who went into the ground at age 17… Van attempts to make sense of the new world in which he finds himself. The only problem is that it doesn't make that much sense to anyone else: in post-Ferguson America, racial tensions are high… Clayton uses the character of Van, with his outsider naiveté, to look into the complex issues surrounding race and justice in America… A serious novel with an amusing premise.
MIDWEST BOOK REVIEWS: Van Ripplewink is a book of complex characters… a fascinating look into what the world has become in less than fifty years. The story is good; the view of the world from its perspective is stark and disturbing reality. 5-Stars
48 years dead, seventeen year old Van Ripplewink wakes in a dark, muddy field… His confusion turns to alarm; everything has changed — the cars, the buildings, and the people. He heads home and finds his parents gone and strangers living in his house. Attacked by a violent Philly street gang, Van is rescued by Charles Davis, a kindly black man. Charles finds Van's story bizarre, but trusts him and puts him up for the night. It is there that Van meets the most beautiful girl he's ever seen, Mignon, Charles's bi-racial niece. Charles tries to help Van, but he has his own problem, namely his girlfriend, Valerie. Charles longs to marry her, but Valerie is already wedded to the welfare system and will not move in with him for fear of losing her benefits.
Van winds up living in a homeless camp where he meets Honest John, a violent, but brilliant, alcoholic computer programmer. Alternating between the tutelage of Charles Davis and Honest John on the mores and unrest of 21st Century America, Van goes to college and finds racial turmoil and revolution in the air.
Finding his bliss writing for the school newspaper, Van spends time with Mignon and her crowd. They're fun and attractive, but strange, not seeming to have any moral center. He longs to be a part of the group, but that would mean jettisoning the values of his upbringing and time? Can he do it?
Mainstream/literary fiction (with a hint of fantasy) in the style of Bonfire of the Vanities.
---
The best laid plans of gods and men go awry on… the Blue World.
Loosely based on Zecharia Sitchin's Earth Chronicles, The Blue World follows the efforts of the Sumerian gods, the Anunnaki, as they land on earth to mine the gold there in order to repair the damaged atmosphere of their home planet, Nibiru.
The Anunnaki miners find gold mining laborious and dangerous, so they genetically engineer a hybrid race to do it for them.
Mixing Anunnaki DNA with simian, they create The Human, "those who work."
Paul Clayton is the author of a three-book historical series on the Spanish Conquest of the Floridas– Calling Crow, Flight of the Crow, and Calling Crow Nation (Putnam/Berkley), and a novel, Carl Melcher Goes to Vietnam (St. Martin's Press), based on his own experiences in that war.
Carl Melcher Goes to Vietnam was a finalist at the 2001 Frankfurt eBook Awards, along with works by Joyce Carol Oates (Faithless), David McCullough (John Adams), and Alan Furst (The Kingdom of Shadows).
Clayton's historical novel — White Seed: The Untold Story of the Lost Colony of Roanoke — explores the mystery of the vanished English colonists on Roanoke Island. His realistic contemporary novel, In the Shape of a Man, explores the dark side of the go-go lifestyle of turn-of-the-century Silicon Valley workers.
Clayton's collection of traditional sci-fi and fantasy stories, Strange Worlds, pays homage to the sci-fi greats. Clayton's novel, Van Ripplewink: You Can't Go Home Again, is a modern twist on the classic Rip Van Winkle story, that wades into America's current socio-racial dysfunction. Clayton's novella, Crossing Over, tells the story of the 2nd American civil war. His latest sci-fi collection, Talk to a Real, Live Girl, tells of a future world where the MeToo movement and the sophistication of robotic companions… collide with unforeseen and astounding consequences.
---
Vatican Championship Wrestling (VCW Book 1)
by William Hastings
HEAVEN VS HELL, LIVE ON PAY-PER VIEW!
After a demonic possession at the biggest wrestling show of the year, the Vatican sends exorcist Gabriel Blackwell to infiltrate the company, pose as a wrestler, and expel the demon.
Blackwell has a complicated history with the wrestling business and must adapt or die, fighting for his soul on Pay-Per-View.
Vatican Championship Wrestling is a fast paced pulp novel with non-stop action!
An all-out battle between good and evil with the squared-circle as the stage!
---
The tree of Liberty must be refreshed from time to time with the blood of patriots and tyrants. — Thomas Jefferson
It started with love.
The love of a young man for his Julie; the love of a mother for her doomed daughter; the love and sacrifice of an orphaned brother for his kid sister. No force in the world, even that of a totalitarian nanny-state, can erase the power of love.
It became a movement.
With the youthful and charismatic energy of lovers Randy and Julie at the core, dissident freedom-loving groups come together. From outright rebels to smugglers, from gay-rights groups to Christian congregations, they all recognized a common purpose: the reignition of freedom.
It ended in blood — and hope.
Julie's rebels identify key weaknesses in the government structure that can be exploited, given time, skill, and luck. But the government has lost patience with the dissidents, brutally cracking down on freedom-fighters and ordinary citizens alike in its efforts to exert full control. With the government growing ever closer to uncovering the secrets of the alliance, will Julie and Randy be able to hold off annihilation long enough to emerge victorious?
---
After the trauma of his wife Liz's murder, Shawn Nash wanted vengeance.
He never expected to be hunted.
A stranger's knock at his door plunges Shawn into a strange underworld of digital espionage, false identities, and violent mayhem.
His mysterious benefactor Michael seems to be equal parts guardian angel and trickster, and Shawn has a growing awareness of connection with something else in his mind.
Hunted by hitmen, haunted by memories, and hidden from digital surveillance, Shawn must discover what really happened the night his wife died — and then find a way to save the world from the monster she inadvertently created.
---
His one chance to escape slavery could trap his brother in a terrible fate!
Jetay has been on the run with his brother for a long time, hiding his psychic powers from the evil Red Knights.
Living as a slave on a star freighter, Jetay dreams of freeing himself and his brother, and of wielding his powers openly.
On a frontier planet, Lady Lanati of the Partisan Alliance seeks his help for a secret mission.
It will take him across the stars to the edge of a black hole, with a Red Knight chasing him every step of the way.
He might finally get a chance to use his powers for good.
But the price of that chance may be too high, putting his brother in grave danger.
Can Jetay save himself and his brother without sacrificing Lanati and her friends?
If he can't find a way to save them all, the battle against evil may be over before it begins….
---
Humanity is slowly losing its intellect and Dr. Brill Everly is the only one to notice.
Armed with a special gift from his father, Brill begins to unlock the deep genetic secrets of human intelligence.
Forced to reconcile with his lacking emotions and avoid constant government surveillance, Brill teams up with the dashing double agent spy turned academic, Liora Abrams.
Together they begin this journey across the globe to uncover the ancient genetic linkages to human intelligence, which leads to the ultimate discovery of the Knowledge Well.
This globe-trotting quest leads them through the ancient ruins of a Tibet temple, narrowly escaping a Chinese military ambush, only to be ensnared by a drug cartel, finally arriving at the Maori graveyards of New Zealand.
If you like fast-paced adventure, engaging mystery thriller, and romance, you will love the first installment in Chris Haught's page-turning series.
Buy The Genius Threads, Book 1 of the Knowledge Well series to read Brill's latest adventure today.
---
When the starship's captain died midway through a run with a cargo of exotic animals, the owner gave first mate Jem one chance, and one choice.
The chance: if he successfully runs the trade route solo, he'll become the new captain.
If he fails, he'll lose the only home he's ever known.
And the choice?
He's now raising an old earth animal called a basset hound.
Between station officials, housebreaking, pirates, and drool, Jem's got his hands full!
---
Awakening
Buried under an ancient battlefield and left for scrap, Combat Reconnaissance Robot N804rL awoke to a world it didn't understand.
The heavily damaged quantum machine needed answers.
On its quest for clarity, a teen boy named Sidney, a runaway girl named Twila, and a domestic service robot named Khalid join the adventure to make sense of it all.
In this clean, faith-friendly story, these unlikely friends fight against greedy gangsters, corrupt politicians, and a crumbling society in desperate need of a fresh start.
Fremont and Sidney is a fast-paced tale that takes an honest look at overcoming adversity–even when it hurts.
---
After fighting a demon in the middle of Philadelphia, Zoe O'Brien wants nothing more than to return to her normal, if stress-filled, life as an assistant professor of history at Summerfield College.
But she's an Elemental mage and that means when there's potential magical trouble on campus, the squirrels come to her.
Who or what is the dark presence moving around campus?
Why is it here and what does it want?
Zoe struggles to come to terms with her mage powers and the leadership role her colleagues have given her.
Complicating everything are all the papers that have to be graded, classes that need to be prepped, and most importantly, cats that require attention.
Oh, yeah.
She might actually have a boyfriend as well.
---
A clever detective and a young reporter: the classic crime-fighting team, looking for their first big break.
A puzzling murder, a prominent victim, and a web of deceit throw a peaceful college campus into chaos and spur the pair into action.
They face two small problems: the police hate amateurs butting in on an investigation, and their exams start next week.
The first Cameron Vail mystery, Final Exam brings the old-school mystery genre into the modern age.
---
A stolen jewel. A terrorist attack on a hotel. A mining disaster. A secret weapon that can devastate entire worlds. In the distant future, one man stands unafraid in the face of terrifying danger and impossible odds. A soldier, a starship captain, and a man of honor, Bard Conley puts his life and his ship on the line against the threats of an entire solar system. But what starts out as a series of unrelated events becomes so much more than it seems. And behind it all, a faceless enemy awaits, dagger in hand and silken words on his throat.
In a solar system filled with danger, heroes still matter. Join Sergeant Bard Conley and his intrepid crew aboard the Scheherazade as they attempt to unravel a conspiracy of epic proportions that spans the entire solar system.
A linked anthology of ten short stories, Bard Conley's Adventures Across the Solar System is science fiction in the spirit of the Golden Age of the Pulps, where the priority is fun and entertainment.
---
In the time of the Crusades, a troop of knights is surrounded by Saladin and his armies.
But before the slaughter can ensue, the knights, along with the bishop they protect, find themselves in a strange land with stranger inhabitants.
Now, led by Sir Eadric, the knights must find their way in a land that threatens them at every turn, facing impossible obstacles and creatures out of legend.
But a much greater danger faces them, as they must answer the ultimate question: When all else is lost, can faith survive?
The first book in the Chronicles of Meterra, a Christian fantasy series set in a brand-new world, where even the familiar is never quite what it seems.
---
Demons are real.
They walk this world.
To combat Satan's hordes, Christianity relies on its secret weapons: Paladins.

Oliver has visions. He hears voices. When he meets a beautiful stranger who seems to know why, Oliver must choose to answer the call of Christianity's mysterious order or never know the truth he's been searching for.
Dive into the world just beyond the edge of perception, a place where demons terrorize and crusaders wage war.

Journey with Oliver as he seeks the answer to the riddle of life: What is my purpose?

Complete in itself, BOOK OF OLIVER is the first novel in an epic series, RECORD OF THE PALADINS.

Note to reader: This is a book of faith based heroes who glorify God and seek his kingdom. It contains action, adventure, and villains. These villains are as far from God as one can be and will at times use profanity. There is a light amount of profanity in the final chapter, so fair warning.

The demons in the book are vile creatures and may scare younger readers. We do not hold back on how evil Satan and his hordes can be.
---
For fans of Oliver Potzsch's The Hangman's Daughter series, J.R. Rain's Vampire for Hire, and David Penny's The Red Hill.
The Napoleonic War rages, King George III is mad, and a dark secret society looks to take advantage.
John Grissom's enhanced vampiric hearing leads him to investigate the oldest and most powerful order of vampires in England. His investigation takes him from London to Brighton and back again, from a vampire proof dungeon to a glittering masked assembly.
What he discovers could turn the tide of war in Napoleon's favor. He hopes to succeed in preventing it, but he'll be powerless to do anything if a blood-crazed madness takes him first.
"Reads like an episode of Penny Dreadful." – William, Goodreads giveaway winner
"I was sorry to see the story end I can't wait for sequels." Leslie Sholly, blogger, lifeineverylimb.com
"I'm going to have to read [the sequel] to see what is in store for this intriguing character Zapledam has created." Laura Pearl, author of Erin's Ring
"I admire the way the author used a vampire story (without being repulsive) to tell an exciting tale with real substance, one that makes readers ponder moral truths and, in particular, to consider what really makes a monster." Therese Heckencamp, author of Frozen Footprints
---
It's not everyday that someone attempts to murder the Foreign Secretary on the floor of parliament.
Vampire turned Runner, John Grissom, is a founding member of Bow Street's new clandestine investigative division, Odd Crimes.
He finds himself witnessing an assassination attempt on the Foreign Secretary.
And then discovers London's most notorious purveyor of stolen goods at the bottom of it.
Being a vampire certainly helps in his new investigative position, but the elusive fence and the Egyptian elixir may prove his undoing.
Join Grissom and his fellow Odd Crimes Runners as they unravel a continent spanning conspiracy that could result in the enslavement of England to Napoleon if they don't prevail.
---
Historical Detective Mystery at its vampiric best!
John Grissom, vampire bacteriologist, has found a new purpose in life, joining up with friends Henrietta Isherwood and Gerhardt Van Helsing to comprise the off-book Bow Street Odd Crimes Division.
What Mulder and Skully were to the FBI, John and Henrietta are to Bow Street.
When reports come in from the Peak District of an unexplained beast terrorizing the countryside, and a lynch mob is ready to pin the trouble on a young girl, the Odd Crimes division believes it's nothing more than an elaborate hoax.
Finding hidden lairs with shrines to plague-era distorted skeletons has them rethinking everything and wondering if they are going to leave Derbyshire alive.
---
Secrets always reveal themselves. As I discover more of who I am, I realize I may be the monster everyone warned me about…
I should have died. Instead, I wake with strangers beside me in an unknown place and healed from my near-fatal wounds.
They say I have no powers, that I'm only human. But I have amnesia and no longer able to mask who I truly am and now everybody knows what I am.
I'm no longer safe.
Can I trust the vampire who saved my life? And can the were-leopard tasked with helping me understand my past, accept me for who I really am before the threat returns to finish what they started?
Ulysses Exposed is a dark adult urban fantasy with a hint of romance.
Fans of True Blood will be transported into a new world where nothing is as it seems.

Reader discretion is advised, recommended ages 17+ due to language and sexual content.
---
Newman and Goldenrod survived landing in a monster-infested wilderness.
Their group of historical reenactors no longer fears starvation.
But can they control the magic powers people are developing?
Discover how they were transported there?
And stay safe from the orcs and dragons?

***
"Karl Gallagher's first production, the Torchship Trilogy, was good enough so that I read and reread it. He has now turned his hand from science fiction to fantasy."
– Professor David D. Friedman, Professor, Santa Clara University, author of The Machinery of Freedom and Salamander
– Also known as Duke Cariadoc of the Bow, KSCA, OL, OP, founder of Pennsic War
---
A young woman seeking arcane knowledge. A saint of killers riding shotgun. And an immortal who wants to die… all aboard a runaway train.…
Elizabeth Dee never expected a knock at the door would have her taking sides in a power struggle between two feuding wizards, but she discovers that she is the magical key to a cursed mystery centuries old. As she evades the murderous knights and demonic minions of the sinister Count of St. Germain, she learns more of her own true power and legacy…Her father never prepared her for anything like this…
But it's dangerous to go it alone and she is going to need some protection, enter the infamous and touched, Porter Rockwell. If the legendary long-haired gunfighter can't keep her safe, no one can…
In My Time Of Dying is full steam ahead gas-lamp fantasy in the vein of True Grit meets The Prestige. If you like big action, larger-than-life characters, and witty humor, then you'll love David J. West's gripping novel.
Buy In My Time Of Dying to get lost in a thrilling occult adventure today!!
---
This is not his land. This is not his fight. But he will cover it in blood…
The Sellsword knows injustice when he sees it. When he rides into the borders of Marence, he discovers that his enemies have a cruel reach even outside his homeland. Warring factions jostle for position, taking advantage of creeping chaos across the nations, and he wants no part of it…
But after discovering a sinister key to his enemies' plans, the Sellsword will answer the call and do what he does best. Righteous vengeance is coming …
Wrath is an action-packed heroic adventure in the vein of classic pulp fiction and 80's fantasy movies. If you like bizarre monsters, larger-than-life characters, and witty humor, then you'll love James Alderdice's gritty tale.
Buy Wrath to get lost in a bloody sword and sorcery tale today!
---
2624% FUNDED ON KICKSTARTER!
This is going to be the best post-apocalyptic high urban fantasy pulp detective novel you will read today!
Join Shamus Tom Vargas as he Clears a murder Case in Cin City, capital of the magical kingdom of New California.
It's his job; in fact, you might say it's his calling.
Moe Lane is a stay-at-home father and unrepentant geek who is interested in fantasy, science fiction, and roleplaying games. He's had a variety of jobs over the years, from retail worker to political New Media blogger/digital activist; but now he writes books, short stories, and gaming supplements. He finds it all very, very restful. TINSEL RAIN is his latest novel.
---
An Adventure Into the Stars and the PTSD Mind
Intelligence Officer Brendan Sean Murphy has served his country on the Middle East and Central Asia battlefields. However, his hard-won successes overseas came at the cost of failures at home. These events have drained his soul, leaving him racked with PTSD.

However, his life changes when he intervenes to stop an anti-alien terrorist attack on the subway. Now, he is thrust into interstellar politics with the government naming him an intelligence attaché to the Sabia, a race that closely guards its own secrets.

Militias, corrupt politicians, and countries seeking military aid from the Sabia challenge Brendan's mission. On top of this, a medical mystery complicates the balance. Brendan's only chance at success involves accepting the impossible and unutterable. Only then can he learn the secrets in this Fallen world.
---
Clive is a slave. For thirty years, ever since he was a boy, he has kept the books for Schuyler Distribution. And for all his life he has been subject to the God of his province: Atep, King of Shadows.
Clive is settled. Content. Faithful and devoted.
But now his master Erwin Schuyler has died and Schuyler's dissolute son William has bankrupted the family business. Clive, as a corporate asset, must be auctioned off. He is sold to Charlotte Kelly Clothiers in far-off Riverton, in the province of the Goddess Estar, Lady of Dust.
Things are unsettled in Riverton. Clive is spiritually suspended between old God and new Goddess. He clashes with Julia, the slave he is replacing. A curious suitor arrives on Dame Kelly's threshold. And a bitter and vengeful William Schuyler does not seem finished with Clive.
This unusual novella, set in an American South of the early 1900s, is a collaboration between Misha Burnett (An Atlas of Bad Roads) and David Skinner (Stellar Stories).
---
Seeking to mend his broken heart and flee a world of back-stabbing intrigue and responsibility, Tomás Chen-Diaz enters the remote Ad Astra seminary. Located on the Mongolian border, the institution trains dedicated recruits to survive in harsh Lunar or Martian environments, becoming men of holiness and purpose.
Yet living within the sacred confines of a seminary is harder than Tomás expected; soon, he's challenged to learn new skills while navigating both minor jealousies and global politics—all while making friends and maturing as a person.
But will his virtues of patience and humility help him when he is ultimately put to the test?
Because when he finds himself at the very ends of the earth, he must confront his exiled brother Francisco and force him to face the twisted and deadly shadows of their shared past…and Tomas may not survive the encounter.
This stand-alone entry in the Beyond Cascadia near-future saga is a unique, intense and intimate journey through tangled human relationships, exploring how—and if—remorse and forgiveness can ever be enough to conquer the darkest heart.
---
This is the first book in the PNW Affliction series, book #1. In my opinion the best place to start, because the story starts out small and contained before opening up into the shared story in the subsequent books.
Story:
Our hero finds himself away from his home the eve of the collapse, trying to figure out what's going on and unable to make it back. Can he find a place to shelter in the darkness before he freezes in the cold, quiet night?
Pacific Northwest Affliction 1: Recycled
PNW Affliction book #1: Recycled