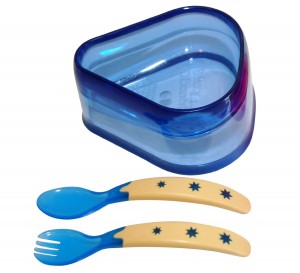 Enter "baby bowl" into your favorite search engine. For the last couple of years, the top link has usually been The Baby Dipper Bowl. Why is this Mom-invented product the buzz of the blogosphere? Because Baby Dipper is simply a better baby bowl. And now, for this weekend only, you can purchase any Baby Dipper product for 25% off. Read on!
Faced with feeding twin girls, the Czarina was appalled at how poorly conventional baby bowls worked. So, she invented a bowl that would stay put without tricky suction cups, a bowl that would guide food to a collection point, a bowl that could be used one-handed – the perfect bowl for feeding babies or for young self-feeders trying to master feeding themselves.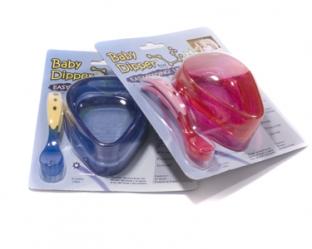 In testing, children using the ergonomically optimized Baby Dipper bowl need about half the time to empty the Baby Dipper bowl compared to standard children's feeding products (see: A Little Baby Bowl Makes a Big Difference). This means a much easier time for parents feeding their babies and for toddlers learning to feed themselves.
Baby Dipper's Black Friday to Cyber Monday Deal offers 25% off for Facebook fans who purchase the first 100 Baby Dipper bowl sets starting Friday morning, November 25, through the Facebook "Shop Now" tab. This discount is good on blue or pink Baby Dipper bowl sets and the combo listings for blue or pink Baby Dipper bowl sets plus an additional utensil set. The 25% discount will be gone at the end of the day on Cyber Monday, November 28.