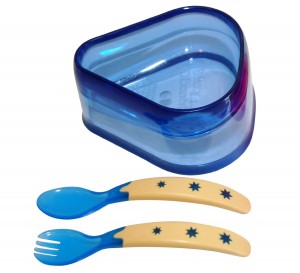 If you are new to ÆtherCzar, you may be wondering about the Amazon ad for the funky looking baby bowl in the right side bar. With the holiday season around the corner, it's a good time to revisit the ideal gift for babies, toddlers, or new parents – the Baby Dipper bowl. Faced with feeding twin girls, the Czarina was appalled at how poorly conventional bowls worked. So she invented a bowl that would stay put without tricky suction cups, a bowl that would guide food to a collection point, a bowl that could be used one-handed – the perfect bowl for feeding babies or for young self-feeders trying to master feeding themselves. This two minute video shows how it works.
The Baby Dipper bowl is normally the number one result on Google for "baby bowl." But how much better does the Baby Dipper bowl really work compared to conventional bowls? I helped set up an experiment to find out.  The difference was really amazing.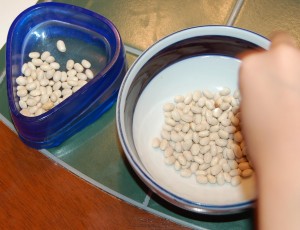 There doesn't seem to be any standard experimental protocol for evaluating bowls, so the first step was to create one.  We chose navy beans as a no-mess proxy for typical foods.  Then we timed how long it took for our subjects to spoon out a quarter cup (about 125ml) of navy beans from a baby bowl to a standard bowl.
We used a 4 x 4 Latin Square experimental design to randomize any bias due to order. Four subjects tested each of four bowls – the 4 oz. Baby Dipper bowl and three leading competitive bowls in four successive trials. The subjects were six years old, one (Child #3) with a broken right arm using her (non-dominant) left hand. Both Child #2 and #3 had prior experience using the Baby Dipper bowl. We used the spoon that comes with the Baby Dipper feeding set for all four bowls to control for differences in spoon size.
Then we did four trials in which we timed the subjects emptying the bowls as quickly as they could without spilling.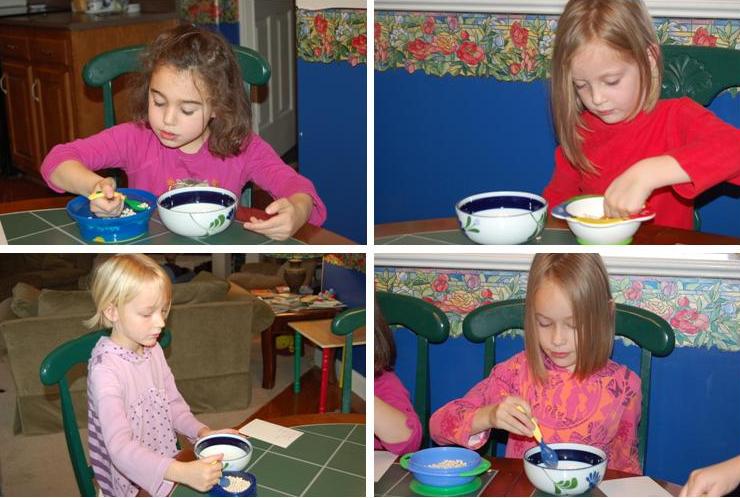 The average time to empty the Baby Dipper bowl was just over one minute. None of the other bowls averaged less than two minutes. This factor of two improvement is really remarkable. Here's the raw data (all times in seconds; smaller = faster = better):
| | | | | | |
| --- | --- | --- | --- | --- | --- |
| | Child #1 | Child #2 | Child #3 | Child #4 | Average |
| Bowl #1 | 152 | 76 | 144 | 183 | 138.8 |
| Bowl #2 | 88 | 93 | 144 | 201 | 131.5 |
| Bowl #3 | 107 | 79 | 179 | 126 | 122.8 |
| Other Bowl Average | 115.7 | 82.7 | 155.7 | 170.0 | 131.0 |
| Baby Dipper Bowl | 47 | 66 | 57 | 72 | 60.5 |
When I tried the experiment on myself, I found only a marginal improvement in time using the Baby Dipper bowl, probably because I'm able to compensate for deficiencies in the other bowls' ergonomics with my better-developed adult motor skills. Less dexterous eaters need all the help they can get, and the Baby Dipper bowl makes meal time much easier for children and the parents who must either feed them or clean up after them. In fact, the last time I mentioned the Baby Dipper bowl, it was to pass on the story of a five-year-old girl with special needs whose mother had given up on her daughter spoon-feeding herself. When the girl used the Baby Dipper bowl, she was able to successfully spoon-feed herself for the very first time (here's her story).
You can order Baby Dipper Feeding Sets (bowl, spoon, and fork) from Amazon – eligible for free "Super-Saver" shipping if your total order is over $25.