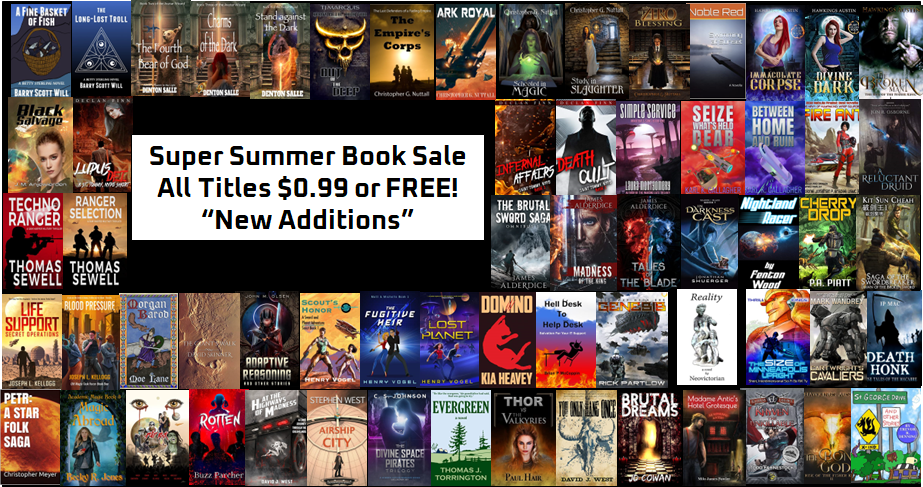 Final total: 1463 Kindle Free E-books and 2187 Kindle Paid E-Books.
Thanks for participating. Our next sale will be September 7-13.
These titles have not appeared in previous sales: a great place to start looking for some fresh reads. Offerings include titles from Jonathan P. Brazee, Barry Scott Will, Declan Finn, Christopher Nuttall, Noble Red, Hawkings Austin, Todd Fahnestock, J.P. Mac, Mark Wandery, P.A. Piatt, Jon R. Osborne, Karl K. Gallagher, Laura Montgomery, J. M. Anjewierden, Thomas Sewell, James Alderdice, Jonathan Shuerger, Fenton Wood, Kit Sun Cheah, Denton Salle, T.J. Marquis, Neovictorian, Rick Partlow, Brian P. McCoppin, Kia Heavey, Henry Vogel,, John M. Olsen, David Skinner, Moe Lane, Joseph L. Kellogg, Christopher Meyer, Becky R. Jones, Buzz Parcher, David J. West, Stephen West, C.S. Johnson, Thomas Torrington, Paul Hair, J.D. Cowan, and Trevor R. Denning.
And every title is either free or $0.99. Note: prices are set by the authors, so please confirm before you buy.
---
2018 NEBULA AWARD FINALIST: BEST NOVELLA
Floribeth Salinas O'Shea Dalisay is an Off-Planet Worker, employed as an exploration pilot by the giant corporation, Hamdani Brothers. Sent on a routine mission to analyze one of the millions of systems in the galaxy, she stumbles across something that could threaten humanity's very existence. She barely escapes with her life, but in the process, has to shut down her scout's AI.
As with all OPWs, she has few rights, and instead of being lauded as a hero, the corporation thinks she is lying. Her managers believe she found something valuable and shut down her AI in an attempt to hide that fact, hoping she can sell that information to the highest bidder. Grounded, and with a huge debt now over her head, Beth has to convince the powers that be that a very real danger to humanity is lying in wait out there in deep space.
---
Betty Sterling is a common thug with a chip on his shoulder–not surprising since his name is "Beatrice"–until he's hired to do the kind of job he's never done before. When Betty gets sent to help fishermen who aren't catching any fish, he'll reel in a lot more than he bargained for. Journey to a world rich with magic, not to mention elves, ogres, and trolls.
The Betty Sterling novels introduce a new type of fantasy world, one where using magic is as common as brushing your teeth and different species jostle each other for position and power. Join Betty and his friends, Jewels the elf and Sam the ogre, as they set off in search of missing fish and find things stranger than any they have imagined.
---
Betty Sterling is a common thug with a chip on his shoulder—not surprising since his name is "Beatrice." When Betty is sent to shut down a potions ring, he ends up traveling to the Troll homeland and comes face-to-gaping maw with a dragon. And that's only the beginning! Join Betty, Lilahh, Jewels, Sam, and others as they get to the bottom of a hostile takeover unlike any that has been tried before.
Imagine a world where magic is as common as brushing your teeth. Levitating "floaters" travel city streets and high-rise buildings employ spell-casters to levitate people up on specially-designed lifts. Wand-slingers and mind-readers abound and humans rub shoulders with tiny elves and massive ogres. Watch your back, guard your mind, and never forget to keep your wand in its sheath.
---
Centrism Games
by Rachel Fulton Brown and the Dragon Common Room
Chivalry is dead. These knights want Fame. And Fama's a witch.
Follow a band of very different Knights on their quest to become the most balanced, the most tolerant, the most compromising of everyone on the modern political spectrum.
Each knight dares to liberalize and conserve, but who will win the ultimate prize and stay safely in the centre?
A cautionary tale in heroic couplets modeled on Alexander Pope's scathing 18th-century Dunciad.
Reviews:
Dr. Rachel Fulton Brown and her merry band of poets have compiled here a fun, pointed collection of verse through the very active Dragon Common Room Telegram chat. The whole point–as I gather it–is that rather than mucking about in the culture wars, we should be out _creating_ culture on our own.
_Centrism Games_ does just that. It's wonderful to see these modern knights prove that the pen is, indeed, mightier than the sword.
This poem savagely rips the hearts out of political centrists and moral relativists, and makes them eat it.
Polite Christians and social Conservatives (so-called) will be offended at the prose in 'Centrism Games', justly so. Readers both Right and Left will be asking themselves "what would I be willing to do for glory in this world?", and at each page realize the inglorious catastrophe of the politically correct, postmodern, subjective and relativistic dogmas that praise tolerance and liberty whilst hell is set loose all around us. Readers will be challenged to overcome their revulsion at the themes and language to see the great moral lesson of this modern-Dunciad: every ticket has a hidden price.
This is not a Boomer-friendly story.
---
At fifteen, Alexis Carew has to face an age old problem – she's a girl, and only a boy can inherit the family's vast holdings.
Her options are few.
She must marry and watch a stranger run the lands, or become a penniless tenant and see the lands she so dearly loves sold off.
Yet there may be another option, one that involves becoming a midshipman on a shorthanded Navy spaceship with no other women.
---
Penance Copper won't be a tool for evil any longer!

For as long as Penance can remember, Acid has owned her. Day after day, year after year, he has exploited her electromagnetic superpower for his own gain, while she lives on the streets and scrounges for food and clothing. She copies RFIDs and credit cards, opens electronic locks, causes explosions and havoc, but at least she's never had to kill anybody.

Until now.

The superhero Justice is getting too close to finding out where Acid has been selling trafficked girls, and it's Penance's job to take him out.

She seizes this chance to escape Acid and join up with the good guys in a desperate attempt to gain protection and make a new life for herself. Unfortunately, this is the same day that aliens invade…

Soon, Penance is embroiled in an intergalactic encounter with an alien boy named Kail, who is perhaps as lonely and broken as she is. Even if he is infuriatingly arrogant.

The first young adult series in the Heroes Unleashed universe launches with the Teen Heroes Unleashed series. Readers will love hardworking, sassy Penance as she tries to learn to use her powers to save the world instead of to steal.

Can Penance and Kail find the missing girls and save the Earth from an alien invasion? Or will Acid find her again and punish her for running away?

Read Penance today and find out!
---
Momma, May I Have the Moon?
by TIMOTHY SCOTT ROACH (Author), MIEKE JANSSENS (Illustrator)
"Momma, may I have the moon?"

"Oh, my dear no! It would never fit in your room."

On the surface, this book is about unobtainable dreams and fanciful things, but if you look a little deeper you will see it is something else. A problem is presented and the reader is challenged to use his or her imagination to come up with a solution. This is engineering at its purest level — a level as accessible to children as it is to adults. Children naturally think outside the box, because for them there is no box. See what ideas your child can come up with to reach the moon and then draw and submit them for a chance to be in future editions of the book.
---
THE KIDNAPPINGS WON'T STOP!

Pit girl Sasha Reed has a problem: every dirtbag on the planet wants to kidnap her!
Her new subspace storage technology has attracted the attention of mutants, mad scientists, and the worst scum the Earth Sphere has to offer.
Now Sasha and her gun-toting race car driver boyfriend must deal with all sorts of danger in this short story series!
---
Model 5 is a prototype designed to fit seamlessly into human society.
A meeting in Tokyo derails Nichole's planned training as she is dispatched to Portland, former Oregon; the last working deep-water port on the West Coast of the imploding US.
There, under her cover as a Graduate Engineering Student, she is to do her utmost to nurture the people and politics of the City-State into a Friend and Ally of the Japanese Empire.
But from her first day in her new home, all of Nichole's plans go awry.
Beset by those who want this small lamp of Western Civilization snuffed out, Nichole must find within herself the courage and ability to protect her new friends, at whatever consequence to herself.
---
After residing nearly a year in Portland, Nichole's life seems to finally settle down: with her classes, friends, and lover.
But troubling rumors about secret deals between the City's mater and the savage horsemen to the east reach her ears.
With her own skills augmented by her friends and allies, she sets plans into motion she hopes will thwart those in opposition to her dream of a peaceful future.
Once again denied a quiet, normal life, Nichole is forced to make hard, dangerous choices that will jeopardize her, her friends, and the survival of the City itself.
---
Overnight, Tomás Chen-Diaz has gone from an outcast on the brink of death, to a man whose vast wealth and global connections offer staggering opportunities and responsibility.
But his bright future is soon threatened by corporate treachery and intrigue, even as he fights to keep his own family secrets hidden while settling private scores—discreetly.
For instance: how should he dispose of his murderous brother, Francisco, who was ruled a clone and stripped of all legal rights?
And what of the plight of Selena Vasquez-Medina, the beautiful, genetically-perfected model whom Francisco seduced and betrayed years earlier? Can she be located and ever heal from her past mistreatment enough to trust Tomás?
To aid him with these challenges, Tomás enlists the skilled American cyborg law enforcer, Owen MacIntyre. But with plenty of his own personal trauma and responsibilities to deal with, is MacIntyre ready to take on the role of behind-the-scenes player in Vibora Enterprises—and mediator between the rancorous Chen brothers themselves?
Because his time and skills are sorely needed to help protect the unstable United States from a gathering storm of civil unrest…
Part thriller, part intimate psychological drama, this epic follow-up to Echoes Through Distant Glass tracks a memorable cast of characters as they continue to explore the vivid landscape of the almost-future, while enduring the temptations, successes, loves and loss, without which no one can truly grow.
---
"This society is decadent beyond redemption. It is time for it to be purged in fire and rebuilt from the ashes."
The royal family of Carlissa struggles to guide their land into a new age of enlightenment. But when a radical professor of magic is targeted for heresy by the Inquisition, they end up caught in the crossfire. And when that violent confrontation spawns political infighting in the kingdom, it leads to the return of a dark and ancient threat thought lost to the legends of time.
Prologue to Chaos introduces the vast world and cast of characters of the Sanctum of the Archmage saga. Aron and Gerard, princes of Carlissa, race to stop the rampage of an arrogant mage targeted by the Inquisition. King Danor navigates his government's factions in a struggle to reform its archaic laws. Orion, a scholar, prepares for his first day as an instructor at the academy, while Randia, a talented bard, looks forward to a life of music and theater with her beloved consort.
They do not know it yet, but each of them will be called upon to fight or die in a desperate battle that follows the opening of the Hell Gate.
Prologue to Chaos finally brings the world and story of the award-winning Sanctum of the Archmage role-playing games to the world of fantasy fiction. Get it now and don't miss this exciting start to the saga!
Note: An earlier version of several chapters from this book appeared as part of the novel Dawn of Chaos, published briefly on Amazon several years ago. That book has now been re-written and expanded into a series of six novella-length installments.
---
Five short stories about life in the America of the future: during a new Civil War, societal collapse, and a different kind of alien invasion.
---
Two coasts, two tragedies.
A car accident in the east sends the lives of multiple unrelated people in different directions, some of them on collision courses.
A school shooting in the west takes some lives and saves others.
What are we to make of all this?
Is life just a series of meaningless, unrelated events, or is reality following a plan?
A teacher, plumber, librarian, student, deadbeat, and more learn the answer to this and more during the course of a single, roller coaster of a day.
---
Jisedai
by Daniel P. Riley
Gabriel is a killer for the mega-corporation that raised him, trained in the ancient arts of Bushido.
Hana was kidnapped, forced into a world of depravity and darkness.
When the two meet by chance on the grimy, rain-soaked streets of a frightening future Harajuku sector, it changes both their lives forever. For honor, Gabriel must now face the group of trained killers and soldiers that he swore loyalty to and bloody his white hare katana to protect the young girl and her strange pet.
Dark Angels and wicked assassins wage war in the ruins beyond the borders of oppressed Tokyo in Jisedai!
---
For he is the Star Warden none shall find him wanting in the face of evil.
Once upon a time, in a world far far away. Darkness reigns and innocents suffer. One knight dares to challenge the forces of evil. That knight is Sir Samuel Bailey, The Star Warden. Armed with the holy sword Dawnbringer, ray gun, rocket pack, and a heart of a hero. He journeys the world with Princess Kaguya on his quest to end the tyranny of the Dark Lord Daimos and restore all that is good and right.

Daimos will stop at nothing to keep his iron grip on the planet. In his latest effort to crush resistance, he conjures a Curse of Eternal Night against a knightly order. During the Star Warden's quest to end this curse he encounters dangerous monsters and malicious machines but can he overcome the greatest enemy of all? His own fear.
This is a straightforward tale of high adventure, action, and romance with the spirit of a Saturday Morning Cartoon show. Come and enter a fantastical world of heroism, true love, faith, in a war of good vs evil.
This is not a Boomer-friendly story.
---
KEEP THE GOOD BOOK CLOSE AND YOUR SIX-GUN CLOSER
Pass the bottle, stranger, and I'll tell you a true story of a West that never was. A tale of the lawman Zarahemla Two Crows and his quest for the widow's son that led him through the gates of Hell.
A story of the child's young pioneer mother who joins Two Crows, and the vampire-hunting nun and cavalryman with his steed of steam and iron who come to their aid. A tale of a world where one needs a trusty six-gun at their side and an even greater trust in God to survive.
I'll tell you of their battle into the heart of darkness, and the faith required to prevent the resurrection of a godlike entity of evil—a power greater than the world has ever known.
I'll tell you a story, friend, of when the West was weird.
Ryan Williamson's The Widow's Son is a gritty blend of steampunk fantasy, the occult, and Western adventure "that will take you on a wild ride unlike anything you've experienced before." (Woelf Dietrich, author of The Seals of Abgal)
---
You Should Never Speak Truth To Power…
The Galactic Empire is dying and chaos and anarchy are breaking out everywhere. After a disastrous mission against terrorists on Earth itself, Captain Edward Stalker of the Terran Marine Corps makes the mistake of speaking truth to power, telling one of the most powerful men in the Empire a few home truths. As a result, Captain Stalker and his men are unceremoniously exiled to Avalon, a world right on the Rim of the Empire. It should have been an easy posting…
Well, apart from the bandits infesting the countryside, an insurgency that threatens to topple the Empire's loose control over Avalon, and a corrupt civil government more interested in what it can extort from the population than fighting a war. The Marines rapidly find themselves caught up in a whirlwind of political and economic chaos, fighting to preserve Avalon before the competing factions tear the world apart. They're Marines; if anyone can do it, they can.
The battle to save the Empire starts here.
---
Ark Royal
by Christopher Nutall
If you wish for peace, prepare for war.
-Royal Navy Motto
Seventy years ago, the interstellar supercarrier Ark Royal was the pride of the Royal Navy. But now, her weapons are outdated and her solid-state armour nothing more than a burden on her colossal hull. She floats in permanent orbit near Earth, a dumping ground for the officers and crew the Royal Navy wishes to keep out of the public eye.
But when a deadly alien threat appears, the modern starships built by humanity are no match for the powerful alien weapons. Ark Royal and her mismatched crew must go on the offensive, buying time with their lives And yet, with a drunkard for a Captain, an over-ambitious first officer and a crew composed of reservists and the dregs of the service, do they have even the faintest hope of surviving …
… And returning to an Earth which may no longer be there?
[Like my other self-published Kindle books, Ark Royal is DRM-free. You may reformat it as you choose. There is a large sample of the text – and my other books – Try before you buy.]
---
Caitlyn Aguirre should have been a magician.
Her family certainly expected her to be a magician.
But by the time she reached her twelfth birthday, Caitlyn hadn't even managed to cast a single spell!
In desperation, her parents send her – and her magical sisters – to Jude's Sorcerous Academy, her last best chance to discover her powers.
But as she struggles to survive her classes without a single spell to her name, Caitlyn starts to uncover an ancient mystery that may prove the key to her true powers …
… If she lives long enough to find it.
---
Emily is a teenage girl pulled from our world into a world of magic and mystery by a necromancer who intends to sacrifice her to the dark gods. Rescued in the nick of time by an enigmatic sorcerer, she discovers that she possesses magical powers and must go to Whitehall School to learn how to master them. There, she learns the locals believe that she is a "Child of Destiny," someone whose choices might save or damn their world … a title that earns her both friends and enemies. A stranger in a very strange land, she may never fit into her new world …
…and the necromancer is still hunting her. If Emily can't stop him, he might bring about the end of days.
Book I in the Schooled in Magic series.
---
Brimming with new ideas for magical research, Emily returns to Whitehall School for her Second Year, only to discover that things are going to be different. Her friends have become sports-mad fanatics, her new roommates are strangers to her, her new classes are far harder and one of the teachers seems to actively dislike her. As she returns to the comforting routine of the only place she considers home, she finds that Second Year will be far harder than the first.
But as the students settle in to continue their studies, it rapidly becomes clear that all is far from well at Whitehall. There's a murderer running loose in the school. A murderer who may be a newborn necromancer. And then there's the spy watching Emily from the shadows, waiting for her to make one tiny, but fatal mistake …
As the darkness falls on Whitehall, Emily may be their salvation…or the person who damns them all.
---
An un-named Englishman in an un-named English city suffers a personal tragedy that leaves him devastated and alone in the world.
Driving on impulse to a nearby coastal town, he feels himself born again in the icy waters of the marine lake, and spends a long hot summer re-forging himself into a man who is ready for anything.
One evening at the lake, he sees an intensely charismatic young woman swimming at sunset, and their lives are inexorably drawn together.
But shadows are gathering across the city and, haunted by the image of a missing teenager, he must face the darkness alone.
'Swimming at Sunset' is the debut novella by British dissident author Noble Red. Inspired by the self-publishing phenomenon that is Delicious Tacos, as well as the Vitalist philosophy of Bronze Age Pervert, he has penned a short, simple, direct and yet powerfully emotional novella that is influenced by such classic works as 'L'Étranger' by Albert Camus and 'The Sailor Who Fell From Grace With The Sea' by Yukio Mishima, while also containing references to Orwell, Shakespeare and The Iliad.
---
The devil hasn't killed Purity Wellman yet.
But he's still got time. Life isn't going to settle down for Purity anytime soon. She might have killed the dark pastor and his demons, but the fallout from the fight is still plaguing her. It looks like her old enemy Don Bello is behind everything. He's coming for Purity and what remains of her family.
And for anyone that has ever dared help them in their fight. Her brother's friends and allies are brutally murdered, and it won't be long before they find her. Purity must push aside her terrible memories of being the devil's prisoner and fight back. That's what the Wellmans always do. For, the devil's work is never finished and the family business is never done.
The second Purity Wellman book picks up right where the last one ended, in the middle of the mystery, magic and battle against evil. Buffy the Vampire Slayer meets Sookie Stackhouse in Purity Wellman, a fish-out-of-water resurrected girl trying to find her place in a creepy Appalachian American Gods universe.
Can Purity win against the devil? Or will he claim her soul as his own again?
---
Can Purity control the vampire within herself? Or is it lying to her so it can take her power for itself? Purity must find the witches, and stop them. She's only got a week to do it, and she's got to do it alone.
The demon from the Dark World is strong enough that she's beginning to worry it might control her, but Purity barely has time to miss her brother John, much less deal with the monster inside her head. The Forest People speak of a coming doom, brought about by three witches. Purity works to unravel the mystery and save the world. But she's out-powered and out-classed. The vampire in her head says it can help her. If it stops the apocalypse, her soul might be an acceptable price to pay.
The third Purity Wellman book pits Purity against her most dangerous enemy yet–herself. Buffy the Vampire Slayer meets Sookie Stackhouse in Purity Wellman, a fish-out-of-water resurrected girl trying to find her place in a creepy Appalachian American Gods universe.
---
A Shadow Man is stalking the children of Ard, leaving the dead lying in the forest with their eyes black pits. The people are in a panic, but the investigating Ruad philosophers have no explanation. Seeking someone to blame, the people of the ancient city of Ard demand the head of the most dangerous person in their midst, the giant Waylaid.
Once great among the Fomor – a prince, a sorcerer, a priest – Waylaid has been cast out by his people. He has come to Ard with his Bolg apprentice, Piju, to live quietly and study in Brea's library. Can he escape the maddened crowed and find the killer without breaking his vow to give up sorcery?
And has he failed to teach his young and impetuous apprentice the most important lesson of them all, that the price of using sorcery is always too high?
---
Prophesy has shaken the foundations of the world.
Three kingdoms search for a king,
while an evil sorcerer has raised a spirit to destroy the fragile peace of the Daen Empire.
Piju fights to free the slaves of Ard, and Waylaid must find a way to defeat a god which has the power to take his bones.
---
A rising champion. A secret rebellion. A deadly crossroads.

After forty-nine victories in the bloody Night Ring, Khyven the Unkillable is a celebrity gladiator. If he can survive one more battle, King Vamreth will free him and declare him a knight.

But the king doesn't play fair.

Instead, for Khyven's fiftieth "battle," the king orders him to travel through the magical noktum and infiltrate the secret lair of a rebel leader known only as "The Queen in Exile." All Khyven must do to earn his knighthood is gain the queen's trust…

…and betray her.

As Khyven struggles to complete his mission, he is caught between a growing respect for a rebel queen who will do anything for her people and a ruthless king who will stop at nothing to crush her.
---
"Mac is a fine writer, with a tremendously twisted sense of justice, injustice and just desserts." — Matt McAvoy Book Reviews
Menace, Murder, Mystery!
Trespass forbidden boundaries, cross into eerie dimensions, mingle with the sinister and the lost in a treasury of nine peculiar tales ranging from the supernatural to the satirical.
A naïve publisher blindly sets in motion the annihilation of Earth.
High school students risk their lives in a brutal quest for popularity.
An ambitious District Attorney struggles against the consequences of his inane policies.
Written over a decade, these stories span the worlds of magical realism, dark urban fantasy and classic horror. Greed, innocence and betrayal draw characters into settings laced with tension, black humor, and the creepy abominations of H.P. Lovecraft. So grab a copy, relax and set your imagination to cruise as an anthology of fantastic fables awaits.
---
*** 2017 Dragon Award Finalist for Best Military Scifi ***

Heir to one of the leading "Four Horsemen" mercenary companies, Jim Cartwright is having a bad year. Having failed his high school VOWS tests, he's just learned his mother bankrupted the family company before disappearing, robbing him of his Cavalier birthright.

But the Horsemen of eras past were smart—they left a legacy of equipment Jim can use to complete the next contract and resurrect the company. It's up to Jim to find the people he needs to operate the machinery of war, train them, and lead them to victory. If he's good enough, the company can still be salvaged.

But then again, he's never been good enough.
---
The ISMC Wants You!

Abner Fortis joined the International Space Marine Corps for two reasons: to escape a life of drudgery building biodomes for his father's company and to pay off several billion credits in student loans, which the ISMC promised to do.

Every Space Marine starts out as a cherry, though, and Abner is no different. When he makes his first combat drop, or cherry drop, he's a know-nothing second lieutenant added to the mission roster as an afterthought.

The Space Marines are tasked to support the Galactic Resource Conglomerate (GRC) while they test a revolution in military technology: Precision Crafted Soldiers (PCS). All the Space Marines have to do is kill bugs. Even when a tragic accident leaves Fortis in command, the mission is still an easy breather.

When the Space Marines discover proof of a long-buried betrayal, though, friends become enemies, and their mission goes awry. Does Fortis have what it takes to lead the Space Marines to survival in the face of overwhelming odds?
---
What if you could bring back magic?

Centuries ago, the followers of the new gods defeated the old gods and the folk of legend, banishing them from the world of man. With their departure, magic faded from the land.

The Milesian Accords had provisions for a new challenge, though, and the Exiled Gods have sent their minions back to our world to seek out a champion to fight for them and a druid able to wield the magic needed to fulfill the challenge.

A descendant of the druid who participated in the original challenge, Liam Knox doesn't know anything about the Accords or his ancestors, but those seeking to maintain the status quo are hunting him, and the beings of myth are doing their best to convince him to help the Exiled Gods return to the world of man, bringing magic back with them.

Liam is faced with a choice he doesn't want, and if he chooses wrong, he risks more than his own life—he could end the world as we know it. And he's running out of time to decide.
---
The Censorate wants to impose its rule on Fiera
and destroy all the art and history the Fierans preserved from Old Earth.
If the embassy can't placate the Censorate,
Marcus Landry will be forced from the world of the woman he loves . . .
and will return to a home facing annihilation.
---
A dozen cities nuked.
Millions dead.
The Fierans are burning for revenge.
Marcus Landry is eager to fight the Censorate,
but desperate to protect the innocents oppressed by Censorate rule . . .
including his beloved, trapped behind enemy lines.
---
They're stranded beyond the known stars. Will Peter Dawe's perilous mission with a brother he despises end in death?
A lost starship's settlers, isolated on an uncharted alien world, manage to terraform a mountain-ringed valley into a rich replica of Earth. Despite their success reproducing the environment they need to survive and thrive, only tenuous forces hold together the human colony on the world of Not What We Were Looking For. The governor's appropriation of the western settlers' weapons for the city strains those bonds to breaking point—and then beyond when Peter Dawe's father sends him to get the weapons back.
Twenty-year-old Peter Dawe's restless nature easily endures the lost colony world's rigors. His genetic modifications make it even easier. So when Peter retrieves the family weapon, he also brings back a motorbike, a piece of technology no longer available to everyone.
It would be a fine prize to keep to himself. He won it. He earned it. He quickly learns that his brother Simon lies in wait to take what isn't his. Simon wants more than just the motorbike. He wants Peter's glory.
But when Peter's father forces him to take his hated older brother on Peter's next mission, the pair must not only navigate the city's perils and politics but learn to work together—when neither thinks the other should be in charge. Their success—and their very lives—depend on it. Or will Peter be proven right that he should have faced this task alone?
Simple Service is the first book in the immersive Martha's Sons science fiction series. If you like gripping action, insurmountable odds, and alien worlds, you'll love Laura Montgomery's tale of a man determined not to let family ties sabotage mission success.
Buy Simple Service to pull off the impossible today!
Can Tommy catch the killer before he becomes a martyr? Or will the demon bring darkness beyond imagination to the whole of New York? Read Hell Spawn today and find out!
---
All saints are dead.
Detective Tommy Nolan is no stranger to bizarre events. After all, he's a New York cop. And after the demon, he thought he'd seen it all.

When home invaders threaten his family, he was prepared to take it as a risk of the job. When it turns out the intruders were covered in the mark of the demon, he knew the trouble was just beginning.

Now, it's a race against time as the cult who raised the demon take their revenge. They know that Tommy is not yet a saint.

Because all saints are dead.
---
Hell Spawn St. Tommy Book #1 by Declan Finn is a "Fan Favorite."
---
Detective Tommy Nolan is having a bad day.
First, the celebrant was murdered during mass. Then the SWAT team knocked down his door trying to kill him.
With a million dollar bounty on his head, every gunman and demonic monster is coming out of the pit to collect it.
Tommy has to discover who's out to make him a martyr before he becomes a saint for real.
---
For his own good, Detective Thomas Nolan has been sent abroad as part of the NYPD intelligence division.
But when Nolan awakes in the middle of the Italian wilderness, stripped naked and hunted by witches, he might find it safer back in New York.
These witches want to hunt the most dangerous game, but this one may be the most dangerous of all.
---
Black Salvage
(The Black Chronicles Book 4)
by J. M. Anjewierden
Morgan and the crew of STEVE have captured the pirates' command ship, but can they keep it?
After a harrowing battle on the mining station and in the Black they won an incredibly valuable prize – an armed starship that, once repaired, is capable of subspace jumps without a gate.
All Morgan and her skeleton crew need do is make the long journey home and they will be rewarded handsomely.
Unfortunately, not all the pirates are accounted for, and their nimble frigates are still out there somewhere, plotting to take back what Morgan rightfully commandeered…

The rest of the The Black Chronicles is also $0.99 and is on the "Fan Favorite" page.
---
North and South Korea are on a collision course with the prospect of reigniting war in this action-packed military thriller!
1LT Sam Harper, surfing engineer, tries to fit in on his new job. He'll risk everything to prevent mass destruction.
Sam's intelligence analysts identify security vulnerabilities in a government lab in Seoul.
Meanwhile, his CIA ex-girlfriend complicates his life with her spy priorities.
A desperate North Korean general sends a naive Special Forces lieutenant and his team across the DMZ to steal nuclear materials technology.
Sends them disguised to infiltrate the top-secret lab Sam protects.
Sam will need all his combat and technical skills to safeguard those he cares about, but his involvement with a traitor and a CIA temptress may teach him the wrong lessons about who to trust.

Dedicated to Tom Clancy, David Drake, and Robert Ludlum.
Get this military action novel today!
Army Engineer vs. Infantry Officer
Lieutenant Harper, surfing Army Engineer, must pass the Ranger Assessment and Selection Program (RASP). He's promised Michelle, his ex-girlfriend CIA Officer, to be one of the few selected for the coveted 75th Regimental scroll. She's recruited him to back her up by commanding a Military Intelligence platoon in Korea.
But he has to be selected as a Ranger first.
RASP won't be easy. Harper must lead a pair of enlisted Ranger candidates to victory. Captain Dobbs, an infantry officer also competing for selection, has Harper's number.
Aggressive officers battle head-to-head in each task; Engineer vs. Infantry.
The 75th Ranger Regiment's motto, Sua Sponte, requires initiative, but will Harper win or lose against Dobbs by sticking with the Ranger Handbook? Or might he die in the process?
★This short story is complete on it's own, but takes place chronologically between Part I and Part II of the book Techno Ranger.★
---
Combined for the first time in one volume, here are the first five bestselling books of THE BRUTAL SWORD SAGA series – BRUTAL, THE USURPER, FIERCE, RAGE and SAVAGE.
He has no name. His past is a mystery. His future is etched in blood…
The Sellsword knows an opportunity when he sees one. When he rides into the border city of Aldreth, he can tell that the power struggle between two feuding wizards needs a solitary spark to ignite into all-out-war. As he sets the corrupt paladins and demonic adepts against each other, he's not surprised when the blood begins to flow…
But after the alluring duchess catches his eye, the Sellsword puts himself in harm's way to protect her and the innocent people of Aldreth. To save the noble few, spells and blades won't stop the Sellsword from leaving a swath of righteous carnage in his wake…
The Brutal Sword Saga is an action-packed epic fantasy in the vein of classic pulp fiction. If you like gory battles, larger-than-life characters, and witty humor, then you'll love James Alderdice's gritty tale.Buy The Brutal Sword Saga Omnibus 1 to get lost in a bloody sword and sorcery adventure today!
---
Gamble with fate. Defy the gods. Winner take all…
First known as Gathelaus the Sellsword, then the Usurper, and now as the Mad King; he seeks a return to not only his glory and kingdom but also to save his very soul and mind. Poisoned and seeing visions of madness, he is on the run across a trackless wilderness with no end of enemies hungering for his blood. Everyone with a grudge to bear, from Pictish chieftains to vicious mercenaries, and even elemental gods and devils come calling, hoping to take his head. Blood will flow like a river…
But with friends and lovers at his side, some of those dark forces can be opposed. Balance in the universe will rock back and forth. His return to the throne will be an epic event in the penultimate installment of the Brutal Sword Saga…
MADNESS of the King is the a bastard love child between J.R.R. Tolkien and Robert E. Howard. If you like gory battles, larger-than-life characters, and witty humor, then you'll love James Alderdice's gripping tale.
Buy MADNESS of the King to enjoy a bloody sword and sorcery adventure today!
---
Tales of the Blade collects 9 heroic fantasy tales previously published by James Alderdice/David J. West. Take the weird adventure and journey to eldritch temples and witness strange rites among the barbaric splendor of elder days. Follow brave warriors and daring thieves as they defy the grip of monsters, wizards and terrible gods. Sword and sorcery is alive once more.
Tales of the Blade is an action-packed heroic fantasy collection in the vein of classic pulp fiction and old school D&D. If you like gory battles, larger-than-life characters, and witty humor, then you'll love James Alderdice's heroic fantasy stories.Buy Tales of the Blade to get lost in a heroic sword and sorcery adventure today!
---
When Hell's legions invade his homeland, a desperate warrior turns to the only mentor he can find – a bitter champion of the Everlasting Dark.
Gideon Halcyon wants nothing more than to save his people from the forces of Hell. Demons and cultists run roughshod over his home, slaughtering and sacrificing to a trifecta of fallen angels on the cusp of destroying the kingdoms of Man. Hope seems infantile in the face of extinction itself…
…until Gideon meets Ashkelon.
Coming from the Void beyond the world, Ashkelon alone survives the world he left in ruins. Cynical and ruthless, the dark sorcerer seethes with millennia of hatred, and his cursed sword Acherlith shrieks with the last screams of a thousand failed heroes.
Ashkelon makes Gideon an offer – to train him to be a hero of the Light beyond the failures sealed within his blade, a peerless warrior exceeding even the exacting standards of the Everlasting Dark. Reluctantly, Gideon accepts, and is thrust into a world of infinite cruelty under Ashkelon's black fist where the slightest misstep will see him dead at the sorcerer's hand.
As Hell consumes the hopes of Man, a hero is forged in Darkness.
---
Reynard "The Fox" Douglas is an outlaw racecar driver who despises the government that jailed him, drafted him, and seized his money.
He's also the only man who can pilot an experimental nuclear-powered supercar into the Zone, a realm of mists and monsters where nobody gets out alive.
The Zone is expanding…and eventually it will engulf the entire world. At the heart of the Zone is a singularity, a portal into other times and other places.
Transported into the distant future of Earth, Douglas has to fight his way across a landscape of alien cultures and bizarre life forms, in search of an ancient superweapon that can stop a sentient black hole from devouring the Earth.
Inspired by William Hope Hodgson's classic THE NIGHT LAND (1912), NIGHTLAND RACER is an exciting and inventive tale, using Fenton Wood's trademark combination of mythology and hard SF.
Ages 12 and up. Contains mild profanity and post-human monsters.
---
#1 Teen & Young Adult Buddhism Books!
#1 New Release in Taoism!
#1 New Release in Buddhism!
#1 New Release in Teen & Young Adult Other Religious Fiction!
#1 New Release in Teen & Young Adult Myths & Legends eBooks!

Li Ming is a small-town boy with big dreams.

In the era of the Five States and Ten Corporations, the immortals of the jianghu stand head and shoulders above the masses. Li Ming aspires to join their ranks.

But the world of the rivers and lakes is fraught with peril. Deception and danger lurk in the shadows. Bloodthirsty beasts roam the wilds. Martial cultivators constantly battle for wealth, glory and status.

Armed with his ancestral swordbreaker, Li Ming enters the jianghu as a biaohang, eager to deliver justice with steel and magic—and to chase the dream of immortality.

But first, he must prove himself worthy.

Author's Note: This series is not a power fantasy. There are no LitRPG / GameLit elements, no unconventional relationships, and no sexual content. It is, quite simply, a cultivation story—in the actual sense of the term.
---
Jeremy's celebration party for his passing the second degree of the volkh path is stopped when a band of armed men demand to speak with Master Anthony.
Who disturbs the keep of the world's greatest remaining wizard-lord?
Who is the girl with them?
And why is Jeremy so attracted to her?
In a world where the volkh wizards once ruled as gods, and the Light wars with the forces of Darkness, a teenaged boy discovers that there are other important things besides following the path of the volkh to mastery.
But even young love is threatened by the forces of the Dark. And now lives depend on Jeremy's choice.
Jeremy's adventures continue as the Light and Dark continue to strive. If you liked Riordan or Butcher's stories, you'll enjoy this fantasy series.
---
The war between the Light and the Dark continues and Jeremy survives his last adventures to find even the mighty keep of the volkhvy is threatened by foes from within.
Returning with his Master from Galena's home town, Jeremy, battered and weakened, finds armed warriors massed outside the keep.
Later the bird of prophecy sings of deception and enemies within.
When Galena is sent away on her own mission, he finds he must cope without her as the Dark exploits his vulnerability.
Will Jeremy falter or will he resist the temptations and charms the Dark sets against him?
Will the Dark triumph in its attack on all that which he holds dear?
Return to the world of the volkhvy where the myths of Slavonic legend are real as Jeremy faces hard choices to defend his friends.
---
"Many have died trying this, lad. The Elder Powers are neither gentle nor kindly."

With those words from his teacher, Jeremy began the ritual to bargain with one of the Powers of the World.
He could gain much or lose everything as the Dark again endangers those he loves.
But first he must survive bargaining with the Lord of Storms and Winter, who brings the cold from between the stars.

Return again to the world of the volkh, where Elder Powers hunt the river of stars, where women walk the path of shadows, where cities fall prey to strange diseases.
A world where power comes from either the Dark or the Light. Join Jeremy, Galena, and their friends as stand against the Dark's return.

Book 4 of the Avatar Wizard continues Jeremy's adventures in a world where magic works and folklore of Eastern Europe is true.
Book 1, Sworn to the Light: The Avatar Wizard, is a Fan Favorite.
---
Pierce and the heroes of Gorgonbane defeated the subterranean conqueror Kash one year ago. Since then, monster infestations have increased a hundredfold. It's good for business, but bad for the citizens of the reluctantly joined nations.

When a strange new entity crashes a dangerous extermination mission, everything falls into chaos.

Revelations about the world and whispers of a new form of magic litter the path from doom to an unexpected beacon of hope.

What is the Underlord Kash's prophesied threat? Can Gorgonbane save the continent from destruction? And who will Pierce have a crush on next?

Find out in Out of the Deep – Hero's Metal, book two.
How Black the Sky: A Heavy Metal Pulp Adventure (Hero's Metal – Heavy Metal Pulp Adventures Book 1) is a Fan Favorite.
---
When interdimensional travel is invented, things go well, but it isn't long before a secretive Army Colonel starts trying to steal the technology for himself. Each ill-fated attempt to seize control of this new science sends shockwaves reverberating across the Realm-lines, resulting in zones of wild unpredictability where elements from one dimension invade another. The Thrill Kings are a band of test drivers called upon to repair each of these Bleed Zones — before the balance separating realties is lost forever.

In THE SIZE OF MINNEAPOLIS UPRIGHT, a gargantuan Inter-D comes through a portal in the middle of a corn field, and Nonstop is asked to evacuate the local families before the Thrill Kings try to send the huge creature home. At the first house Nonstop visits he learns that there are also smaller creatures in the Bleed Zone, and that there is a family in the area with a lot of foster children and no working vehicle to escape with. Nonstop rushes to help the family, but when he gets to their house, all he finds is the heartbreaking corpse of a friendly-looking dog. What happened? Where is everybody? And what was that noise upstairs?
For ages 12 – 35+ (some danger from the smaller interdimensional creatures)
---
A secret society of the best humanity has to offer but no leaders, no followers, no formal structure, no written records…

Have you ever felt like you didn't quite fit in, that the people around you are concerned with petty things, that they're actors in a play that doesn't quite make sense?

Cal Adler does, until a mysterious new guidance counselor at his high school tells him exactly how he feels, and that he has friends he's never met. One day a woman strikes up a conversation on the college quad. And the real adventure begins.

A sequel, and a prequel, to the novel Sanity. Further adventures and experiences in the mysterious life of Cal. Many amazing ideas and events that had to be withheld from Sanity have been cleared by The Outfit for inclusion in Reality.
The original novel, Sanity, is a fan favorite.
---
First contact gone wrong…

It was every starship captain's nightmare, and for Travis Miller, it was his own personal hell.

He'd done everything by the book, but when the Tahni had attacked him and his crew, there was no choice but to return fire and destroy the first alien vessel humans had ever encountered.

Excoriated in the press, his career in shambles, Travis is exiled to a long patrol of the outer colony worlds. Forgotten, except as a bad example…until the Tahni prove him right by declaring war on the human Commonwealth.

Now, Travis Miller is the tip of the spear. Humanity's best hope for turning back an overwhelming assault on human space. Because to the Tahni, humans are infidels and this is a holy war…

Don't miss the next explosive series from the #1 Amazon Bestselling author of Contact Front, Rick Partlow. This is Military Sci-Fi the way it's meant to be. It's perfect for fans of Jay Allan, Jasper T. Scott, and Scott Bartlett.
---
Why is IT support so painful? You have IT Demons!
It is time to exorcise these demons and see the light.
These are stories of real companies with real employees and the changes they made to get out of "IT Hell." Learn from their journeys and transform your "Hell Desk" to a "Help Desk"
This book is the result of decades of IT support experience. The contributors come from all backgrounds and business types. From small business to mega-corporations, from privately owned to major government entities. All these business and organizations have one common thread, they had IT Demons.
Brian McCoppin is a senior IT professional with decades of proven experience transforming Help Desk and IT support at government and fortune 500 corporations. He interviewed dozens of IT professionals and have taken their learnings to share with you.
Follow their paths to change your Hell Desk to a Help Desk.
---
Domino
by Kia Heavey
FINALLY BACK ON KINDLE – 2021 RE-RELEASE! Domino has always relied on tooth and claw to keep the barnyard vermin-free. When he's not on patrol, his main concerns are prowling with housecat friends and trying to impress the mysterious, lethal female who lives in the nearby woods.
When a brilliant and charismatic tom moves into the neighborhood, purring strange notions and introducing new "friends," Domino soon learns there's no way to bite or scratch a poisonous idea. As the evil grows, once-proud felines renounce their very identities in fear, life-long friends become unrecognizable, and the natural order is turned upside-down. Locked in a deadly rivalry, Domino must rely on his wits to save his family, his territory, and a time-honored way of life from the bloody scourge that descends.
A tale of courage, strength, and love, DOMINO is a bracing tonic for a world gone mad.
---
When an alien armada invades the Terran Republic, the fate of humanity depends on two young people: Glen, who doesn't know how to be human, and Elise, who has never been on her own.
Starship pilot Glen Susa knows only the life of a slave. Forced into a life of crime by his alien master, Glen dreams of freedom, of fleeing the Regency, and of meeting a human girl. When he learns of the impending invasion, Glen breaks the chains of slavery and flies off to warn humanity.
Elise Rollins dreams of a normal life. Instead, she assists her father with his research into the fate of the long-vanished Progenitors, founders of the Regency. When her father discovers evidence of the invasion, Elise goes on the run to warn her people.
Chance brings Glen and Elise together, but their warnings come too late. Certain that the Terran Republic cannot defeat the armada, they set themselves a daunting task—solve the millennia-old mystery of the Progenitor's disappearance and discover their lost homeworld…
Can Glen and Elise do the impossible before the Regency enslaves humanity?
If you love taut intrigue, unique alien cultures, and hair's breadth escapes, you'll love Henry Vogel's modern take on the golden age of space opera.
---
"My parents are not dead!"
Everyone thinks I'm in denial, and have been ever since my parents vanished seven years ago. Everyone thinks I should just shut up and accept the vast inheritance coming my way. Everyone thinks I should let it go and get on with my life.
Everyone is wrong. I know my parents are still alive—but if I reveal how I know, I'll be drafted into Psi Corps.
My inheritance can fund my search for them. I didn't count on deadly opposition from the board of the very company I'm about to inherit. There are powerful people involved who will go to any lengths to protect their dark secrets and silence me forever, but these people don't know about my three wildcards: my rebuilt spaceship, my best friend (who is also my bodyguard), and the psychic powers I've kept secret my entire life.
My parents are alive, and I'm going to find them and save them—whatever it takes.
---
After crash landing on a long-lost colony world, Terran Scout David Rice's life got really tough.
Thrown from the space age to the steam age in the blink of an eye, David is drawn into a desperate battle to save the beautiful Princess Callan from treacherous air pirates and ruthless slavers. Trapped in a world of clashing swords, brutal savages, royal machinations, and desperate rescues, David's greatest battle is against his growing feelings for the betrothed Princess. With her life and the fate of two kingdoms hanging in the balance, which will David choose: love or honor?
Told in a relentlessly fast-paced style, Scout's Honor is an exciting homage to the classic tales of Edgar Rice Burroughs and Leigh Brackett, as well as the cliffhanger-driven energy of the early science fiction movie serials. If you long for honorable heroes and feisty heroines, treacherous villains and loyal companions, get Scout's Honor and join David's journey!
---
Buckle up for nine stories of exploration and adventure as humanity expands to distant stars, as told by John M. Olsen, with four debut stories never seen in print.
Unacceptable Losses – (Mech short 1) The first of four unrelated adventure stories using the same suit of mechanized armor. Sergeant Carolyn Storm tries to get home alone through enemy territory.
Mechanized Militia – (Mech short 2) Commander Jared Tucker must discover who is pitting two armies against each other.
Maintenance Mode – (Mech short 3) The life of a mech maintenance tech gets interesting when the space station is invaded.
The Order of Things – (Mech short 4) What do you do when Company 1337's food shipment turns out to be a mech, and you're the cook?
Consolation Prize – Two teens get cut off from their settlement in the ever-present fog of Consolation, unable to call home.
Three Strikes – How far would you go to defend your family? An orbital cargo inspector has her limits tested.
Last Chance – A starship captain must chase down and eliminate rebels who escaped on a generation ship before he was born.
Retirement Plan – All he wanted was to retire in peace on a backwater world, but no plan survives contact with the enemy.
Adaptive Reasoning – Amidst an alien plot to conquer Earth, an android discovers what it means to be human.
Sneak preview ofDiscovery: Polecat Protocol Book 1, an introduction to John M. Olsen's new Polecat Protocol science fiction series. Space miners must save themselves after disaster cuts them off from all outside contact. Then they discover it's much worse than they could have imagined.
---
In 1858, young priest Zebediah Goodnow and the orphaned Joanna pursue a murderous Giant and soon find themselves among the Martians.
In 1957, astronaut Scott Winslow Hale takes his sick wife Helen to the shrine of the beatified Zebediah and, soon after, clashes with a stranger named Eddie.
In a tangle of Providential events, perseverance and peace are drawn from the toil of Faith.
---
Follow the neo-barbarian adventures of Morgan Barod as he awakens from a coma in a world gone magically mad!
Thrill as he fights the terrifying beasts that didn't sensibly run away from humans!
Marvel at the sights of post-apocalyptic New Jersey!
Wonder at the author's lack of shame!
Prepare to be Amazed!
---
Exsanguinated. Not a word any cop wants showing up in his report. But when a drained body falls from a skyscraper across national borders, the case lands on the desk of Agent Reylic Antali at the Trans-Metro Police, and it's up to him and his team to figure out who the killer is, and what they're after.

In a city where four magical races coexist under an uneasy unity, tensions flare up as more bodies land in the morgue. The city seems on the verge of tearing itself apart as Reylic and his Old Magic Task Force race to find the culprit. But what they find may change the nature of magic as they know it…
---
Father Tanner treats the sick and injured on a dusty backwater planet. Desperate for supplies, he takes a job to treat a visiting alien official, teaming up with Damien Rogers, an out-of-work smuggler, to get him there. The problem? They're on the wrong side of enemy lines in the middle of a cold war.
Forced to hide their identities, Father Tanner and his team are stumped by the bizarre patient, whose condition steadily worsens. To make matters worse, the alien crew catches onto the ruse, and the missionary is forced to turn to kidnapping. Can they find the diagnosis before their only bargaining chip dies on the operating table?
---
After years of living in his grandfather's shadow Petr Drexel, a member of the space-faring nomadic Star Folk, is on a quest to prove his worth to himself and his family. On his first job, Petr's shuttle is shot out of the sky in the middle of a Martian civil war. Ship repairs put Petr in debt to Alfred Zwinger, who offers Petr a deal he can't refuse: pay off the debt by completing jobs for a powerful Martian noble named Rickard d'Helion.
During his first job for d'Helion Petr's shuttle is stolen by Henrietta, a Star Folk Navigator on the run. Petr retrieves his shuttle only to discover the work he was hired for isn't as simple as it seems. Deliver mining equipment – and fight off an army to protect the site; capture a rogue Star Folk mech pilot – only to discover it's Henrietta's brother, and that Henrietta isn't who she appears to be. Petr and his motley crew quickly become entangled in solar system spanning intrigue, and now Petr's problem is no longer just paying off his debt, but whether he will survive at all.
---
Zoe O'Brien is very much looking forward to teaching summer school and tracking down fairy tales in Ireland. Her hopes for a quiet, academic summer are squashed when the dolphins tell her there's something wrong in the Aran Islands, and her students are stalked by a… something before disappearing. There's also the possibility that the slightly creepy guy at the train station is her father. So much for a quiet research-filled summer!

Now Zoe is in a race to find her students and help stop an invasion of Ireland by creatures out of myth and legend. The amount of magic in Ireland stuns Zoe. Are the ancient gods of Ireland returning to fight their enemies in the middle of her research? And what does the Morrígan want with Zoe?
---
Pulp Rock: An Anthology of Musically Inspired Tales
by Alexander Hellene, Patrick Walts, JD Cowan, Ryan Williamson, David J West, David V Stewart, Alexander Nader, Alexandru Constantin, Jon Del Arroz, Paul McKesley
ADVENTURE ROCKSSpace pirates and superspies, ghostly singers and half-orc bards, lost cities and deals with the devil . . . all this awaits and more in Pulp Rock: Twelve musically inspired tales of adventure, excitement, and horror by some of the most exciting voices in science-fiction and fantasy. Come explore the nexus between music and the written word, and get ready to rock.
Altered Egos by Patrick Walts Glam-metal juggernauts Slamurai were past their prime, until a surprise new album and tour thrust them back into center stage . . . but is the band who it claims to be?
Mad Wind by JD Cowan On a distant colony world, a young student sets out to discover the secret of ancient ruins none have returned from . . . and music may be his only weapon against the Mad Wind.
Doom Chord by Ryan Williamson A half-orc bard and his gnome companion seek knowledge of the legendary chord required to play a song so epic even denizens of the netherworld long to hear it.
Keep It Burning Bright by Alexander Hellene An aging explorer with nothing to live for embarks on one final expedition to a frozen city to discover the one song said to be the source of all life . . . if he can make it past the city's deadly guardians.
The Devil's Harp by David J. West Her performance was magical . . . diabolically magical. Now a big-city reporter and a rough-and-ready lawman must track down the secrets of an occult instrument to save a woman's soul from eternal damnation.
Farewell to Once and Future Kings by David V. Stewart They're a band on tour in the far reaches of interstellar civilization with a secret mission: find the mole that threatens to upend the delicate balance of powers . . . even if it risks true love.
The Crying Girlby Alexander Nader She's done it! She's created a drug that allows its users to see and feel music. But even she doesn't understand its side-effects during a powerful metal show for the ages.
Entomocronicity by Alexandru Constantin In the deserts of Afghanistan, a Marine hears a ghostly recording from the forgotten past that sets him on an obsessive, destructive quest to find the singer . . . and the malevolent intelligence behind her song.
Master of Puppets by Jon Del Arroz All he wanted was for his puppet show to be given respect it deserves! And when a blood ritual brings his marionettes to life, he will have his revenge.
Princess of the Night by Paul McKesley On an interstellar cruise, an undercover bandleader plots to recover his birthright from rival nobles . . . if scheming aliens out for revenge don't steal it first!
A Song for Melienope by Alexandru Constantin A traveling bard gets more than refuge from a storm when his wanderings bring him to the doorstep of an ancient forest spirit. Now he must play the song of his life or forfeit his immortal soul.
Kentucky Mothers by Alexander Hellene What is the connection between a country music superstar and a spate of dead journalists? One imprisoned music reporter knows the secret . . .but will anyone believe him?
---
It takes guys as simple as the Squid and Ogre to make a story this complicated… and they'd really rather be trucking.
Good old boys, the Squid and Ogre are trucking cross country when a UFO crashes right in front of them. Against his better judgment, the Squid lets Ogre load it onto his flatbed, then the feds in black helicopters show up.
Life gets a whole lot weirder when they find themselves on the run not only from the law but also from every manner of Lovecraftian horror imaginable. To top it off they also get a beautiful stowaway, named Shaurna, who may not be from their own universe. One way or the other, they are gonna have to finish their run, even if it takes them right through the Dreamlands and into the clutches of the Crawling Chaos himself, Nyarlathotep!
If you like to laugh in the face of unspeakable danger, this is the book for you. If you don't like to, this is probably exactly the kind of book you need to bring you around. Check it out!
Praise for David J. West"
West is a pulp writer of magnificent prowess, keen eye, and exotic taste, who effortlessly throws off a wide range of tales," — D.J. Butler, author of Witchy Eye
"David J. West is one of the best up and coming Neo-Lovecraftians I've had the privilege of reading. Cowboys, shoggoths, rednecks, and Old Ones with an easy consistent style." — C. T. Phipps, author of Cthulhu Armageddon
---

"This is a really great book. It cleverly avoids easy cliches of coming of age stories with some good characters and an imaginative & original setting that's wonderfully described." – Seb J

LONDON, 1948

Bullied at work and traumatised by the loss of his father, Joseph Samson finds himself caught up in a deadly plot to destroy the greatest flying machine ever built. Deciding who he can trust will mean the difference between life and death. But even if he chooses correctly, will he find the courage to take action, or just continue to be one of life's victims?

Meanwhile Ione Hughes, heir to wealth and fortune, lives in fear of her world collapsing. Is her father beset by shadowy enemies— or is he just going mad?

Set in a brilliantly imagined alternative timeline where airships rule the skies and Hitler is in prison, Airship City is an exciting adventure in the style of Philip Reeve's Mortal Engines.
---
THE DIVINE SPACE PIRATES TRILOGY COLLECTOR'S BOX SET, BOOKS 1-3 includes:
The Heights of Perdition (Book 1)
The Breadth of Creation (Book 2)
The Price of Paradise (Book 3)
Her eyes met his, and Aerie felt the last ounce of any front she could have mustered against her feelings fall away.
She liked him. Against her better judgment, her father's wishes, and her nation's orders, she liked him …
I was right about him, she thought ruefully. He was dangerous, in all the wrong ways.
Aerie St. Cloud spent her life under the regime of the United Revolutionary States, working toward the day she would earn her place in the Military Academy at New Hope — and the affection and acceptance of her family unit. But when she is accidentally captured by the fearsome space pirate, Captain Chainsword, Aerie finds herself in the center of conflicts between her worlds and her heart.
Driven by vengeance, Exton Shepherd never set out to save anyone. As he circles the world in his pirated starship, the Perdition, he only sees his father's ghost lurking around every corner and looming darkness on the horizon. When Aerie tumbles into his life, he finds he is not able to ignore her — or the ongoing war between the URS and the dissenters — any longer.
As Aerie and Exton's destinies intertwine, the world increasingly falls apart as family revelations, political coups, and military forces complicate their relationship. Will love be enough to save them — and others — from certain destruction? Will their love be the force that holds everything together, or will it be the end of everything?
---
Evergreen
by Thomas J. Torrington
For Bud Marshall, growing up in a rural Maine town would be challenging enough if it weren't for the fact that fate dealt him a difficult hand to begin with. Left to be raised by his grandparents, Bud struggles to discover himself as he pursues the dream of realizing greatness in his own life.
Fortunately for Bud, he has help on his journey of discovery from the girl next door. Teresa Peterson, a precocious youth one year his junior, both acts to guide and confound Bud's decisions. But sometimes, the ones we are closest to, are those we hurt the most.
A profoundly human story about family, friendship, and love, in which Bud learns as he matures that it is taking responsibility for his own life, and making choices in conscious awareness of who he is, that will shape his destiny. Can he overcome his past mistakes, and build a real foundation for the future?
–-What people are saying–
"An inspiring and deeply profound masterpiece." – Stephen R. Willis Co-Editor in Chief, Uprising Review
"Thomas Torrington's "Evergreen" is a stunning literary accomplishment. This coming-of-age story will challenge your perspectives on what it means to live a life well spent, facing your innermost monsters, and not surrendering to your circumstances. Make sure you set aside time to read it; you will not want to put it down." – Rich Williams reader review
---
No one ever accused Thor of being the silent type.
But he's a man of few words when a group of Valkyries seize his palace, launch a coup against Asgard, and make his Lady Sif their slave.
With none of Thor's allies nearby, the Valkyries vow to crush him before they conquer everything else.
Yet surrender never crosses his mind and he rushes headlong into the fight.
Packed with action and drama, "Thor vs. the Valkyries" is a quick tale of treachery and retribution, with an ending that will leave you smiling . . .
…or with your jaw hanging.
---
Whether you kill one man or a hundred, in the end, you only hang once…

Deputy Marshal Porter Rockwell can't be harmed by a bullet or a blade but the prophecy about his invulnerability never mentioned a rope. Imprisoned for the supposed murder of a young girl, Porter might be on the verge of allowing the hangman his due. It falls to his friends Roxy and Quincy to make him understand the burden of a lawman, even one as infamous as himself. But dark forces lie in wait to try and end the career and life of this most amazing gunslinger. Bullet and blade might not be what finally take Rockwell down. It could be plain old bad luck…

You Only Hang Once is a Western with colorful characters and wit straight out of a Sergio Leone flick. If you like mixing horror with your pulp, strong and admirable heroes, and weird Westerns, then you'll love the first book in David J. West's Porter Rockwell series.

Buy You Only Hang Once to join this wild western adventure today!
---
A Living Nightmare
After awakening in the woods, Christopher Archer finds himself trapped in a world outside of time.
Fog monsters, armed gangsters, and a legendary spear, all await his arrival.
But what about the fiancé who disappeared months ago?

As Archer explores this eternal midnight, he can only wonder—is this all just a dream, or is there something more hidden in the dark, watching his every move?

There is one choice.
He must traverse the nightmare and learn the truth.
---
In an alternate Victorian era, factory worker Anthony Reynolds seeks to improve his station in life for the sake of his young bride-to-be. Against his better judgment, he joins Richard, a gregarious coworker with social connections, for a night on the town after their late shift. Richard leads them deep into the city's underworld to a brothel of sorts specializing in the illegal art of mutilation. There Anthony witnesses victims skinned, broken, and mangled without lasting damage due to a special drug that returns them to their original state. Anthony immediately wants to leave, but before he can, Constables raid the establishment. While trying to flee the scene, Anthony runs into a giant tumor of a man who spills a viscous fluid on him. Anthony is disfigured by the strange substance, and when the authorities capture him, he is unable to identify himself, let alone speak. What follows is a mind-bending adventure of mistaken identity, multiple realities, and paranoia as Anthony fights to reclaim a simple life he never truly appreciated but now wants more than anything else. Once he learns the truth of his world, nothing will ever be the same again.
This brilliant genre mashup brings the gore and mystery in equal measure. Total Recall meets Hellraiser. Just when you've figured it out, Fowler dashes your reality with a new twist.
— Anthony J. Rapino, author of Soundtrack to the End of the World
An intriguing novel, a twisting labyrinth of shifting realities, a fast-moving adventure merging the ideas of Philip K. Dick and David Cronenberg. Highly Recommended.
— Deborah Walker, author of Future Tales 2101
---
What if "Once Upon a Time" was closer than you thought?
Life in the suburbs is usually pretty quiet until the dragon shows up, a gnome gets murdered in the library, and a hobgoblin with marriage problems starts souring your milk.
The residents of these quiet neighborhoods are about to find themselves on quests requiring humor, heart, and coffee, as they encounter cults, curses, and of course true love.